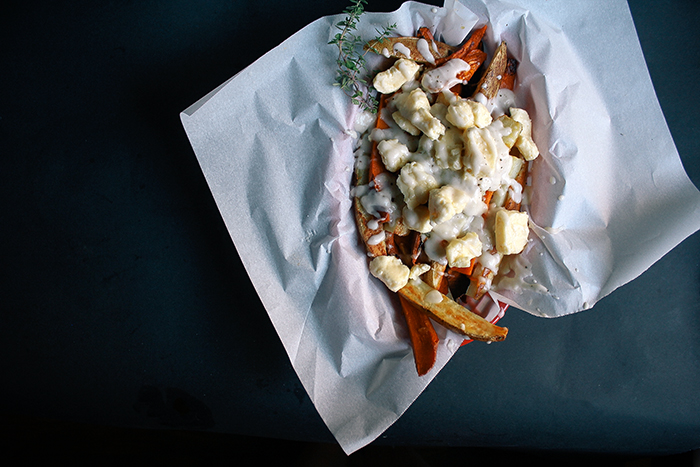 Baked Sweet Potato Poutine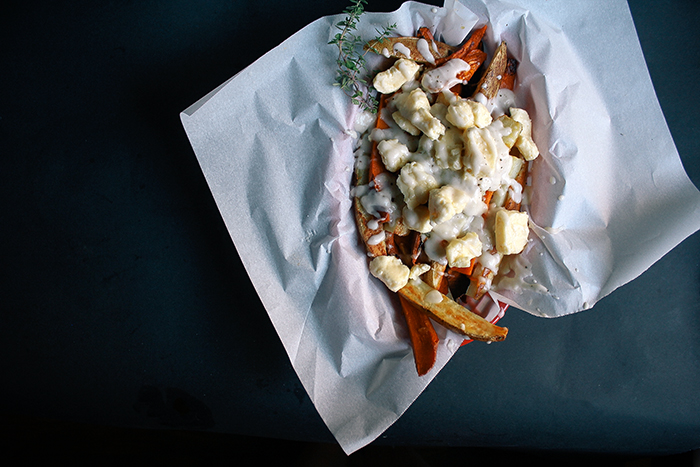 I totally get why eating healthy is so important. You feel great after, it gives you energy, makes your skin glow, wards of sickness, and keeps the extra pounds at bay. But sometimes, and just sometimes, you just want a big pile of french fries lathered in gravy. And no matter how much you try to convince your taste buds otherwise, they don't listen. No matter how many salad ingredients you pull out of the fridge, your hand still reached for those big hunks of cheese you were 'reserving' for a special occasion.
This is what happened to me on Monday night. I had everything prepped and ready to go for a big 'ol taco salad dinner. But the drooling happening in my mouth was demanding poutine. Demanding it so fiercely that I knew if I ignored my desires, I'd end up eating a pint of ice cream later because I'd be left unsatisfied. So, my mind and stomach battled it out for about 10 minutes before we settling on making BAKED Sweet Potato Poutine….not a salad but also not deep fried starch. A fair compromise, I told myself.
And, to be honest…it blew a salad out of the water. A big pile of baked fries lathered in peppered gravy and big hunks of gooey cheese was exactly what my Monday night needed. The only thing that made it even better was serving it with a Gin & Tonic and re-runs of the X-Files.
If you are new to Poutine, you need to try it! We are pretty used to eating Chinese and Middle Eastern food in America but how often do you try out some Canadian food? Traditional poutine consists of deep fried fries, gravy, and cheese curds. It's traditionally made with meat gravy so unless you have a wonderful vegan restaurant that serves up a vegetarian version, (Thanks, Owlery!), you'll want to take a stab at making your own.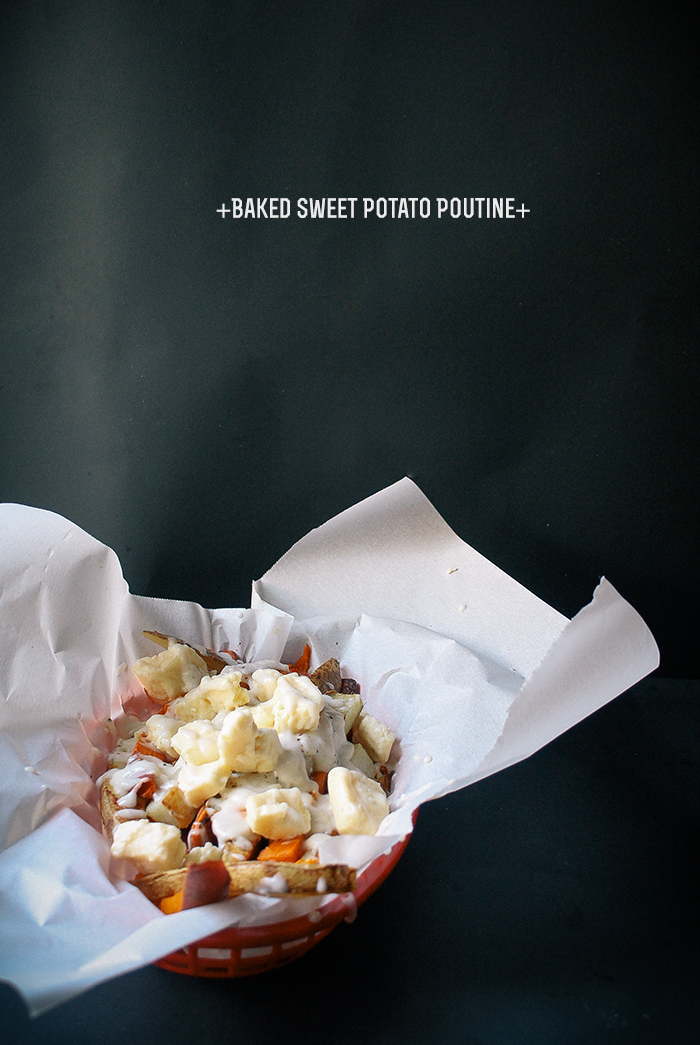 Baked Sweet Potato Poutine
1 large sweet potato, cut into wedges
1 medium russet potato (or another sweet potato), cut into wedges
1/4 cup olive oil
Salt/Pepper
Peppered Thyme Gravy:
1/4 cup flour
3 Tablespoons nutritional yeast
2 cups almond milk (or regular)
3 sprigs of thyme, finely chopped
1 teaspoon salt
1 teaspoon pepper
1 Tablespoon butter
Preheat oven to 450 degrees. Toss potato wedges in olive oil, salt, and pepper. Arrange in a single layer on two baking sheets (don't crowd them or they won't cook evenly). Bake for fifteen minutes, flip fries, and make for an additional 15 minutes or until fries are crispy. Remove from oven and let cool.
In a large skillet, whisk the flour, nutritional yeast, and milk together. Once it is a smooth consistency, add all the spices. Place the skillet over medium heat and bring to a simmer. Next, add in the butter and reduce to medium low. Stir constantly until gravy thickens. Adjust to taste with salt/pepper.
Assemble by drizzling gravy over your huge mound of fries and topping with cheese curds.