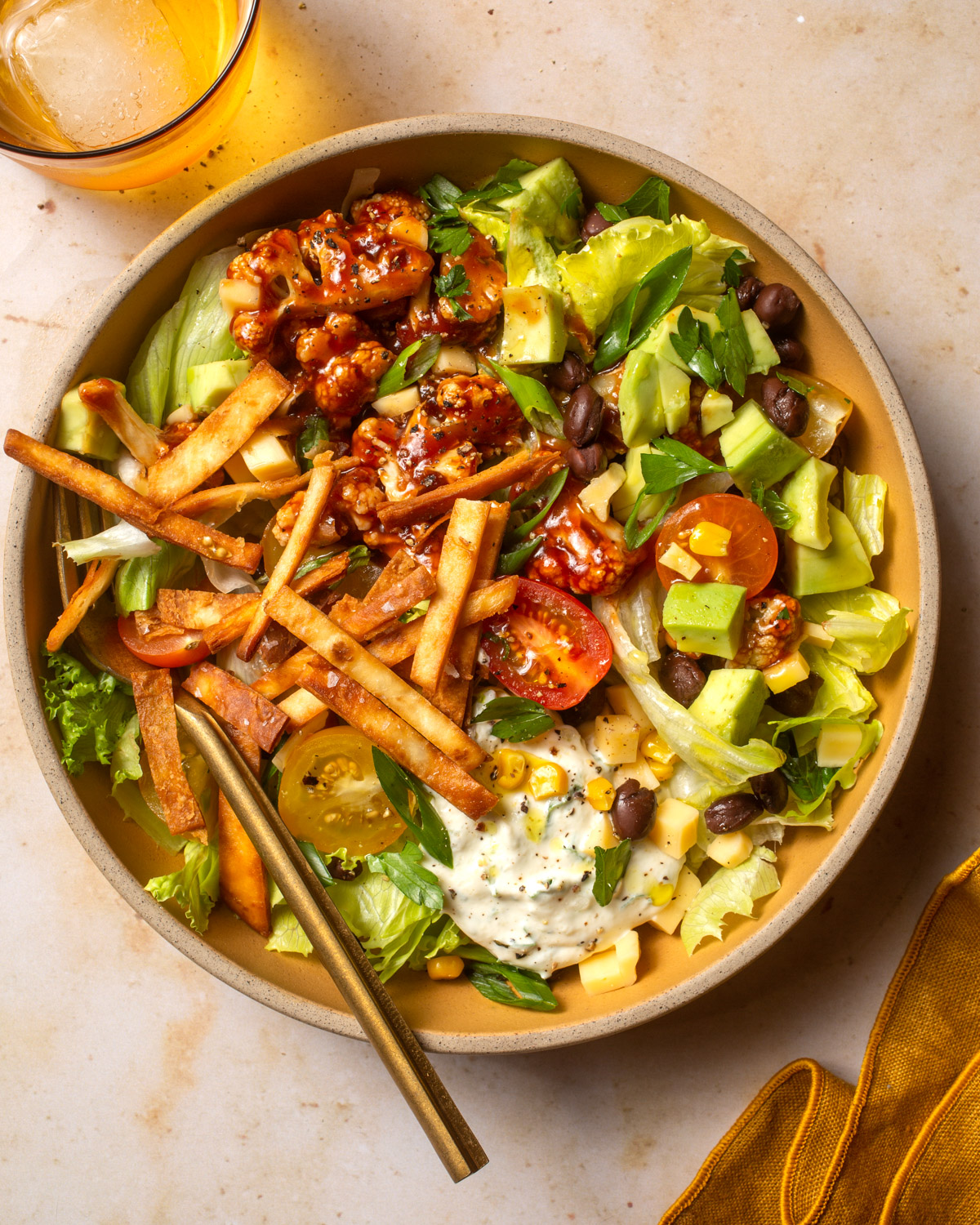 This BBQ Cauliflower Chopped Salad is a deliciously filling vegetarian salad inspired by a similar recipe in Gaby Dalkin's newest cookbook, Take It Easy (please note this book was gifted to me but all opinions are my own).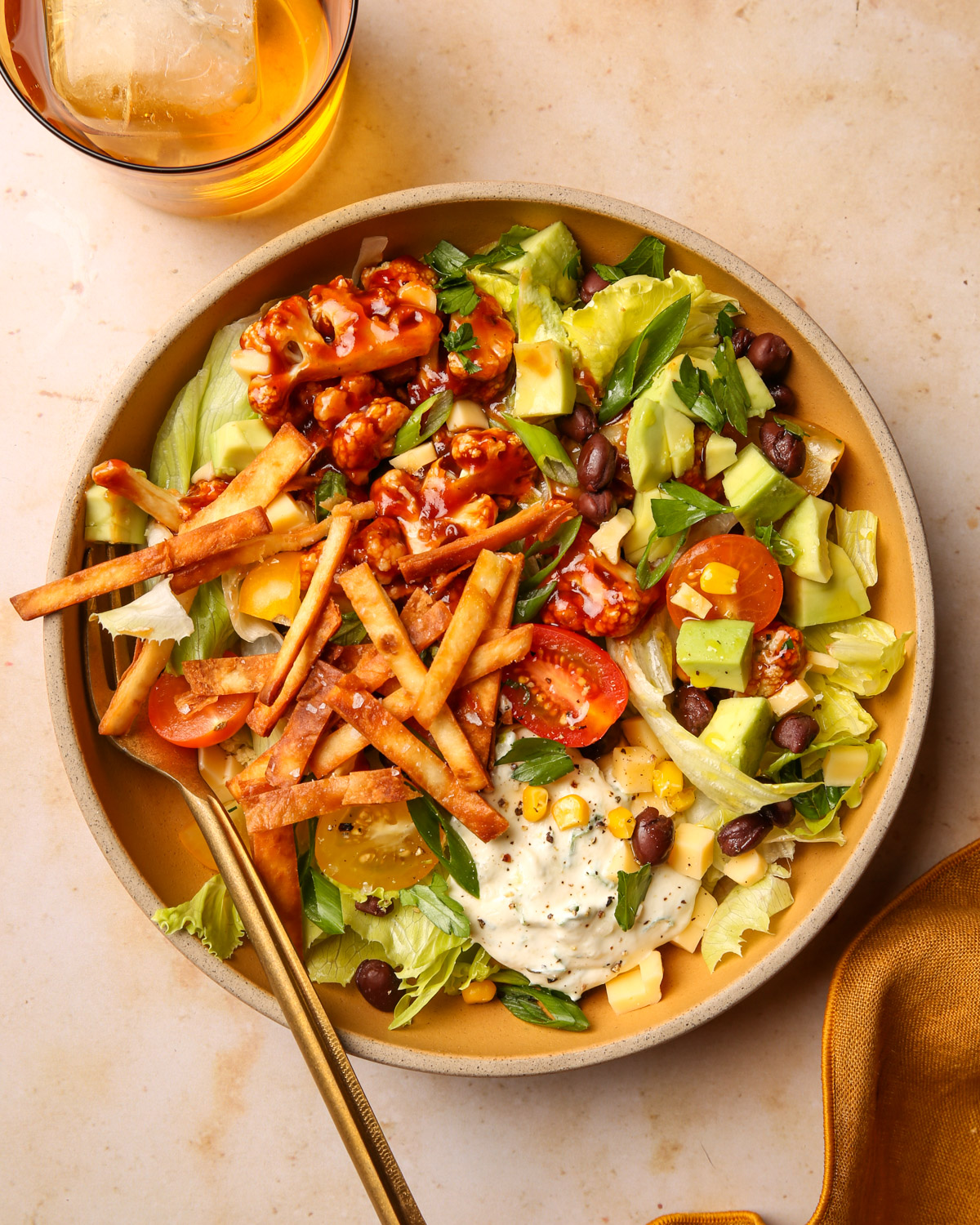 With cooler weather approaching, I've found myself gravitating towards spending more and more time back in the kitchen. This is perfect timing because cookbook season is back in full swing and the new fall books have already starting rolling in! I wasted no time diving into the first one which is Gaby's newest book, Take it Easy. I've been a big fan of Gaby for a long time because her recipes are always approachable and perfect for weeknight cooking. I'm also a huge fan of her photographer, Matt Armendariz, so it came as no surprise that all the photos in her newest book were absolutely gorgeous!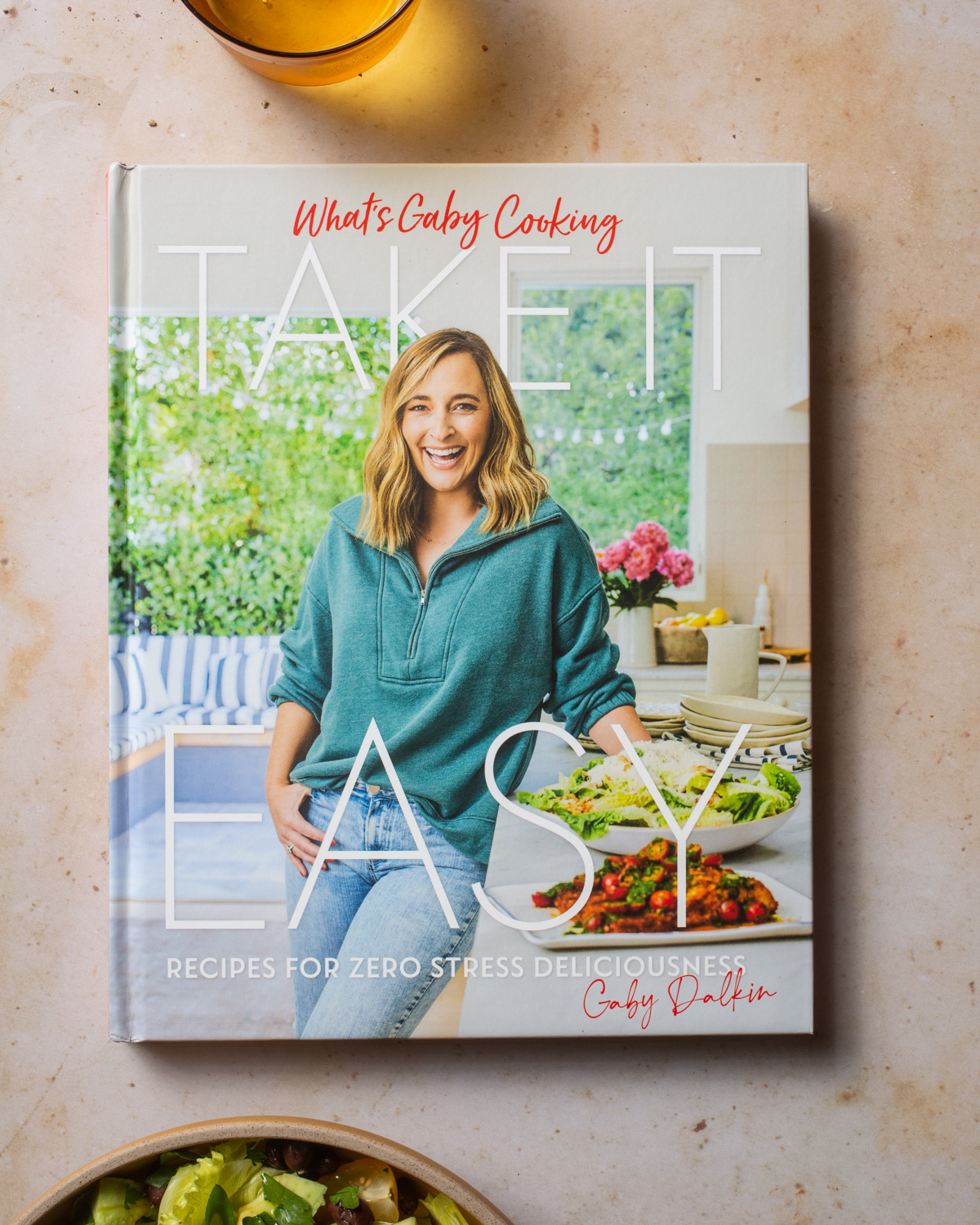 The first recipe I decided to tackle was this big chopped salad because I absolutely love a salad that I can eat as a meal. This salad has it all – protein-rich beans, herby homemade ranch dressing, salty tortilla chips, and crisp lettuce. Gaby has you make a delicious homemade dressing for it but does cut some corners by using store-bought BBQ sauce which helps cut down on prep time.
As I tend to do, I did adjust this recipe a bit to make it my own. The actual recipe in the book is for a BBQ chicken chopped salad but I had a feeling it would be delicious with some roasted cauliflower instead. And guess what?! I was correct! I also roasted the corn with the cauliflower for a little extra flavor and added some spring mix lettuce since I had it on hand.
I could eat this recipe every day for lunch! And I'm already dreaming of additions I could add to this to mix it up – toss in some Pico de Gallo, sauté up some red peppers and onions, or swap in sweet potatoes in the winter instead of corn.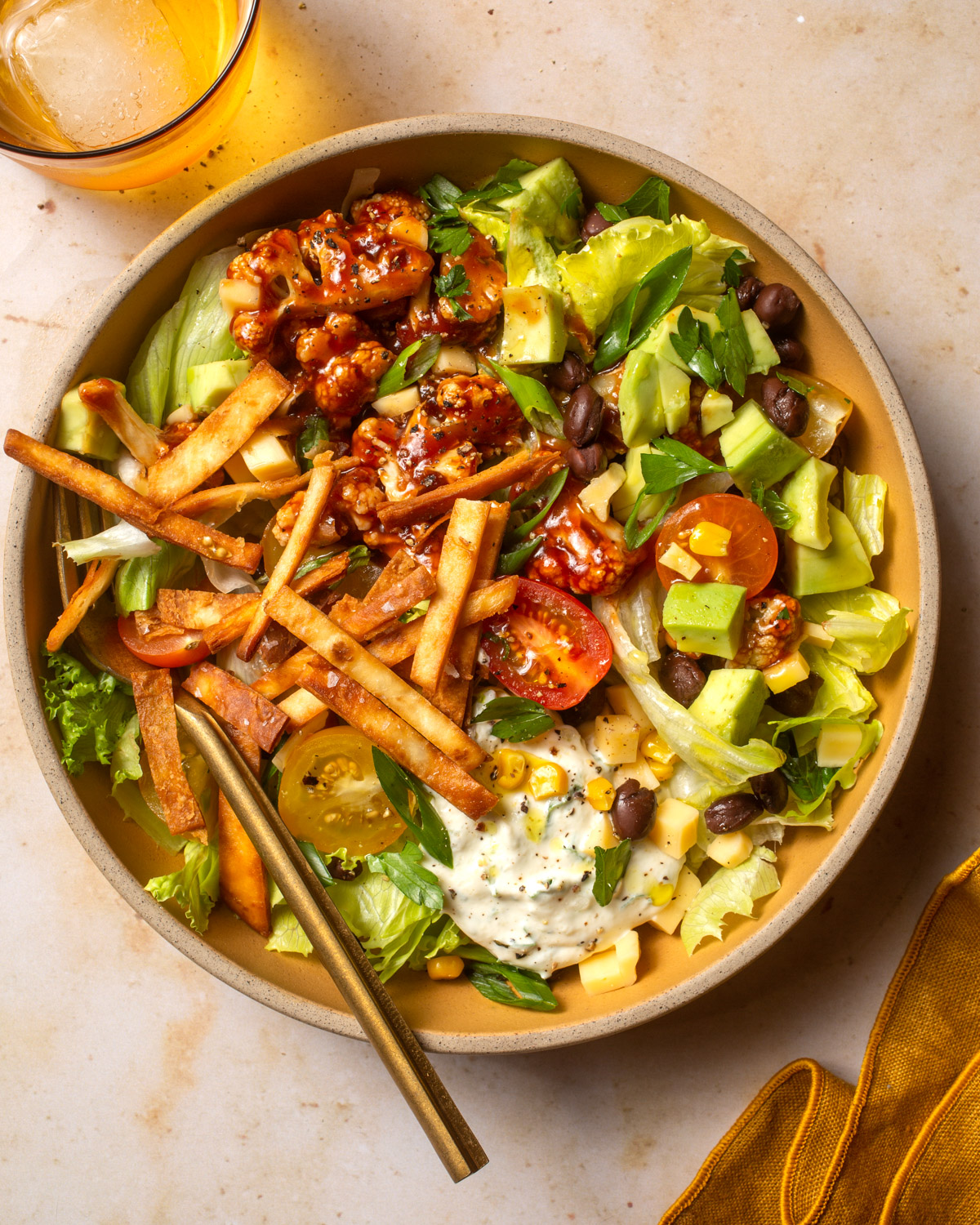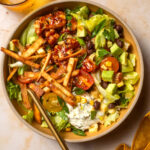 BBQ Cauliflower Chopped Salad
Ingredients
For the tortilla strips:
2/3

cup

canola oil, for frying

6

small corn tortillas, cut into 1/4 inch strips

salt
For the Herby Buttermilk Ranch:
1/3

cup

sour cream

2/3

cup

mayonnaise

1/2

cup

buttermilk

1 1/2

tsp

granulated garlic

1

tsp

granulated onion

1

Tbsp

finely minced fresh parsley

1

Tbsp

finely minced fresh chives

1

Tbsp

finely minced fresh dill

Squeeze of fresh lemon

salt and pepper, to taste
For the salad:
1

Tbsp

olive oil

1

head

medium cauliflower, cored and cut into bite size florets

1/4

tsp

salt

1

cup

fresh or frozen corn

1

cup

of your favorite barbecue sauce

1

head iceberg lettuce

2

Tbsp

chopped fresh cilantro

1

Tbsp

finely chopped basil

1

15 oz

can black beans, drained and rinsed

1

cup

shredded Monetery Jack cheese

1

pint

cherry tomatoes, halved

1

avocado, sliced

4

scallions, sliced
Instructions
For the tortilla strips:
In a large dutch oven or high-walled skillet, pour canola oil 1 inch deep and heat on the stove-top until oil reaches 350 degrees, using a deep-fry thermometer to measure the temperature. Line a large plate with a few layers of paper towels.

In batches, add tortilla strips and cook for 1 minute, flipping over with a tongs halfway through or until golden on each side. Using tongs or a spider strainer, transfer to plate lined with paper towels and sprinkle with salt. Set aside. Repeat with the rest of the tortilla strips until they are all golden and cooked.
For Herby Buttermilk Ranch:
In a medium bowl, mix together sour cream, mayonnaise, buttermilk, garlic, onion, parsley, chives, dill, 1 Tbsp lemon juice, 1/2 tsp salt, and 1/8 tsp freshly ground black pepper. Taste and season with more lemon juice, salt, or pepper as needed. Transfer to the fridge to keep chilled while you prepare the rest of the salad.
For the salad assembly:
Preheat oven to 400 degrees and line a baking sheet with parchment paper. Toss the cauliflower florets with 1 Tbsp olive oil and 1/4 tsp salt and transfer onto prepared baking sheet. Bake for 20 minutes or until tender and golden.

Remove baking sheet from oven, add corn onto the baking sheet, and place back in the oven to bake for 5 more minutes. Remove from oven and toss the warm cauliflower and corn with barbecue sauce.

In a large bowl, combine the iceberg, cilantro, basil, beans, and cheese. Toss with 3/4 of the dressing and transfer to serving bowls.

Top each serving bowl with barbecue cauliflower and corn, tomatoes, avocado, scallions, and tortilla chips. Serve with remaining dressing on the side so people can add as desired.
Interested in other big salad recipes? Try one of these:
Make sure to tag Vegetarian 'Ventures on Instagram and use #vegetarianventures when trying this dish out!