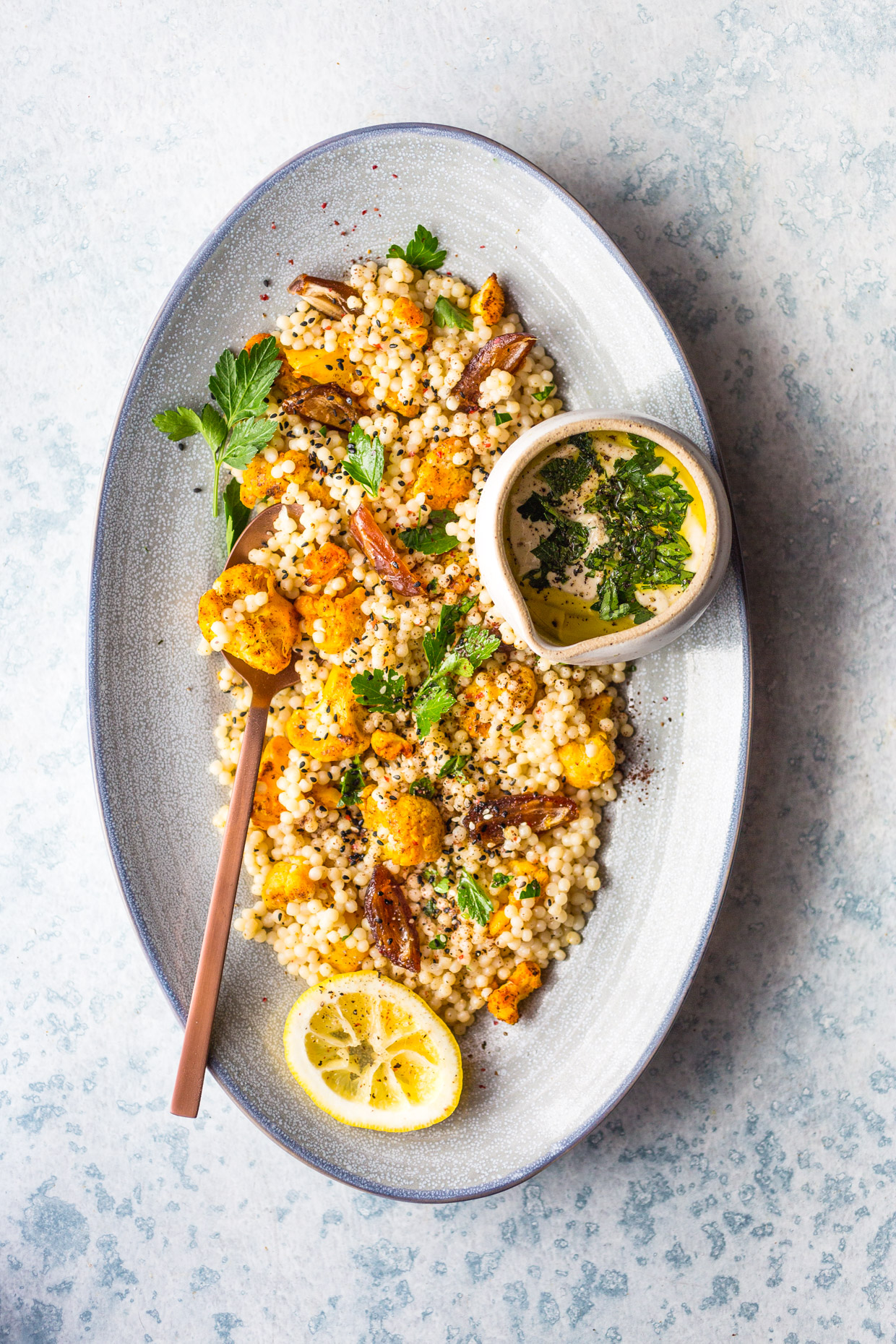 Roasted Cauliflower & Dates Couscous Salad with Creamy Tahini
This Roasted Cauliflower & Dates Couscous Salad with Creamy Tahini is a great vegetarian side dish or easy lunch for any season.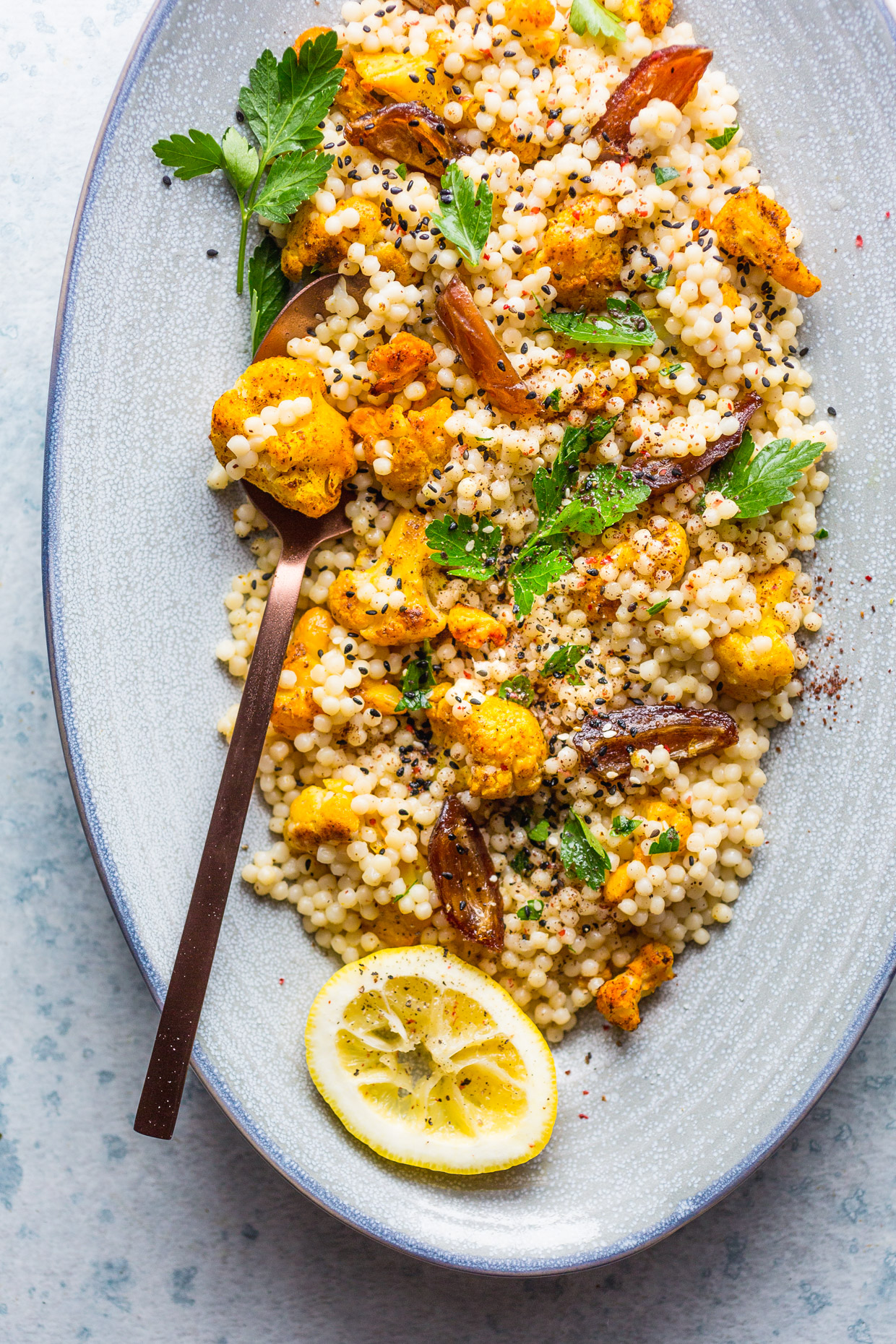 Well well well – what do we have here? Is this a new recipe post? A post about more than just my new book and busy busy life? Wow – just like the old days! ; ) But first, I'm going to talk about my busy life and book because that is just where my head-space has been lately. ha!
How have you been? I've been feeling a little scattered lately but finally feel like I can let out a big sigh of relief. Platters & Boards finally came out at the end of last month and then I had my local launch party for it this past Friday at Cardinal Spirits here in Bloomington, Indiana. It was a really great time – some of my family came down for it and a bunch of people showed up and I made a giant table full of food and we drank fancy cocktails and talked about the book. It was a really really good time.
I already explained this on Instagram but I also wanted to bring up the book because I wanted to warn you that you may have trouble finding it for a few weeks. The distributor sold out of the first pressing (woot woot!) but the next pressing doesn't come in until middle of May so a good amount of online retailers will be out for a few weeks. With that being said, I know that Anthropologie.com still has copies and I bet your local bookstore probably does to. I know, I know – this means that you may have to leave the comfort of your home and actually go out into the world to purchase it but I promise it'll be so worth it. You can stop at the grocery store on your way back from the book shop and then whip up a fantastic batch of whipped feta right when you get home. It'll be great!
Okay, now it's time to talk about this salad. I'll be honest with you – I've been totally burnt out with recipe developing lately because I'm just so darn ready for spring produce to arrive. Spring is feeling very late this year (it was SNOWING yesterday still!) which is making me itch for it more. Luckily, I found some really colorful purple and yellow cauliflower that almost felt like spring because of their vibrant colors. This couscous salad is a little bit of everything I've been into lately – carby couscous, creamy tahini, sweet dates, and smoky roasted veggies. The combination makes for the perfect lunch that is just filling enough to keep you going all afternoon but light enough to not feel bogged down. I even added a can of chickpeas to my leftovers the next day for a protein packed dinner.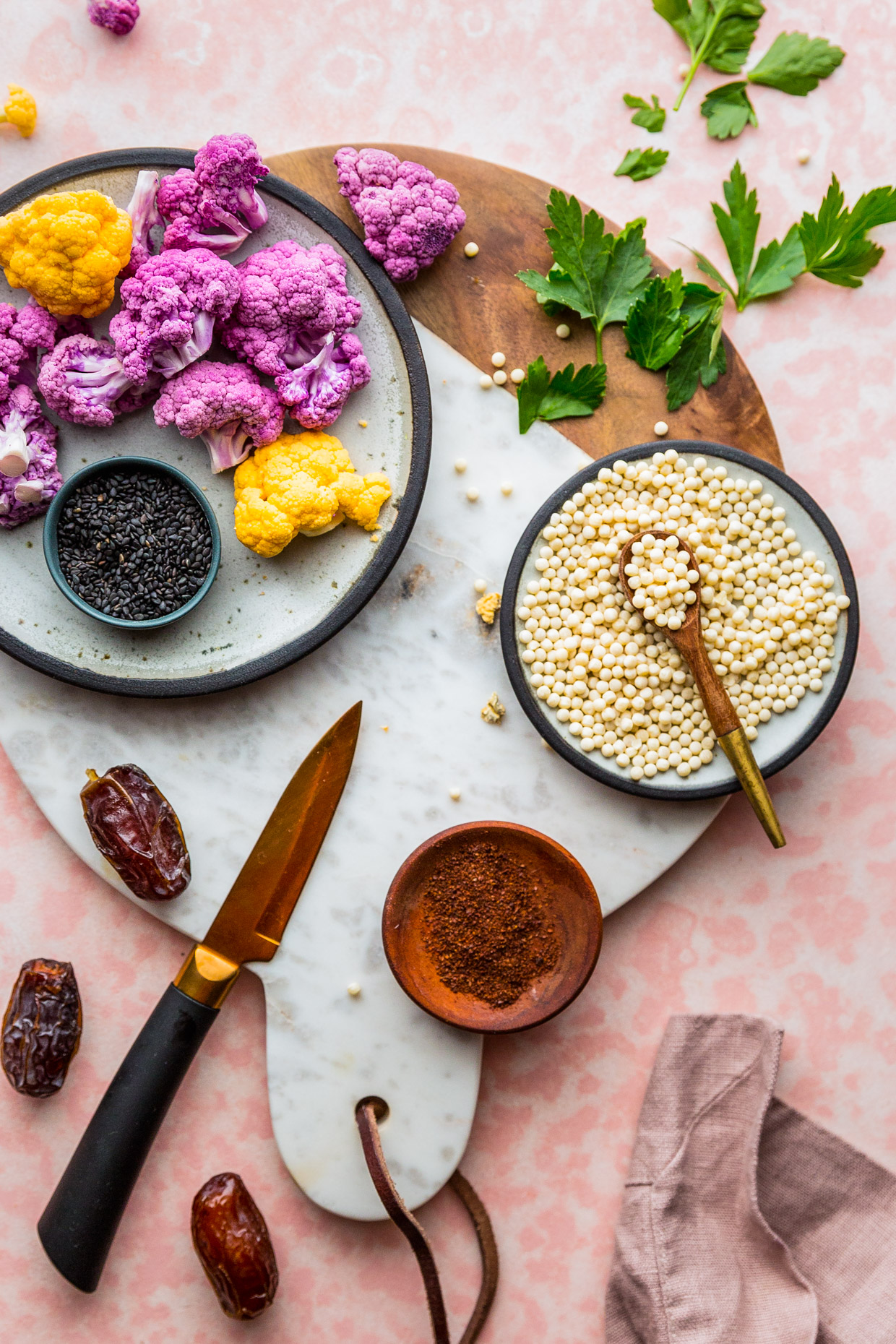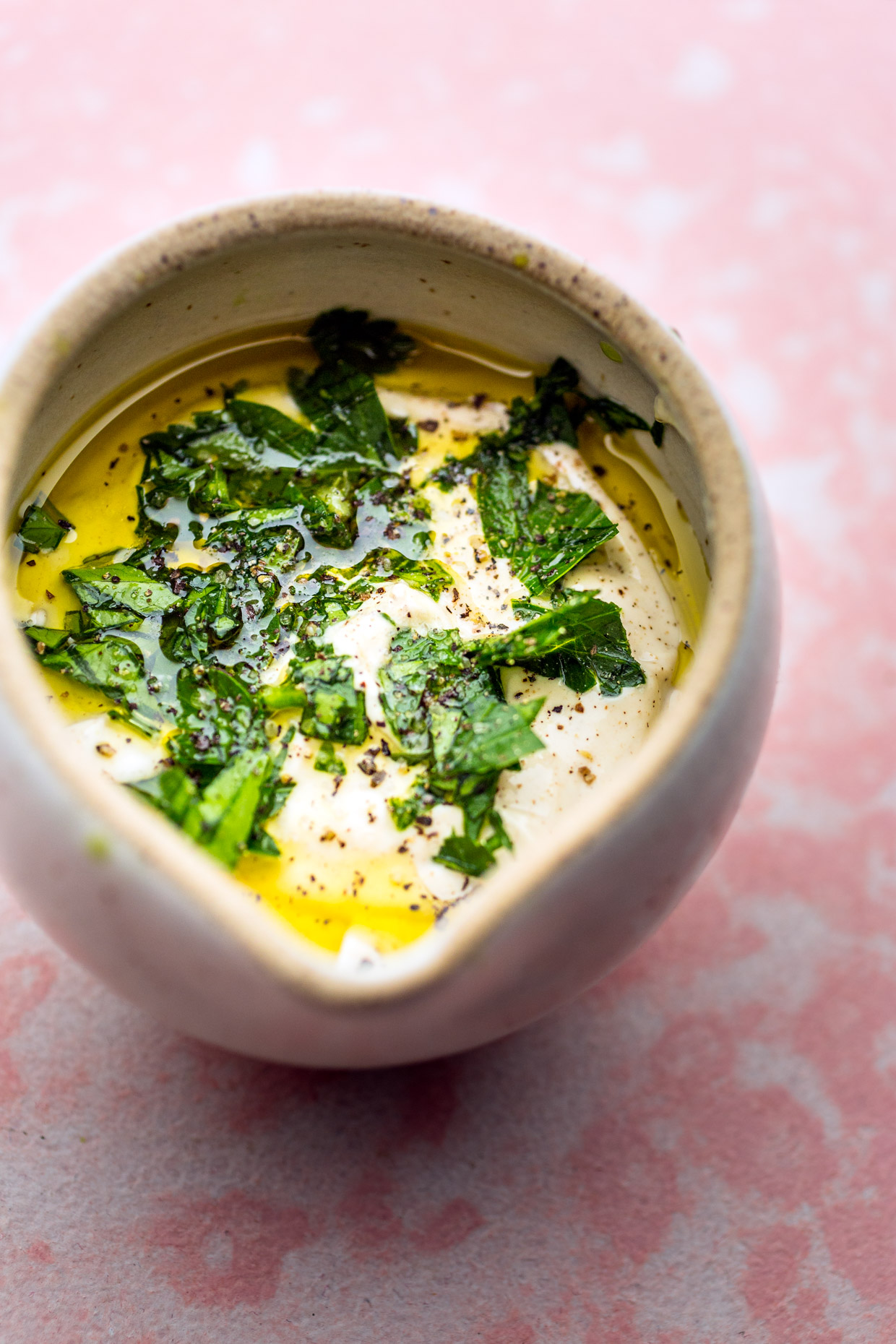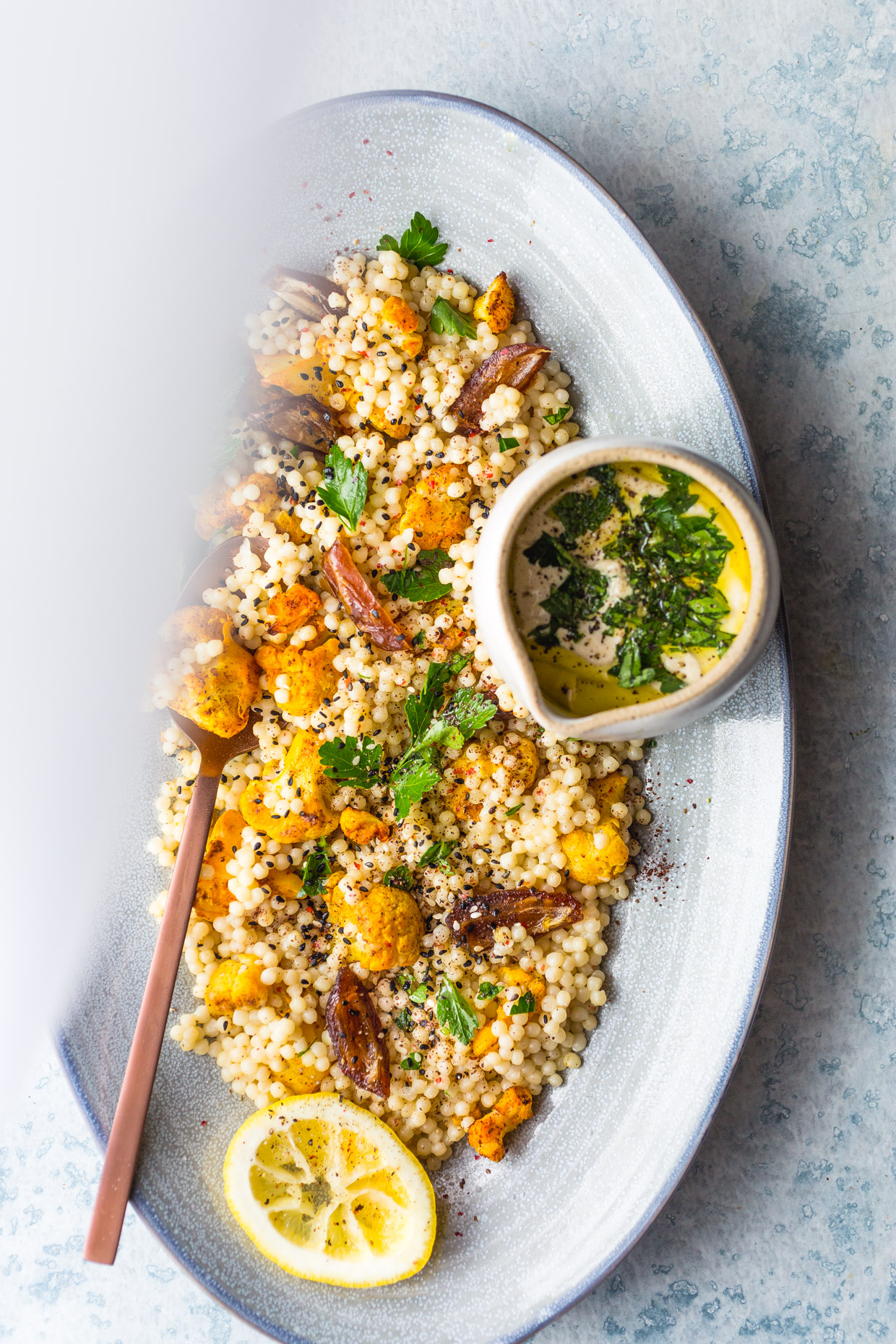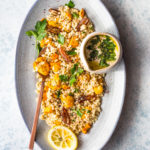 Roasted Cauliflower & Dates Couscous Salad with Creamy Tahini
Roasted Cauliflower & Dates Couscous Salad with Creamy Tahini
Ingredients
For the roasted cauliflower:
1

head

cauliflower

diced

1

Tbsp

olive oil

1

tsp

smoked paprika powder

1/2

tsp

turmeric

1/2

tsp

aleppo powder (sub smoked paprika if you don't have on hand)

1

tsp

salt

dash of pepper
For the dressing
1/2

cup

tahini

juice from 1 lemon

1/4

cup

olive oil

1

tsp

salt

1/4

cup

chopped parsley
Everything else
5

large medjol dates

seeds removed and quartered

1/4

cup

chopped parsley

1

Tbsp

black sesame seeds

salt / pepper

to taste
Instructions
Preheat oven to 350 degrees and line a baking sheet with parchment paper. On the prepared baking sheet, toss the cauliflower with 1 Tbsp olive oil, smoked paprika, Aleppo powder, turmeric, and a sprinkle and salt and pepper. Spread into a single layer and bake for 30 minutes.


Meanwhile, bring 1 1/2 cups of salted water to a boil in a medium sauce pan. Add couscous, stir, cover, and remove from heat. Set aside and let steam for 10 minutes before fluffing with a fork.


Whisk together the dressing ingredients, adding water (1 Tbsp at a time), if the dressing is too thick. It should be easy to pour over the salad. Season with salt and pepper and set aside. Add to the fluffed couscous and toss to combine.


Once everything is done cooking, add roasted cauliflower, dates, parsley, and black sesame seeds to the couscous. Season with salt and pepper. Can be served warmed or chilled.