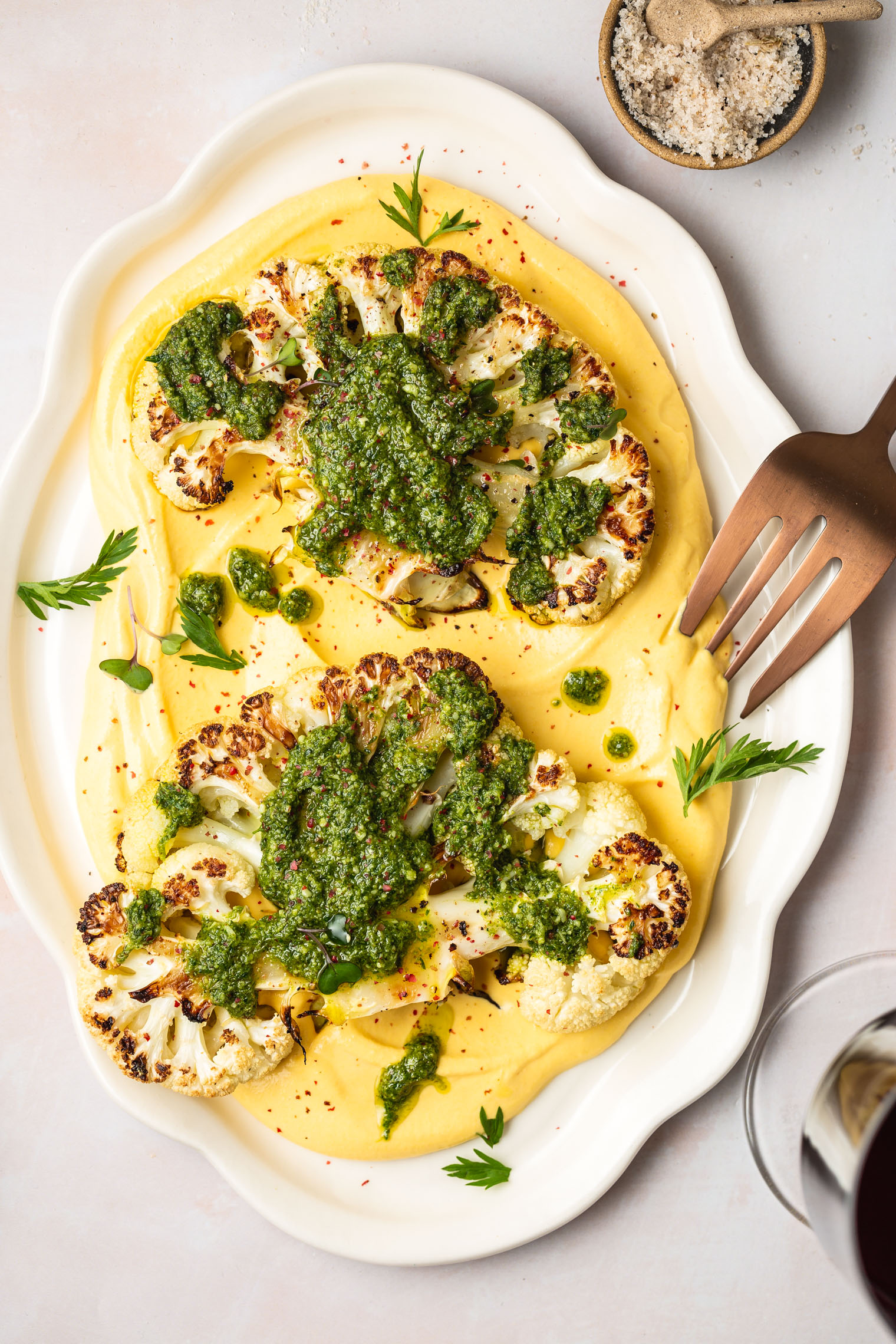 Today I'm sharing 8 of my favorite vegetarian cauliflower recipes in hopes of inspiring you to use more of this delicious vegetable in your cooking! I'm obsessed with how versatile cauliflower can be – it can be roasted, tossed into salads, served as a main, and even blended into soups to create a creamy base. What's not to love?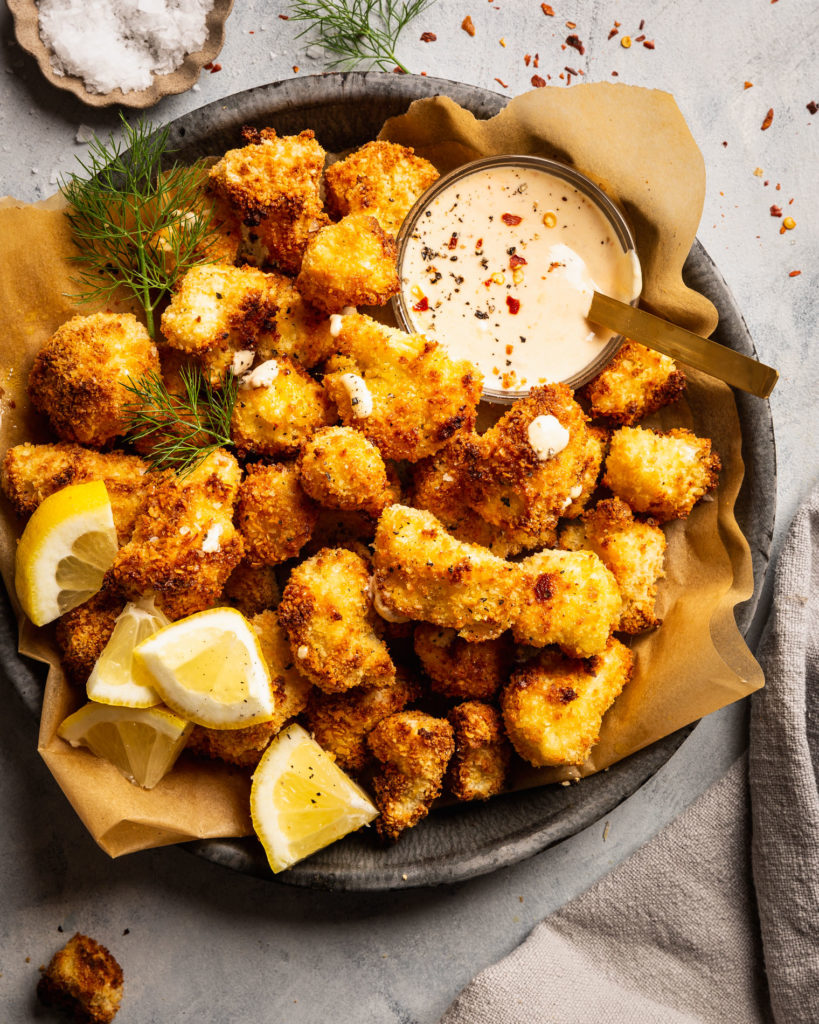 These Coconut Cauliflower Bites with Creamy Honey Mustard Yogurt Sauce are a delicious veg snack when you are craving something crunchy and salty. These would be perfect to serve during your next movie night or as an afternoon snack for the family.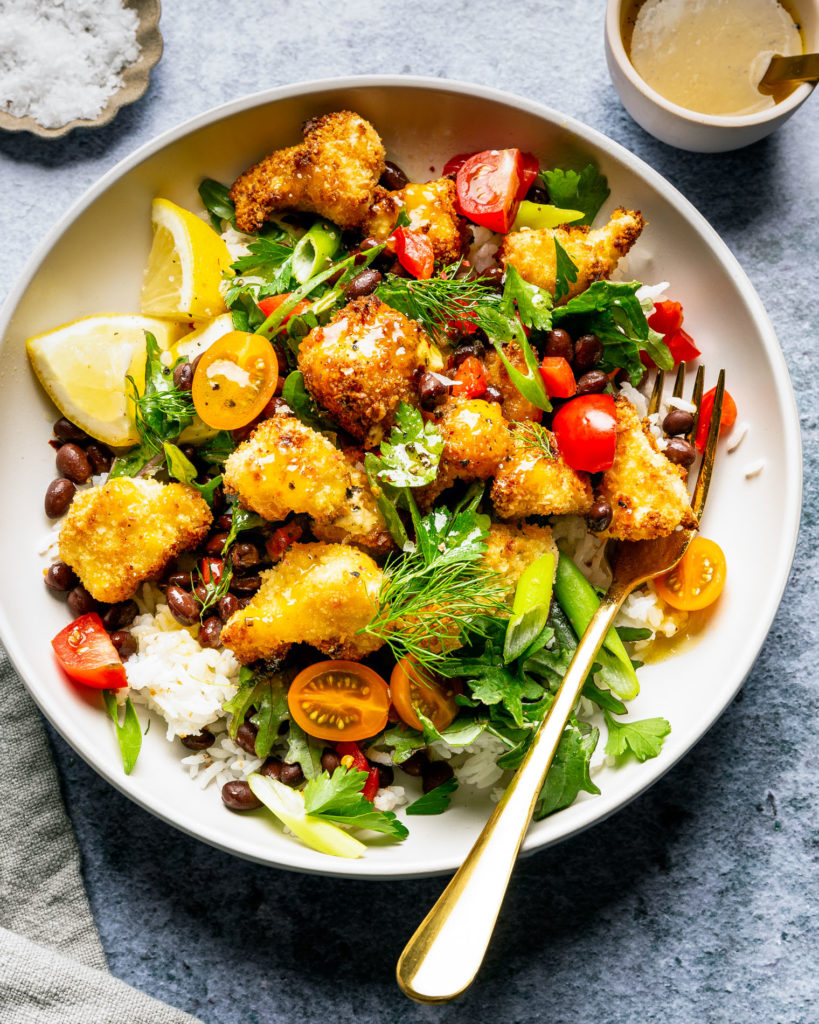 This delicious Coconut Cauliflower Bowl With Spicy Mango Vinaigrette is a filling and veggie-packed option perfect for lunch or dinner.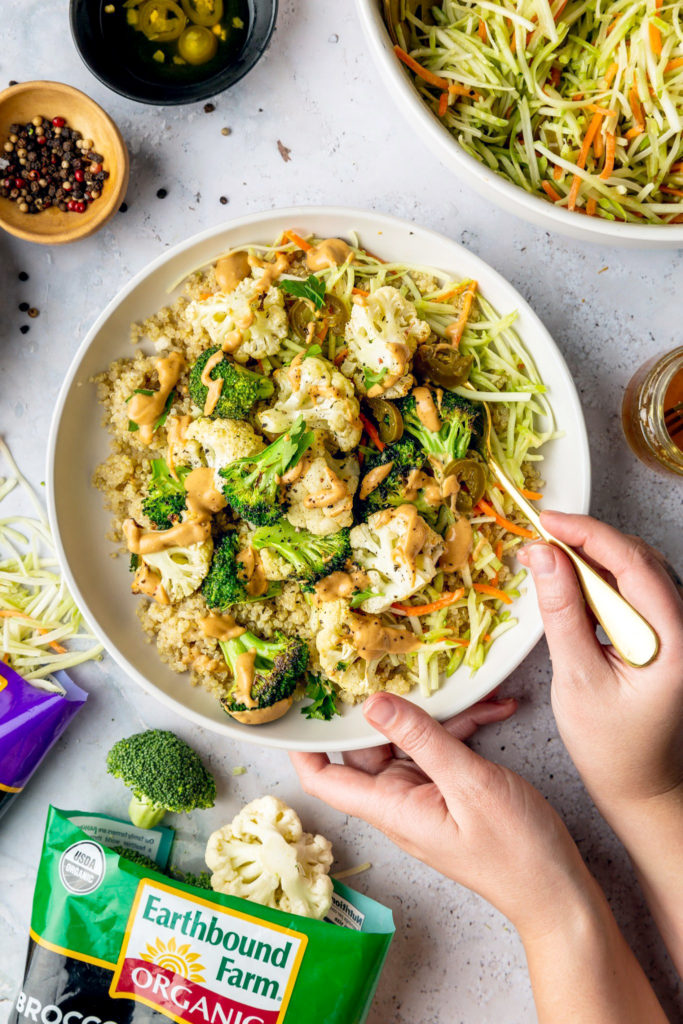 This Roasted Broccoli & Cauliflower Bowl with Spicy Peanut Sauce & Tangy Jalapeno Broccoli Slaw is packed full of vegetables which makes it a healthy make-ahead lunch or easy dinner.
This Cauliflower Parmesan is a winter twist on the classic Eggplant Parmesan dish. This cheesy cauliflower recipe is a perfect vegetarian main for date night or even a weeknight meal.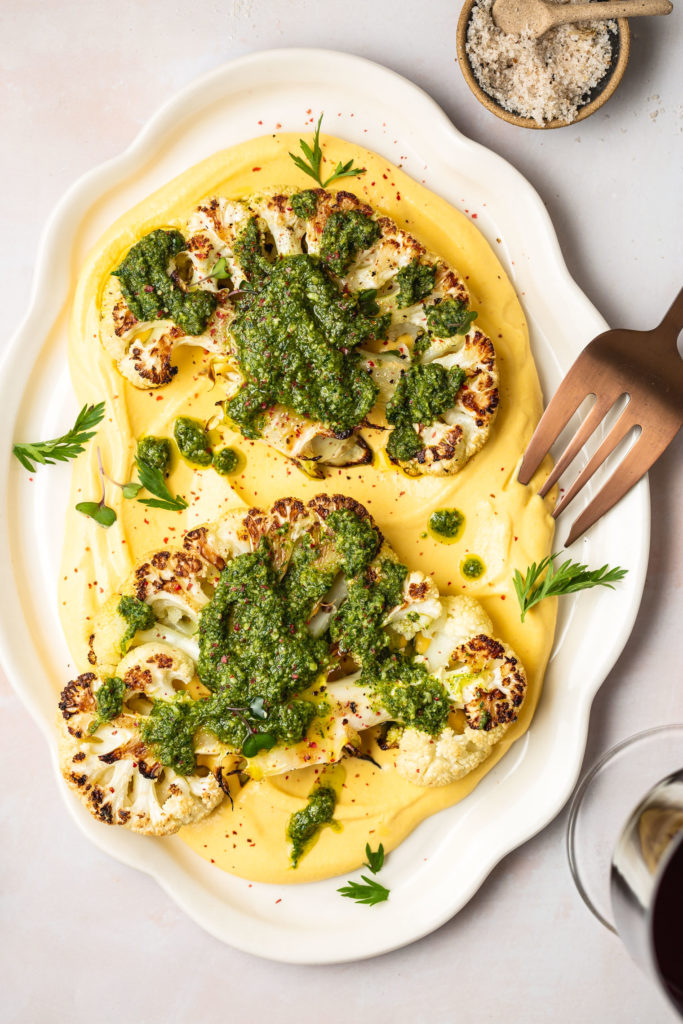 Looking for a vegetarian steak alternative? This roasted cauliflower steak is easy to make and is packed with flavor thanks to the carrot top pesto!
This Buffalo Cauliflower Bowl with Greek Yogurt Ranch and Spicy Quick Slaw is an easy and quick veg-packed meal perfect for lunch or dinner! All the components can be made ahead of time for a quick weekday meal.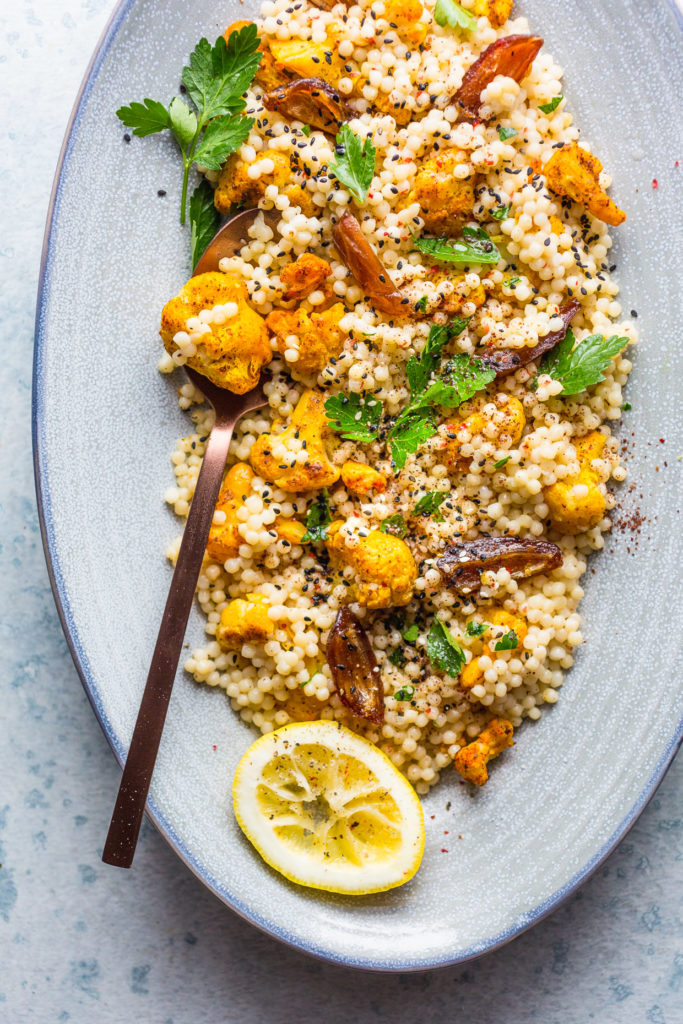 This Roasted Cauliflower & Dates Couscous Salad with Creamy Tahini is a great vegetarian side dish or easy lunch for any season.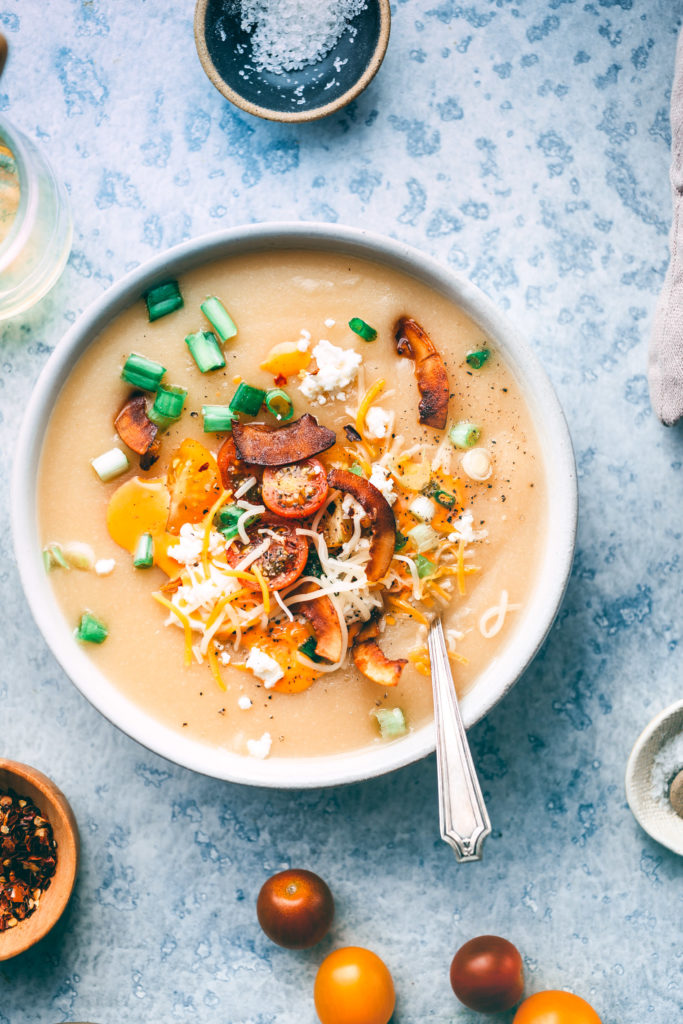 This Vegetarian Loaded Baked Potato & Cauliflower Soup with Coconut Bacon is the perfect weeknight meal on a chilly evening. Serve it with as many or as little topping as you have on hand.
Let me know in the comments below what your favorite cauliflower recipes are and make sure to tag me on Instagram and use #vegetarianventures when trying any of these 8 vegetarian cauliflower recipes out!