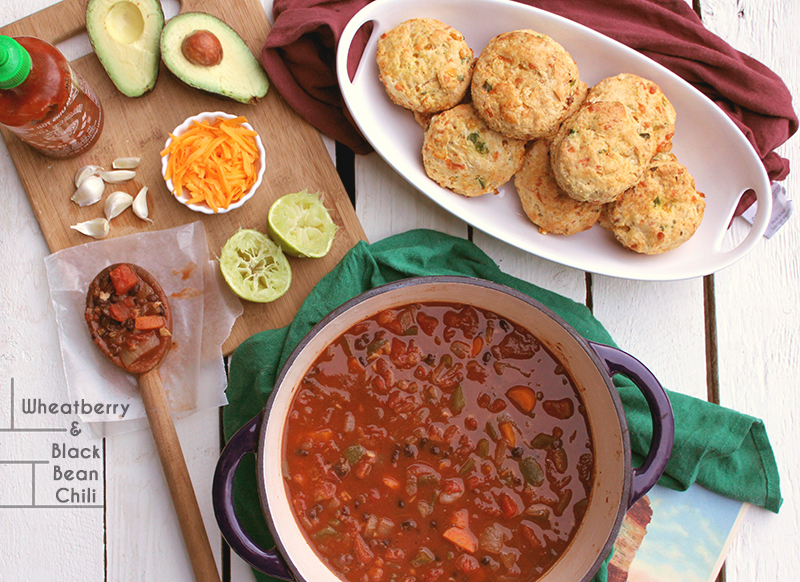 Black Bean & Wheatberry Chili

Morning, Morning. Can you believe it is already December? It sure does not feel like it. I don't know about where you live but I'm located in the Midwest and we are suppose to have some 70 degree weather today (such a weird introduction to winter…). Not that I'm complaining but I would have considered making something a little more…light and refreshing had I known it was going to be so warm. Ah well, this chili is oh so delicious regardless of the temperature.
I'm not going to lie. I am really proud of this recipe. It's packed with so many nutrients I can hardly wrap my head around it. We are talking loads of protein, fiber, vitamin C, iron, potassium, vitamin A, etc etc etc. The list goes on and if you make the beans from scratch… this chili is packed full of fresh and non-processed foods as well. I've never felt soooo good about gobbling down a bowl of food. And not to mention, it is absolutely delicious. The wheat berries give it slight chewy texture while the cocoa powder (learned that trick thanks to a very good friend of mine) bring a new complexity to the flavor.
Oh and don't worry! If my over zealous attitude towards super healthy eating is freaking you out – I made some oh so irresistible Corn Cheddar biscuits to go with packed full of two sticks of butter and loads of gooey cheese
This recipe is vegan (unless you add cheese and sour cream) and makes about six servings. You could even double the recipe and plan to have leftovers for lunch the rest of the week.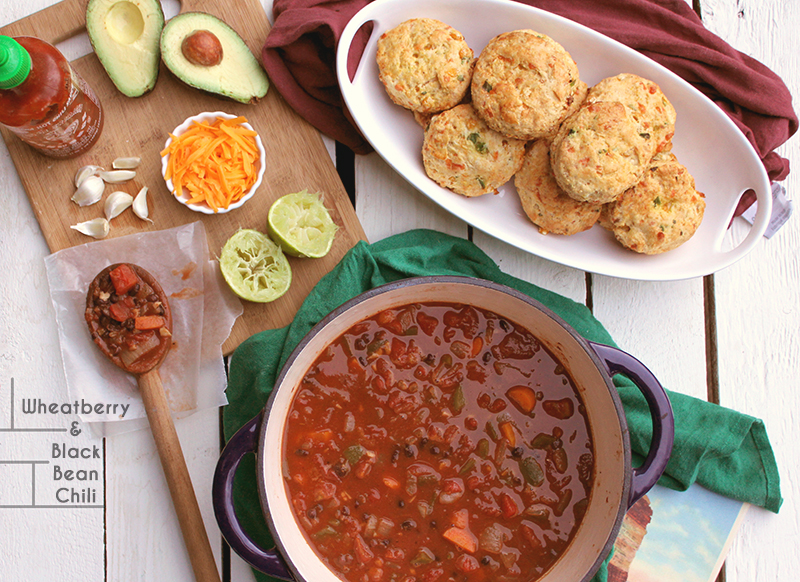 Black Bean & Wheatberry Chili
1 Tablespoon olive oil
1 yellow onion, chopped
1 bell pepper, chopped
2 carrots, chopped
4 large garlic cloves, minced
2 teaspoons cumin
2 teaspoon chili powder
1 teaspoon oregano
1/2 teaspoon salt
1/2 teaspoon black pepper
3 cups black beans, cooked (I used dried but feel free to use canned)
1 24 ounce can of diced tomatoes, undrained
2 cups vegetable broth (I used homemade)
2 teaspoons cocoa powder
1 1/2 cup cooked wheat berries, cooked*
Juice of 1 lime
Avocado, optional
sour cream, optional
cilantro for garnish, optional
Heat olive oil over medium in a large pot. Add in the onion, carrots, bell pepper, chili powder, cumin, garlic, salt, and pepper. Cook for about 7 to 10 minutes or until all the vegetables has softened. Next, add in the tomatoes, broth, black beans, and cocoa powder. Bring the chili to a bowl, cover, and reduce to a simmer. Let simmer for 30 minutes. Add wheat berries and let cook for another two minutes.
Remove from heat and squeeze in lime juice. Serve with garnish options (avocado, sour cream cilantro, plain yogurt, etc).
*To cook 1 1/2 cups of Wheatberries: Rinse 3/4 cup of berries and letting them simmer for 45 minutes or until softened.