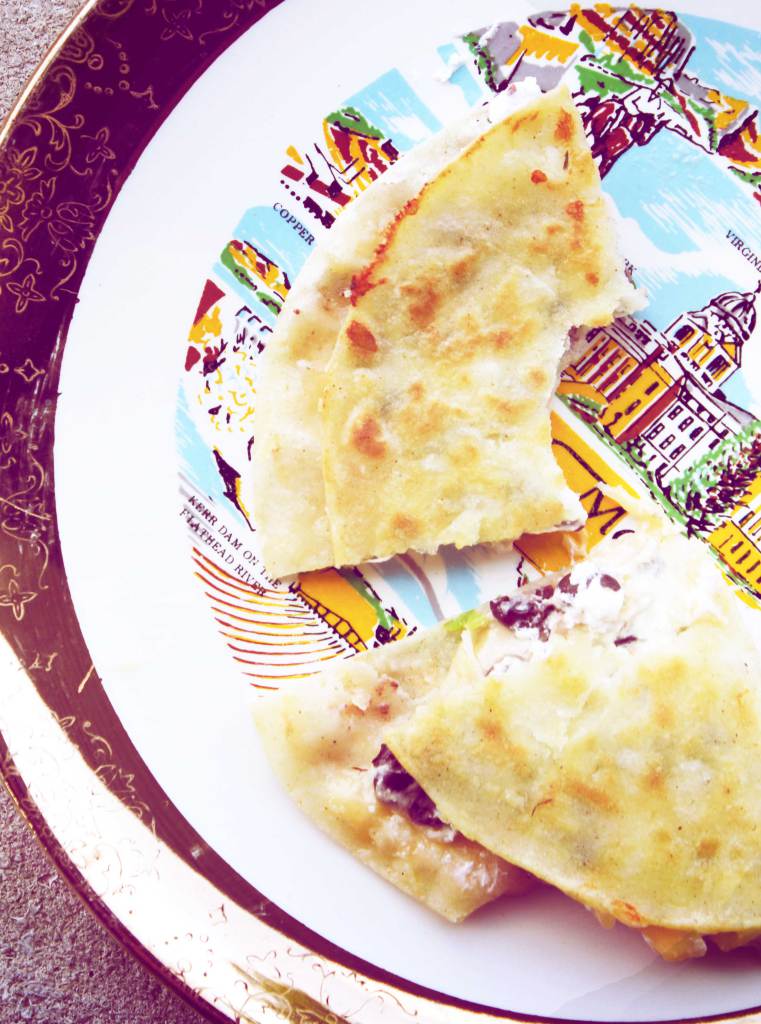 Black Bean and Goat Cheese Quesadilla
So I wanted to talk to you guys about this 'Food is the New Rock' podcast. I'm not sure if you are into podcasts but I've come to enjoy listening to them while I workout or am laying in my sun-room. I've become super into this specific podcast that mixes food and rock music…they show all the similarities and talk a lot about how the two are connected (and then interview chefs about music and musicians about food). This concept is sooooo fantastic for me because I obviously am super into food (having a foodblog and all) but my day job is working at an indie record label distributor…match made in heaven? I think so. If you're into this sort of thing, I highly recommend checking it out here.
Ah yes, back to recipes! I'm not really sure where this goat cheese and black bean combination came about but I highly approve. I remember my old (old) roommate use to make a similar (and absolutely delicious) taco when I lived with her a years ago. Then I ran across a recipe with the black bean/goat cheese combo a couple of days back which sparked my memory for these 'dillas. I had remembered really enjoying them but I think my love affair for goat cheese has grown even stronger in the last 3 years; this means these were even more mouthwatering-awesome them I remember.
Since I've been trying to use up what is in my pantry/fridge (moving begins TOMORROW), I tweaked this recipe to what I had on hand. I used the leftover chevre from the Veggie Polenta Lasagna and the kick of spice from the jalapeno was tamed perfectly from the smooth cheese. Can't wait to make these again with some Beergaritas!
Black Bean and Goat Cheese Quesadilla
Makes 2 'dillas
I can (15 ounce) of black beans, drained and rinsed
1 cup frozen corn, thawed
4 ounces of chevre or goat cheese
1/3 cup Gouda cheese, shredded
2 Tablespoons cilantro, chopped
4 large tortillas (or 8 small)
1 jalapeno, diced
salt/pepper
Olive oil, for cooking
Spread half the cheeses on a tortilla. Top with half the beans, corn, jalapeno and cilantro and then place another tortilla on top. Repeat with the rest of the ingredients.
Heat a dollop of olive oil in a medium skillet over medium. Cook the tortillas on each side for about 5 minutes (or until they start to brown).
Serve warm while the cheese is gooey!