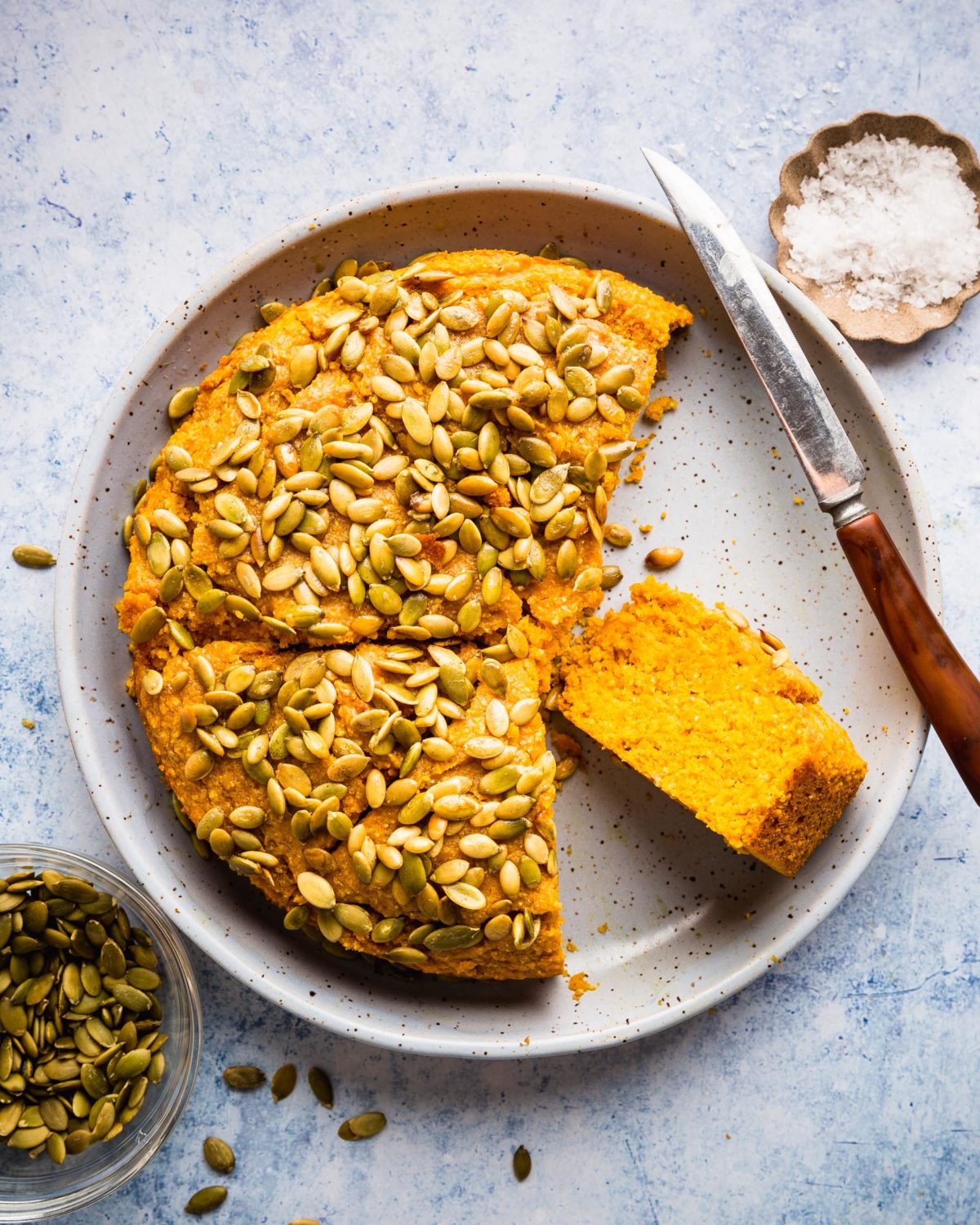 Brown Butter Pumpkin Cornbread
This vegetarian Brown Butter Pumpkin Cornbread recipe is the perfect fall or winter side to serve with chili and soup.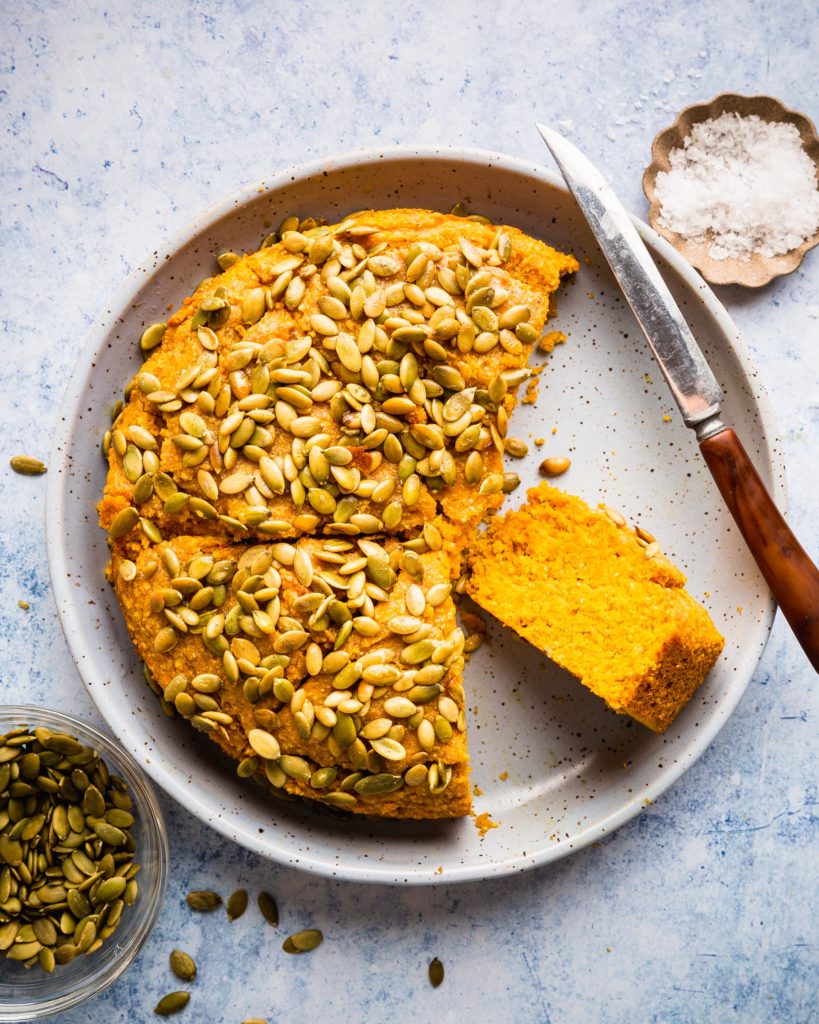 Surely you didn't think I was going to give you a chili recipe this week without also sharing a cornbread recipe?! Don't get me wrong, I really like chili but there are definitely times when I only make chili as an excuse to make cornbread because you can't have one without the other.
This cornbread comes together in under 30 minutes so it's perfect to whip up while your soup or chili is simmering on the stove. What I love about adding pumpkin puree and brown butter to this cornbread is that it adds flavor but the flavor isn't overpowering. We want the cornbread to be delicious and unique enough on it's own that you can eat a piece like a muffin but also have a subtle enough flavor that it works well dipped into chili and soups. Another bonus of adding pumpkin is that it keeps the cornbread a little moist so you don't have to worry about serving dry cornbread.
The pepita / pumpkin seed topping adds an extra crunch element that I really enjoy if you are eating this with just a smear of butter. In order to keep the seeds from burning in the oven, I've instead opted to toast these on the stovetop while the cornbread bakes and then brush the cornbread with melted butter when it comes out of the oven to help the seeds stick. I wanted to mention that this method works but it's not perfect and I still had quite a few seeds fall when I sliced the bread. If you don't want the seeds potentially falling into your soup or chili then you can skip the topping.
PS Be prepared for LOTS of pumpkin recipes from me this fall. When I was recipe developing my newest cookbook this past spring, I was having trouble finding canned pumpkin (it was right around when the pandemic started and I think grocery stores were just focused on stocking the essentials) so I had to buy it in bulk online which meant I ended up with 20+ cans. I used some for the testing but still have at least a dozen or so cans on hand that I plan to play around with this fall. So yeah – hope you like pumpkin and let me know some of your favorite ways to use pumpkin puree!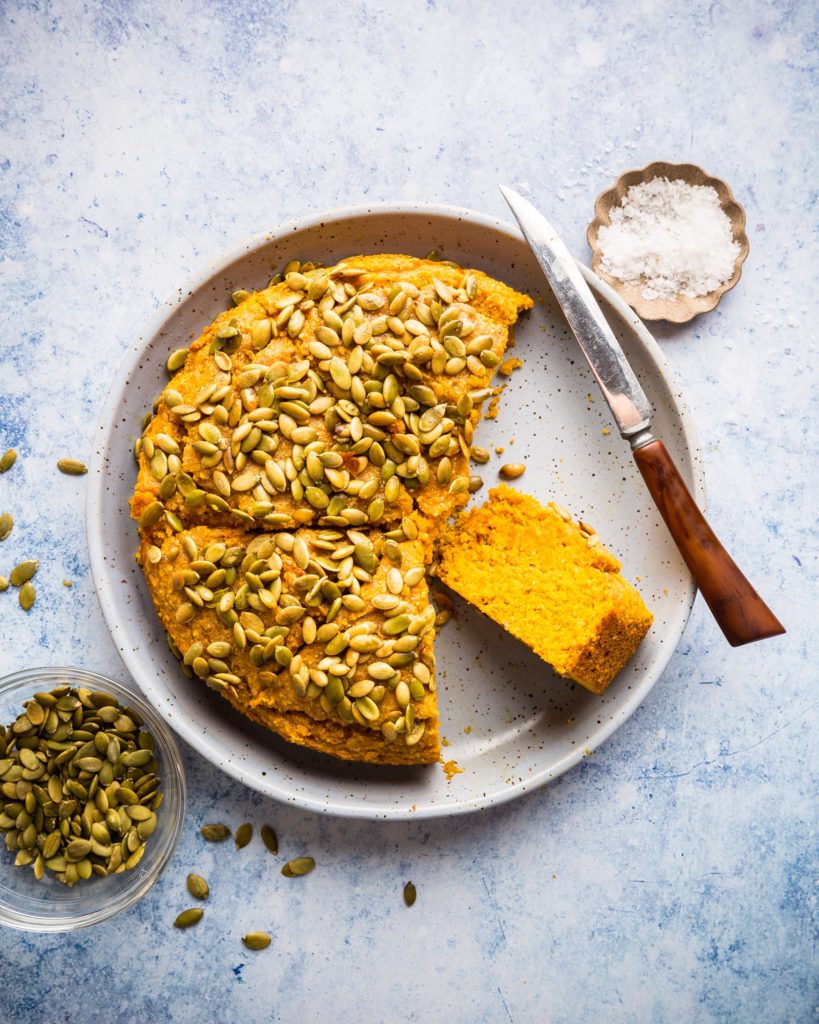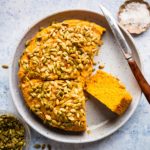 Brown Butter Pumpkin Cornbread
This vegetarian Brown Butter Pumpkin Cornbread recipe is the perfect fall or winter side to serve with chili and soup.
Ingredients
For the cornbread:
1/4

cup

unsalted butter

+ more for greasing the pan

1

cup

yellow cornmeal

1

cup

all-purpose flour

1/4

cup

brown sugar

1

Tbsp

baking powder

1/2

tsp

ground cinnamon

1/4

tsp

nutmeg

1/4

tsp

ginger

1/2

tsp

baking soda

3/4

tsp

salt

1

cup

canned pumpkin puree (<– make sure the only ingredient is pumpkin and there aren't any additional spices or sugar)

1/2

cup

sour cream

2

large eggs
For the topping:
1

Tbsp

unsalted butter

melted

1/3

cup

pepita / pumpkin seeds
Instructions
Preheat oven to 400 degrees and grease a 9 inch circle cake pan.

In a small saucepan or skillet, warm the 1/4 cup unsalted butter over medium heat. Swirling the butter around the pan slightly, watch it closely and after about two minutes, it should start to bubble. Let it bubble for a minute or two or until you start to see small flecks of brown form on the bottom of the pan. Remove from heat and set aside to cool.

In a large mixing bowl, whisk together the cornmeal, flour, brown sugar, baking powder, cinnamon, nutmeg, ginger, baking soda, and salt until well combined.

Make a well in the center of the dry ingredients and add in the canned pumpkin, sour cream, eggs, and cooled butter. Whisk the wet ingredients together until combined (it's okay if some of the dry ingredients get in) and then fold the dry ingredients into the wet just until everything is combined (try to avoid overmixing by only mixing right up until there are no more dry pieces).

Transfer to the prepared cake pan and smooth the batter so that it's even in the pan. Bake for 25 minutes or until a toothpick comes out of the center clean.

While the cornbread is baking, toast the pepita seeds in a small dry skillet over medium heat for about four minutes, tossing often, or until they start to darken slightly and become fragnant. Remove from heat and set aside.

While the cornbread is cooling, use a pastry brush to brush the remaining 1 Tbsp melted butter over the top and sprinkle the pepita seeds. Serve the cornbread on it's own with more butter or alongside your favorite soups or chilis.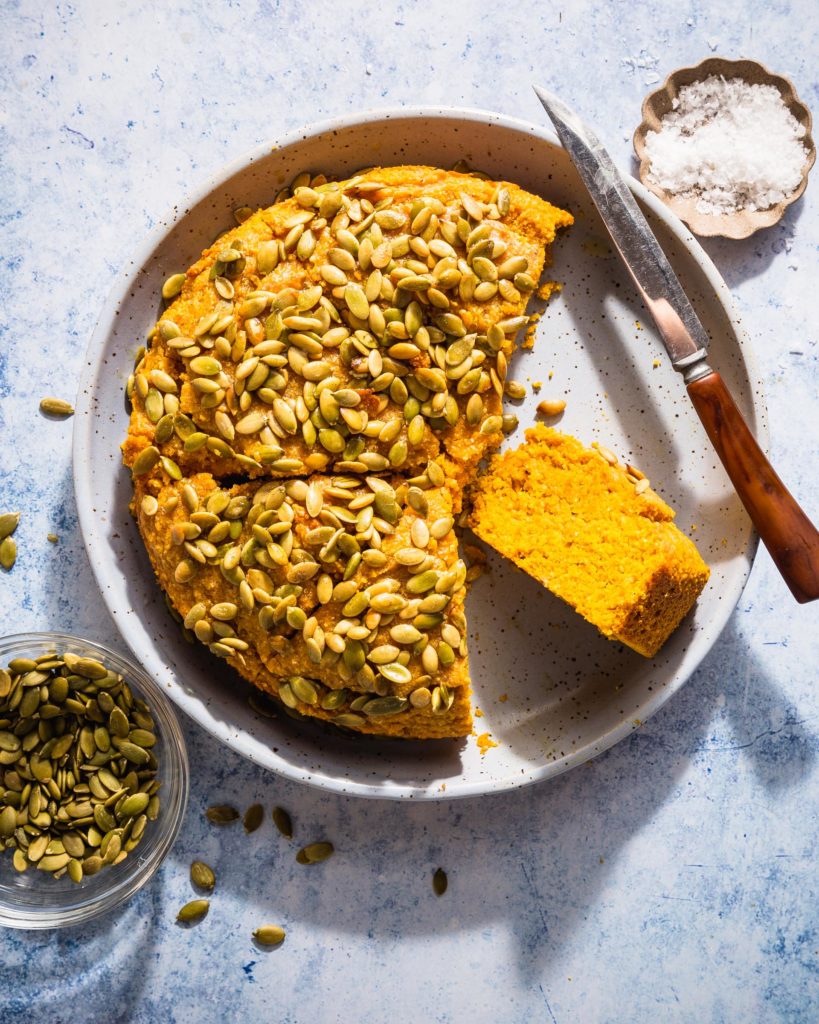 Make sure to tag Vegetarian 'Ventures on Instagram and use #vegetarianventures when trying this dish out!