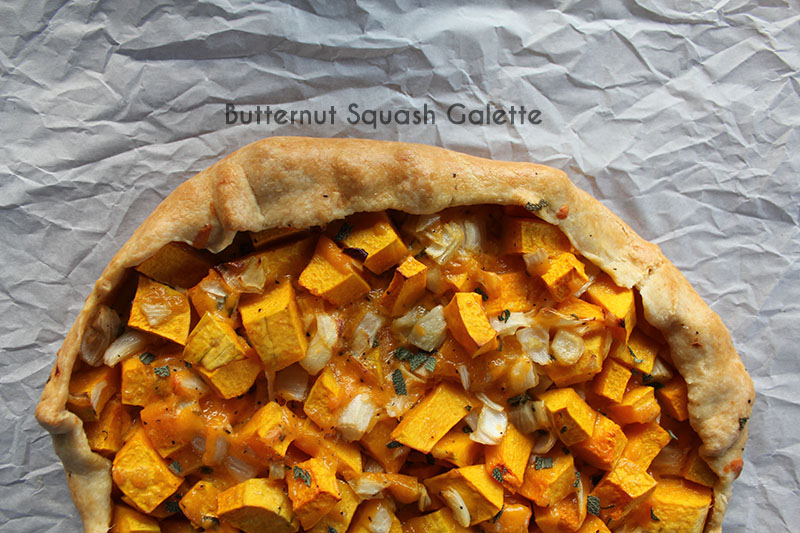 Butternut Squash Galette with Sage and Cheddar
Do you guys all follow me on instagram [ username: shellywest – if you don't, you should!] ? Well, if not then you missed this picture of these adorable mini-cucumbers that I posted the other day (don't they look like tiny watermelons? how bizarre is that?!). Anyhow, we got a handful of these at the farmer's market this week and they taste like a super crunchy cucumber and I bet would be perfect in salads.
You know what else I got at the Farmer's market? A big, beautiful butternut squash. Yup, that's right. Fall vegetables are in full bloom and they look like this…
Looks delicious…right? Oh and to the left of that is some sage from my sunroom. The sun room has been seriously lacking in the 'sun' part lately so most of the herbs are looking pretty sad. Luckily, sage is a tough little guy and has still been thriving. He (or it…or she) looks like this:
Seeee…isn't she lookin' good? I even have her in a self-watering plant so she can take care of herself. Oh, and there's my maroon knee-high socks too…sorry but it is fall. And if there is anything I take seriously this time of year, it's socks and sweaters. A girl needs the proper accessories [socks] to pull off her fall attire. OH! and while we are on the topic of my thriving sage [or did we already switch topics?] …
Look at that texture! Sage, you really know how to show off. oh…speaking of texture…
Haha. Sorry to all of you who are just trying to get to the recipe… I am making all of you go through half a dozen photos first! I promise I'm just trying to prep you for all the delicious things that will be going into this galette. But I'll stop babbling about…socks and fall and texture so that we can get to why you are really here….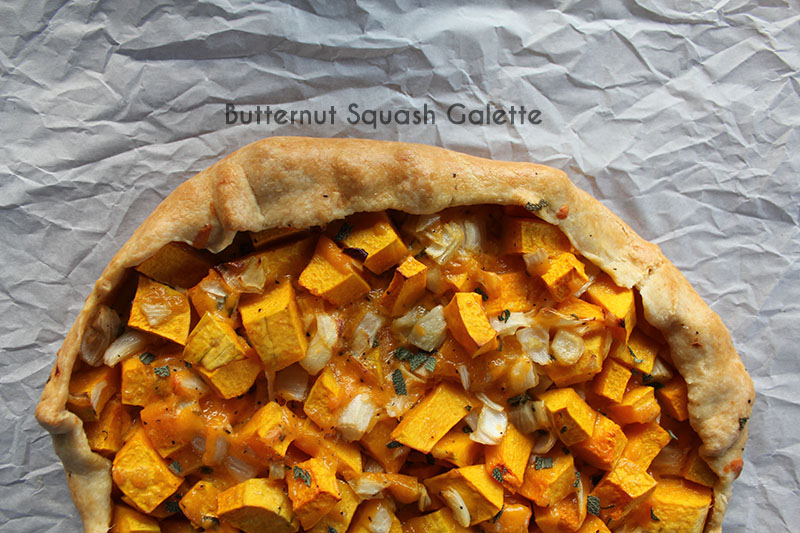 Butternut Squash Galette
For the crust:
1 1/4 cup all purpose flour
1 teaspoon salt
1/2 cup (1 stick) cold unsalted butter, cut into chunks
1/4 cup ice water
For the filling:
1 butternut squash, peeled, seed, and cubed
1/2 onion, chopped
2 cups sharp cheddar, shredded
1/4 cup olive oil
2 garlic cloves, minced
2 Tablespoons fresh sage, chopped
salt/pepper, to taste
1 egg + 1 Tablespoon water
Lets make the crust: Mix the flour and salt in a large bowl. Use your [clean] hands to massage the butter into the flour mixture until a coarse dough as formed (a few large chunks of butter leftover is a-okay). Next, slowly add in the water a tablespoon at a time until the dough forms a thick ball.
Transfer dough to a floured surface and knead for five minutes or until the dough is completely combined and no longer sticky. Wrap in parchment paper and let chill in the fridge for at least 30 minutes.
—-fast forward 30 minutes [or enjoy those 30 minutes by watching your dog try to get peanut butter of the top of his mouth, dance to your favorite vinyl, look up some David Bowie photos online, shave your legs, etc] —–
Preheat oven to 375 degrees. Remove dough from fridge and roll out onto a floured surface. You want your dough to be as close to a circle as possible and about 1/2 inch thick. Transfer dough to a baking sheet lined with parchment paper.
Combine all the filling ingredients together in a bowl and spread in the center of the dough (leave about 2 inches around the edges). Fold the edges in over part of the filling.
Whisk together the water and egg wash and brush over the crust.
Cook for 40 minutes or until the cheese has melted and the crust has browned.
Serve warm with cider [or other fall paraphernalia – like a hot toddy]