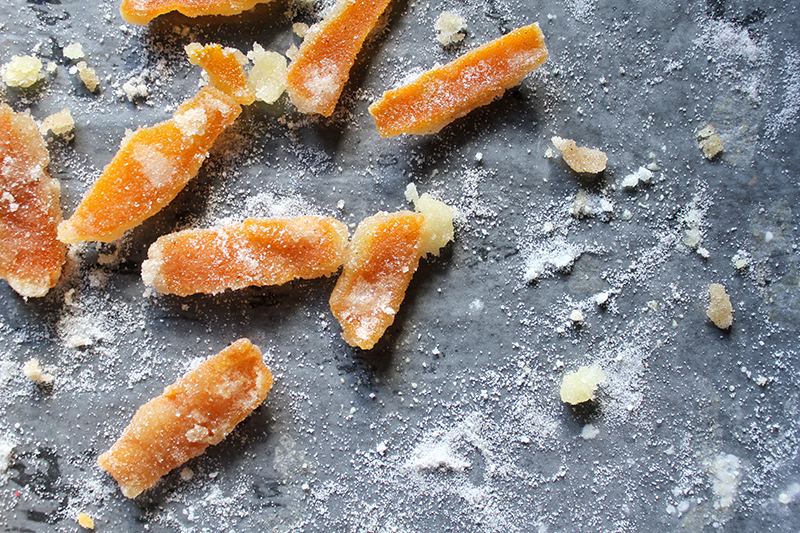 Candied Orange Peels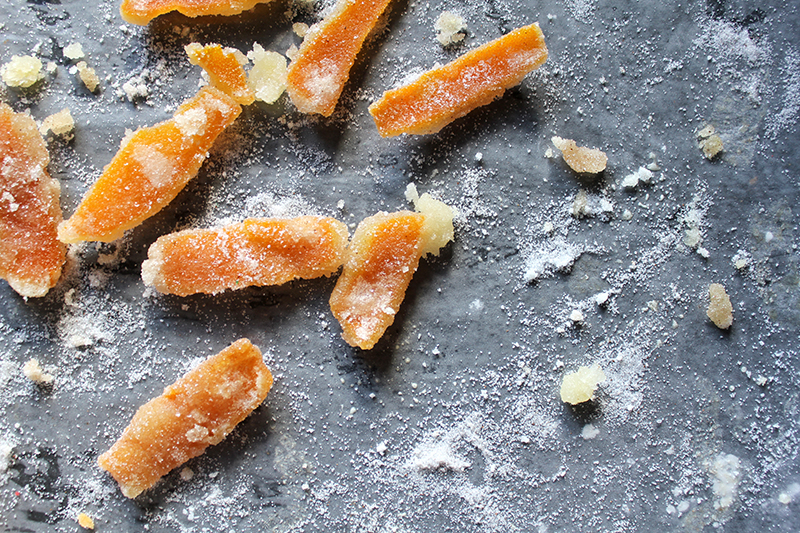 If you live in the Midwest (like myself), you may be bracing yourself for the big Draco Storm (when did they start naming thunderstorm? I get naming hurricanes and tornadoes but T-storms?) that is planned to hit within the next two days. We had our first wave last night with constant rainfall all night long. What does this mean? It's time to lock myself in the kitchen and get Christmas baking!
This is the first time I've ever made sugared peels and I was pleasantly surprised with the process. Yes, it takes awhile but it's not labor intensive at all and is a super easy project to have on the side while you bake up other Christmas goodies.
I made these to go into a little gift box that I'm making for Wyatt. He loves getting an Old Fashioned cocktail when we go out for fancy dates so I thought it would be fun to make him a little kit for home. I've included a nice bottle of bourbon, bitters, some fancy maraschino cherries, and now these homemade orange peel. Even if these peels are too sweet for him to put in his cocktail, I'll enjoy the extra touch of sugar when he makes mine!
I highly recommend using organic oranges for this. Since you are using the peel any sort of pesticides used to grow the fruit will have seeped onto the peel…better to be safe than sorry!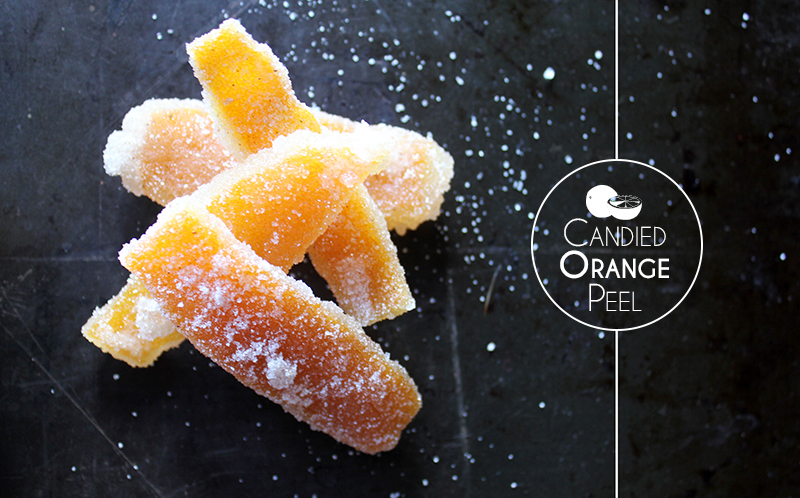 Candied Orange Peel
4 organic oranges
3 cups sugar, divided
1 tablespoon cinnamon
1 teaspoon nutmeg
1 teaspoon cloves
Start by cleaning and scrubbing the oranges very well to scrap off any dirt. Next, cut through the orange in four different sections by slicing into the peel and pith but not going all the way through. Peel the oranges and set the insides aside for a different use (my "different use" was munching on them for an after dinner snack and again for breakfast).
Add the orange peels to a saucepan and fill with water until they are all covered. Bring the water to a boil over medium high heat and then reduce to a simmer. Let simmer for 20 minutes and remove from heat. Strain the water and let the peels cool until they are okay to touch.
Okay, this is the trickiest part! It's time to remove the pith from the peels (the white part) or the end result will be tart. I used a spoon and scrapped off the pith as much as possible (don't feel like you have to get the white part COMPLETELY gone but the more you scrape away the sweeter they will be). Cut the orange peels into long, thin strips.
Next, add 2 cups of sugar and 1 cup of water to a small saucepan. Bring to a simmer over medium heat and stir often until the sugar has dissolved (about five minutes). Add in the orange peels and let simmer for 40 minutes. Remove from heat and let the peels cool in the sugar water (I let them cool for about an hour so they could continue to absorb the sugary syrup).
Once cooled, combine 1 cup sugar, cinnamon, nutmeg, and cloves in a shallow dish. Using a fork or slotted spoon, remove the peels (one at a time) and dip in the sugar mixture. Transfer to wax paper and repeat with the rest of the peels. Let them sit out at room temperature overnight to harden.
Enjoy as a snack or dessert or in your next fancy cocktail!