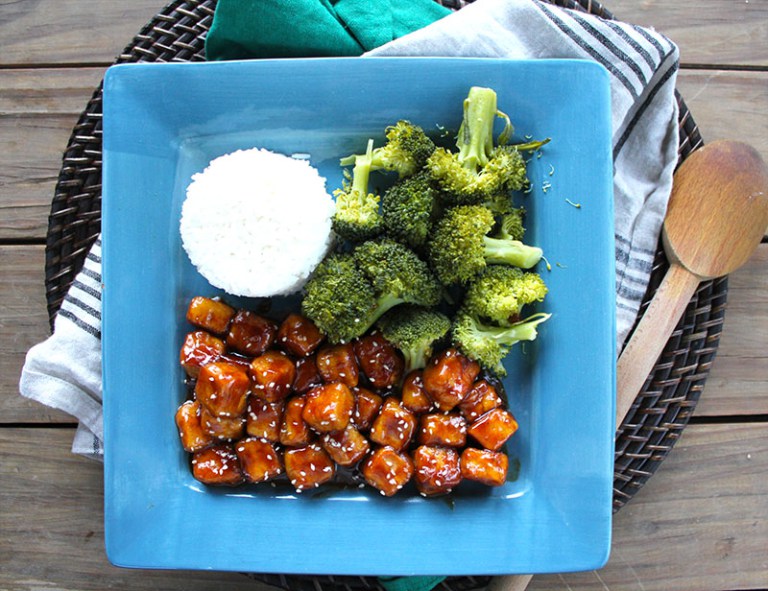 Spicy Orange Tofu
Orange tofu! The name sounds kind of weird but it's a spin off of the famous Orange Chicken that you can get at your local Chinese take-out. Chinese take-out is something I ate a lot growing up so the cravings for it are more frequent than I'd like to admit. Although I can't get it at most restaurants anymore (they only serve chicken versions), I can make my own! Which is probably for the best because all that MSG makes me soooo sleeepy anyways….zzzzzzz
This recipe is super similar to my General Tao Tofu recipe but with a different sauce. As I've mentioned before, I make that General Tao a lot.. so sometimes it's nice to mix it up and this recipe was the perfect answer to that. It's a bit sweeter but the sriracha gives a lingering kick to leave you feeling oh so satisfied.
So there it is! Recipe number 2 on this "Tofu Adventure" was a success [although…was this cheating since this method of preparing is already my go-to tofu cooking method? Ah, whatever. Let's count it as a win]. If you're into tofu like I am, feel free to check out the first part of "Tofu Adventure" where I made some delicious Pesto Tofu Scramble!
;
;
Spicy Orange Tofu
1 1/2 teaspoons Ener-G egg replacer
4 Tablespoons water
1 pound of extra firm tofu (drained and cut into 1-inch cubes)
3/4 cup cornstarch
2 Tablespoons canola/vegetable oil
;
1/2 cup rice vinegar
1/4 cup brown sugar
2 Tablespoons orange juice
2 garlic cloves, minced
dash of ginger
1 teaspoon of sriracha (more if you like it spicy!)
;
Rice
Steamed broccoli
1 teaspoon sesame seeds, for garnish
;
Start by making the sauce: Whisk together the vinegar, brown sugar, orange juice, ginger, garlic and sriracha. Taste test and add more sriracha is it needs more spice. Set aside.
In another small bowl, whisk together the egg replacer with 3 Tablespoons water. Dip tofu in this mixture until completely coated and then sprinkle 3/4 cup of the cornstarch over the tofu until it's completely coated.
Next, In a large pan fry the tofu by added them to a medium heated pan with 2 tablespoons of vegetable oil in it. Flip the tofu after about 2 minutes or until it is browned on all sides. When done, turn heat down to medium-low and pour in the orange glaze. Fold the glaze into the tofu and cook down to desired consistency.
Serve warm over rice and with steamed broccoli. Top with sesame seeds and perhaps find some vegetarian crab rangoon to top it all off!
;