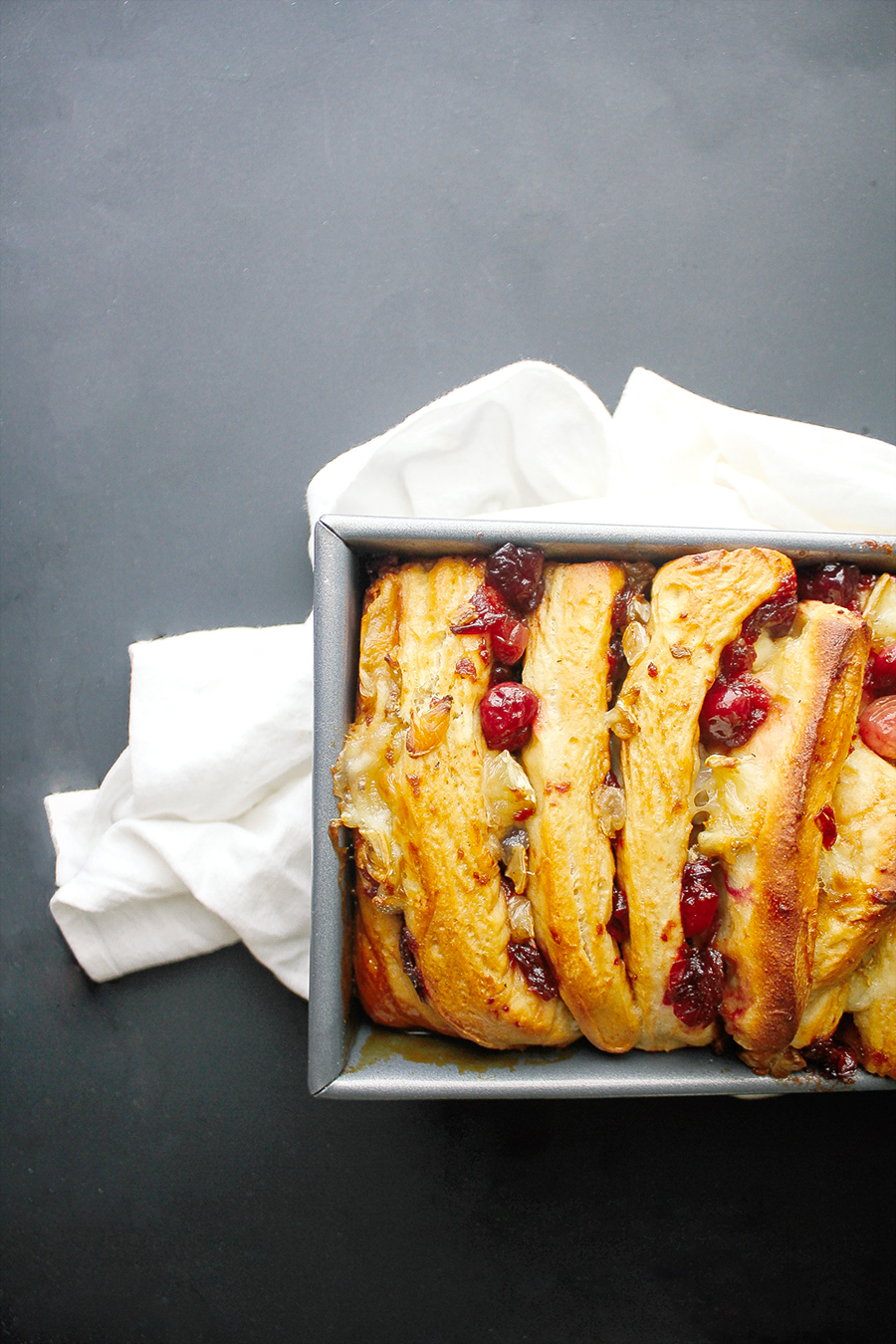 Caramelized Cranberry & Brie Pull-Apart Bread
In a hurry? Click here to JUMP TO RECIPE!
A savory pull-apart bread stuffed with caramelized cranberry and brie perfect for your next holiday gathering!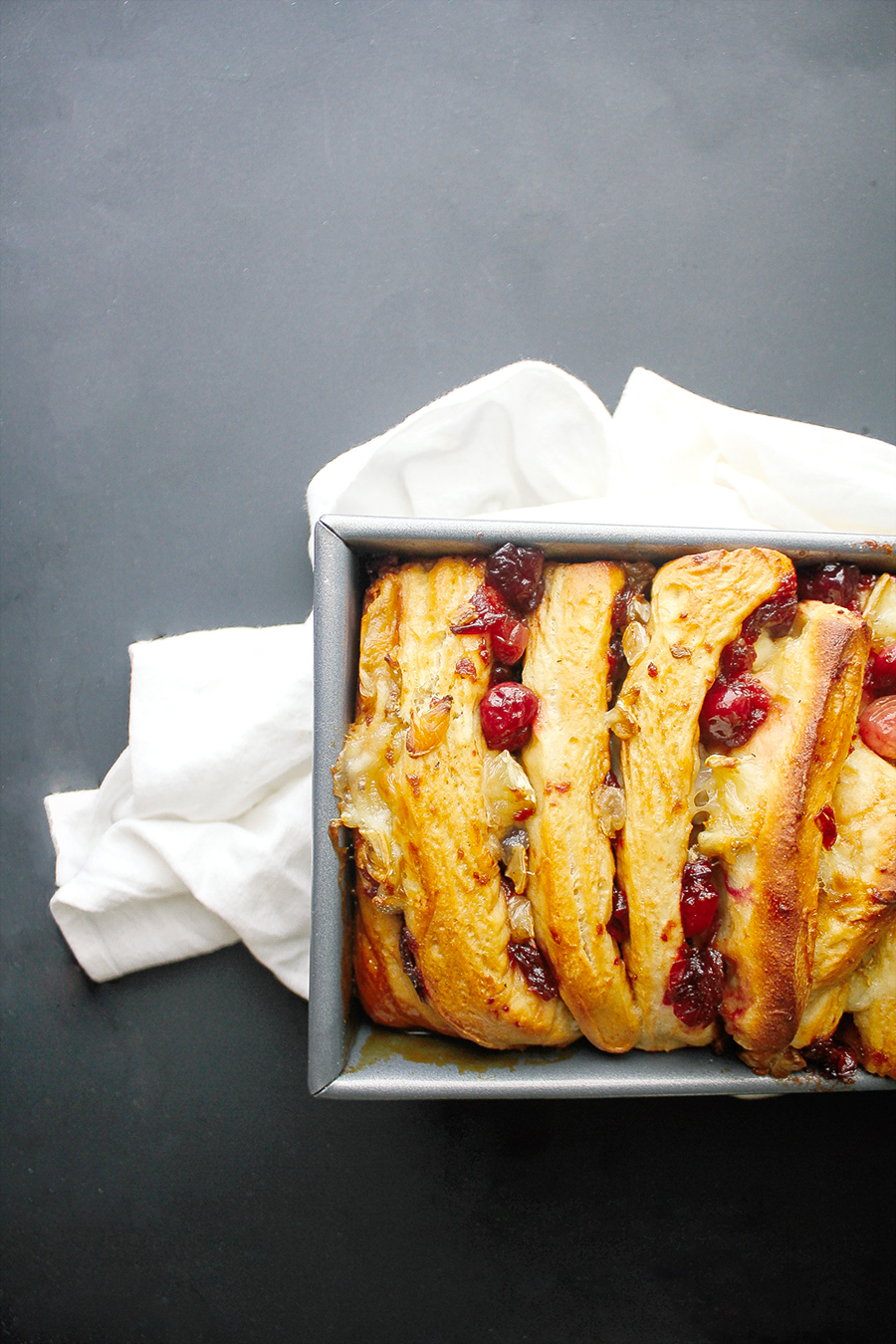 Are you guys ready to talk about Thanksgiving? Excellent because it's been on my mind a whole bunch lately and I am wearing my excitement on my sleeve. Holidays weren't something I truly appreciated until I moved away and spent months upon months away from my family (it also helps that, in the more recent years, I've become obsessed with food as well). These days, it seems like I get more and more excited about the holidays sooner and sooner. Hell, I was ready to start talking about stuffing at the end of September!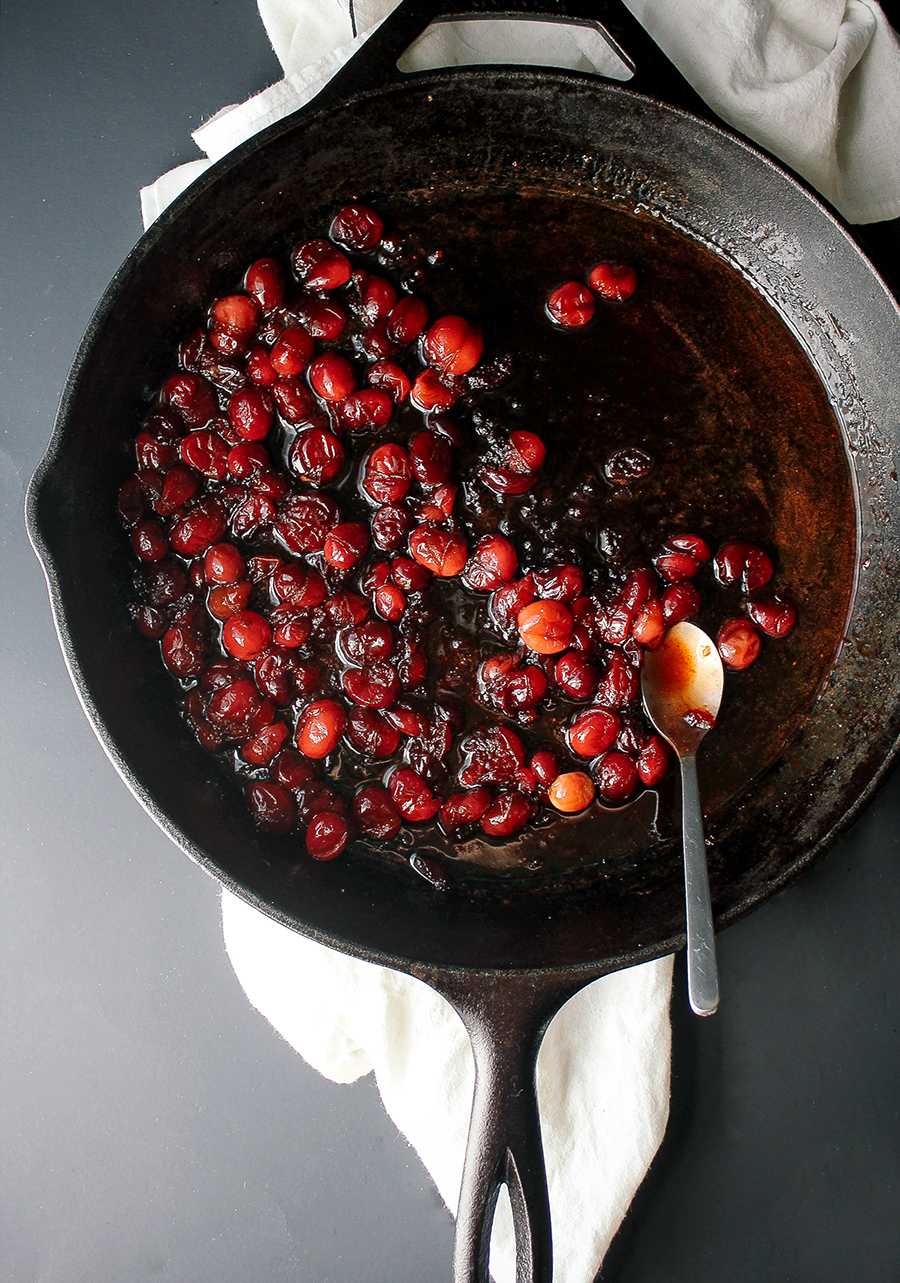 Although the 'traditional' Thanksgiving congers up images of turkey and sausage gravy for most, this has never been the case for me. For me, it's all about stuffing my face with as many vegetables sides as possible and perfecting my sage gravy recipe.
And can we chat about these caramelized cranberries? Oh man! The brown sugar engulfs the tart berries so nothing is left but little bursts of sweetness with tiny speckles of vanilla. Need I say more? Well, if I must, we can combine the berries with gooey brie for the perfect mix of sweet & salty. Have you ever had baked brie where the puff pastry is stuffed with gooey cheese and fig jam? Well, think of this as a fresh and oh so delicious twist on that!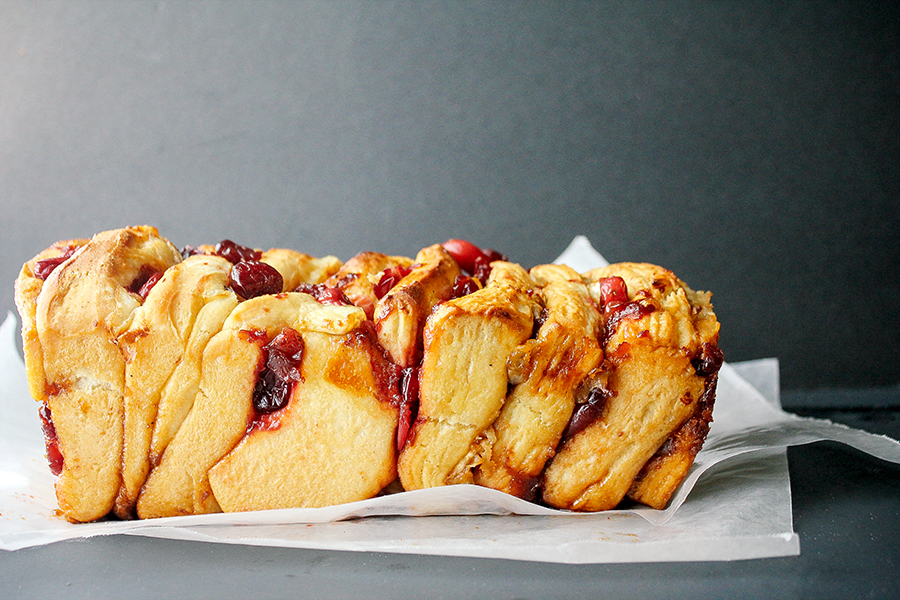 What I love about pull-apart bread is that it looks like it's super complicated to make but has a playful nature to it with it's imperfect size pieces. This makes it elegant enough for the big meal or playful enough to enjoy as an appetizer. Plus, it's easy to pass around the table since the pieces are already sliced or wonderful to stick on an appetizer place for people to pull off a piece as they walk by.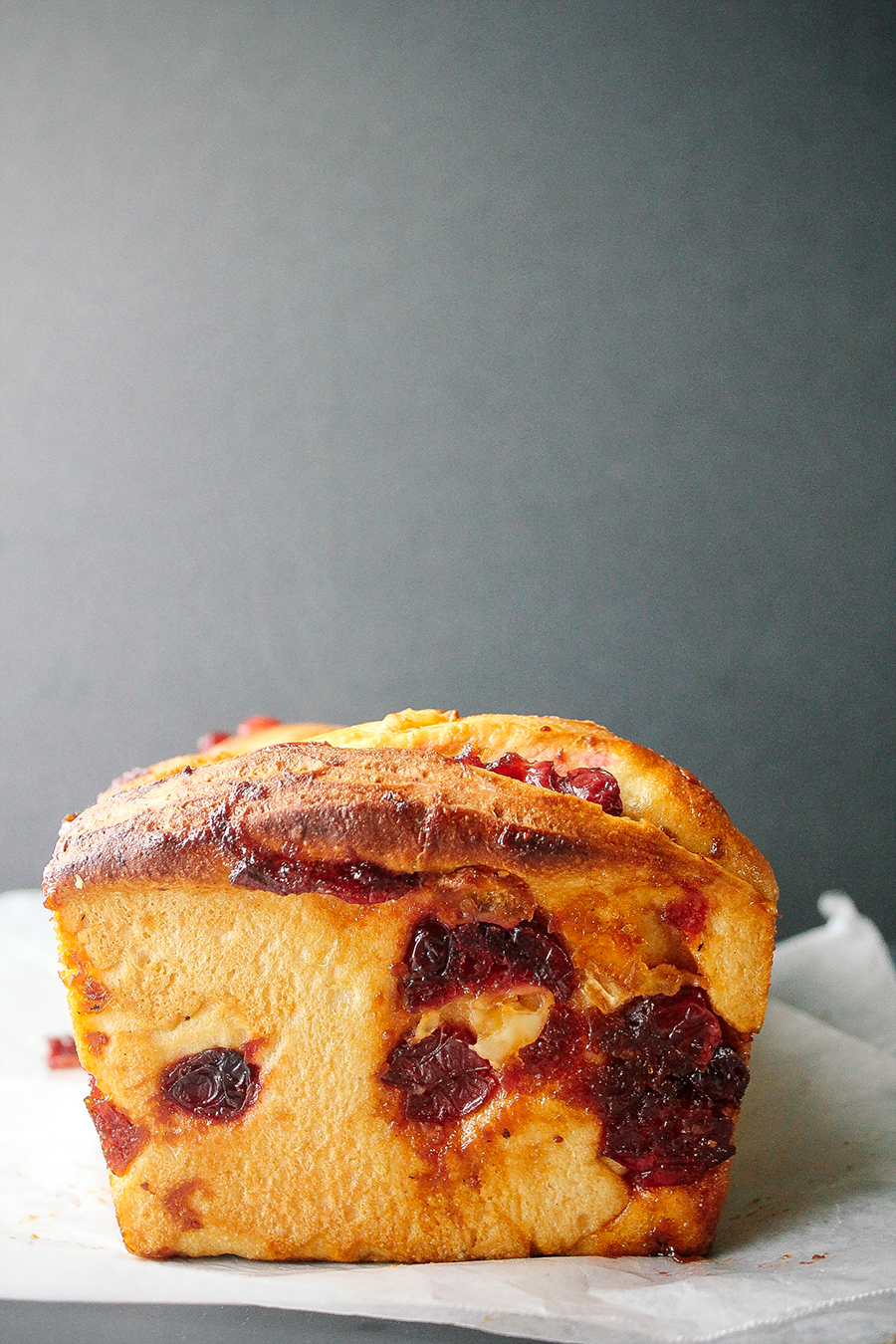 So, in case you got lost somewhere up there in the unnecessary amount of pictures and lengthy rambling: This bread is like eating a big chunk of baked brie and a soft buttery roll AT THE SAME TIME. Who needs dinner rolls when you can stuff your face with gooey brie, sweetly caramelized cranberries, and buttery amazingness?
Caramelized Cranberry & Brie Pull-Apart Bread: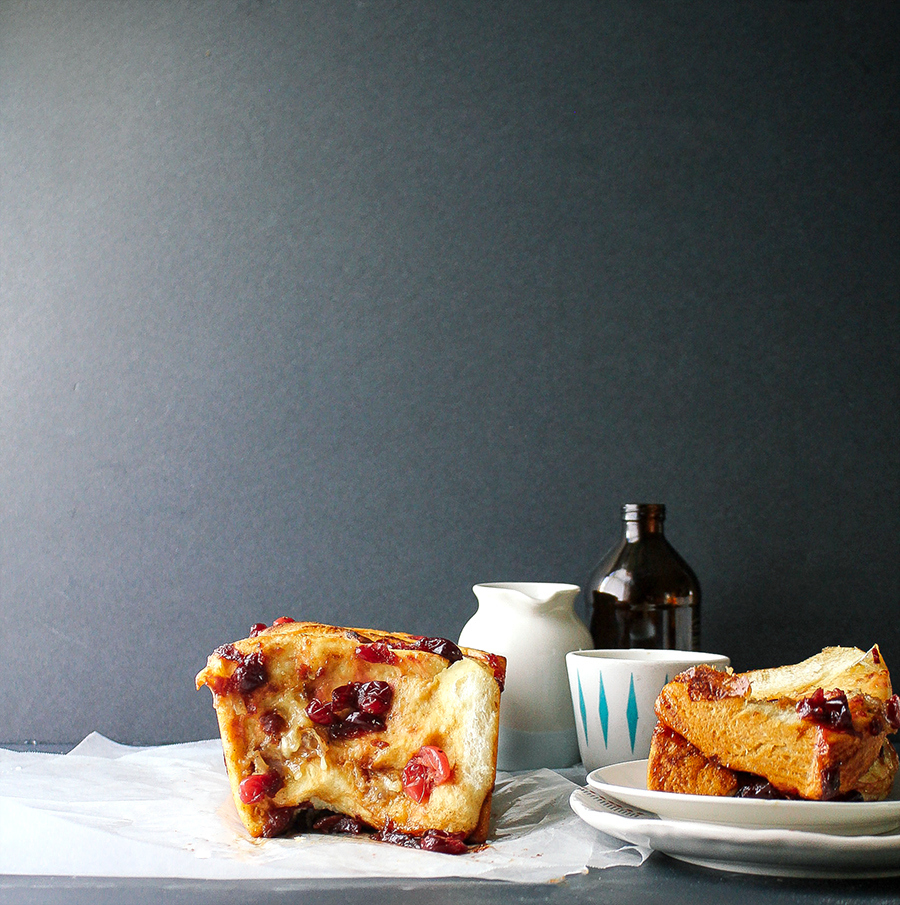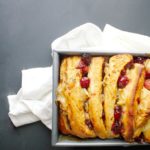 Caramelized Cranberry & Brie Pull-Apart Bread
Adapted from Hungry Girl Por Vida / A savory pull-apart bread stuffed with caramelized cranberry and brie perfect for your next holiday gathering!
Ingredients
For the filling:
1

lb

fresh cranberries

juice from one lemon

1/2

cup

brown sugar

2

tablespoons

butter

2

tablespoons

water

1

vanilla bean

, seeds only (optional)

4

oz

. Brie

, diced small
For the dough:
1/2

cup

whole milk

4

tablespoons

butter

1/4

cup

warm water

2 1/4

cup

all purpose flour

1/2

cup

whole wheat flour

1/2

teaspoon

salt

1/4

cup

sugar

2 1/4

teaspoons

instant yeast

1

teaspoon

vanilla

2

eggs

, lightly beaten

+ more butter for topping
Instructions
For the dough: heat milk and butter in a small saucepan over medium until melted. Remove from heat and whisk in the water & sugar. Let cool slightly (should be at about 120 degrees) and stir in the yeast. Set aside for about five minutes or until the yeast is foamy.


Combine flours and salt in a stand mixer with the dough attachment. Add the vanilla and beaten egg to the yeast mixture and turn the mixer on low. Slowly pour the wet ingredients into the dry and mix until combined. Turn the mixer up to medium and let knead until a sticky dough has formed. Grease a large bowl, place dough inside, and cover with a dish towel or plastic wrap. Let rise in a warm place for an hour.


For the filling: Heat the butter and sugar in a large skillet over medium. Once melted, add in the cranberries, lemon juice, and water. Stir frequently and let cook until a thick and chunky mixture has formed. Remove from heat and fold in the vanilla bean seeds (if using).


Grease a 9x5 inch loaf pan. Deflate the dough and knead it a few times. On a floured surface, roll out a 12x20 rectangle with the dough (this doesn't need to be exact). Pour the caramelized cranberries over the dough and spread as evenly as possible. Top with the brie chunks. Use a knife (or I used a pizza cutter) to cut the bread into thirds from one end of the long side to the other (about 20x4 pieces). Next, slice the bread into fifths on the short side until the whole thing is cut like a pizza you were slicing into squares. Stack the slices on top of each other and transfer sideways to your prepared loaf pan (the same way sliced bread lays in a pan) and repeat with the rest of the dough. Cover with plastic wrap or your tea towel and let rise for another 45 minutes.

Preheat oven to 350 degrees. Top the loaf with a little butter and cook for 30 to 35 minutes. Check often and remove from oven once the top is crispy and the inside is cooked all the way through (to check if insides are done, the inside temperature should be around 180 degrees).