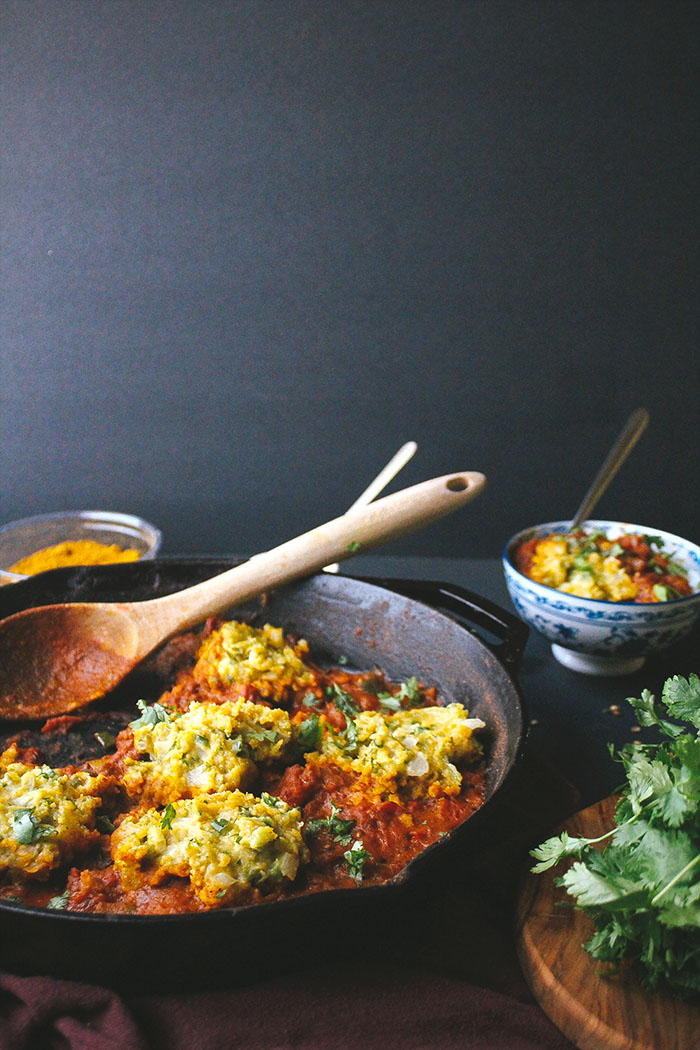 Chickpea Dumplings in Curry Tomato Sauce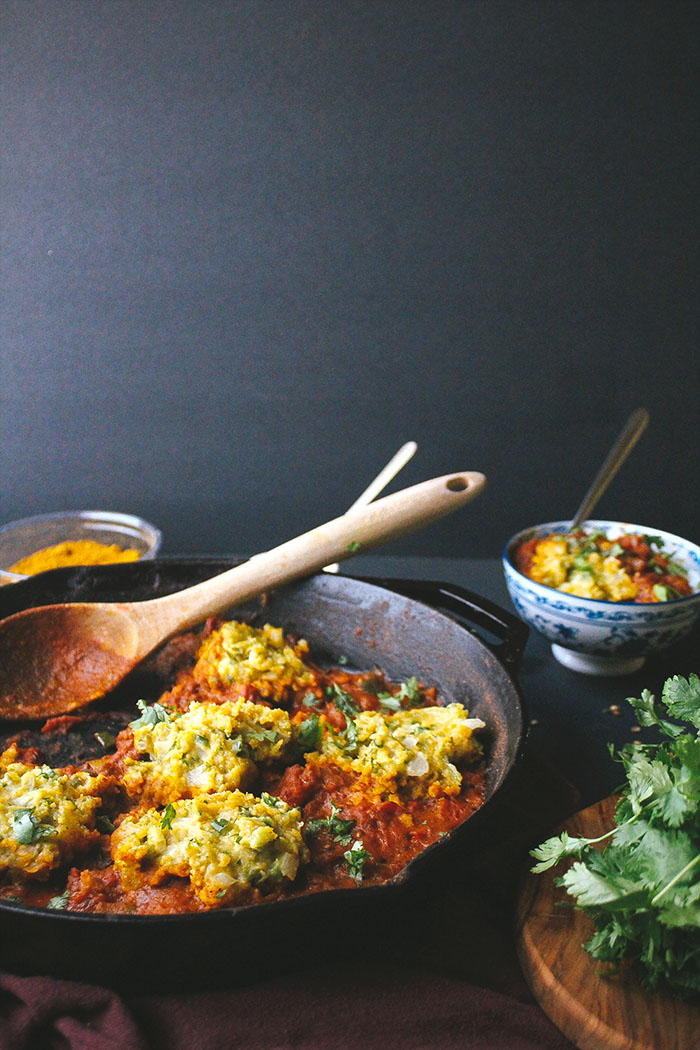 I know you were starting to worry. You were starting to wonder if my diet really could consist of sugar and alcohol based on the recipes that have been posted on VV the last month or so. So, in an attempt to show you a some-what 'normal' side of my diet, I'm posting this dumpling recipe which is an evening go-to in our home. Curry is always welcome around here and we tend to make it about once a week in the cooler months. I like this recipe because it breaks up the usual vegetable-sauce-rice ratio and has protein-rich dumplings cooked right in. Also, the best part about the dumpling literally steaming into the sauce is that it doesn't take any longer than it would for you to simmer a pot of homemade curry sauce.
This recipe is traditionally prepared by frying the dumplings but I've chosen to steam them in the tomato sauce instead for both time and health sake. Think of it as an Indian-curry version of chicken and dumpling stew. Except the sauce plays a much more flavorful part than in our traditional comfort stew. The dumplings end up gooey and steaming them in the sauce lends to the dumplings soaking up the flavors around them.
We serve ours over basmati rice but you can make it a little bit healthier by substituting brown rice. We also like to top ours with greek yogurt for an extra creamy consistency but it's plenty flavorful without the yogurt if you are trying to keep it vegan.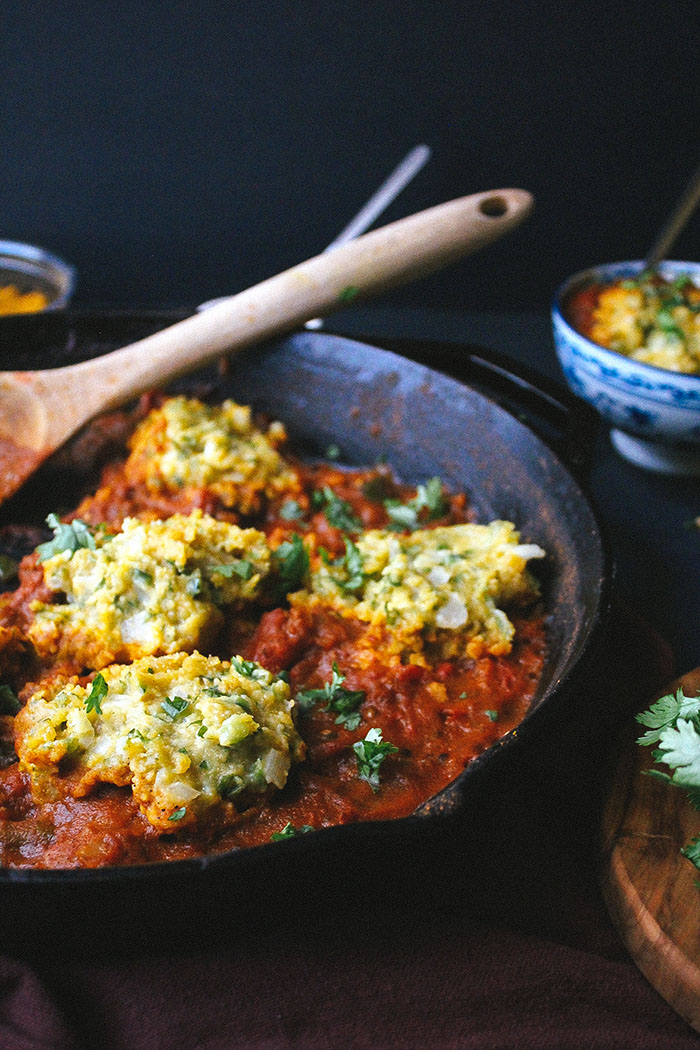 Chickpea Dumplings in Curry Tomato Sauce
1 cup chickpea flour (also called Garbanzo bean flour)
1/2 cup finely chopped cilantro (plus more for garnish)
1/4 cup + 1 Tablespoon peanut oil
1/3 cup greek yogurt (use soy yogurt to make vegan)
2 serrano chilis, seeds removed and minced
1 onion, minced
2 teaspoons coriander seeds
1 teaspoon mustard seeds
1 teaspoon cumin seeds
1 1/2 tablespoons curry powder
1 28 ounce can of whole tomatoes, crushed
1/2 teaspoon ground turmeric
1 teaspoon ground ginger (or 1 inch piece of fresh ginger, peeled & grated)
Heat 1 Tablespoon of oil in a large skillet or saucepan over medium. Add coriander, mustard, and cumin seeds; cook for about a minute or until they begin to pop. Add curry powder, one serrano pepper, and 1/2 the onion. Sauté for about 5 minutes or until softened. Add tomatoes (with juice from the can), turmeric, ginger, and a cup of water. Bring to a boil and then let simmer for ten minutes or until it has thickened up.
While simmering, combine the rest of the serranos, onions, chickpea flour, cilantro, oil, yogurt, and salt in a bowl. Stir until a thick dough has formed.
Drop a heaping tablespoon of dough into the stew; repeat with the rest of the dough. Cover mixture and let steam / simmer for another 5-7 minutes. Remove from heat.
Enjoy right away with cilantro and yogurt as garnish.