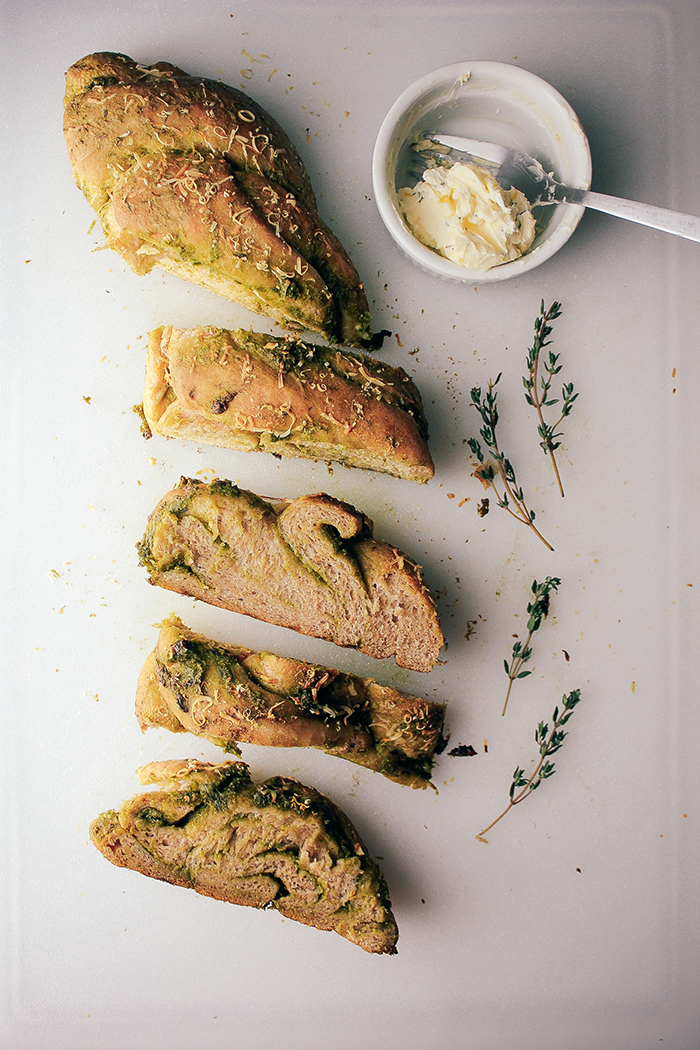 CHIMICHURRI Ramps Bread with Lemon Thyme Butter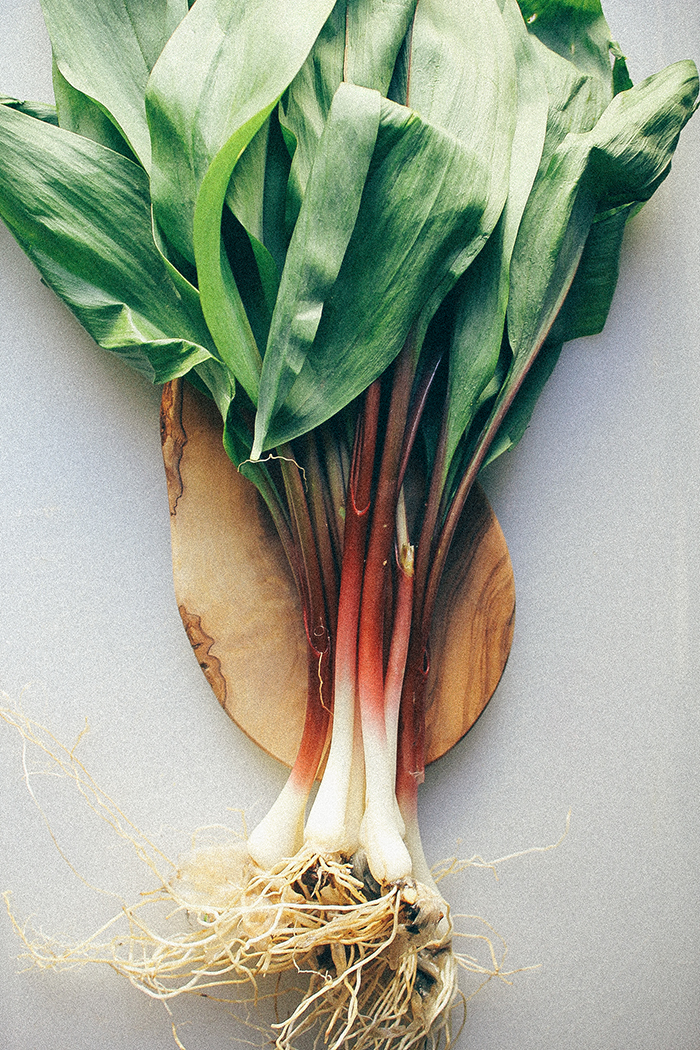 I came across ramps for the first time at the farmer's market two weeks ago. The nice man who sold them to me explained that they are a type of mild wild garlic and grow in the early spring. The first recipe I tried was a Lemon Risotto from The Kitchn and I was instantly hooked. I went back the next week and picked up another bundle.
This time around I wanted to create my own recipe. When researching ideas, I came across chimichurri and knew I had to try it. Chimichurri is an Argentina sauce that is usually lathered all over meat. If you've ever read 'The Butcher and The Vegetarian' then you probably can recall the wonderful ways she described chimichurri. She spoke of it making her dizzy from the fresh flavors and needing more. That was enough for me to know I wanted to try it.
But…my adventures with chimichurri didn't stop there. After lathering it on anything in sight, I wanted to also cook with it. Traditionally it's rubbed on meat…which isn't an option for me so I decided to do something completely different – throw it in the loaf of bread I had planned to make anyways! And dayuuum…. not only was it beautiful with streaks of green running through it but the bread was soft and so flavorful that you could eat the whole thing plain. Or make some simple lemon thyme butter to dab on top.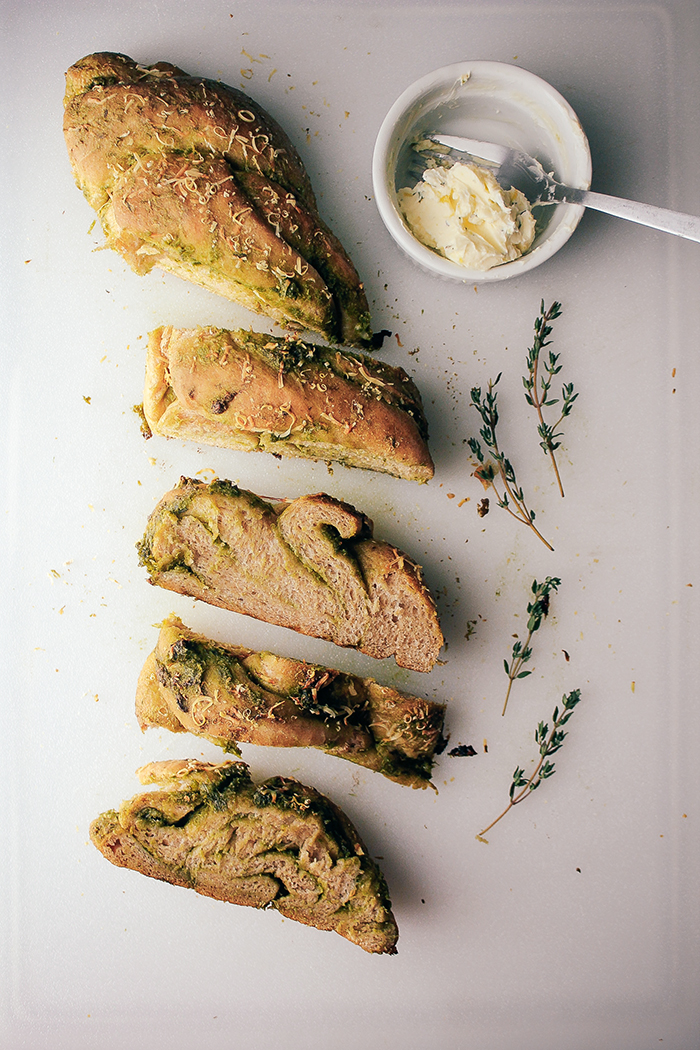 Chimichurri Ramps Bread with Lemon Thyme Butter
Chimichurri:
1 bunch of ramps (about 10 stalks)
1/4 cup olive oil
2 Tablespoons red wine vinegar
1/2 teaspoons salt
1/2 red pepper flakes
dash of pepper
For the bread:
1 cup warm water
2 teaspoons yeast
1 cup whole wheat flour
1 1/2 cup all purpose flour
1 Tablespoon olive oil
1/2 teaspoons salt
1/4 cup shredded parmesan
For the butter:
6 Tablespoons butter, softened
2 teaspoons fresh thyme, minced
Zest from half of an organic lemon
To make the chimichurri: Rinse the ramps and cut off the roots and any rough tips.  Slice into big chunks. Place all ingredients in a food processor (or blender) until a smooth paste forms. Lather all over slices of baguette or roasted veggies or proceed and make delicious bread out of it…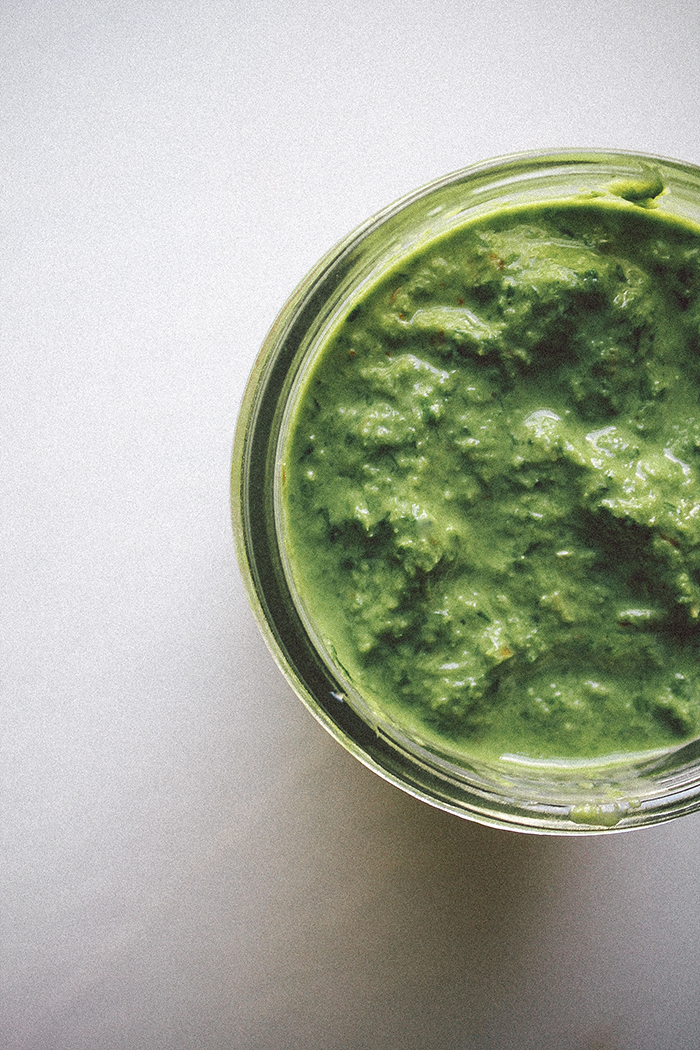 To make the bread: Combine the warm water and yeast in the large mixing bowl. Let sit for 5 minutes or until it becomes frothy. Next, add in the flour, salt, and olive oil and mix until combined. Turn the dough onto a floured surface and knead by hand for ten minutes (you can also do this in a stand mixer with a bread attachment – sadly, my mixer gave out on me last month so I'm going old school). Transfer kneaded dough to an oiled bowl and cover with a clean dish towel. Let rise in a warm place for an hour.
Next, turn the dough out onto floured surface and roll into a rectangle (about 18 by 12 inches). Top with the chimichurri. Roll the long side of the dough towards you and pinch the ends closed (the same way you roll cinnamon into cinnamon rolls). Slice down the middle lengthwise, twist both pieces, and use the two parts to bread the bread by twirling around each other. Transfer to a greased baking sheet and let rise for another 30 minutes.
Preheat oven to 425 and bake for roughly 25 minutes or until golden on top.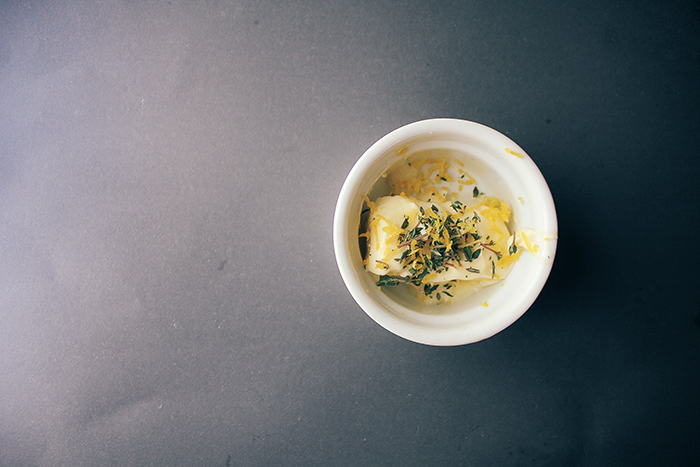 To make the thyme lemon butter: Mash the lemon zest, softened butter, and thyme together. Serve soft or wrap in parchment paper and stick in the fridge until firm.