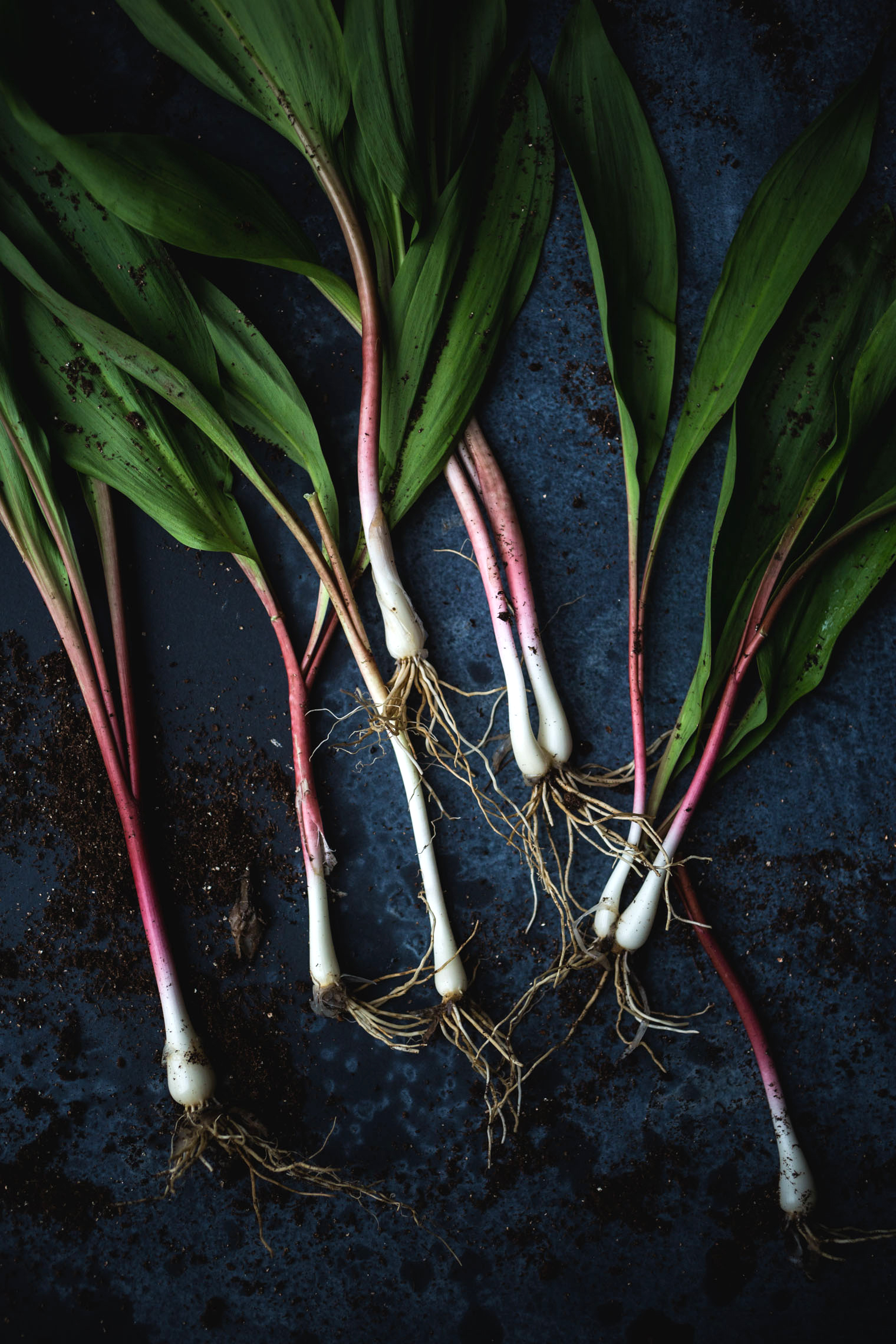 Simple Sundays: 5 Way To Cook With Ramps + Ramp Butter
In a hurry? Click here to JUMP TO RECIPE!
This post explains how to prepare ramps, how to cook ramps, and what these wild onions are. I'm also giving you a ramp butter recipe, plus I'm sharing 5 more ramps recipes!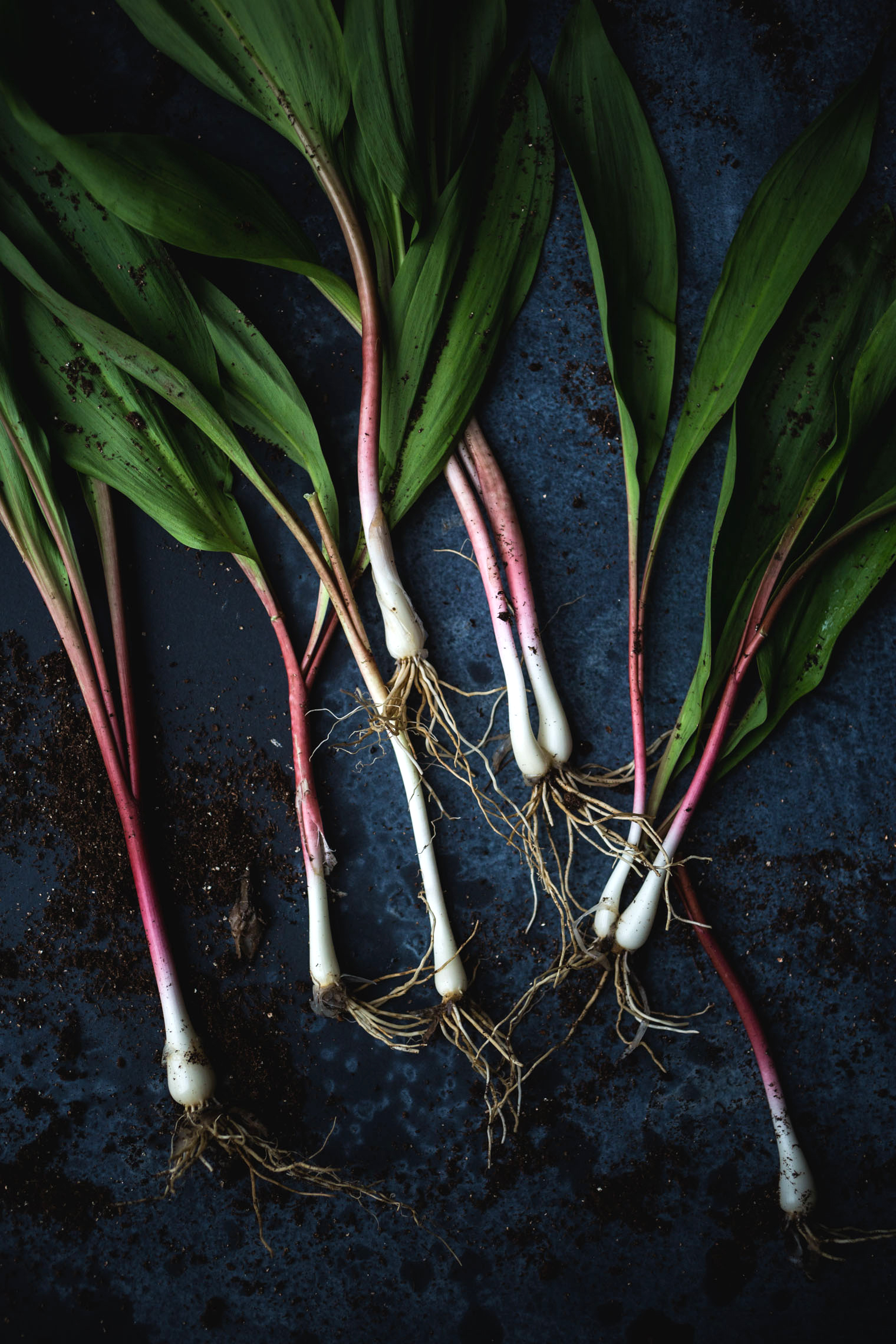 What Are Ramps?
Heyya! Welcome to my newest series, Simple Sundays! I've been longing to get back into checking in more than once a week so I've decided having a simple recipe or even round-up on Sundays may be my answer. This series won't run every Sunday but I'm hoping it'll be a good excuse for me to pop in more often in addition to my extensive weekly posts (that really do take a long time to put together).
This week I'm talking about the my favorite spring produce: ramps! These spring onion gems are known by all sorts of different names: wild ramps, spring ramps, wild onion ramps, onion ramps, and wild leek ramps. For anyone not familiar with ramps, as you can guess by the names, they are a wild onion that taste a bit like a mix between onions and garlic. Their growing season is so short and limited that they've gained a cult following as food associated with early spring (and are rather hard to get your hands on since most grocery stores do not carry them).
If you live in the Eastern US and some part of the Midwest, check your local farmer's market in April and May to try and get your hands on a batch so you too can cook with ramps.
read more: My 10 Favorite Spring Recipes Worth Making This Weekend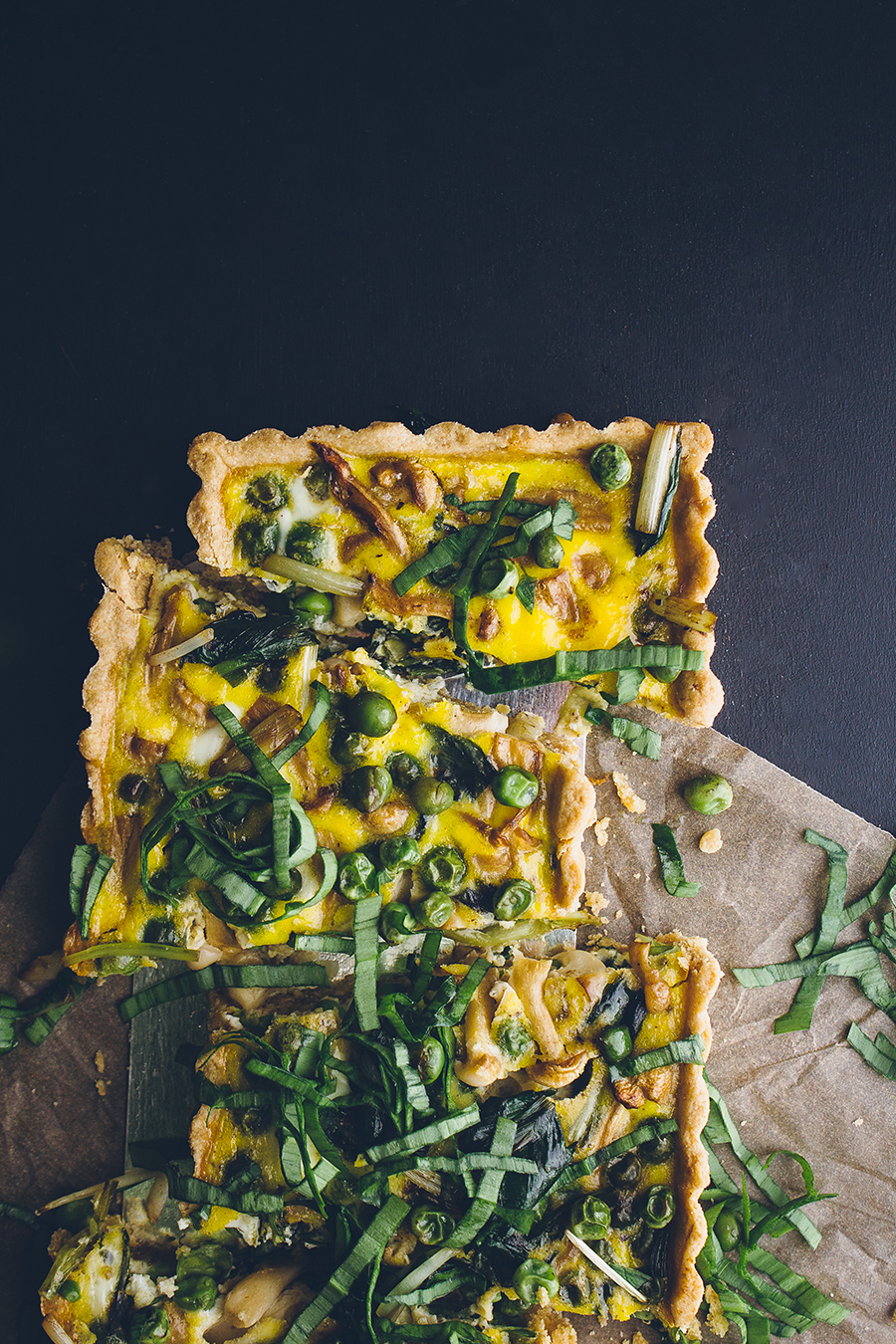 5 Easy Ramps Recipes
Once you've acquired your first batch of spring ramps, you are probably a bit confused on how to prepare them, yeah? Since they can be rather strong tasting, I do recommend cooking (sauteing, blanching, etc) them before adding to your dish.
You can use ramps anywhere that you might use spring onions or scallions, but let me help you with 5 suggestions for how I like to cook with ramps:
1. Ramp Butter
This may be my favorite way to prepare wild ramps since it's so beyond easy and such a great way to fancy up a dish. My favorite way to enjoy ramp butter is on salty baked or smashed potatoes. Ramp butter would also be excellent in savory oatmeal or tossed with fresh pasta. /// RECIPE: See below!
2. Spring Quiche
Throw them into eggs. My first encounter with ramps was a quiche I made in 2014. It's such a great way to showcase these spring onions without making them the center of attention.  /// RECIPE: Loaded Vegetable Spring Quiche.
3. Ramps on Toast
Sautéed on toast. If you haven't noticed a pattern already, the key for me to is to keep the preparation simple to really enjoy the flavor. Sometimes all you need is a little lemon juice and thick sliced bread. /// RECIPE: Simple Sautéed Ramps with White Beans.
4. Spring Salad
Toss them into a salad! Greens are just starting to pop up again in most areas of the US so why not utilize them in a big spring salad. Just don't forget to cook the ramps a bit first to tame their flavor. /// RECIPE: Vegetarian Wheatberry Spring Salad.
5. Spring Ramen Soup
Throw them into a soup or stew. They work great in place of any recipe that might call for spring onions so find a favorite veggie heavy soup and mix them on in! /// RECIPE: Vegetarian Spring Ramen.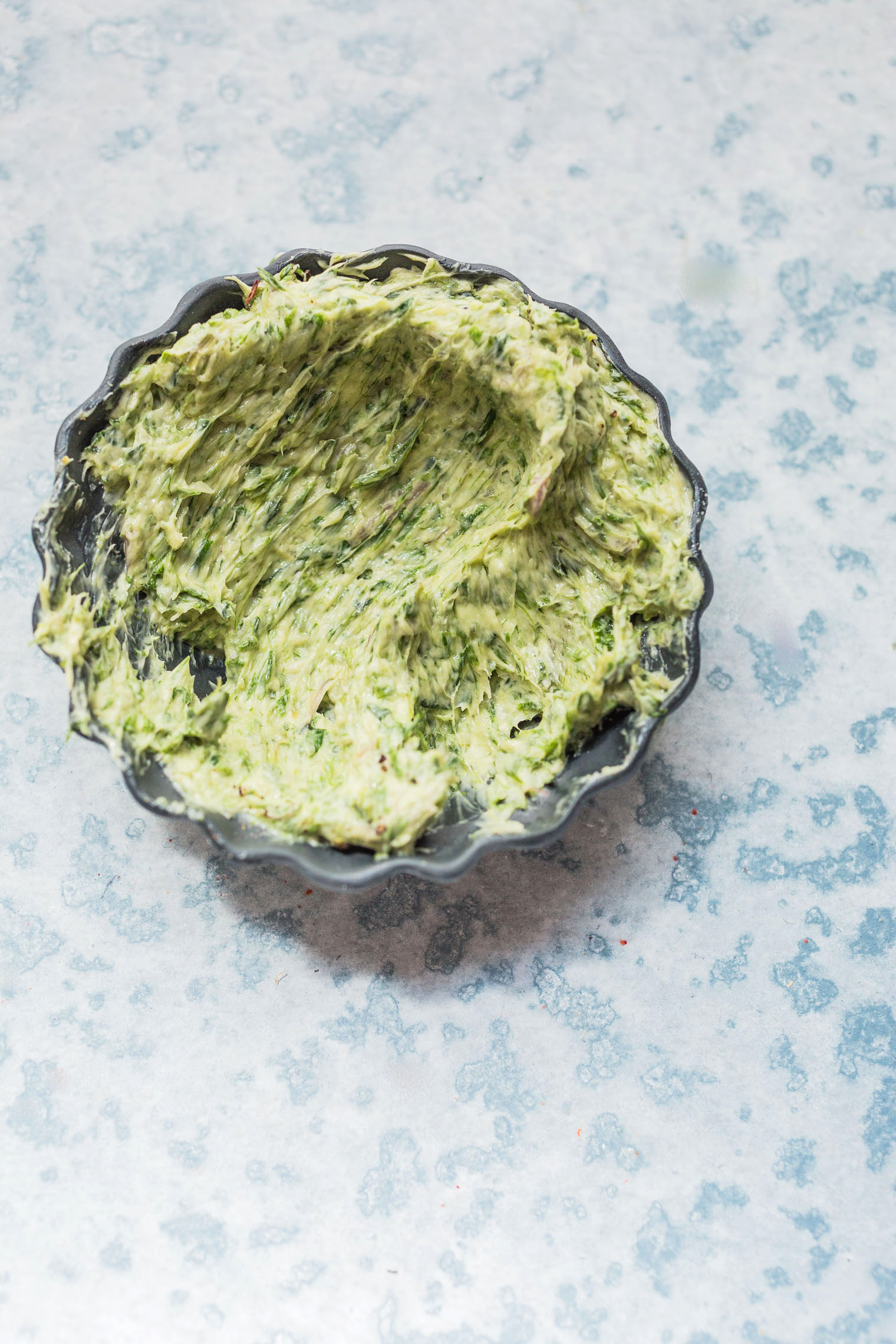 What's Needed for Ramp Butter?
In today's blog post, I'm sharing my go-to ramp butter recipe (which is probably my favorite ramps recipe ever since it's so easy to make!). Here's what you'll need to make ramp butter:
Ramps
Unsalted butter
Lemon juice
Salt and pepper
How to Make Ramp Butter
As I've already mentioned, ramp butter couldn't be easier to make! Here are the basic steps to making this ramps recipe at home:
Wash the spring ramps thoroughly (I've given instructions on how to do so in the recipe card below).
Cut the ramps into small chunks, then sauté in butter until softened.
Add all the ramp butter ingredients to a food processor and process until smooth.
How Long Does Ramp Butter Last?
If stored in an airtight container in the fridge, this homemade ramp butter should last up to 1 week.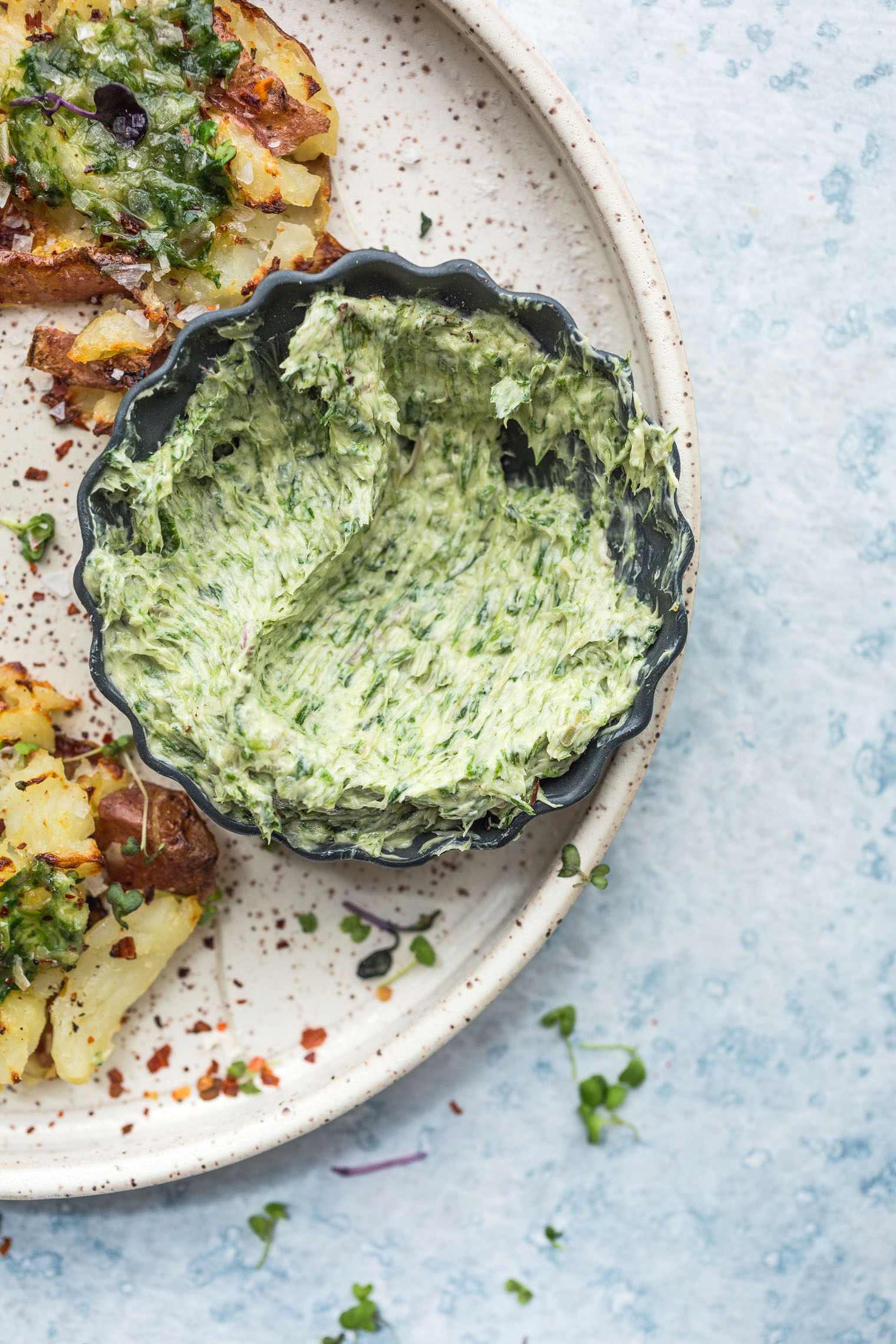 Tips for Making Ramp Butter
Cooking the wild ramps is a key step in this recipe. The wild ramps need to soften a bit before you blitz them up in the butter, otherwise the texture and flavor won't be right.
I used unsalted butter in this ramps recipe, but you're welcome to use salted if that's all you have on hand. Just keep in mind that using salted butter means you won't need to add any additional salt!
Ramp butter can be enjoyed atop potatoes, toast, savory oatmeal, pasta, bagels, and more!
Want More Vegetarian Spring Recipes?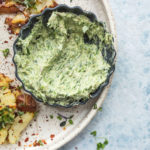 Ramp Butter
Today we cover 5 way to cook with ramps which will included tips on how to prepare ramps, how to cook ramps, what these wild onions are, recipes with ramps, and a recipe for ramp butter.
Keyword:
ramp butter, ramps
Ingredients
4

oz

ramps

(1 bunch, or about 5 medium), roots trimmed off and cut into small chunks (green and white parts)

8

Tbsp

unsalted butter

, divided

1

Tbsp

lemon juice

Salt

, to taste

Pepper

, to taste
Instructions
Wash the ramps thoroughly. My method for this is chopping them and then placing them in a bowl of cold water and stirring them around. I then scoop them out of the water (after letting the dirt settle to the bottom) and dry them with a clean dish towel.

Heat 1 Tbsp butter in a small saucepan over medium and add ramps. Let sauté for about 5 minutes or until completely softened. Remove from heat and let cool completely.

Transfer ramps, remaining butter, lemon juice, and a dash of salt and pepper to a food processor. Process until a green butter has formed (I like to keep a few chunks of ramps in my butter but you can process longer if you'd rather have it creamier).

Serve right away or transfer to an airtight container and store in the fridge for up to 1 week.
Nutrition Facts
Ramp Butter
Amount Per Serving
Calories 110
Calories from Fat 99
% Daily Value*
Fat 11g17%
Cholesterol 30mg10%
Sodium 1mg0%
Carbohydrates 2g1%
Vitamin A 595IU12%
Vitamin C 2.4mg3%
Calcium 12mg1%
Iron 0.3mg2%
* Percent Daily Values are based on a 2000 calorie diet.