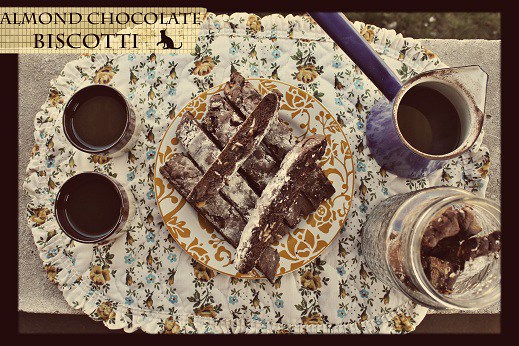 This recipe evokes fond memories of when I first started learning how to cook. When I was 19, I moved down to Nashville, TN for the summer to try to pursue my music business career. It was the first time I had ever lived on my own and I had a tiny apartment all to myself. It wasn't much but it was all mine and that was what mattered. I had a lot of goals that summer (perhaps to help with the fear of moving to a city where I knew practically no one) and one of them was to learn how to cook.
Don't get me wrong, my mother is an amazing person but she didn't appreciate when I would bake and get half the ingredients in the bowl and the other half on the floor. In my kitchen, I was free to create whatever I wanted without anyone being able to judge me. If I failed (which I did, too many times to want to admit) I could chuck it and start fresh without any criticism. And if I succeeded, I had yummy baked goods to offer to the neighbors in my apartment complex and try to make friends (the people below me smoked far too much and were always more than happier to try out my concoctions).
Anyways, this is one of the recipes from that summer; I remember being blown away by the fact that I was capable of making something so delicious. It's funny to look back on it because I was so strict about following recipes word for word back then and I've managed to play around with so many times since.
Today was a beautiful sunny Saturday so I whipped these up while my roommate made some Turkish coffee that she acquired abroad in Jordan last year. We had a cute little tea [coffee] picnic on the porch this afternoon with these delicious treats!
Also, can't wait to spend my lazy spring break mornings laying around and munching down on these with coffee.
Chocolate Almond Biscotti
2 cups all-purpose flour
1/2 cup cocoa powder
1/2 teaspoon cayenne pepper
1 teaspoon baking powder
1 teaspoon salt
6 Tablespoons butter, room temperature
1 cup sugar
1 1/2 teaspoons vanilla extract
2 eggs
1/4 cup sliced almonds
1 cup chocolate chips
powdered sugar, for dusting
Preheat oven to 350 degrees. Prep two baking sheets by buttering them and then brushing flour on top.
In a mixing bowl, combine the flour, cocoa powder, salt, cayenne, and baking powder. Stir to combine.
In another mixing bowl, cream the sugar, vanilla extract, and butter with a hand mixer. Once smooth, add the eggs and beat until well blended.
Add the dry ingredients into the wet and mix until stiff. Then add in the chocolate chips and almonds and (preferably with your hands because the dough will be stiff) knead until everything is well incorporated. Slit the dough in half and make two long logs on each making sheet. Dust both with powdered sugar and then use a knife to pierce slices about an inch from each other.
Cook for 35 minutes or until firm. Remove from oven and let cool for five minutes. Use a knife to slip the pieces fully and turn them their sides. Put back in the oven for ten minutes.
Let cool completely and serve with warm, yummy coffee. Or have a tea party with your favorite pooch (like mine shown below).