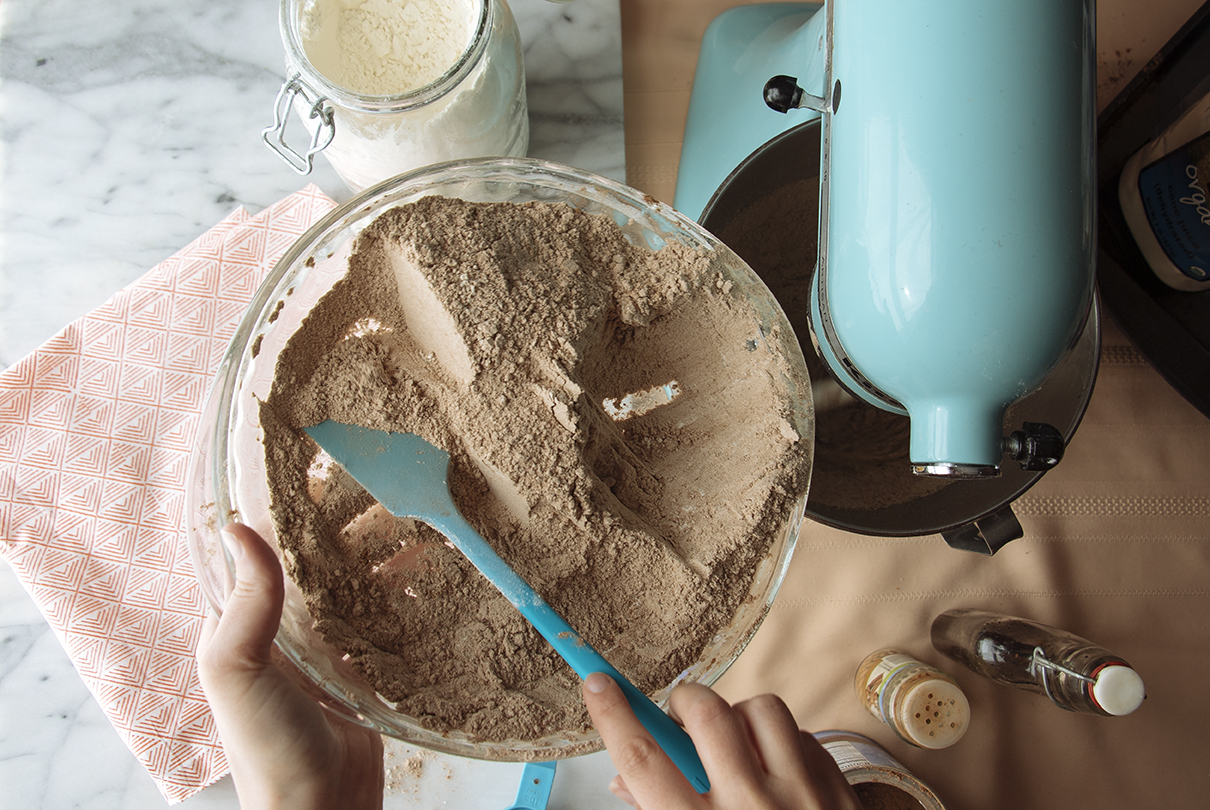 Chocolate Espresso Almond Biscotti
In a hurry? Click here to JUMP TO RECIPE!
2015 has been very good to me so far. We signed a new lease for a house that has the most gorgeous natural light and a kitchen that actually has heat and air conditioning in it (!!!), we spent the first few weeks of it exploring the Everglades and lounging on the beaches of Florida, and we've spent every weekend with friends and family that remind us how important it is to have human connection in our lives. I don't want to jinx it but I have high hopes for 2015; I've struggled with anxiety holding me back in the past but am feeling a clear vision for myself right now and am really hoping to project that into the future. I am determined to let 2015 be the year that my anxiety doesn't hold me back from collaborating with more people (perhaps even taking a little trip to Asheville to mingle with so many of my favorite bloggers), from saying yes to new opportunities I haven't experienced yet, and making sure to make time to physically be with the people in my life. It's so easy to fall into the routine of work, work, work (especially when freelancing, as there aren't any set hours) and then you realize you haven't spent time with friends in weeks..or months. I'm taking this recharged energy from our vacation as a sign that I need to step back and do it more often. Sometimes I schedule myself so heavily that the anxiety of getting it all done becomes too much and I don't realize that the best solution would actually be to take a break instead of pushing through and feeling miserable and like a failure while doing it.
Stepping outside of my usual routine has been a great reminder that time does need to be set aside for friends and for movies and for midnight walks. That is what I want 2015 to be about. I want it to be about working but having fun while doing it and letting myself step away if I need to. I want it to be the year that I say yes to getting out of my comfort zone and no to overbooking myself on the same old routined gigs. Here's to 2015 and here's to hoping it's as marvelous as I imagine it will be.
This recipe was inspired by some biscotti that my aunt brought over during the holidays. I was worried that the coffee grounds might not work into the dough and end up grainy in the final product but that wasn't the case at all. If you are feeling fancy then I bet these would be magnificent dipped in caramelized white chocolate or dark chocolate but they are honestly great without it.
Chocolate Espresso Almond Biscotti recipe below: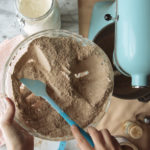 Chocolate Espresso Almond Biscotti
A rich and crispy biscotti recipe that pairs perfectly with a cup of coffee or peppermint tea.
Ingredients
1

cup

all purpose flour

1

cup

whole wheat flour

1/2

cup

cocoa powder

1

Tablespoon

coffee grounds

1

teaspoon

cinnamon

1/2

teaspoon

salt

3

large eggs

1/2

cup

brown sugar

1/4

sugar

1/4

cup

chopped dark chocolate chunks

1/2

cups

chopped almonds
Instructions
Preheat oven to 350 degrees and grease a baking sheet. Whisk together the flours, cocoa powder, coffee, cinnamon, and salt in a medium bowl. In the bowl of stand mixer fitted with a paddle attachment, add the eggs and sugar and beat until combined. Slowly add in the dry ingredients while the mixer is on medium low until a thick dough has formed. Add in the chopped almonds and chocolate chips and continue to beat until everything is incorporated.

Divide the dough in half and make two flattened logs on the baking sheet, leaving a little room between them as they will expand slightly. Bake for 25 minutes and then remove from oven. Let cool, transfer to a baking sheet, and cut 1/2 inch diagnal slices and transfer the pieces back to the baking sheet (arranging them with the cut sides up). Bake for an additional 15 to 20 minutes or until dry and crispy.

Serve with coffee or peppermint tea.