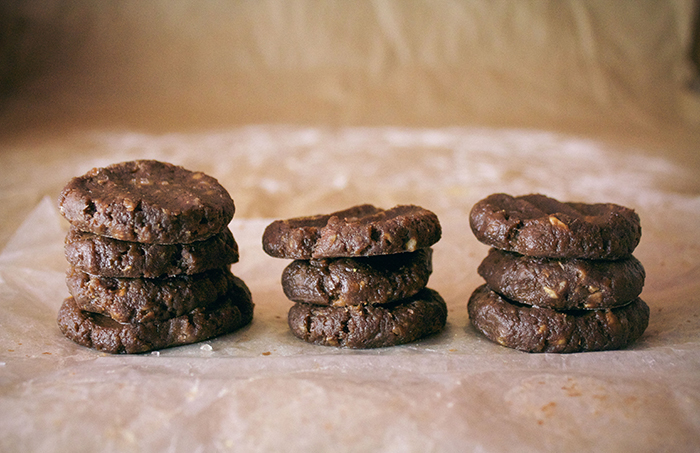 Salted Dark Chocolate & Almond Butter Bites (Vegan)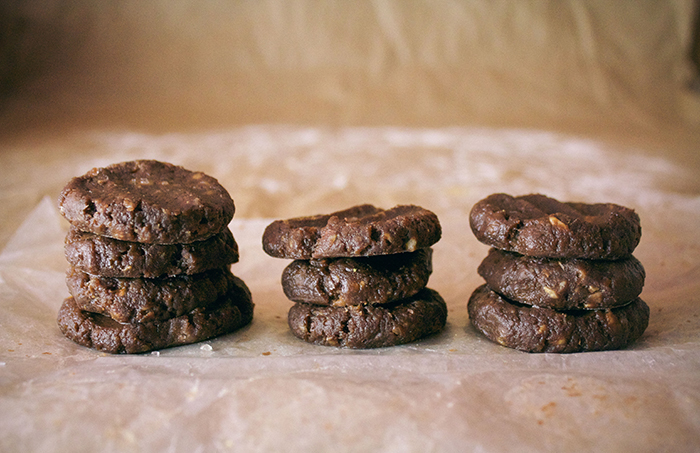 These are what I call the 'I just did my taxes and need some chocolate' cookies. They were a little 'guilt free' reward that was needed after sifting trhough document and papers and receipts and bank statements. It's a shame really…I went to yoga right before sitting down to do my taxes in hopes that it would leave me in a state of calm. But after all questions after questions about loans / checks / wages…I needed some chocolate.
I decided to go the healthy and lazy (no bake) route with these. A whole lot of protein with a bit of sweet (from the dates) and some natural fats (from the nuts). They are totally indulgent but not in a 'oh shit, I'm going to have to spend an extra 3 hours on the treadmill' sort of way. They are rich and gooey but also filling and…dare I say, practical? As a vegetarian, I can pretty much convenience myself that anything with 5+ grams of protein is an acceptable snack / breakfast / lunch / dessert.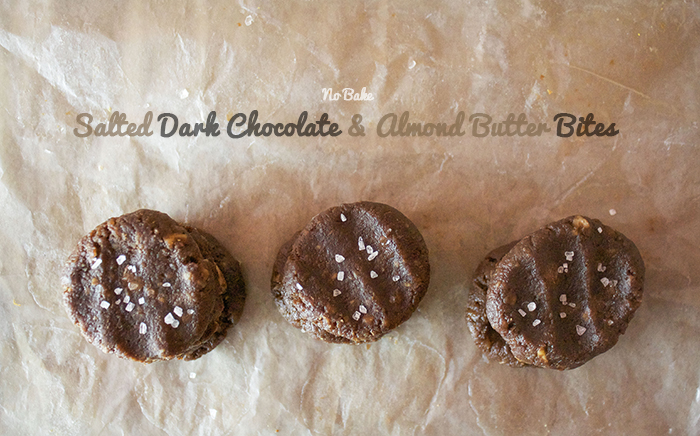 Salted Dark Chocolate & Almond Butter Bites (Vegan)
1 cup nuts (I did 1/2 cup pecans and 1/2 cup almonds)
1 cup dates, pitted (soaked in water for 10+ minutes)
1/2 cup almond butter (or peanut or sunflower or cashew, whatever you are feeling)
1 ounce dark chocolate, melted
1/2 teaspoon cinnamon
1/2 teaspoon nutmeg
Sea Salt, to garnish
Throw everything into a food processor and pulse until a thick dough forms (if its crumbly then add a tiny bit of water). Roll dough into tablespoon size balls and place on waxed paper. Smash the dough balls down slightly with clean fingers or a fork. Sprinkle with  sea salt . Stick in the fridge for an hour or enjoy them right away [in their prime gooeyness].