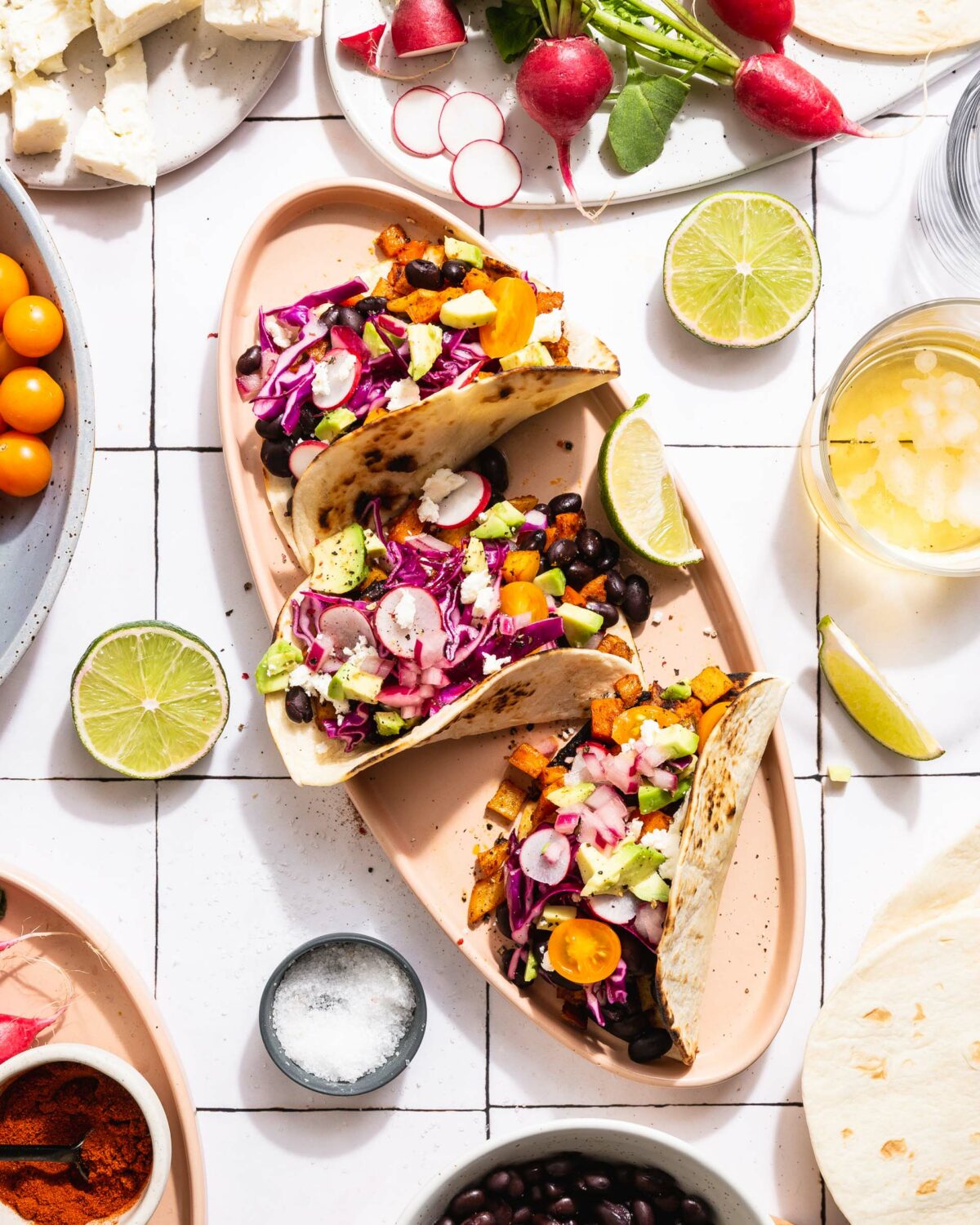 Chorizo-Spiced Veggie Tacos
These Mexican-inspired chorizo-spiced veggie tacos are a simple meat-free dinner option! We make a chorizo spice blend which gets rubbed on a pan of veggies before roasting to create a smoky and flavorful filling.
Jump to Recipe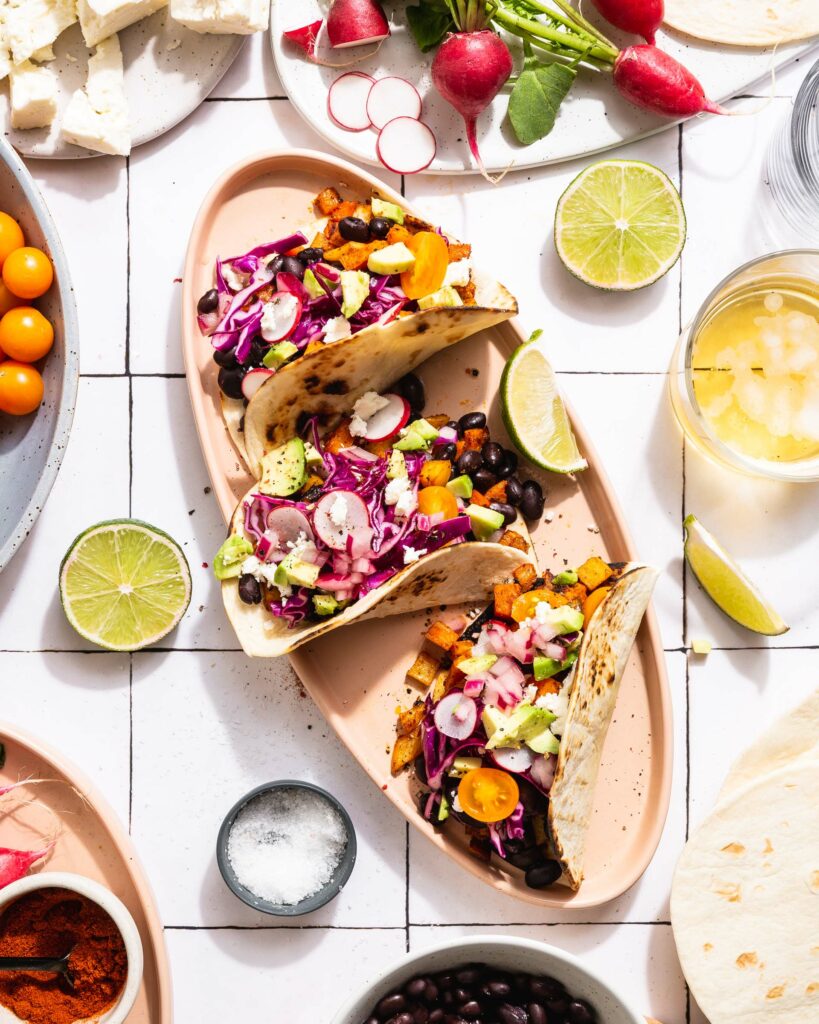 I don't know about you but taco night is a pretty much a weekly tradition in our house so I was surprised when I found that I haven't posted about them in years! I guess it's probably because no taco night is every the same in our house as I use it as a way to use up leftover veggies and beans that we have on hand. My game plan is usually to roast a sheet pan of veggies (usually a mix of potatoes, onions, and peppers, depending on what I have on hand), warm up a can of beans with some spices (usually pinto, black bean, or vegetarian refined beans), and then top them with any of the following that we have hanging out in our fridge: sour cream, a squirt of lime, tomatoes or salsa, sliced radishes, avocado pieces, scallion slices, and feta or white cheddar. I guess all of this is to say that I'm giving a very specific recipe below to let you work off of but feel free to go crazy with toppings depending on what you like and have!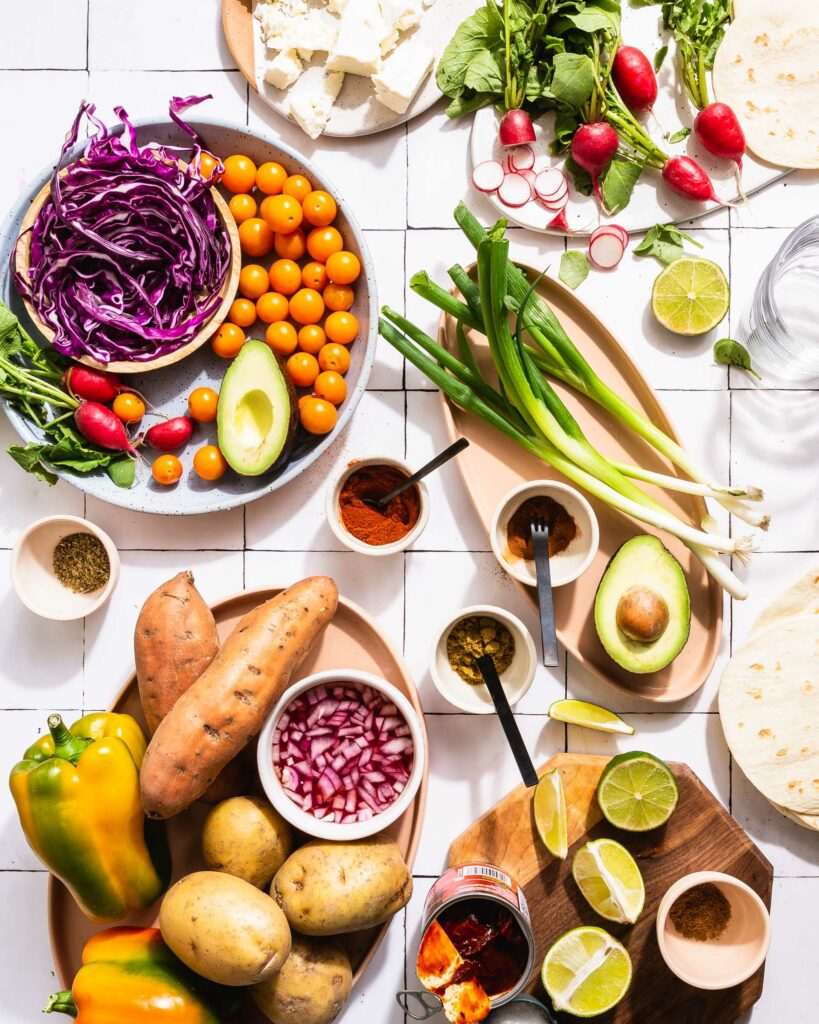 I've come back to this idea of 'chorizo' spiced vegetarian recipes a few times. First off, I have a chorizo-spiced lentil recipe in my first cookbook and then I also have a chickpea recipe on the blog from a few years ago. I think my obsession with this is that I grew up with a Mexican step-mom who always made chorizo and eggs on Sunday morning and, even as a vegetarian, I knew by the smell that they were so flavorful. One of the biggest differences here is that traditional chorizo is very greasy and we are relying on just a bit of olive oil for our fat. What I'm doing here is essentially making a chorizo 'spice blend' (which obviously varies widely depending on the chorizo recipe) that uses similar spices to what you would find in a Mexican chorizo sausage but without the meat part. The end result is a spicy blend of garlic, cinnamon, oregano, cumin, coriander, and chipotle pepper heat which is sure to bring your roasted veggies to a whole new flavor level.
One of the ways I evoke heat and smoke into these chorizo spiced veggie tacos is by using the adobe sauce liquid from a can of chipotle peppers in adobe sauce. These little cans are my secret weapon when it comes to adding heat – it only takes adding 1 or 2 tsp to add a burst of extra flavor and depth to your dish. Since we aren't using the actual peppers in the can this time around, I recommend transferring them to a single layer on parchment paper and sticking them in a freezer bag in the freezer for later use. They are fantastic blended into dips or soups.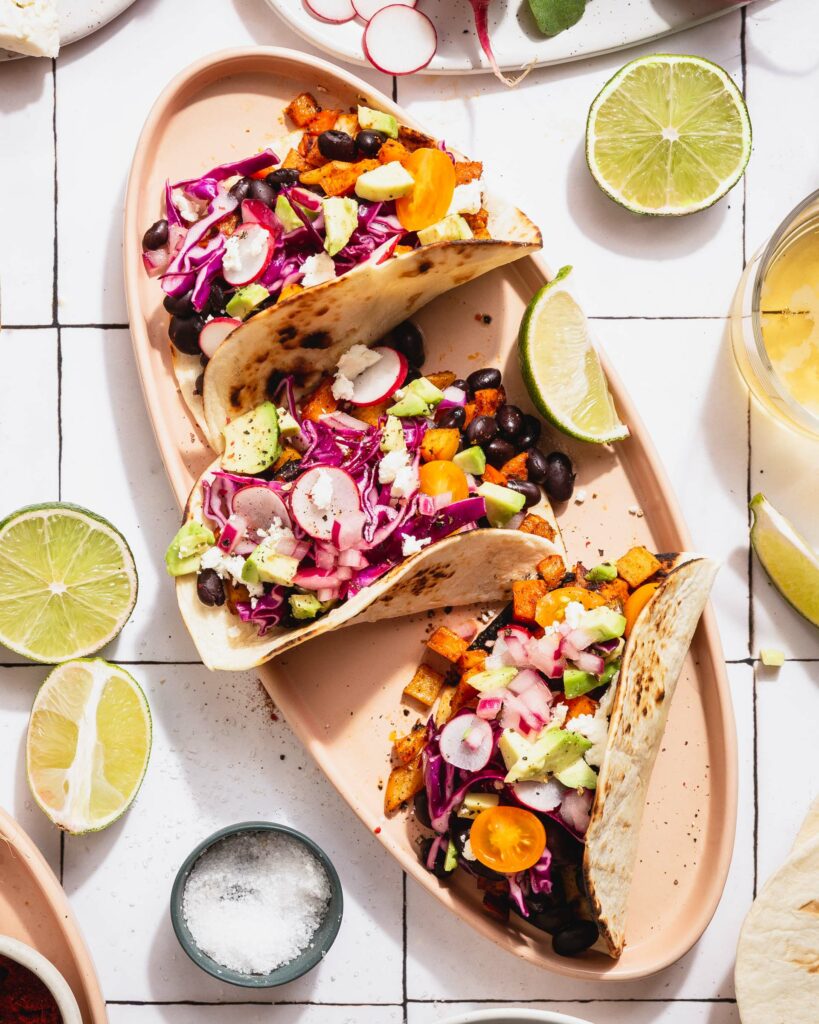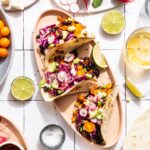 Chorizo-Spiced Veggie Tacos
These chorizo-spiced veggie tacos are a simple meat-free dinner option! We make a chorizo spice blend which gets rubbed on a pan of veggies before roasting to create a smoky and flavorful filling.
Ingredients
For the roasted veggies:
3

cups

chopped veggies cut into about equal pieces (such as potatoes, bell peppers, onions, etc)

2

Tbsp

olive oil

2

Tbsp

adobe sauce from a can of chipotle peppers with adobe sauce

2

tsp

smoked paprika

1

tsp

garlic powder

1

tsp

dried oregano

1

tsp

ground cumin

1/2

tsp

salt

1/4

tsp

ground cinnamon

1/4

tsp

ground coriander

Dash

of black pepper
Everything else:
1

15 oz

can of black beans,

drained and rinsed

1/2

tsp

chili powder

1/2

tsp

cumin

1/4

tsp

salt

1/4

cup

sour cream or crumbled feta

1

radish

thinly sliced

1

avocado

pitted and diced small

8-12

small warmed tortillas (depending on how full you like to stuff your tacos)

Additional topping ideas: lime juice, sliced tomatoes or salsa, shredded red cabbage, hot sauce, shredded lettuce
Instructions
For the roasted veggies:
Heat oven to 400 degrees and transfer your veggies to one baking sheet (have another sheet ready as well).

Drizzle the olive oil and chipotle sauce over the veggies and use your clean hands to toss until all the veggies are coated. Sprinkle the smoked paprika, garlic powder, oregano, cumin, salt, cinnamon, coriander, and dash of black pepper over the veggies and toss to coat. Divide the veggies evenly between two baking sheets and spread into a single layer.

Roast for 20-30 minutes (time will vary depending on the size you cut your veggies into and what veggies you used), flipping the veggies every 10 minutes to avoid them sticking to the pan.
For everything else:
While the veggies roast, transfer the black beans, 1/2 tsp chili powder, 1/2 tsp cumin, and 1/4 tsp salt to a small saucepan and add just enough water to cover the black beans. Place on stove over medium-low heat and let simmer for 10 minutes.

Transfer the cheese, radish slices, avocado pieces, and any other toppings you'll be serving into small bowls and set on your serving area.

When the veggies and black beans are ready, transfer them and your warmed tortillas to serving bowls or plates and place near your topping ingredients. Serve the black beans with a slotted spoon and the rest of the toppings with a regular spoon or fork. Let your family or guests assemble their own tacos based on the fillings you've prepared.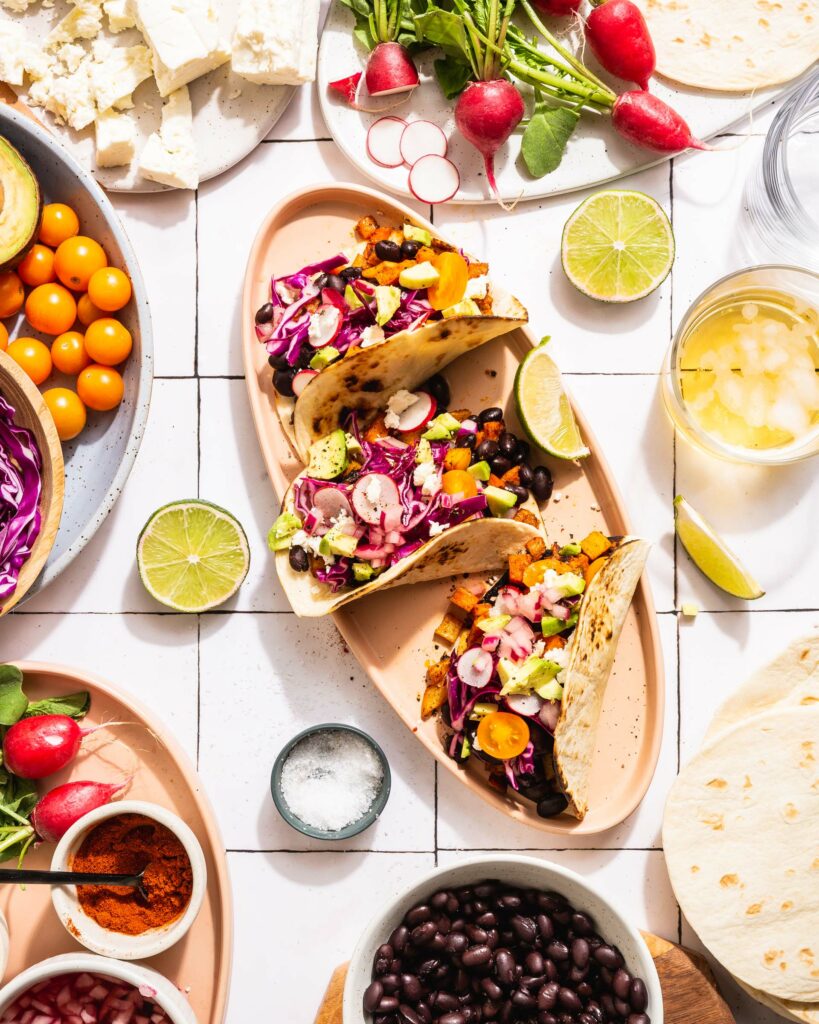 Make sure to tag Vegetarian 'Ventures on Instagram and use #vegetarianventures when trying this dish out!