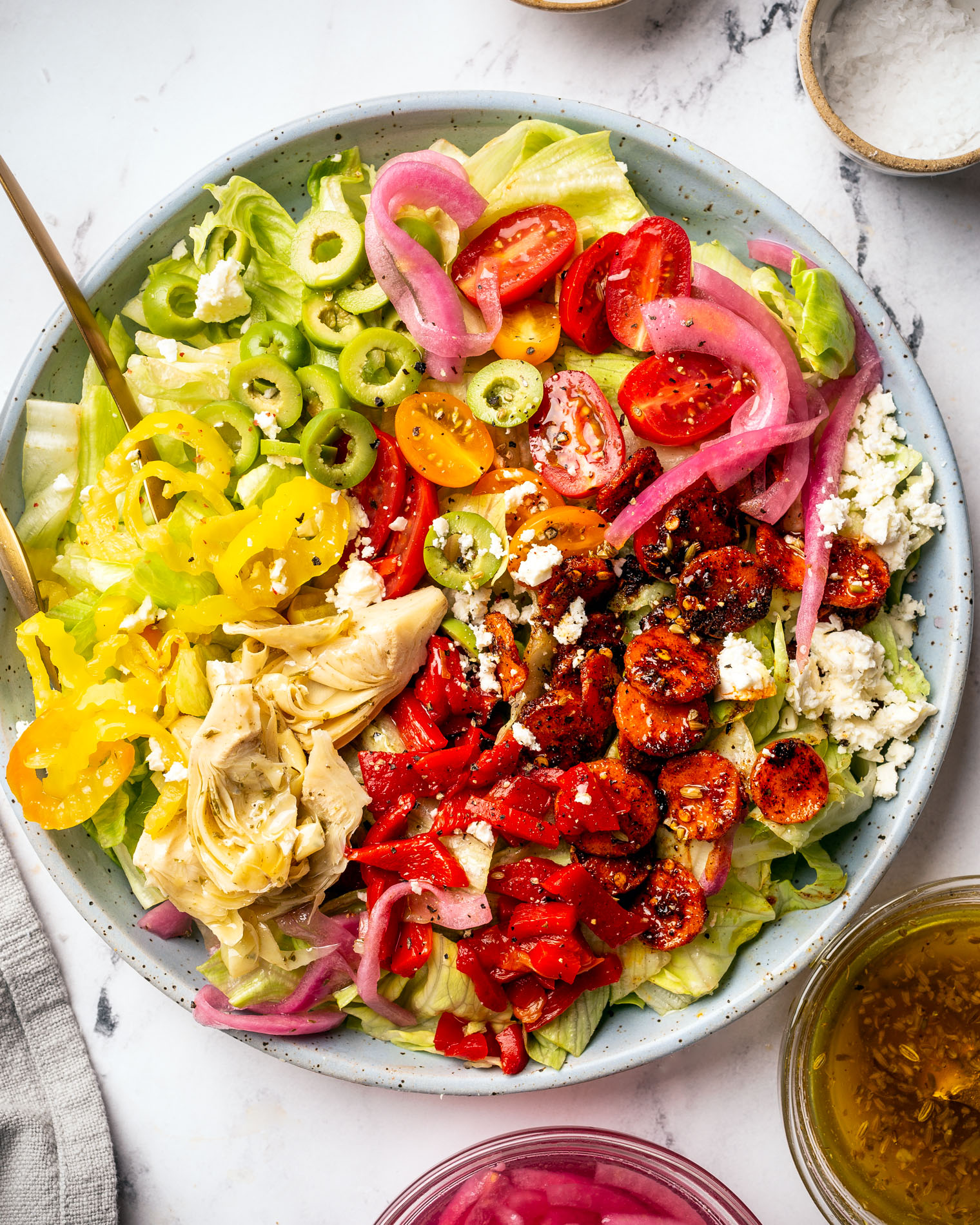 Vegetarian Antipasto Salad with Pepperoni-Spiced Roasted Carrots
This Vegetarian Antipasto Salad with Pepperoni-Spiced Roasted Carrots salad utilizes a lot of jarred and pantry vegetables for when you are running low on fresh veggies.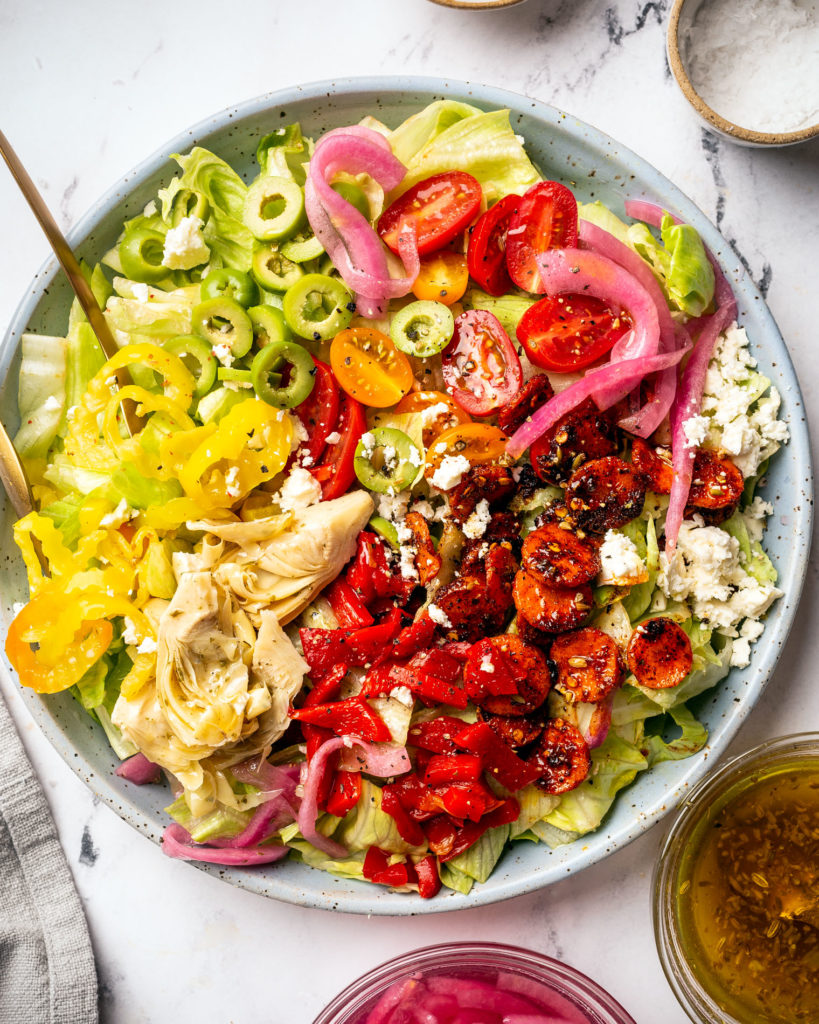 With everything going on, I've tried to commit to only getting groceries once a week (which is a big change from the almost daily trips I was doing only a few weeks ago). Because of this, I found myself running out of fresh vegetables towards the end of last week and turned to the many tangy jarred bottles I had hiding in my fridge. I was pleased to find not only a half jar of roasted red peppers but also green olives (my fav!), pickled banana bell peppers, and artichoke hearts. Thus, this Vegetarian Antipasto Salad was born. Not only was I able to add a ton of flavor to my salad with these jarred gems but it also helped clean out my fridge and pantry.
I've also been on a major iceberg lettuce kick lately and I know that is not. cool. at. all. but hear me out! It started when romaine kept getting removed from shelves because of the E. Coli outbreaks and Wyatt grabbed a head of iceberg thinking it'd be a fine substitute. At first I was totally weirded out ('Ew! Iceberg?! What is this – the 90's?') but then we washed it and diced it and threw it into our salad and it was so so refreshing! And yes – a little bit nostalgic but in a good way – like the salad you remember eating at your favorite pizza joint growing up. So yeah – all of this is to say you should give it a chance but if you still aren't convinced then romaine or butter lettuce would be fine here too (I guess… wink wink).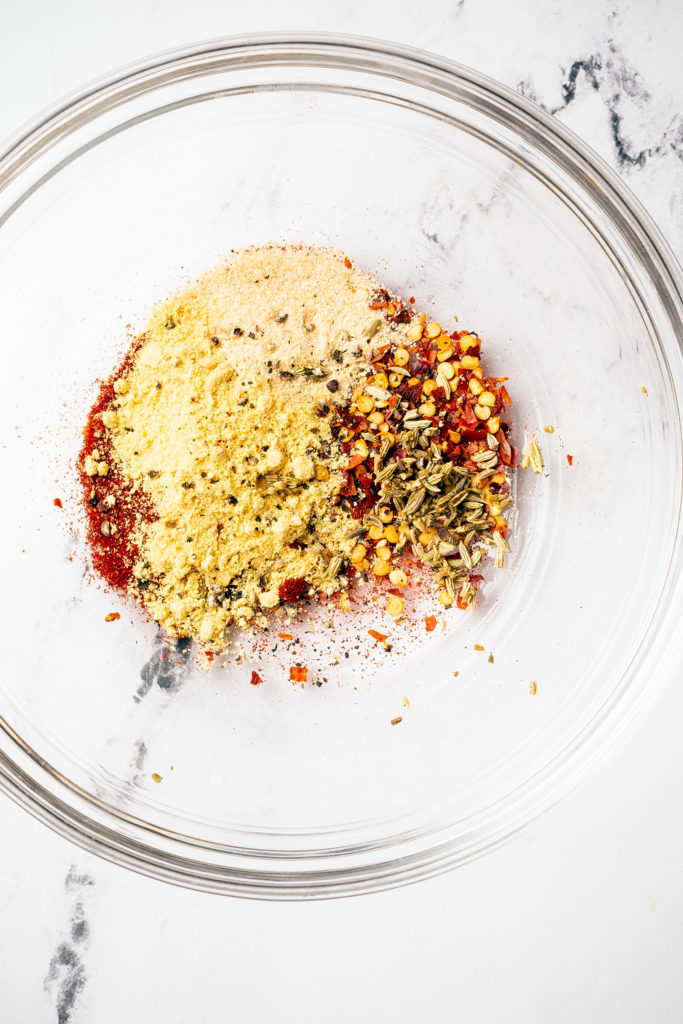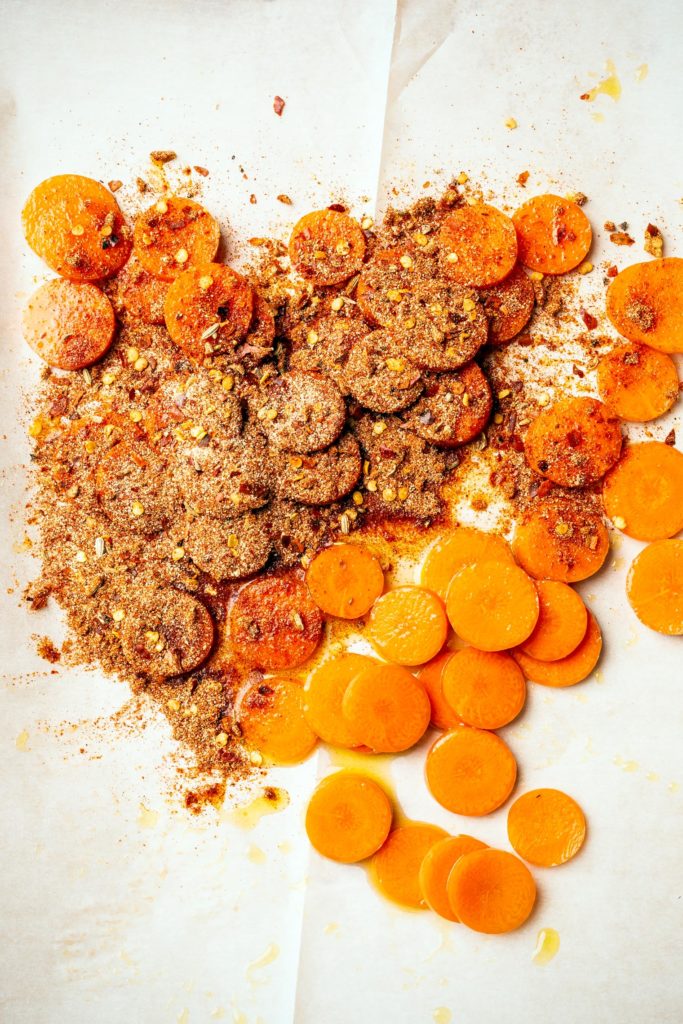 I mentioned it a few posts back but I've been binging Rachael Ray shows lately and saw her make some vegetarian pepperoni out of zucchini recently. It's what gave me the idea to try developing a carrot coin version since I thought the fennel spice blend would compliment sweet carrots beautifully (my hunch was correct!). Although I'm able to give lots of substitute suggestions below, the one thing I don't think there is a good substitute for in this recipe are the fennel seeds so hopefully you have some hiding in your pantry. If not, feel free to still roast the carrot coins with the other ingredients but know they might not necessarily taste 'Italian cured meat-ish' (meat-ish is def not a word but I think it works here, yeah? ha).
Here is a list of substitute suggestions for this Vegetarian Antipasto Salad recipe in case you don't have certain ingredients on hand:
Iceberg Lettuce – Any leafy green you enjoy in your salad will work here such as romaine lettuce, red leaf lettuce, or butter lettuce.
Feta cheese – The feta in this recipe adds salt so feel free to swap with any salty cheese you have on hand such as shredded Parmesan or Manchego.
Cherry Tomatoes – Any type of tomato will work here but just make sure to cut up larger tomatoes into bite size pieces and be prepared for some varieties of tomatoes to be a bit watery.
Red Onions – You could also pickle a white onion or skip the pickling and finish the salad with chives or green onions.
Green Olives, Pickled Banana Bell Pepper rings, Marinated Artichoke Hearts, Roasted Red Peppers – All of these could be swapped out with black olives or capers if you have them on hand. If you have some of these ingredients but not others, feel free to just use more of the ones you do have on hand.
Carrots – You could slice zucchini or summer squash to season and roast in the same way as these carrot rounds.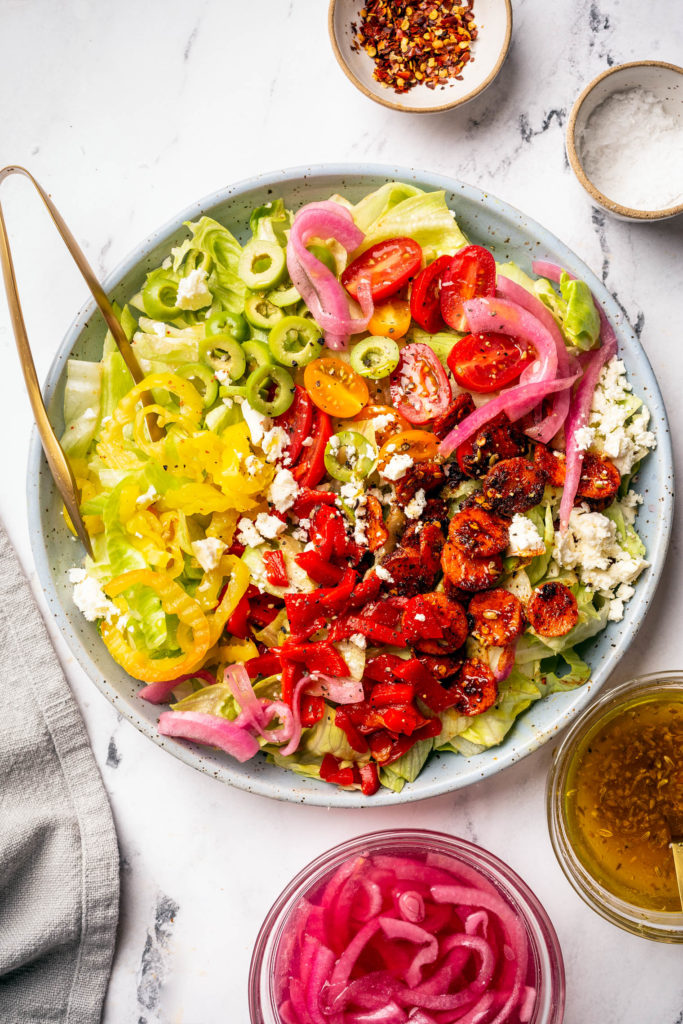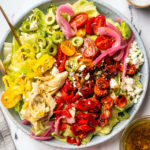 Vegetarian Antipasto Salad with Pepperoni-Spiced Roasted Carrots
Ingredients
For the Pepperoni-Spiced Roasted Carrots
3

large carrots

trimmed, washed, and cut into even coin sized slices

1

tsp

smoked paprika

1

tsp

dried garlic

1

tsp

ground dry mustard

1/2

tsp

fennel seeds

roughly chopped

1/2

tsp

black pepper

1

Tbsp

olive oil
Quick Pickled Red Onions:
1/4

cup

red wine vinegar

1/4

cup

water

1/8

tsp

salt

1

small

red onion

thinly sliced
For the Orange-Fennel Dressing:
1

tsp

fennel seeds

3

Tbsp

freshly squeezed orange juice (from 1 medium orange)

1

Tbsp

red wine vinegar

1/4

tsp

salt

1/8

tsp

ground black pepper

2

Tbsp

olive oil
For everything else:
1

head

iceberg lettuce

washed, trimmed, and cut into bite size pieces

1/2

pint

cherry tomatoes

halved

1/4

cup

marinated artichoke hearts

chopped

1/4

cup

green olives

chopped

1/4

cup

marinated roasted red pepper

chopped

1/4

cup

marinated banana pepper slices

1/2

cup

crumbled feta
Instructions
For the Pepperoni-Spiced Roasted Carrots
Preheat oven to 400 degrees and line a baking sheet with parchment paper. In a small mixing bowl, whisk together the smoked paprika, dried garlic, ground mustard, 1/2 tsp chopped fennel seeds, and 1/2 tsp black pepper.

Place the carrot coins onto the prepared baking sheet and toss with 1 Tbsp olive oil to coat. Add spices and toss until all the carrot coins are evenly coated. Spread carrots into an even layer on the baking sheet.

Roast on the middle rack for 15 minutes, flipping after 10, or until the coins are easily pierced with a fork (watch them closely as they may cook faster or a little longer depending on how thick you chopped them).
Quick Pickled Red Onions:
While those roast, in a small bowl, whisk together ¼ cup red wine vinegar, ¼ cup water, and salt. Add thinly sliced onions and set aside to pickle while preparing the rest of the salad.
For the Orange-Fennel Dressing:
In a small bowl, whisk together fennel seeds, orange juice, zest, vinegar, salt, and pepper. While whisking, slowly pour olive oil into the dressing until it's emulsified. Set aside.
To Assemble:
Drain the red onions and toss in a large serving bowl with the iceberg lettuce, carrot coins, olives, banana peppers, artichoke hearts, cherry tomatoes, roasted red pepper, and dressing. Sprinkle with feta and serve right away.
Interested in other salad recipes? I've got some for you: