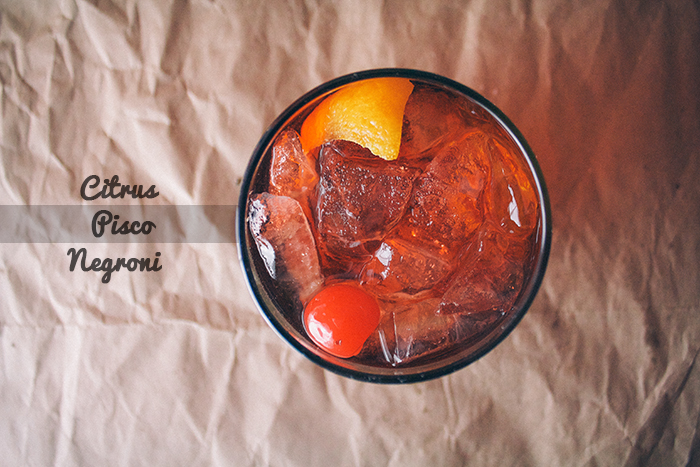 Citrus Pisco Negroni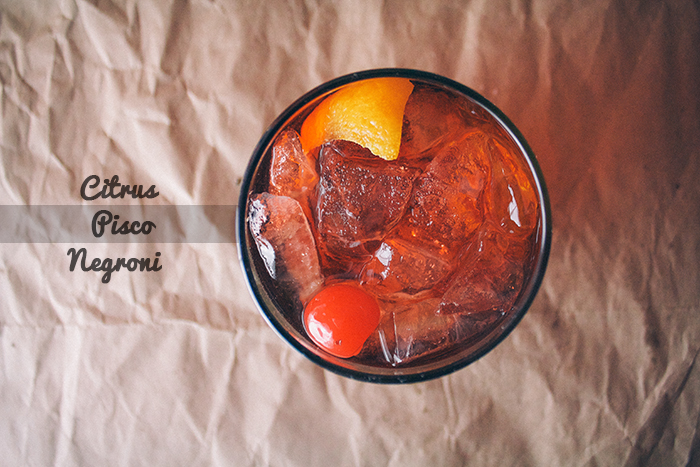 I don't have a very sophisticated palate when it comes to alcohol. When sampling something, I would know the difference between red and white. Between gin and vodka. And between spiced rum and whiskey. That is about it. It's not by choice…I love the idea of knowing how to tell where a wine is from based on the type of grapes that were used. Or being able to predict how old a whiskey is based on the bite it gives. It's just not a skill that I have actively sought out [yet?].
So I was pretty excited when Wyatt received a nice bottle of Pisco as a birthday gift (Thanks, Ma!). Pisco?! What's that you ask? It's a Chilean (or Peruvian) grape brandy that is usually clear or yellowish in color. How sophisticated does that sound? I can already sense my alcohol knowledge expanding as I type this.
We've tried a couple cocktail recipes and this one is by far my favorite. It's very alcoholic yet mild tasting (if that makes sense). I like to add a splash of sparkling water because I'm a wimpy drinker (which my Mother likes to remind me every time we have a family gathering. Thanks, again, Ma..) and I like a bit of fizz in my cocktail. Wyatt prefers the drink without the water so feel free to adjust depending on how strong you like your cocktails.
Whip these up for guests next time you feel like showing off to your guests. "Ohh, I just can't get over how much I've been into this Peruvian grape brandy lately…"
Citrus Pisco Negroni
Serves 2
6 Tablespoons Pisco
1/4 cup Campari
1/4 cup sweet vermouth
8 drops orange bitters
sparkling water, optional
cherries, for garnish
Orange peel, for garnish
Add Pisco, Campari, sweet vermouth, and bitters to a shaker. Shake well. Fill 2 glasses with ice and add Pisco mixture. Add a splash to sparking water and garnish with cherries and an orange peel.