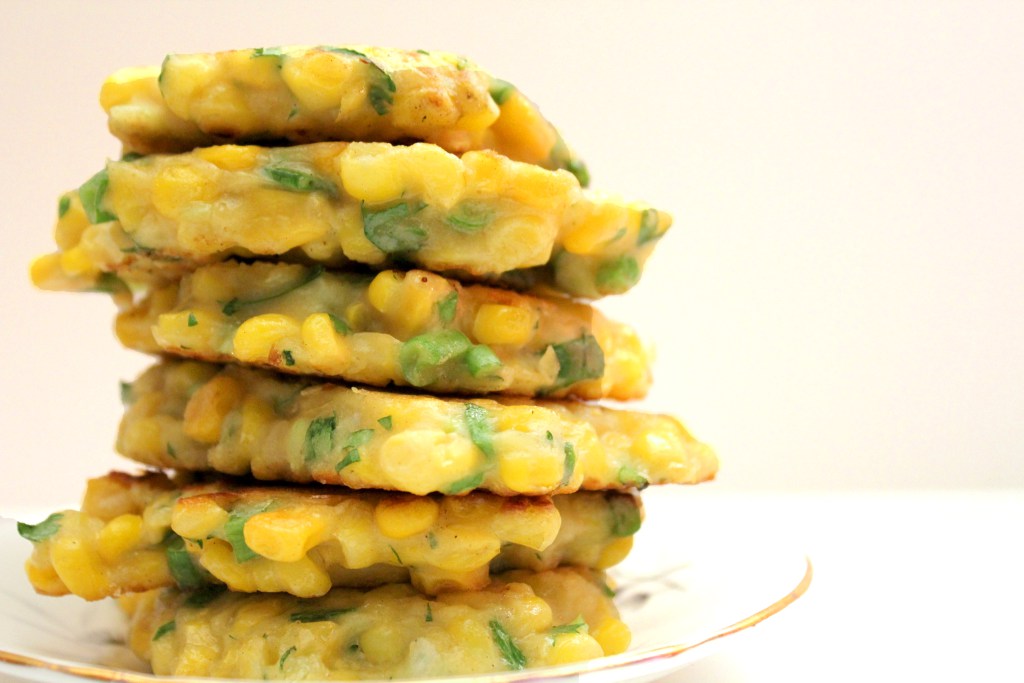 This weather is confusing my body! It thinks its summer and all it wants are smoothies, fruit, and corn on the cob! This is most disappointing since none of these things are in season yet (well smoothies are always in season) so I am doing my best to improvise.
I made this recipe a couple of summers back when I was staying with my parents. They have this great pool that demands constant pool parties and this was a hit from those summer parties. I know this recipe is impressive because I go through such mass volumes of recipes that I can hardly remember what I made last week let alone years ago! The fact that this recipe still pops in my mind is a sure sign that it's worth making again!
It turned out just as I remembered; the patties were inviting with their fluffy texture and an intense kick from the cilantro. The sauce is salty from the feta with a great vibrant kick from the red pepper [it also makes loads so I've been using the leftover sauce on veggie sandwiches]. The two really work perfect together so I insist on making them together!
Corn Fritters with Roasted Red Pepper Feta Sauce
Sauce:
1/2 cup crumbled feta
1/4 cup sour cream
2 tbsp water
1 tsp lime juice
1 garlic clove, minced
2 tbsp olive oil
1 tsp dried basil
1 tsp dried oregano
1/2 roasted red pepper, chopped
`salt/pepper
Fritters:
1 cup flour
1/4 teaspoon baking powder
1 tsp salt
1 tsp ground coriander
1 tsp ground cumin
1 egg, lightly beaten
1 tsp lime juice
1/2 cup water
2 cups of corn (canned or frozen)
4 scallion, chopped
1/3 cup chopped fresh cilantro
canola or vegetable oil, for frying
First let's make the sauce. In a blender, add the feta, sour cream, water, lime juice, and garlic. Puree until smoother. While blender is running, slowly add in the olive oil. Add the basil, oregano, and bell pepper. Puree until smooth and season with salt and pepper. Stick in the fridge until the fritters are ready.
For the fritters: In a large bowl, combine the flour, baking powder, salt, coriander, and cumin. Next, add in the egg, lime juice, and water. Use a spatula to mix until smooth. Finally, fold in the corn, scallions, and cilantro.
Heat a thin layer of oil in a large frying pan over medium heat. Use a heaping tablespoon to determine the size of the patties and cook them for about 3 minutes on each side or until browned (how fast they cook will completely be determined by how hot the oil is so keep an eye on them!).
Serve warm with the yummy yummy sauce!
We enjoyed them on the porch as a perfect evening snack!