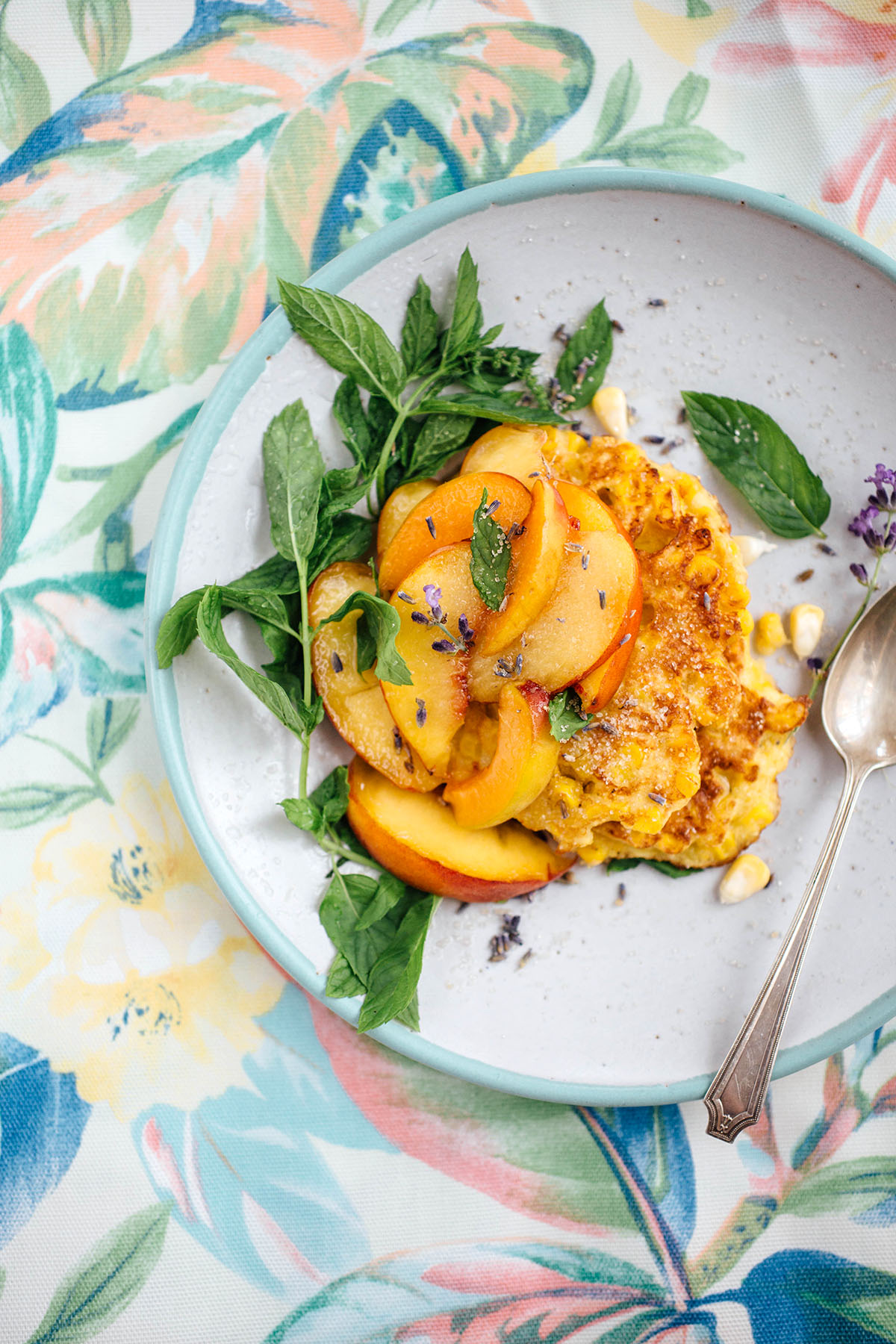 Corn Mint Fritters with Lavender Peaches
In a hurry? Click here to JUMP TO RECIPE!
These Corn Mint Fritters are a sweet twist on traditional corn fritters. It's a bright dessert bursting with summer produce.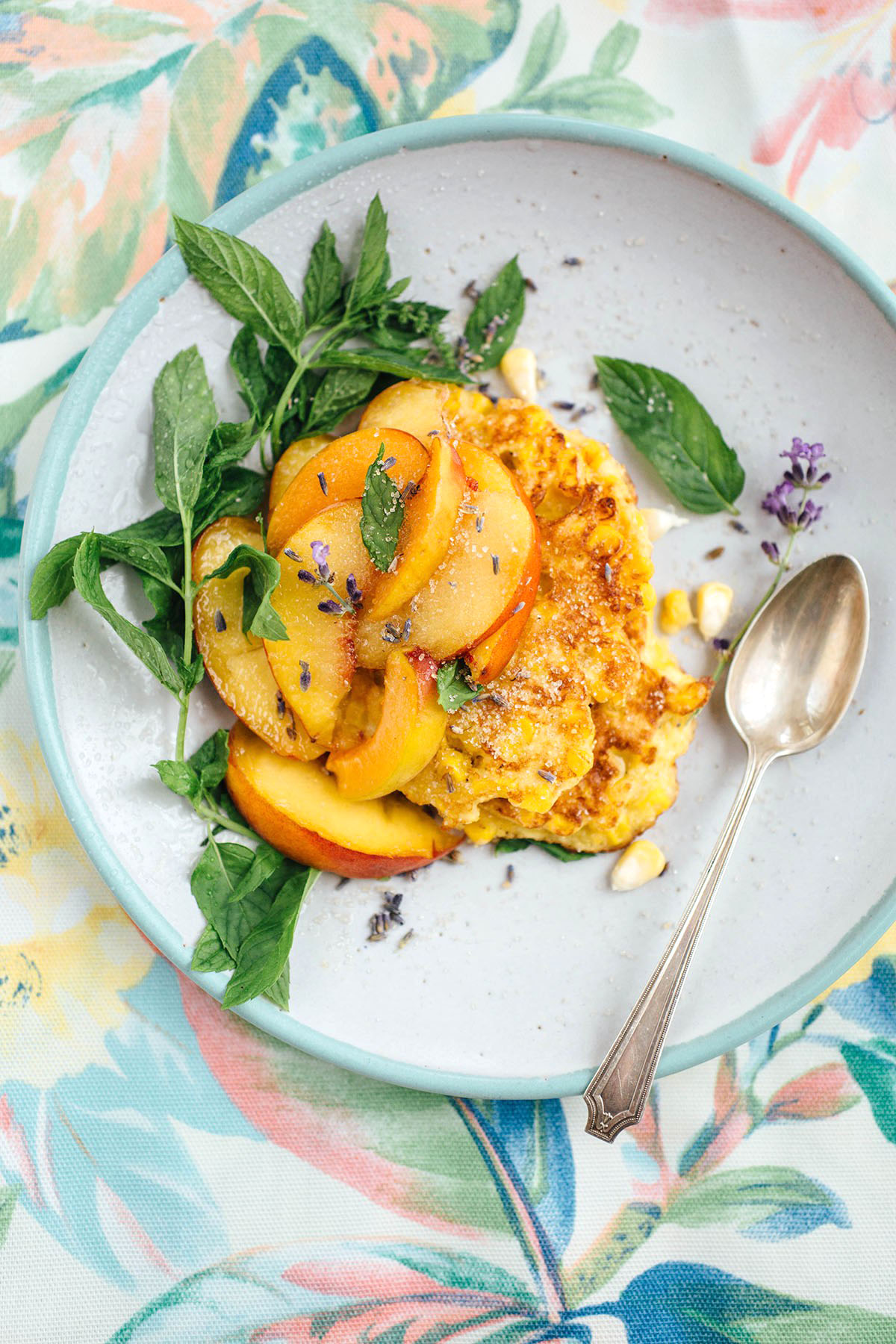 So my official book deadline to get everything in (photos, bio, etc) was July 1st. I waited until the very last week to schedule my author photo because I wanted to have long beach hair with a sun-kissed tan in it (or that is what I told myself when I kept putting it off). I got the photos back last week and immediately joined a gym. Sigh. My workaholic attitude may be good for my bank account but it's sure taking a toll on my figure. As usual, I didn't want to join the gym alone so I talked Wyatt into signing up as well. At first, I thought he was going to resist (after all, he is a stick) and whine about having to wake up early to go and I would have to point out the 'it's for our health' card but he signed up without any sign of protest.
At 26, I still feel like we are playing adult. You know – that 'adult' you always imagined you'd grow up to be: confident, educated, stable, rich, and so put together. Wyatt giggled when they handed us our scannable passes to put on our keychains at the gym. He joked on the way home that we are 'that couple that gets up early and heads to the gym. We are so adult these days'. I almost believed him in that moment. But then I remembered we spend all of our tiny paychecks on Indian takeout and rent and I was reminded that we are still trying to figure it all out.
I'm not much of a nurturer (yet another trait I thought I'd acquire in adulthood) but I've done good with our boxer dog and garden. Ah yes, the garden. It's currently flourishing with herb and tomatoes and I can't keep up. The garden box we thought looked gigantic when we put it in the ground in March is now overgrown with foliage. The mint is trying to take over and I'm starting to regret wasting space on the tarragon that I have yet to touch. I'm still scrambling to dry out my lavender and use it up fast enough.
To keep up, I made these corn cakes for dinner over the weekend. I served them savory with herb butter but still ended up with a stack leftover. I reheated the leftovers the next day and invented this sweet take on the corn cakes. The corn is already so sweet that some subtle lavender sugar and fresh peaches made an ideal topping.
Corn Mint Fritters with Lavender Peaches recipe below: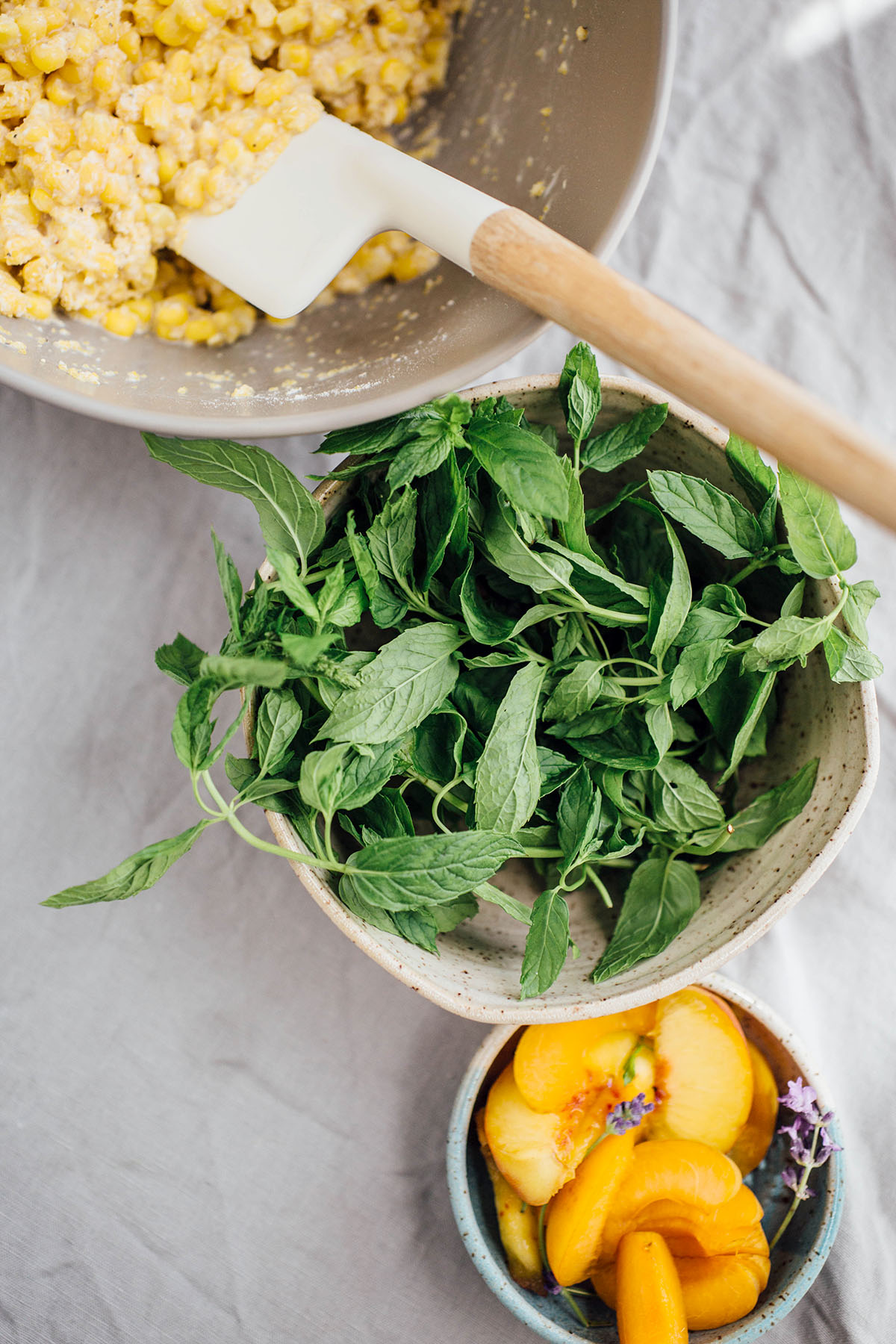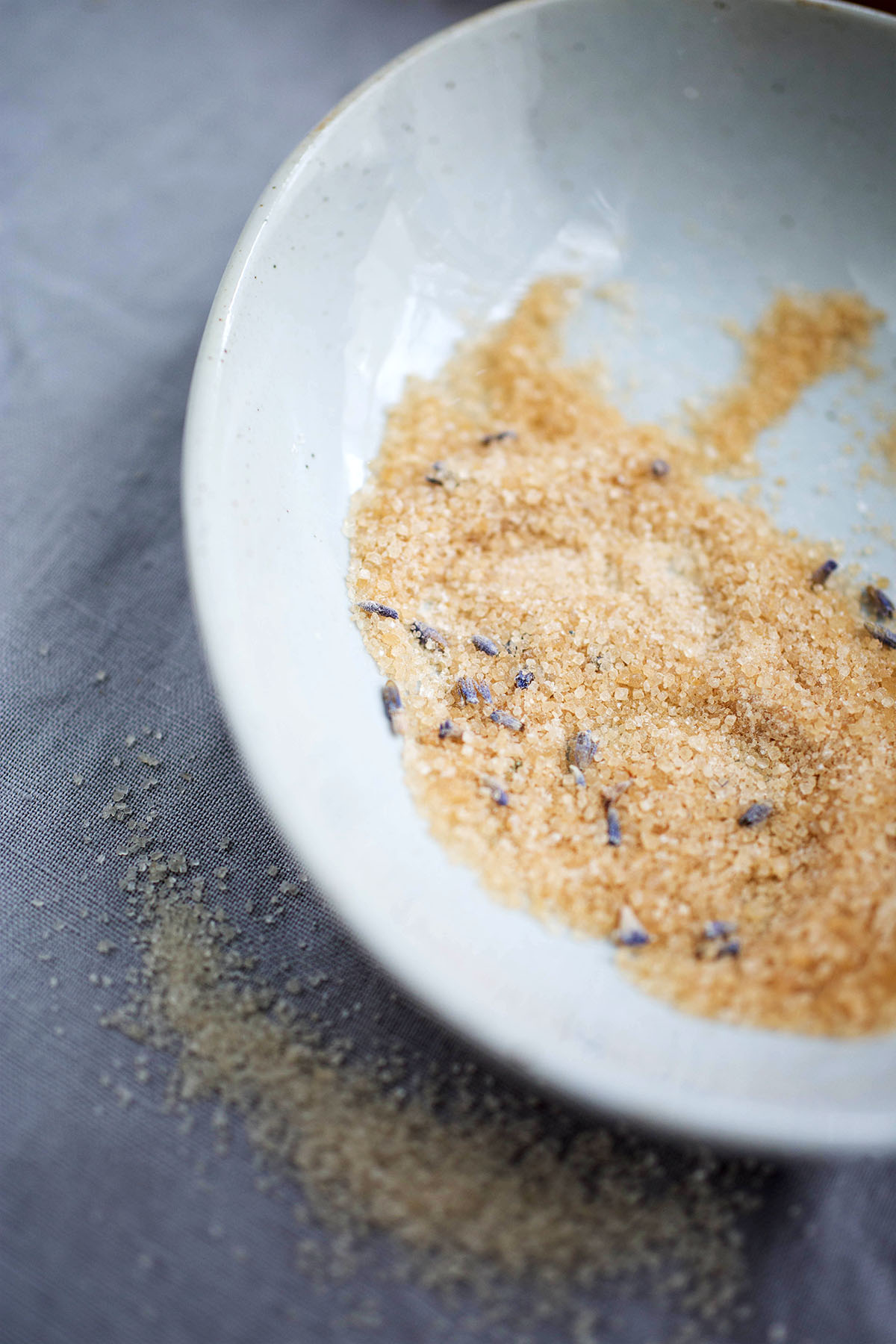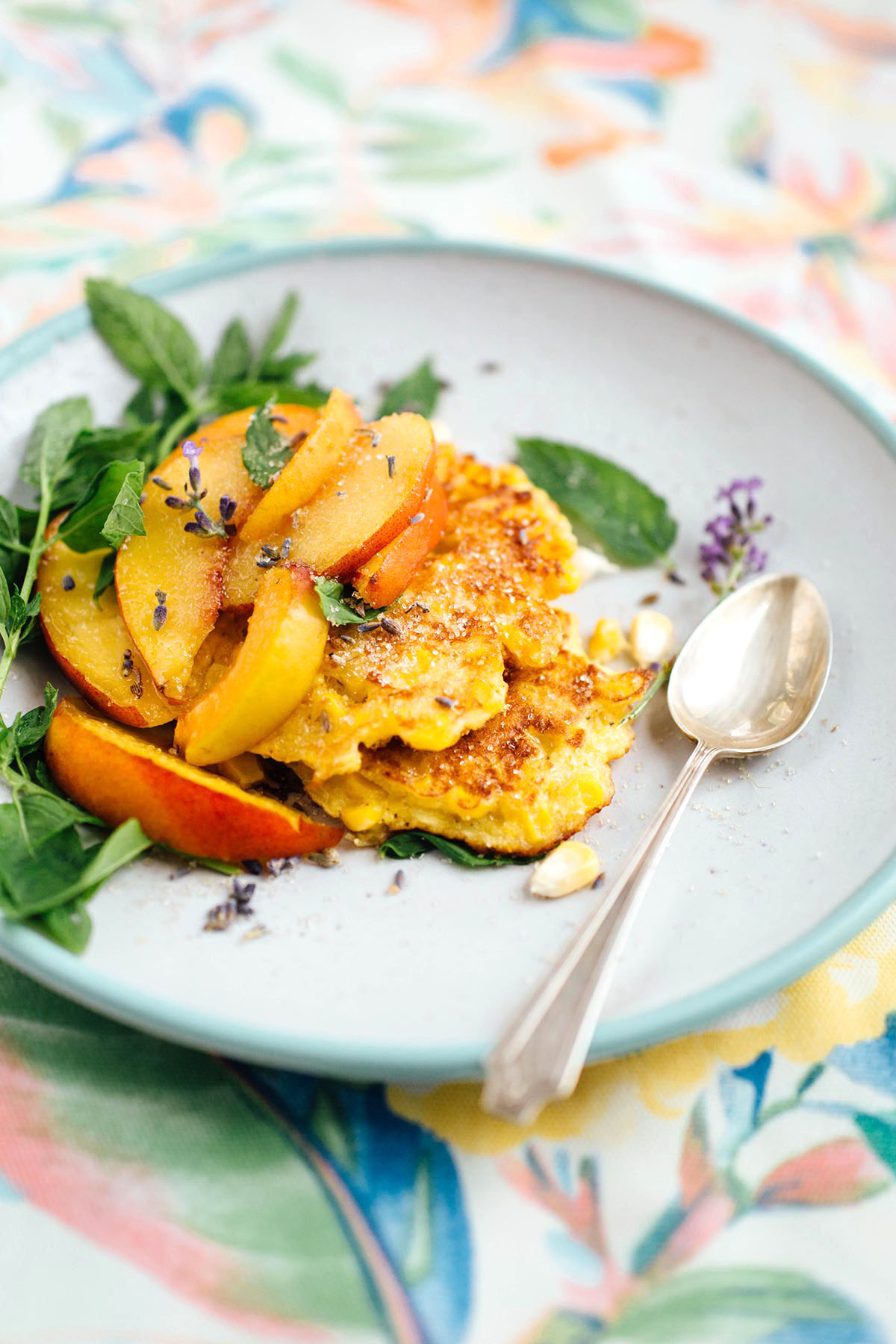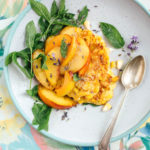 Corn Fritters with Lavender Peaches
Ingredients
For the fritters:

1/3

cup

yellow cornmeal

1/3

cup

all-purpose flour

1/2

tsp

. baking powder

1/2

tsp

. kosher salt

Dash of pepper

1

Tbsp

chopped fresh mint leaves

1

large egg

1/3

cup

whole milk

2

cups

frozen or grilled corn

Peanut oil

, for frying

For the lavender sugar:

1/2

tsp

. dried lavender blossoms

1/2

cup

granulated sugar

2

peaches

, sliced
Instructions
In a medium mixing bowl, whisk together cornmeal, flour, baking powder, salt, pepper, and mint leaves. Make a well in the center of the dried ingredients and add in egg, milk, and corn.

Heat a small skillet over medium-high and add in 1/2 inch peanut oil. Once oil is hot, add 1/4 cup batter into the skillet and slightly flatten with a spatula. Let cook for 3-4 minutes or until browned, flip, and cook for an additional 3-4 minutes. Remove from pan and transfer to a paper towel lined plate. Repeat with the rest of the batter until it's all used up.

Meanwhile, Add dried lavender to a mortar and use a pestle to grind up the lavender blossoms. Add sugar and grind the lavender into sugar.

To serve: Divide the fritters between two plates. Top with peaches and sprinkle with lavender sugar.
Nutrition Facts
Corn Fritters with Lavender Peaches
Amount Per Serving
Calories 318
Calories from Fat 27
% Daily Value*
Fat 3g5%
Cholesterol 42mg14%
Sodium 317mg14%
Potassium 469mg13%
Carbohydrates 67g22%
Protein 7g14%
Vitamin A 555IU11%
Vitamin C 9.2mg11%
Calcium 61mg6%
Iron 1.7mg9%
* Percent Daily Values are based on a 2000 calorie diet.
Other floral recipes from Vegetarian 'Ventures: