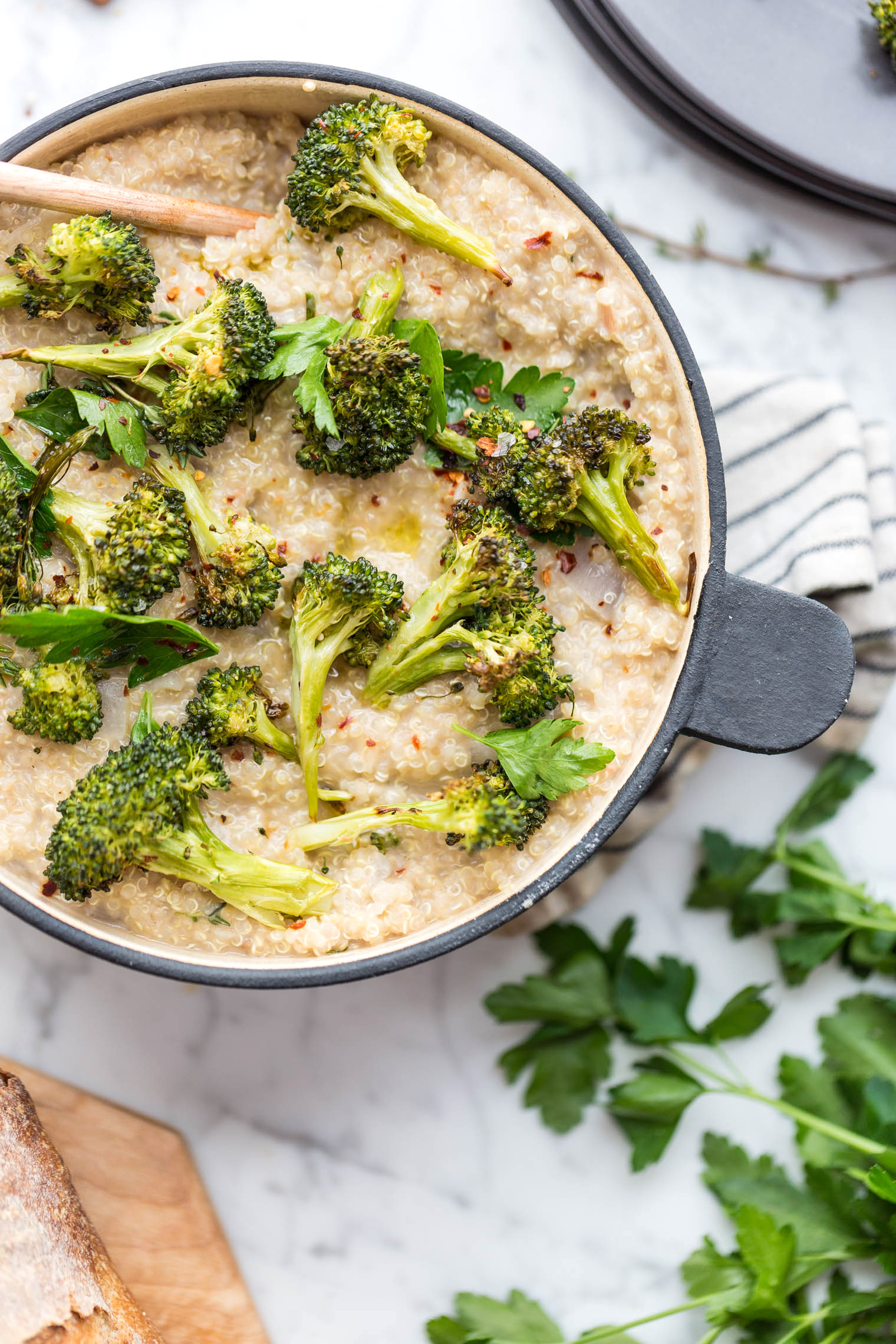 Creamy Quinoa and White Bean Risotto with Crispy Brassica Florets
In a hurry? Click here to JUMP TO RECIPE!
This Creamy Quinoa and White Bean Risotto with Crispy Brassica Florets is from The First Mess cookbook. This healthy plant-based main dish is chocked full of protein (from the quinoa and white beans) and satisfyingly creamy. A perfect cozy meal for chilly evenings or to serve to for a crowd.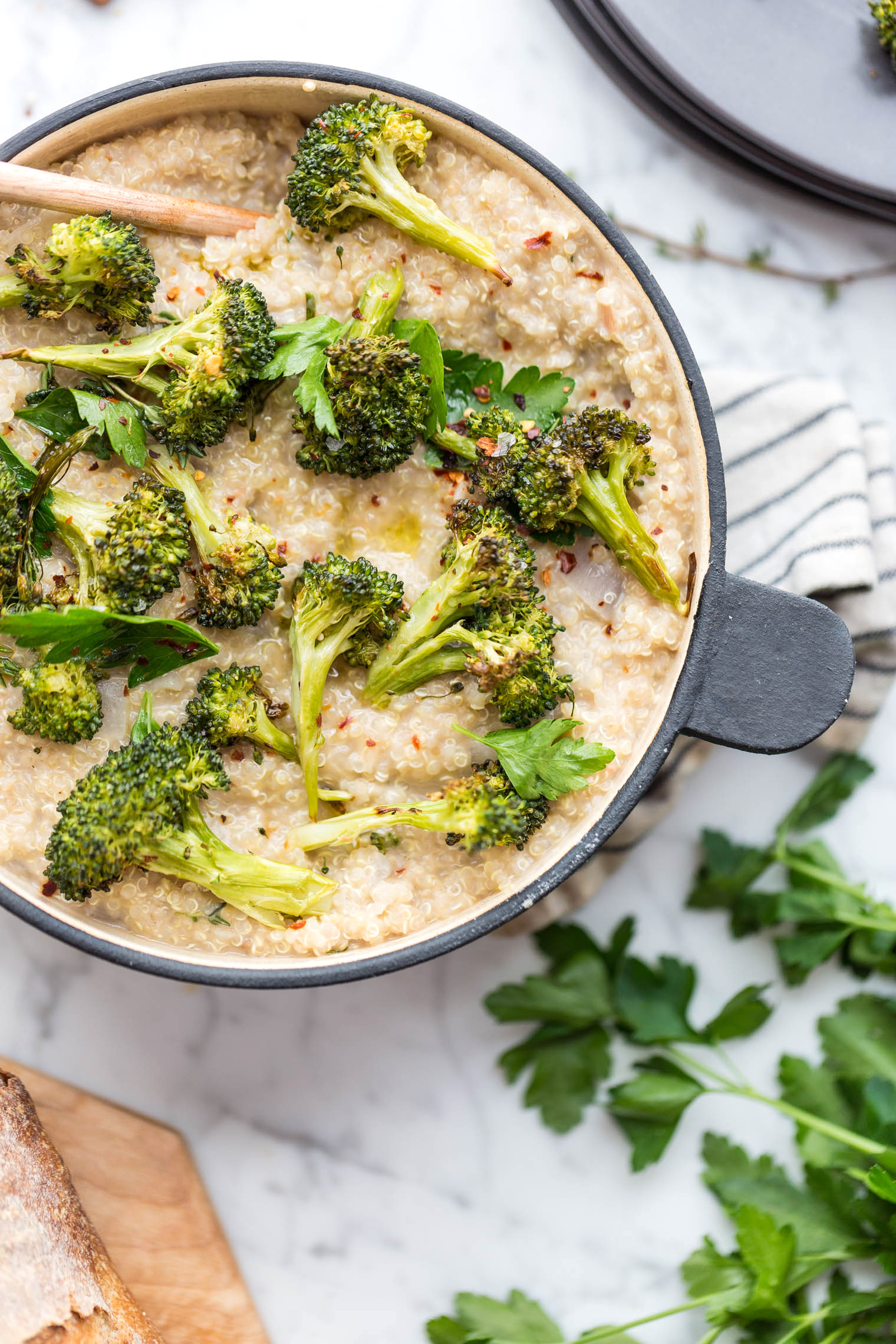 Today's recipe comes from Laura Wright's new cookbook, The First Mess cookbook. I should warn you ahead of time that I may get a little fan girl in this post since I've been a huge fan of The First Mess since I got into blogging 5+ years ago. Laura has this way of making vibey plant-based recipes so flawlessly accessible that you can't help but want to try them all. She manages to make these amazing healthy drinks and meals that feel like the perfect balance between something you'd find in a new issue of Bon Appetit and your hippie neighbor's potion cabinet.
After being internet friends for several years and even chatting on skype a few times, I finally had the pleasure of spending a long weekend with Laura (and so many other amazing girls) in California a few weeks ago. She is as witty and hilarious as you'd gather from reading her writing. She also made the most delicious breakfast in the form of baked oatmeal smothered in a maple cashew caramel. And then a week after I returned home, this gorgeous book showed up on my doorstep as the perfect reminder of this talented lady. I had already been waiting for this book to come out for over a year but having Laura cook for me just a week earlier left me craving new recipes from her. And I am so excited to say that this book did not disappoint.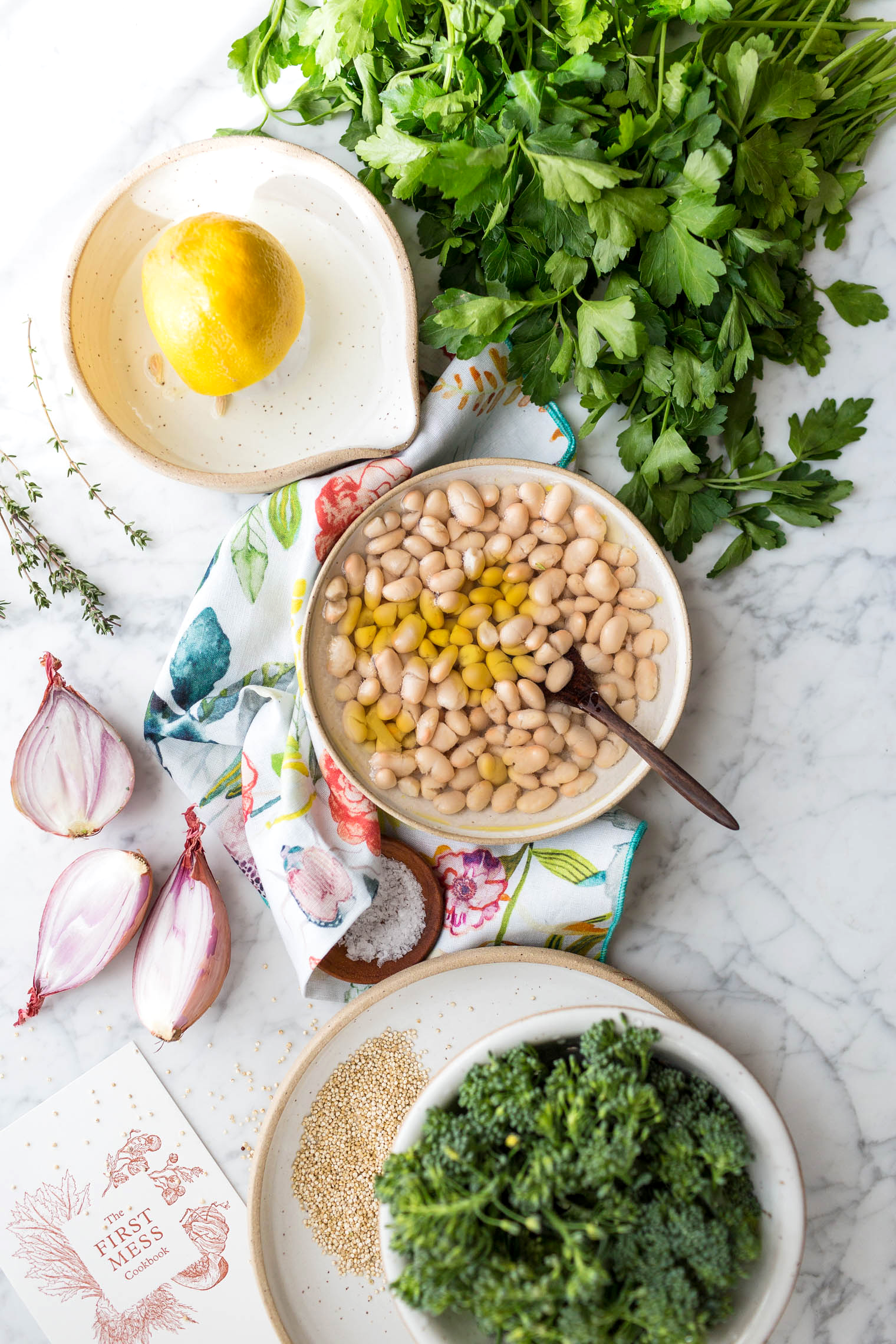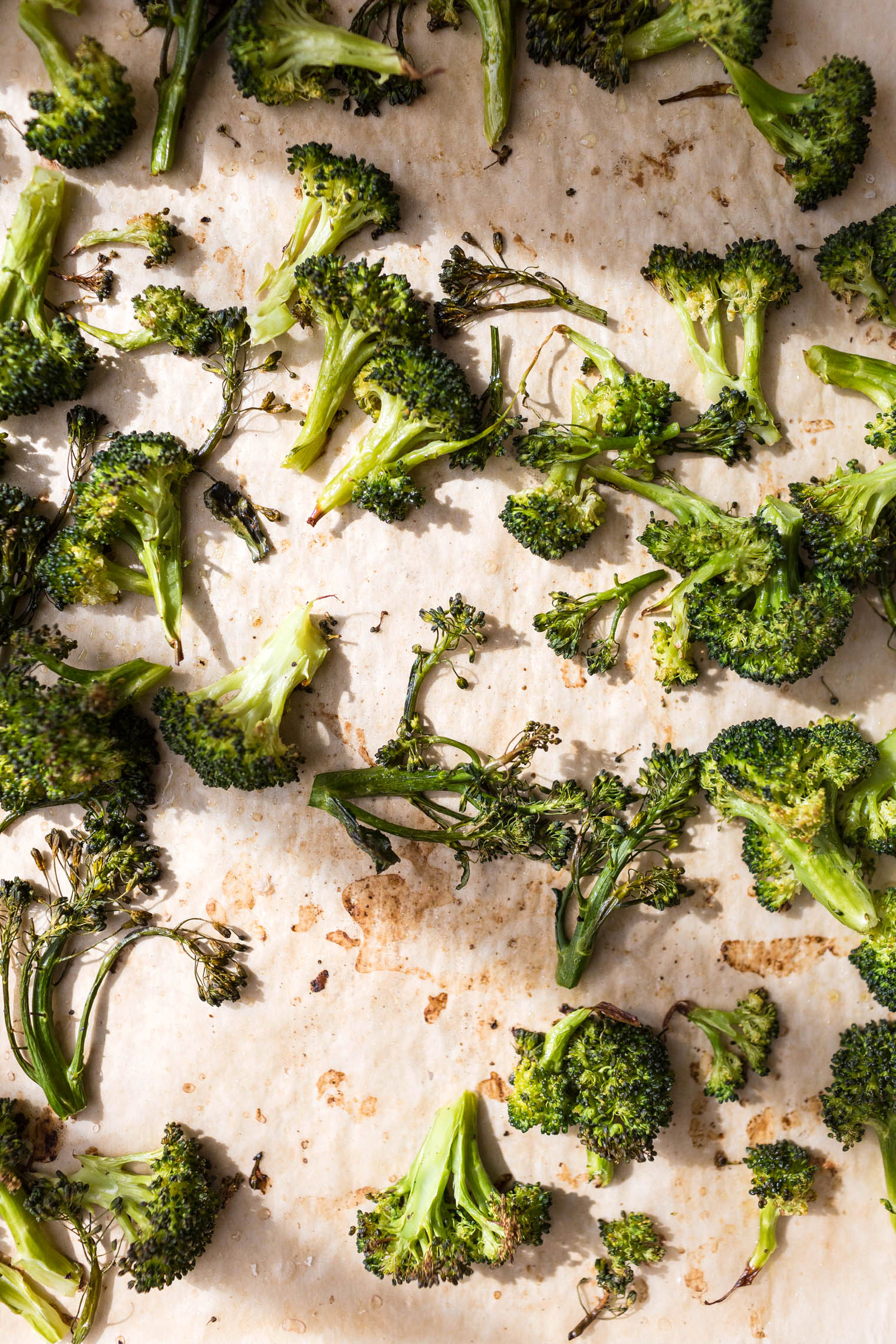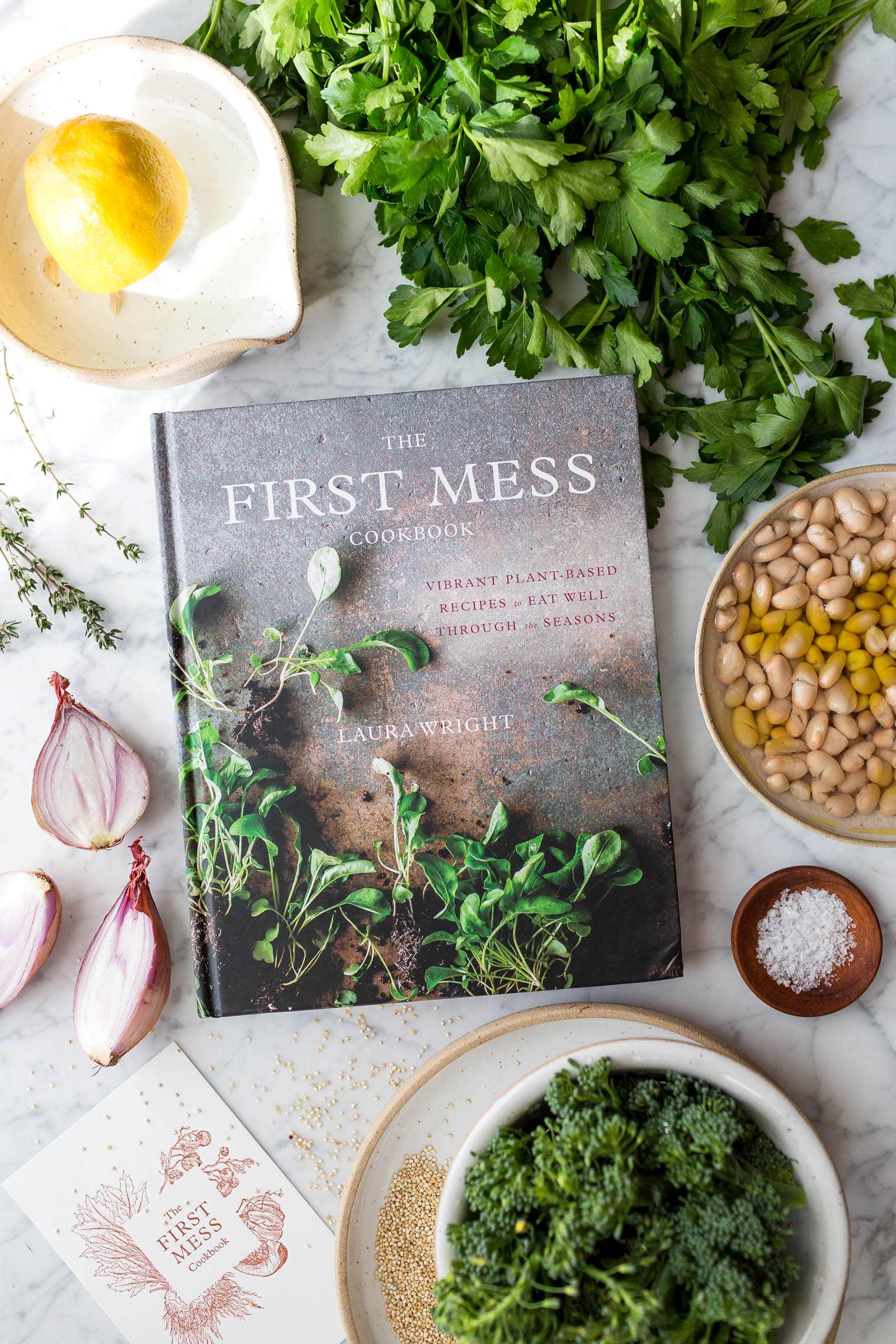 I made three recipes from this book last week and am already planning to try more. Each time I made something, I was waiting for the usual responses from Wyatt: "Where's the cheese?" "This isn't going to fill me up", etc etc. Each time he inhaled the food and finally after making the Weeknight Root Vegetable Dal, he made some comment about how much he was loving the recipes from this book. I said "Seeeeee you don't need cheese on everything" to which he responded "Wait – none of these recipes have had dairy?". Yup, that is how good these recipes are – there is no focus on what is not included, it's all just deliciously nourishing and cozy plant-based grub.
And so after trying three recipes, I am sharing this Creamy Quinoa and White Bean Risotto with Crispy Brassica Florets from the book. They way she managed to achieve that creamy risotto texture out of something as healthy as quinoa is to make a white bean puree (another protein boost!) that is then mixed into the quinoa at the very end. It is then topped with crispy brassica florets (I used broccoli) for a crunchy veg boost. The end results are creamy, crunchy, and oh so comforting.
The only thing I really changed from the original Creamy Quinoa and White Bean Risotto with Crispy Brassica Florets recipe was to add a few red pepper flakes at the end for an extra kick. I couldn't help but serve this with a glass of white wine (for old time's sake since this risotto doesn't have any in it) and a slice of homemade sourdough bread. This served both of us for dinner with leftovers for lunch the following day.
If you are not already, make sure you are following me on Instagram as I'll be giving away a copy of the book later this week!
Creamy Quinoa and White Bean Risotto with Crispy Brassica Florets: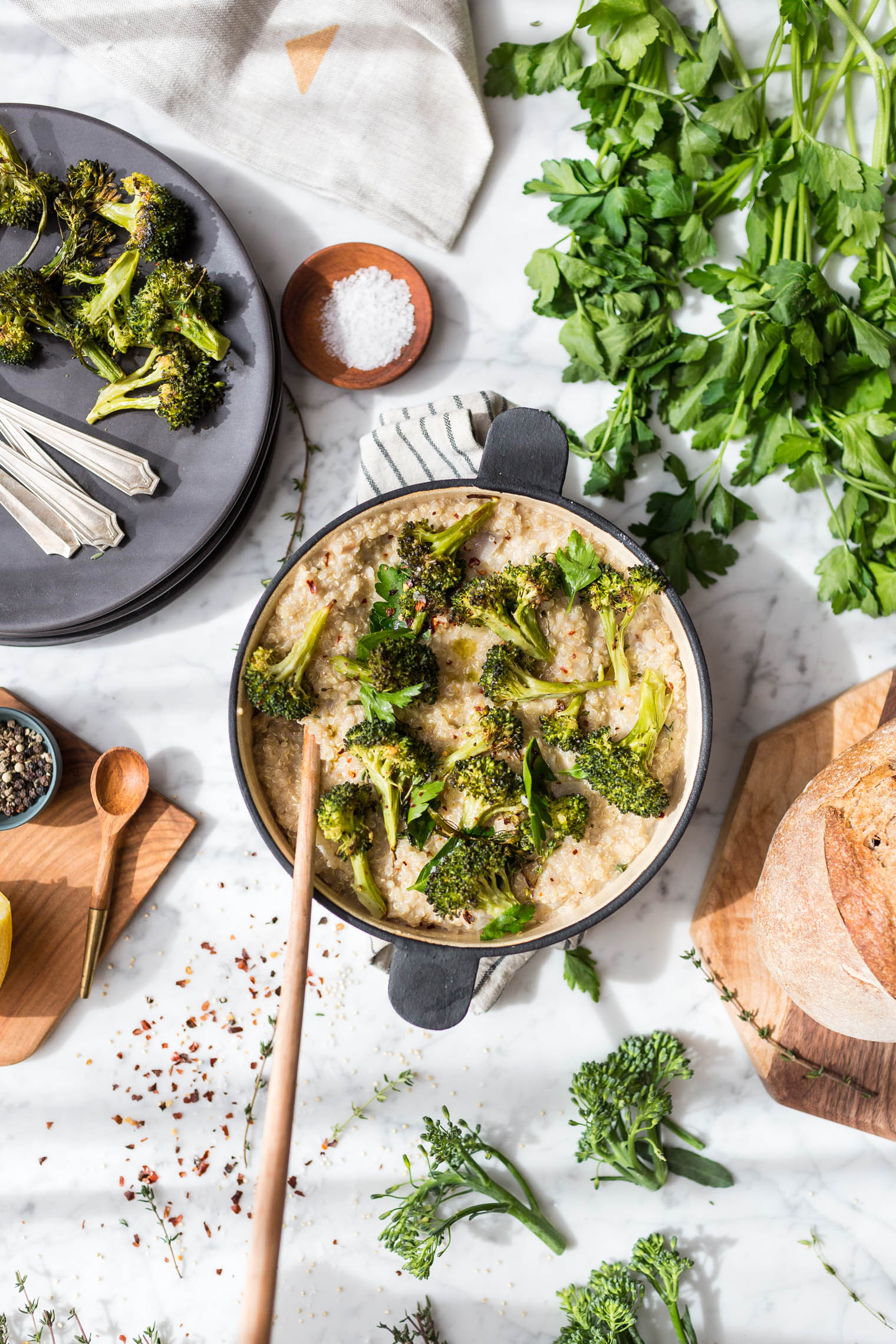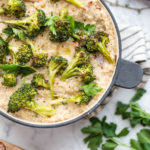 Creamy Quinoa and White Bean Risotto with Crispy Brassica Florets
Reprinted from The First Mess Cookbook by arrangement with Avery Books, a member of Penguin Group (USA) LLC, A Penguin Random House Company. Copyright © 2017, Laura Wright
Ingredients
5

to 6 cups

(1.25 to 1.5 L) small (1 to 1½ inch/2.5 to 4 cm) florets of cauliflower OR broccoli OR Romanesco broccoli OR a mix

2

tablespoons

+ 2 teaspoons

(30 mL + 10 mL) virgin olive oil, divided

salt and pepper

, to taste

2

cups

(500 mL) cooked white beans, such as navy or cannellini

1

tablespoon

(15 mL) fresh lemon juice

pinch of nutritional yeast

2⅓

cups

(575 mL) vegetable stock, divided

4

to 5 shallots

, fine dice (roughly 2/3 cup/150 mL diced shallots)

2

teaspoons

(10 mL) minced fresh thyme leaves (about 4 sprigs)

1

cup

(250 mL) quinoa (any color), rinsed

½

cup

(125 mL) chopped fresh flat-leaf parsley, divided

drizzle of virgin olive oil

, for serving (optional)
Instructions
Preheat the oven to 400°F (200°C). Line a baking sheet with parchment paper and set aside.

Place the small florets on the baking sheet. Drizzle with 1 tablespoon (15 mL) of the olive oil, and season with salt and pepper. Toss to coat and slide the baking sheet into the oven. Roast the florets until the edges are evenly brown and crispy, flipping the pieces over occasionally to ensure equal doneness, about 20 to 25 minutes. Set aside.

While the florets roast, in a blender, purée the white beans with the lemon juice, nutritional yeast, 2 teaspoons (10 mL) of the olive oil, and ⅓ cup (75 mL) of the vegetable stock. As soon as you have a smooth and creamy purée, stop the blender. Set the bean purée aside.

Heat the remaining 1 tablespoon (15 mL) of olive oil in a braiser or medium-sized soup pot over medium heat. Add the shallots, and sauté until translucent, about 4 minutes. Next, add the fresh thyme and stir until fragrant, about 1 minute.

Add the rinsed quinoa to the pot and stir to coat in the oil, herbs, and shallots. Then, add the remaining 2 cups (500 mL) of vegetable stock to the pot and stir. Bring to a boil, then simmer until the quinoa has absorbed almost all of the liquid, about 13 to 15 minutes.

Scrape the white bean purée into the pot and stir to combine. The quinoa should have a creamy consistency without seeming dry. If it seems dry, add a good splash of vegetable stock.

Season the risotto with salt and pepper. Add half of the parsley to the pot and stir to mix throughout. Divide the quinoa risotto among 4 bowls. Top all portions of risotto with the crispy roasted florets and remaining parsley. Drizzle a bit of olive oil over the top if you like. Serve hot.
Nutrition Facts
Creamy Quinoa and White Bean Risotto with Crispy Brassica Florets
Amount Per Serving
Calories 608
Calories from Fat 108
% Daily Value*
Fat 12g18%
Sodium 813mg35%
Potassium 3172mg91%
Carbohydrates 103g34%
Protein 34g68%
Vitamin A 5705IU114%
Vitamin C 692.9mg840%
Calcium 466mg47%
Iron 11.1mg62%
* Percent Daily Values are based on a 2000 calorie diet.