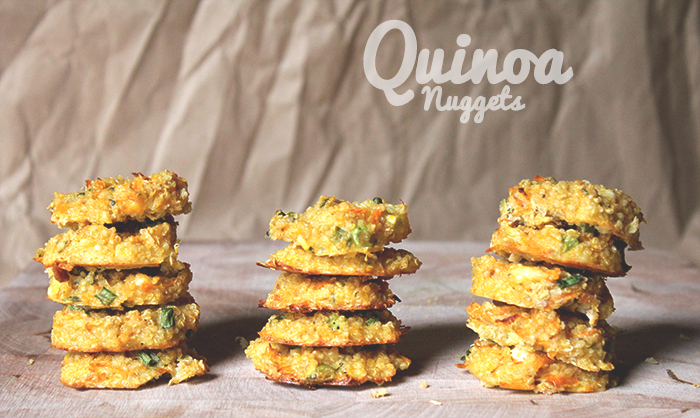 Quinoa Nuggets
I don't handle cold weather well. Period. If it's below 50 degrees then I don't want to go outside. I just don't. And the idea of taking off my slippers // long underwear? Oh no. No way am I having any part in that. So, needless to say, the winter encourages a lot of 'vegging out' time. And by 'vegging out' I don't mean consuming my weight in healthy dark greens and carrot sticks (I wish). I mean sitting on the couch for more hours than I am going to admit and snacking on anything within reach.
My solution to not gaining [too much] extra weight in these dark months? I don't buy potato chips. Or mozzeralla sticks. Or anything that was once fried and then frozen / packaged (for that matter). If I want a snack then it means I am going to have to get off my butt and make something. The usual options are fresh popped popcorn or hummus. But sometimes I feel inspired and get really creative with my snacks. This was one of those instances. And guess what? It was totally worth the extra work.
These little nuggets are crispy, easy, delicious, and super filling. Feel free to play around with the filling and experiment with what you have in your fridge. I dipped them in my honey bourbon barbecue sauce but I bet some homemade ketchup or aioli would be fantastic as well.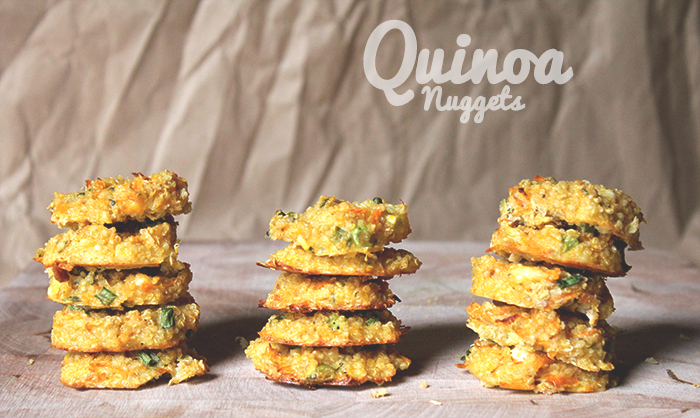 Quinoa Nuggets
1 1/2 cups of dried quinoa, rinsed thoroughly
3 cups water
1 cup shredded carrot
3 garlic cloves, minced
3 green onions, chopped
2 Tablespoons fresh sage, minced (any herb will do)
2 large eggs
1/2 cup crumbled feta
2 Tablespoons flour
Salt/Pepper
Bring 3 cups of water to a boil. Add quinoa, cover, and let simmer for 15 minutes. Remove from heat and let sit for five minutes. Fluff with a fork and set aside.
Preheat oven to 350 degrees and grease two cooking sheets. In a large, beat the eggs. Add in the remaining ingredients (including the quinoa) and mix until incorporated. Scoop a tablespoon of the mixture onto cookie sheets and repeat with the rest of the batter.
Cook for 15 to 20 minutes or until the edges are golden brown. Serve with some yummy sauce!