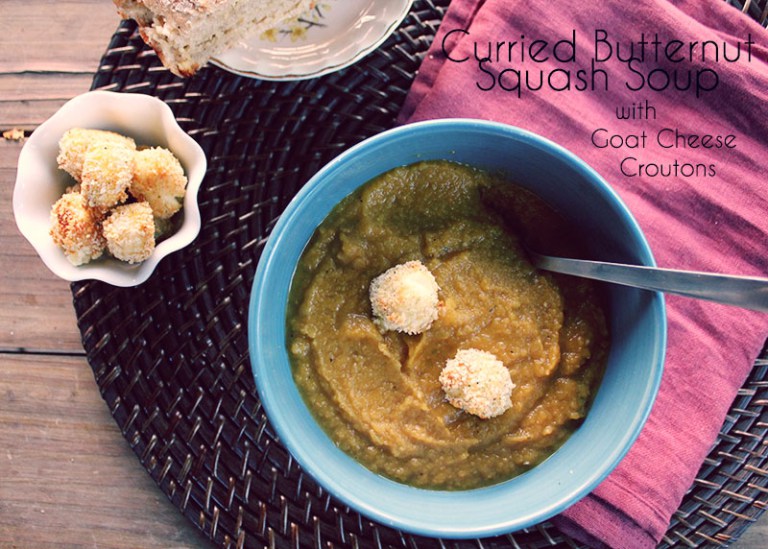 Curried Butternut Squash Soup with Goat Cheese Croutons
And here I am again with more butternut squash in my life (as if that amazing Galette was not enough!). What can I say? Eating in season has been so easy since our bodies were made to adjust to the seasons. All I've been craving for the past two weeks have been soups loaded with winter squash and apple-coated everything.
And I am excited to share with you goat cheese croutons! Have you ever had croutons made out of cheese? OH MY GOD. I cannot believe it took 23 years on this planet to discover these little things! They bring shame to that stale old bread that you use to call "croutons". For real, image this: gooey, breaded chunks of cheese hidden in your bowl of already delicious soup. It's like a cheese stick in your soup! But even better because it's homemade and filled with GOAT CHEESE. Not so bad…am I right? I'm excited to experiment with this more as the winter progresses….perhaps try other cheeses? They will need to low in fat content so that they don't melt in the cooking process. Hmmm…perhaps feta or Parmesan chunks ? Or maybe even find a better technique for sealing the cheese in the breadcrumbs and branch out to Gruyere or brie. Oh man, the options are endless!
Anyhow, regardless of the croutons, this soup is really yummy. Flavored with curry powder and roasted butternut squash, this recipe is a keeper! I recommend roasting the squash ahead of time since it takes an hour and then you can prep the rest in 20 minutes.
Lastly, you should know that I adapted this recipe from SpoonForkBacon. It's one of my new favorite food blogs and although I don't eat bacon (thank goodness that I don't have to worry about that bacon shortage coming!), I do find the food photography incredibly inspiring and highly suggest that you all hop on over and check it out!
Curried Butternut Squash with Goat Cheese Croutons
1 large butternut squash, sliced in half with seeds removed
2 Tablespoons butter
2 Tablespoons brown sugar
2 Tablespoons olive oil
1 onion, diced
2 teaspoons chives, chopped
2 Tablespoons curry powder
1 teaspoon cumin
dash of cinnamon
1 1/2 cups vegetable broth
2/3 cup coconut milk (you can use regular as well if that is what you have on hand)
For the croutons:
3 ounces goat cheese,
1/8 cup flour
1 egg, lightly beaten
1/2 cup breadcrumbs
salt/pepper to taste
Preheat oven to 375 degrees. Place the butternut squash on a baking sheet with the cut sides up. Stick 1 tablespoon of the butter and brown sugar in the cavity of each side. Roast for 1 hour or until the flesh has softened all the way through. Remove from heat and let cool enough to handle. Remove skin and discard.
Heat the olive oil in a large saucepan over medium. Add the onions and saute for about five minutes or until softened. Add in the chives, curry powder, cumin, cinnamon, and squash. Stir until combined.
Next, pour in the broth and let simmer for 20 minutes. Season with salt and pepper.
Remove from heat and use an immersion blender (or let cool enough to stick in the regular blender) and puree. Return to the stove top and simmer over medium low for another 5 minutes. Remove from heat and stir in the coconut milk.
To make the croutons:
Leave oven preheated at 375 degrees.
Make 12 (or 15 if you want them smaller) balls of goat cheese. Place the flour, breadcrumbs, and egg all in separate bowls. Roll the balls into the flour, egg, and then the breadcrumbs. Place onto a greased baking sheet and cook for about 15 minutes (flipping halfway through). Make sure to keep your eye on them and remove when browned (some will take more or less time depending on how big your croutons are).
Serve the soup with croutons or crispy bread.