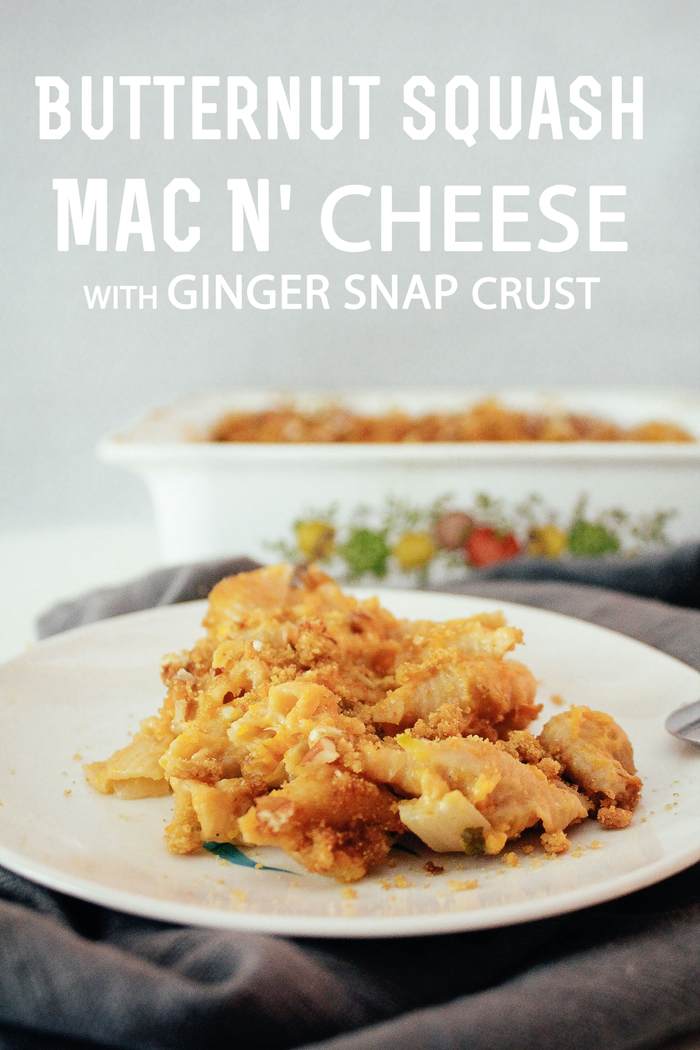 Butternut Squash Mac N' Cheese with Gingersnap Crust
…And we are back from Nashville, Tennessee. Wyatt played a show down there with is band over the weekend so we decided to round up a group and cruise down in his big red van. The weekend consisted of tacos, live music, day drinking, and sooo much exploring. All the pictures I took were with film so I'll have to wait to get them developed before posting a real re-cap.
Nashville was oh so much fun but now that I am home, I can feel myself craving comforts. The comfort of not sleeping on a tiny couch in a 17 bedroom co-op. The comfort of knowing exactly where my food is coming from and what I am putting into my body. The comfort of eating massive quantities of macaroni and knowing I have a [clean] floor to hibernate on after. The comfort of spinning the new[ish] TSwift album and watching 'Girls' on my laptop without being judged by every hipster in the neighborhood.
Macaroni and cheese is the ultimate comfort food for me. I made a Baked version after returning from Portland / Seattle last spring and made a delicious Vegan version over the summer after we moved into our new home. This dish makes a great side but don't hesitate to be like me and eat it for dinner right out of the pan [while on the floor listening to teen pop albums AND watching terribly dramatic sitcoms – at the same time]. It's nice to be home.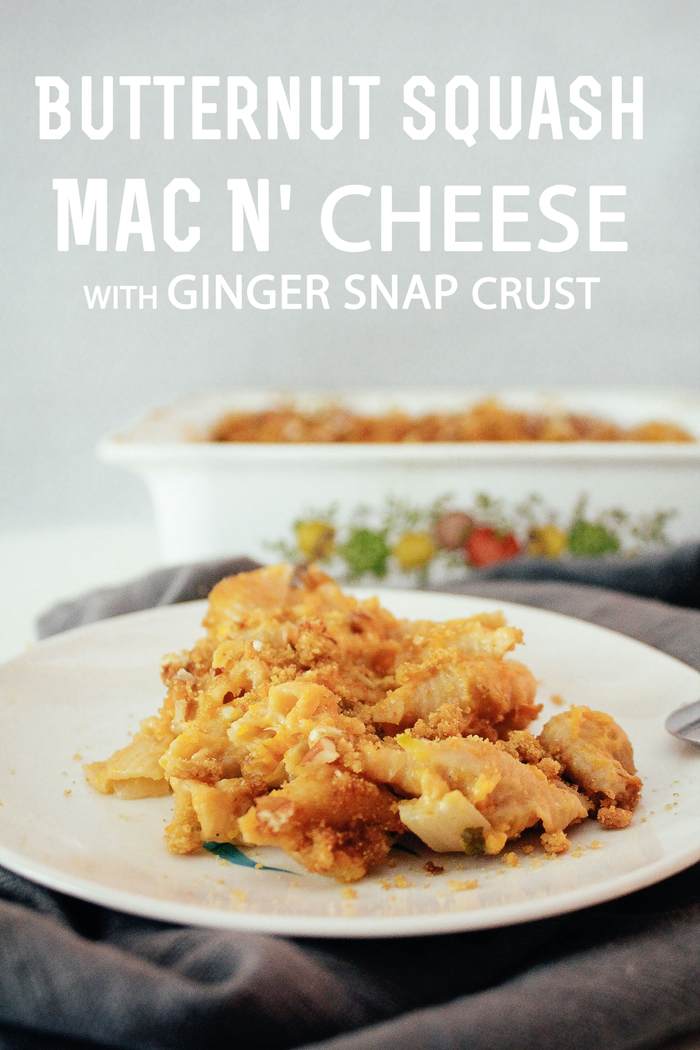 Butternut Squash Mac N' Cheese with Gingersnap Crust
1 butternut squash, peeled and cubed
1 pound of pasta (I used shells)
1 onion, diced
2 garlic cloves, minced
1 cup vegetable broth (I used homemade)
1 1/2 cups milk
1 Tablespoon butter
3 Tablespoons olive oil, divided
2 Tablespoons flour
1 Tablespoon sage, minced
1 cup grated cheddar
1 cup grated Gouda
1 cup grated Parmesan
1 teaspoon dijon mustard
1 cup crumbled gingersnap cookies
1/4 cup chopped pecans
Salt / Pepper, to taste
Preheat oven to 450 degrees. Toss the butternut squash with 1 Tablespoon olive oil and a dash of salt / pepper. Let roast for 20 minutes or until the squash has started to brown. Remove from oven and let cook.
Turn oven down to 350 degrees.
Cook pasta according to package directions. While the pasta is cooking, heat the butter and 2 Tablespoons of olive oil in a large saucepan. Add the onions and cook for five minutes (or until translucent). Add the garlic and sage and cook for a minute. Next, add in the flour and stir. Add broth and milk; turn heat up and bring to a boil.
Once boiling, add the cheeses and mustard (you can also add a little cayenne or hot sauce at this point if you'd like a kick). Add in the roasted squash and use a whisk or wooden spoon to break up the squash (a few chunks are fine!) and stir until everything is combined. Season with salt and pepper.
Remove from heat and toss in drained pasta. Pour into a 9×9 baking pan and top with the gingersnaps / pecans. Cover with foil and bake at 350 for 30 minutes or until lightly browned.
Serve warm to all your favorite people!
Song Pairing: