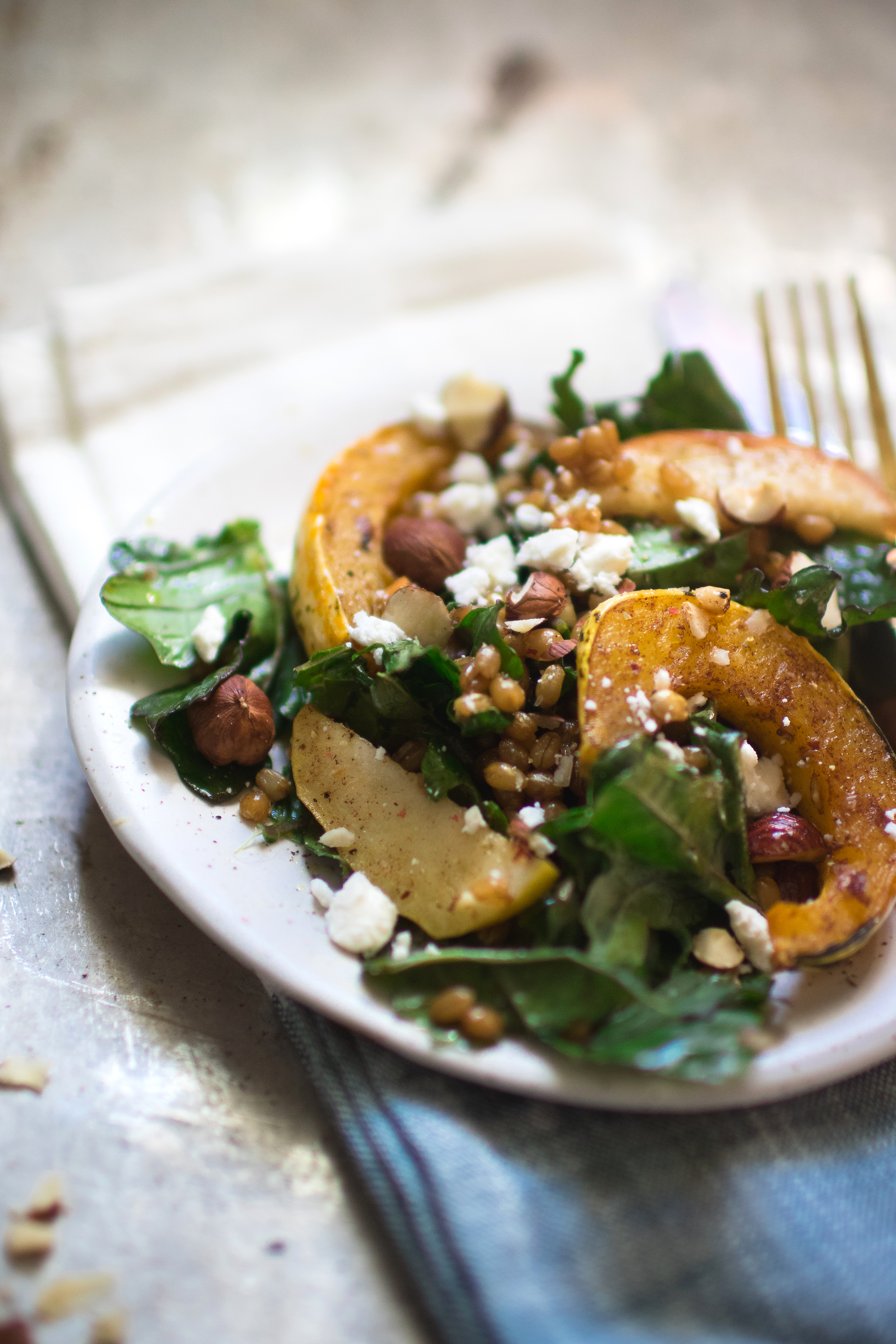 Detox Winter Salad + A VV Video!
In a hurry? Click here to JUMP TO RECIPE!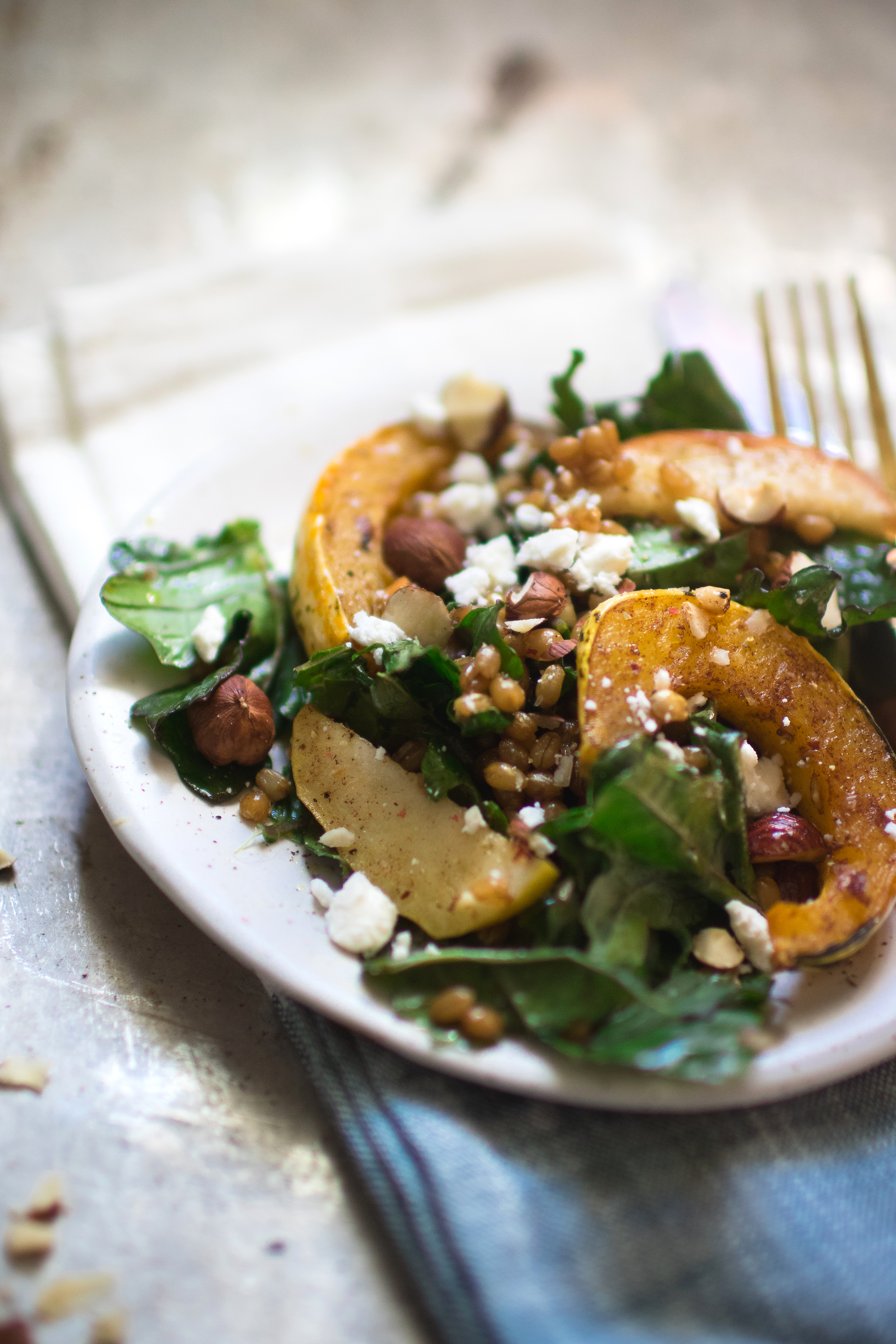 Thanksgiving has officially come and gone. I made you guys an absolutely delicious mascarpone cheesecake recipe with caramelized cranberries that I was planning to share a few weeks ago but the lighting was all wrong and my photos didn't do justice to how freaking delicious it truly was; unfortunately, those bummer photos translated into radio silence around here the past few weeks. Don't worry, I'll make it up to you with some delicious Christmas treats instead!
On a happier note though, Wyatt and I hosted our first Thanksgiving feast this year for six other family members and it went off without a hitch. I only burned the cranberry sauce and we didn't run out of any food. We don't have a dining room so we transformed the studio by moving all the musical equipment along the wall and setting up my photo shooting table to accommodate 8 people. Wyatt was in charge of flipping the records, cooking the sage gravy, and whipping up the cornbread casserole while I took charge of the pumpkin risotto (vegetarian main), green bean casserole, stuffing, rolls, and appetizers.
Before we go any further, I wanted to show you this awesome behind the scenes Vegetarian 'Ventures video that my good friend Anna Powell Teeter made me for the about page. If you are a regular then you've probably read my writing and seen my photography but I am hoping this video will give you an even closer connection to how it all comes together behind the curtains. Check the video out below or hop on over the to 'About Page' to view it there!
And today I have a recipe for the Detox Winter Salad I was making during this video! It's so ideal for your post-Thanksgiving stomach because it's 1. simple to make 2. has loads of fiber from the wheatberries to give your system an extra push during the post-holiday slug and 3. it's full of fresh and seasonal ingredients for an immunity boost! Now that those leftovers are finally gone, let's get our bodies back on track before the Christmas cookies start making an appearance.
Detox Winter Salad below: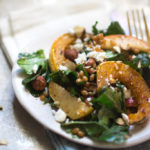 Detox Winter Salad + A VV Video!
A delicious and sturdy winter salad filled with squash, apples, hazelnuts, cinnamon, and wheatberries.
Ingredients
1

Carnival or Acorn Squash

, sliced into 1/2 inch wedges

1

Tablespoon

+ 1/2 teaspoon olive oil

1

teaspoon

finely ground sea salt

1/2

teaspoon

cinnamon

Dash of freshly ground black pepper

2

medium apples

, diced

1/4

cup

chopped hazelnuts

1

cup

cooked wheatberries

1

bunch kale

, chopped and messaged
For the dressing:
2

Tablespoon

olive oil

2

Tablespoons

maple syrup

1

Tablespoon

Dijon mustard

1/2

teaspoon

freshly ground ginger

dash of cinnamon

salt/pepper

Feta

, for garnish (omit for vegan)
Instructions
Preheat oven to 350 degrees and line a baking sheet with parchment paper.

Coat squash wedges with 1 Tablespoon olive oil, 1 teaspoon sea salt, cinnamon, and a sprinkle of pepper. Bake for 15 minutes.

Toss apples in 1 teaspoon olive oil and a dash of salt and pepper.

Flip squash and add apples to baking sheet.

Bake for another five minutes and then add hazelnuts onto the tray and bake for an additional two minutes or until the apples and squash are easily pierced with a knife.

Remove from oven and let cool.

Whisk together the dressing ingredients.

Toss the squash, hazelnuts, apples, wheatberries, kale, and dressing together in a serving bowl.