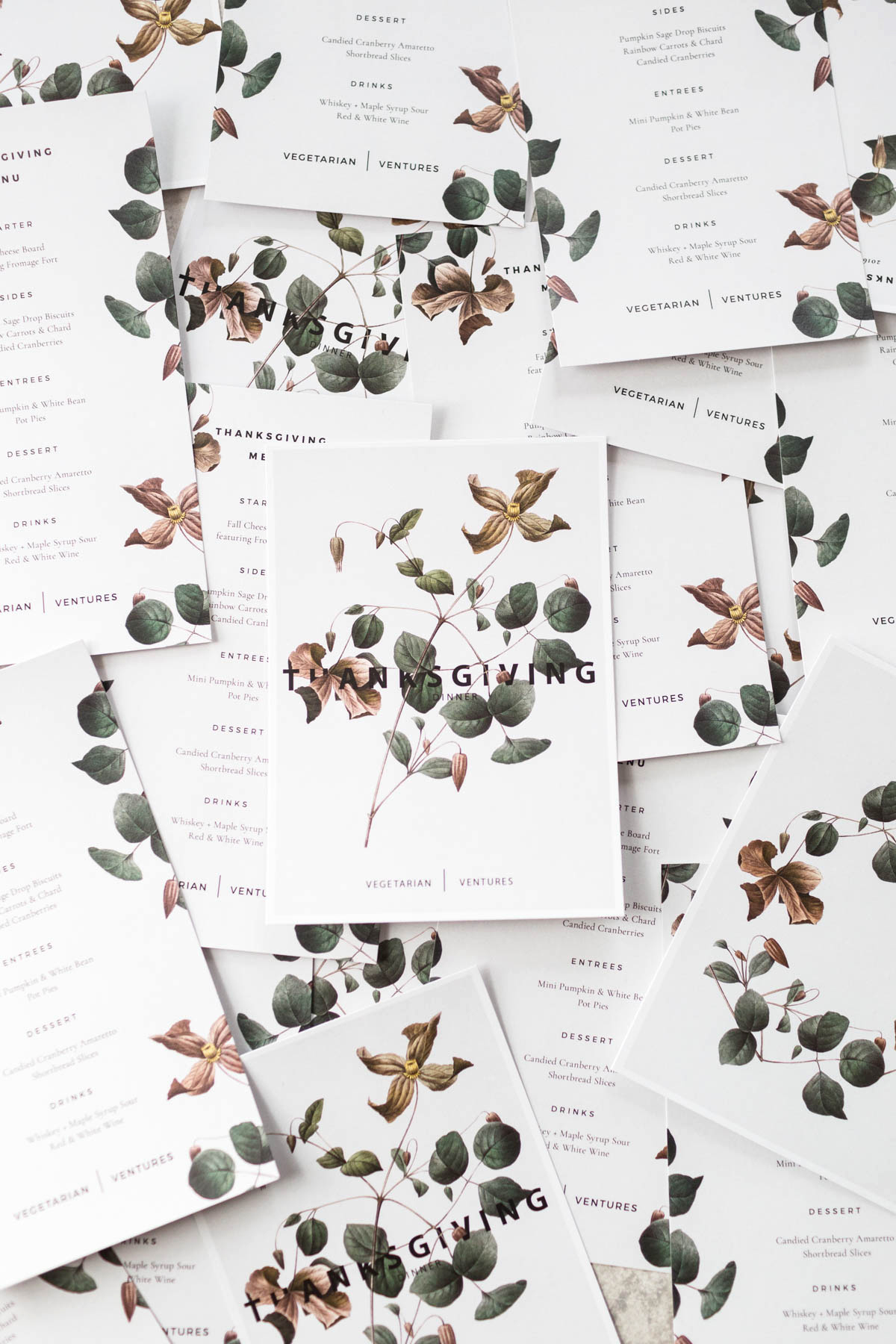 Vegetarian Thanksgiving Menu
Today's post is all about celebrating the season with a Vegetarian Thanksgiving! Below you'll find a Vegetarian Thanksgiving menu, vegetarian recipe suggestions, and tips and tricks for how to host your own meat-free dinner.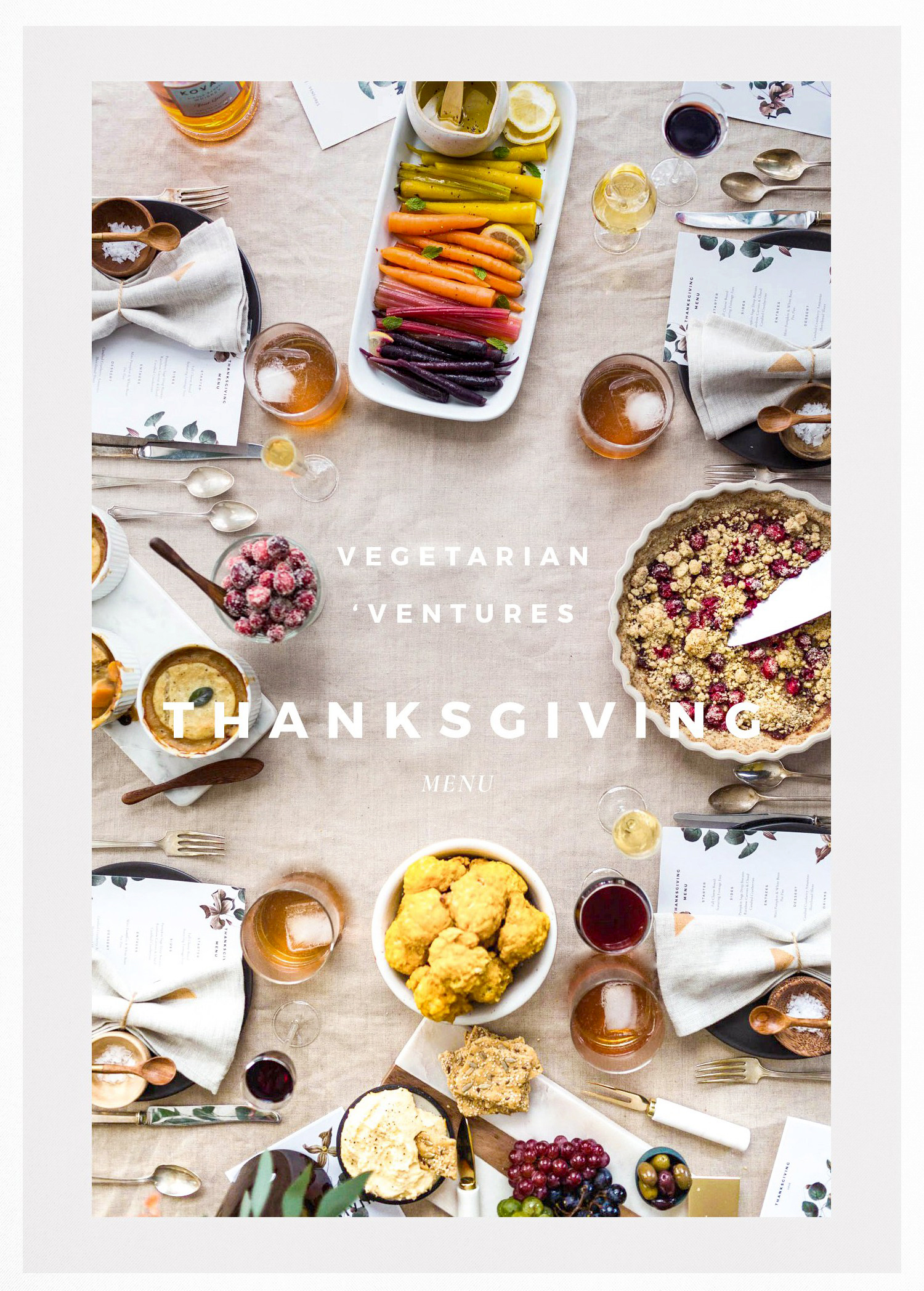 I am so freaking excited that it is officially November 1st! This means it's finally socially acceptable for me to begin talking to you about THANKSGIVING (sorry non-US readers as this post will be very helpful for you…)! I'm extra excited this year because I've spent the past few weeks working on a Vegetarian Thanksgiving menu for you. Inspired by several tabletop pieces sent to me by Bomisch, a rad home goods store run by a fellow veg head, this SIX part Vegetarian Thanksgiving series will be rolled out over the next three weeks.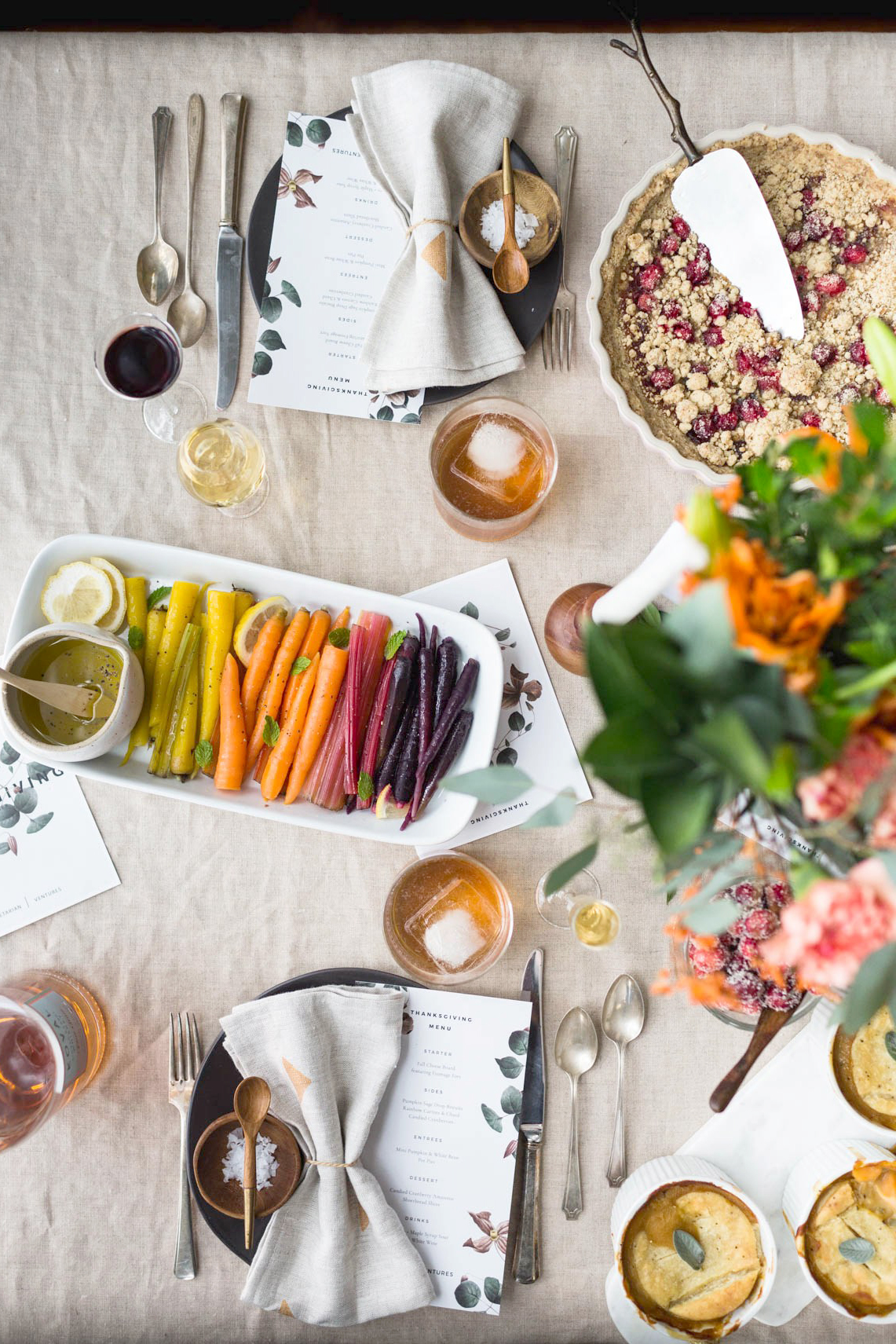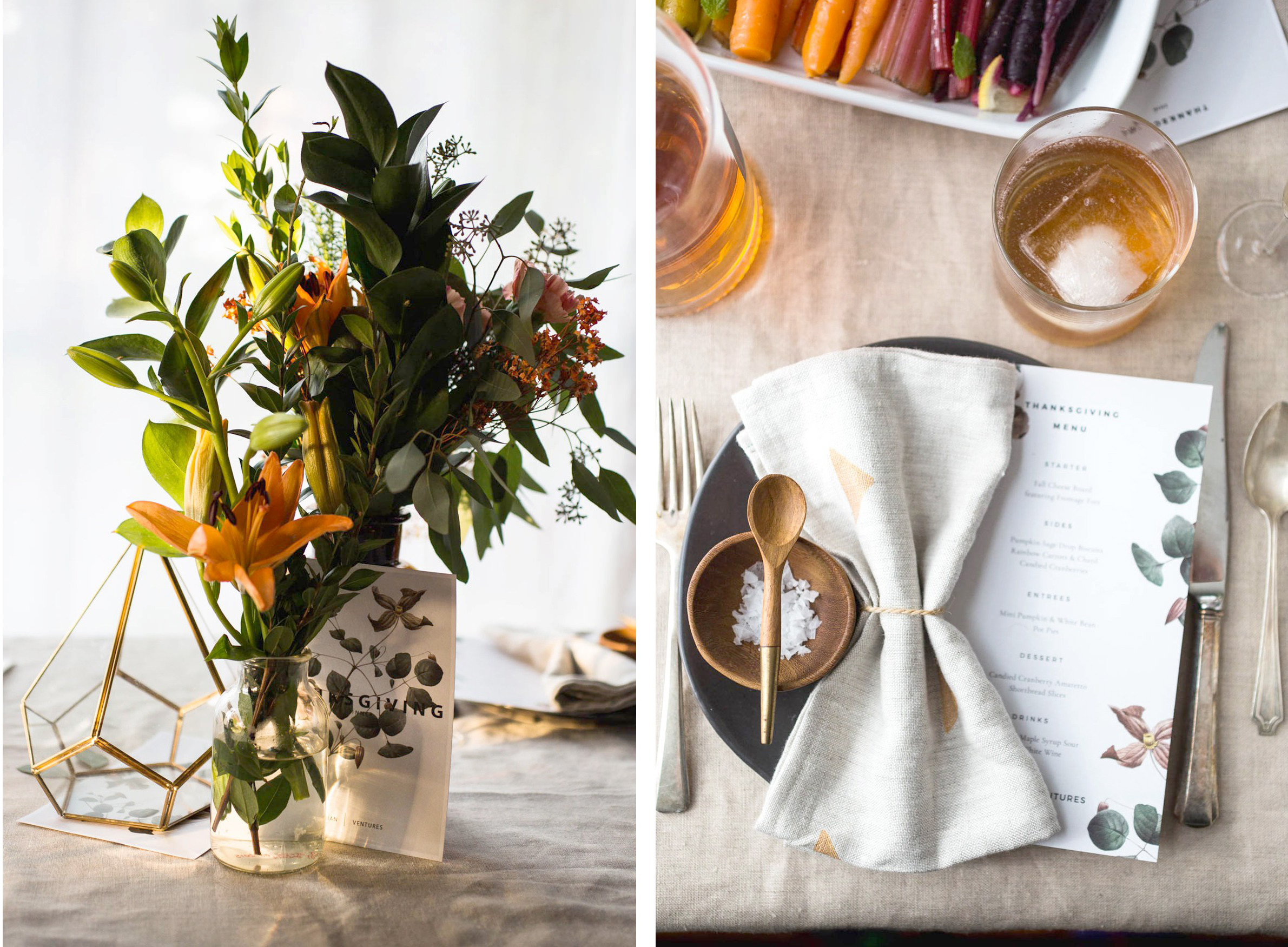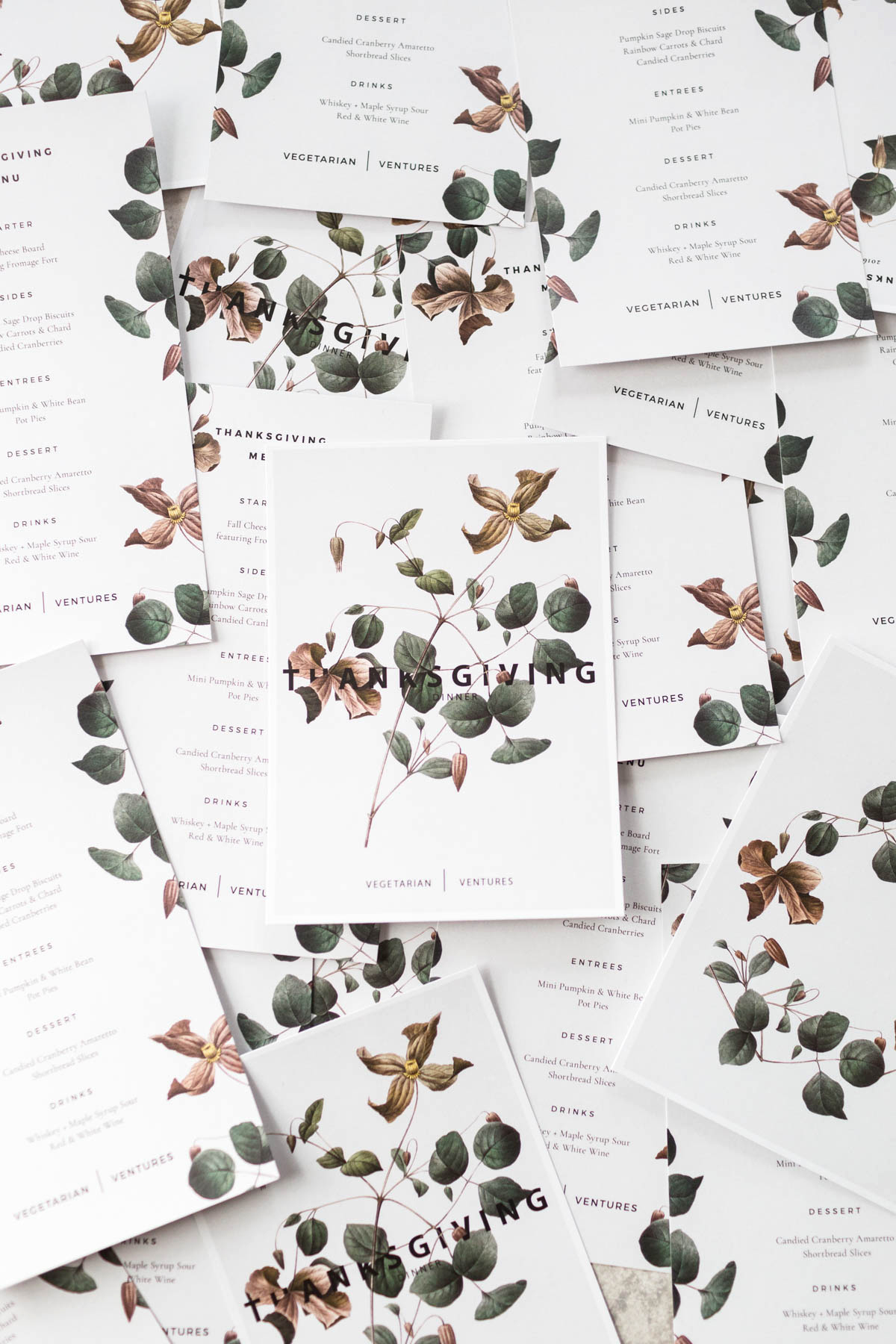 I know Thanksgiving can be a tricky beast for us vegetarians. It's the one day of the year that our dietary preferences are magnified for all of our family to comment on. It can mean getting verbally poked at by that weird uncle that can't possibly comprehend a cruelty-free diet. Or it can be that awkward moment when you have to explain to the host that you won't be eating any of their turkey (or that dressing drenched in turkey fat). Or maybe an unnerving encounter with a rubbery piece of Tofurkey that your mom thought she was being nice by purchasing. Whatever dietary frustrations surface for you on Thanksgiving, I am here to tell you it's time to change that! Last year I hosted my first Thanksgiving ever (after spending the past 25 years helping my mom host hers) and you know what I did? I just made everything without meat (and without a frozen Tofurkey) and the results were AMAZING! Everyone was still stuffed full of delicious food at the end. Everyone was still thankful to be sharing a delicious meal together. Since then, I am happy to say I've hosted several meat-free events and have yet to have someone complain about not being full or wishing there was meat.
Whether you are looking to host your own full-on vegetarian Thanksgiving, planning a potluck-style Friendsgiving, or just wanting to have a delicious vegetarian plate at your family's traditional meal, here are my top tips and tricks for a meat-free holiday:
If hosting your own party, let guests know ahead of time that there won't be meat. With that in mind, don't emphasis it (if you don't make a big deal out of it, they probably won't either). You want people to be so blown away with your meal that they will forget all about "needing" a meat entree. Also, if you have old-fashioned guests coming that you think will be upset by this, if you feel comfortable, let guests know that they can bring their own dishes with meat. Just make it very clear that there will be plenty of food regardless if they bring something.
Make a filling and seasonally appropriate vegetarian main to fill out your Vegetarian Thanksgiving Menu. A few suggestions: hearty pot pies, a bean chili, a root vegetable galette, a butternut squash lasagna, or stuffed squash. If you aren't hosting but attending a traditional Thanksgiving and are worried there might not be a veg entree, talk to the host ahead of time. Ask them if it would be okay for you to bring a dish and bring some of the options mentioned above.
Keep the sides traditional so it still feels festive. I made sure to still have rolls, a vegetable side, and a cranberry dish. You could also make stuffing, green bean casserole, and a pumpkin pie.
Use trusted sources when picking out recipes you've never made before. When you are planning for a large group of guests, trying out a recipe for the first time that *may* work just isn't going to cut it. When planning out my Thanksgiving menu, I always consult my cookbooks, favorite magazines, and recipes I've made before.
My Vegetarian Thanksgiving Menu: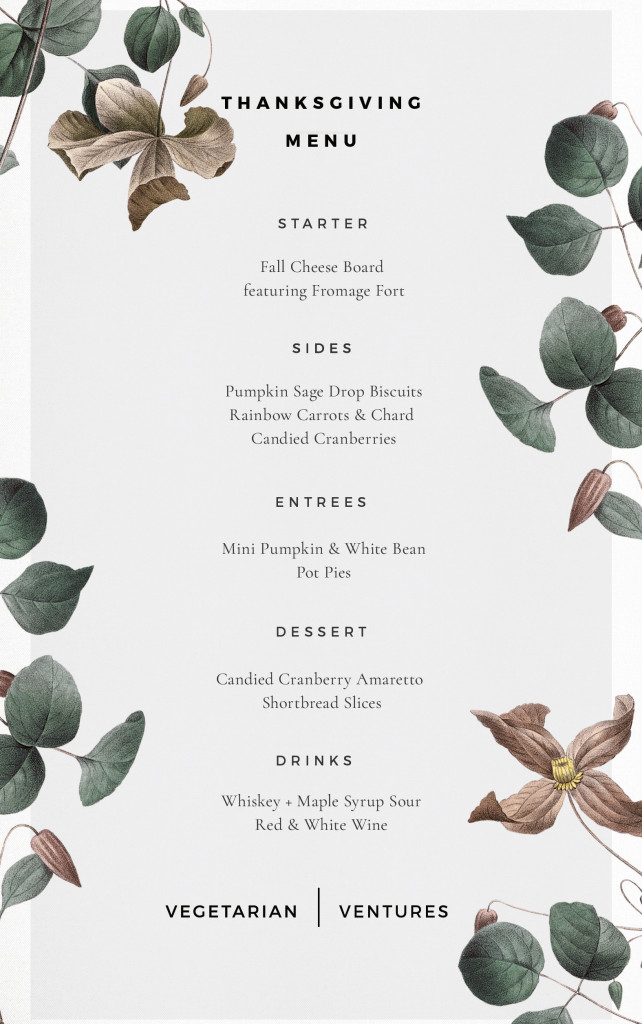 Here are all the links to the recipes on the Vegetarian Thanksgiving Menu. Note new links will be added as they are rolled out through the month – check back on or after their post date for full recipe:
I kept the menu simple as I wanted to focus on several quality recipes made from scratch instead of an overload of recipes that were half thrown together. With that in mind, if you have a big team (AKA happy to help family members), I'd suggest adding a cornbread and grain salad recipe to this spread. Here are a few other recipe suggestions if the above recipes aren't your thing:
As mentioned above, I sourced trusted recipes I've either made or turned to cookbooks when making this year's Vegetarian Thanksgiving  Menu. Below is a picture of the books we'll be cooking from this month for this menu. Don't worry – I'll be sharing the recipes from the books so you don't have to run out and buy them…although they are all good enough that I'd recommend them to everyone. I should disclose though that none of them are strictly vegetarian, as you can probably tell by the covers, but still have some really great veg recipes in them.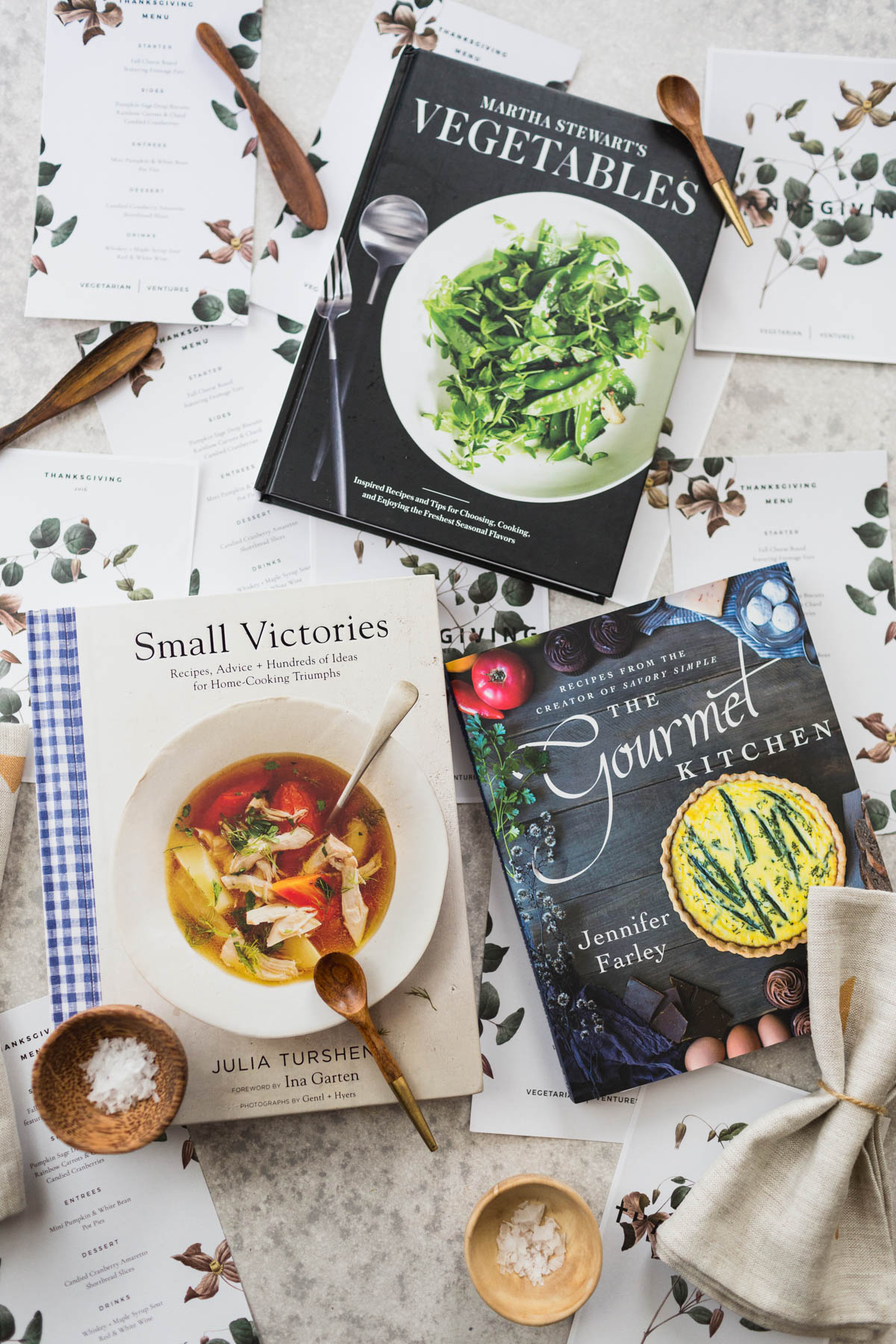 Got a vegetarian Thanksgiving question or thought I didn't cover here? Let me know in the comments below or shoot me an email at [email protected]. I'll be covering this topic all month and would love to dive deeper into what you want to hear about in the next few blog posts! Make sure to stop by on Thursday for tips on setting a simple tablescape and the Thanksgiving entree recipe for Mini Pumpkin Pot Pies.