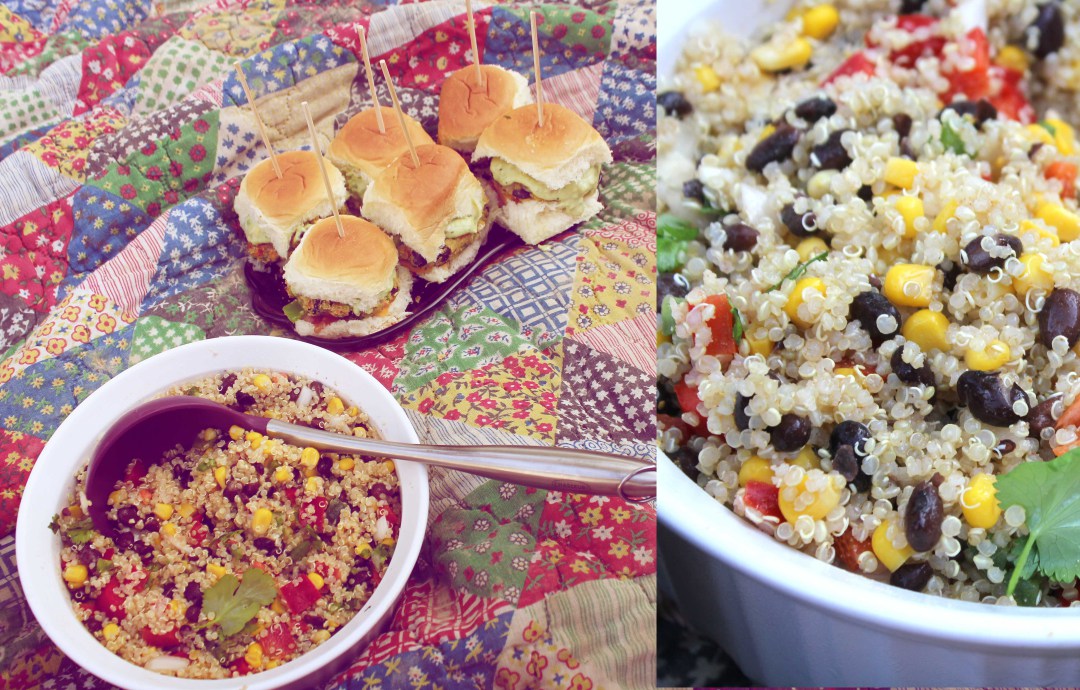 Dinner Picnic Part 1: Southwestern Inspired Quinoa Salad
Well Memorial weekend has come and gone which means summer is officially in full swing. To me, this means fresh produce and delicious salads! I am not a big fan of having just a salad as a meal but I do love them as a side and to compliment my main entrees. I am particularly fond of grain salads (wheat berry, quinoa, polenta, oh my!) so please let me know if I begin to get carried away in the coming months!
On Monday we piled 5 people, a dog, and a grill into my roommate's tiny civic and off we went to spend the afternoon at the lake. It was 90 and sunny here in Bloomington so the water could have never felt better! I whipped this salad up to go with our grilled goods; what made me think to make this one was that I didn't want a mayo based salad sitting in the heat all day! So I turned to my flavorful quinoa salad that doesn't' need to be lathered in thick dressing to be flavorful. This salad is lime juice based which means a little sun won't hurt anything!

Also, I made a double recipe so that we would have leftovers for the week. Since I was just not into getting back to routine, I made Wyatt (and Tuko!) have a dinner picnic with me last night in our favorite garden. The main course recipe is coming in a post later this week (stay tuned!) but we had this salad again as a side. Such perfect picnic fare!
Southwestern Inspired Quinoa Salad
1 cup quinoa
1 15 oz can of black beans, drained
1 cup corn
1/2 cup onions, chopped
1/2 cup red pepper, chopped
2 jalapeno, chopped (use less if you don't like spicy)
1/4 cup olive oil
1/3 cup lime juice
1 Tablespoon cumin
1 teaspoon chili powder
salt/pepper
cilantro, for garnish
Cook quinoa according to package directions (if no directions- wash thoroughly with cold water and then boil the quinoa for about 15 minutes or until soft).
Whisk together the olive oil, lime juice, cumin, chili powder, salt, and pepper.
Once the quinoa has cooled completely, combine the quinoa, bell pepper, black beans, corn, jalapeno, and onions in a large mixing bowl. Fold in the whisked dressing.
Let it sit in the fridge for at least an hour before serving so that all the flavors can mend together deliciously. Serve cool and while at a picnic/grill out!