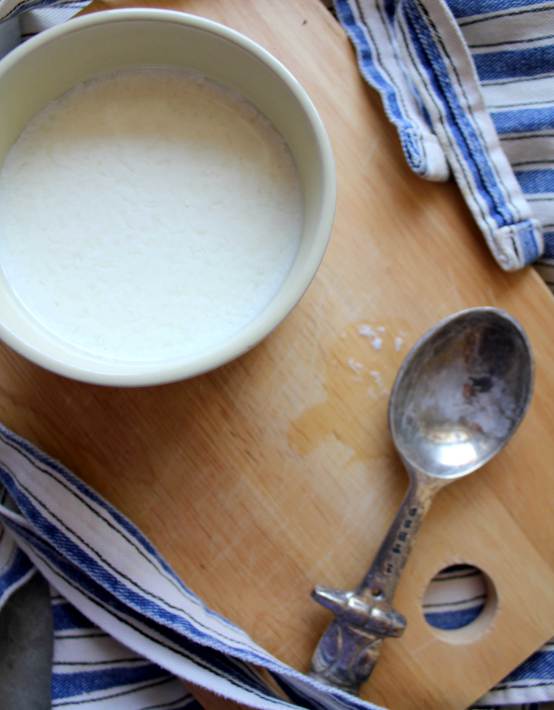 DIY Delicious: DIY Buttermilk /// Oatmeal Buttermilk Pancakes
This was originally posted on www.chivesgonewild.wordpress.com this morning. It's a new blog that my good friend, Kristin, and I are collaborating on. Don't worry – I'm not cheating on you, VV. It's just a new outlet for me to express my thoughts on things outside of food…like DIY projects, shopping lists, decor suggestions, etc.
It's still very new and in the experimental stage (we still don't even have a bio made yet!) but feel free to go check it out if you have a few minutes!
Enjoy!
____________________________________________________
Oddly enough, I've been using this trick for years for vegan baking but never really caught onto what I was actually doing. My introduction to vegan baking was in high school when I picked up Isa's Vegan Cupcakes Take Over The World. Almost all of the cupcake recipes start with mixing a tablespoon of apple cider vinegar with a cup of almond milk and end with amazingly moist, flavorful cupcakes.
Anyhow, I cannot begin to tell you how many times I've bought the smallest possible carton of buttermilk, used half a cup, and then let it go bad in my fridge swearing to myself, I'll use it up next time. It's just one of those staples that I never go through in my house (and I bet a lot of you are the same way).
This led me to research about buttermilk substitutes…and discover great news from it! You can actually make buttermilk with 2 simple pantry (fridge) staples in less than 10 minutes! Wah? I almost feel upset about discovering this because of all the times I've wasted soooo. much. buttermilk.
Here's how it goes:
DIY Buttermillk
1 cup of milk (any kind you like – whole will give you a closer texture but use soy if you like it vegan!)
1 Tablespoon vinegar
Mix together in a bowl and let sit for 5 minutes [this will cause the milk to "curdle"]. Mix into all your favorite buttermilk recipes and that's it!
And…by favorite…I mean recipes like the following:
Perfect to 2
1 large egg
1 cup buttermilk
1 Tablespoon butter, melted
dash of vanilla
1 cup flour (+ more if the batter is too runny)
`1/2 cup oats
1 Tablespoon brown sugar
1 teaspoon baking powder
1/2 teaspoon baking soda
1 teaspoon salt
dash of cinnamon
dash of nutmeg
1/2 cup pecans, crushed
2 Tablespoons maple syrup
Combine the wet ingredients in a small bowl and mix together. In a large bowl, add in all the dry ingredients and mix until well incorporated. Make a well in the center of the dry ingredients and pour the wet into it. Fold the dry into the wet until a thick batter forms. If the batter is too thin for your liking, add a bit more flour.
In a large skillet, melt a dollop of butter or oil over medium heat. Use a 1/2 cup measure as a scooper. Scoop batter onto the skillet and put two to three pancakes on at a time. Cook for two to three minutes on each side (will depend on how hot your skillet is). Repeat with the rest of the batter.
In a small saucepan, place the pecans and saute for 5 minutes on low. Next, add in 2 Tablespoons of maple syrup. Cook on low until all the syrup has stuck to the pecans.
Enjoy the pancakes lathered with maple pecans, sliced strawberries, butter, and lots of maple syrup!
Eat while sipping on your favorite coffee and watching some morning cartoon classics.