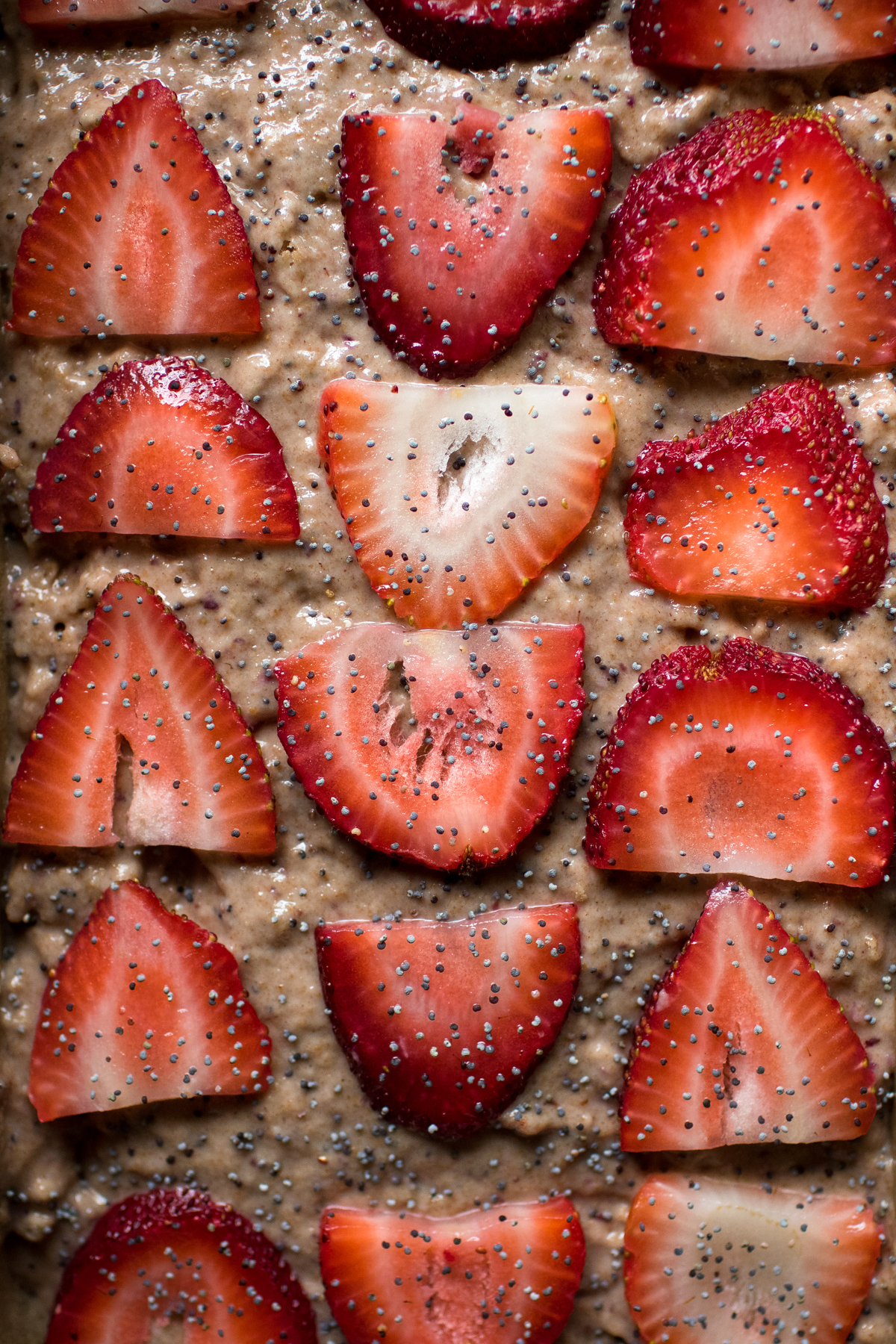 Strawberry & Poppyseed Buttermilk Bread
I had all these plans to make tacos and ice cream and fizzy floats over the weekend but then it rained; it rained for two days straight and all I could muster up the craving to do was bake. The gentle patter of the rain against our tin roof was soothing as I measured, poured, stirred, and repeated. I played the Darjeeling Limited soundtrack on repeat while the muted natural light gleamed in the windows just enough to avoid turning the lights on. I baked a cake and this loaf of bread for no particular reason other than I was starved for comfort after being on a week long business trip in Nashville.
This recipe is inspired by banana bread. I once had a roommate that wanted to make the best banana bread ever so she continued to bake loaves for weeks on end, tweaking it a bit each time, until she came out with a subtly sweet and dense loaf of deliciousness. I was one of the lucky few who got to enjoy those banana bread slices day in and day out as she baked dozens and dozens of versions. For that, banana bread has a very comforting and familiar taste for me. When getting ready to make the banana bread this weekend, I realized my bananas were not ready and turned to the other fruits I had laying around. The pint of strawberries were so close to being past their prime that I knew I'd have to use them that day or chuck them. I also decided to brighten the flavor up a bit by replacing the wintery spices with citrus zest and the result was phenomenal.
Many of you may already know strawberry bread in the form of a sweet pound cake dotted with strawberry slices; I'd like to warn you that this is not that. It is not sweet and airy like a cake and has a denser, banana bread texture to it. If you are a fan of banana bread then you will love this; it's subtly sweet and spiced which makes it the perfect breakfast food to enjoy alongside a cup of coffee or tea.
If you really want to make this but don't have enough strawberries, you can swap in a portion of the strawberry puree for applesauce or other pureed fruit. You can also fold in chunks of strawberries if you'd like the flavor to be more intense or add a handful of chopped nuts for a crunch.
Strawberry & Poppyseed Buttermilk Bread
makes 1 loaf
1 1/2 cups whole wheat flour
1/2 cup all-purpose flour
1 teaspoon baking soda
1 teaspoon cinnamon
1 teaspoon lemon zest
1/2 teaspoon salt
2 large eggs
1/2 cup brown sugar
1/4 cup sunflower oil (or grapeseed oil)
1/4 cup buttermilk
1 cup pureed strawberries (about 1 pint strawberries pureed in a blender)
1/4 cup poppy seeds + more to top the loaf with
Thin slices of strawberries to top the loaf with
Preheat oven to 350 degrees and line a loaf pan with parchment paper. In a large mixing bowl, whisk together the flours, baking soda, cinnamon, zest, and salt. Make a well in the center of the dry ingredient and pour in the strawberry puree, buttermilk, brown sugar, poppyseeds, and oil. Whisk together the wet ingredients and once incorporated, start incorporating the dry ingredients into the wet by making large whisking strokes until everything is incorporated.
Transfer the batter to your prepared muffin loaf and top with slices of strawberries and more poppyseeds. Bake for 45 minutes or until the top has browned and a toothpick comes out of the center clean. Let cool before serving with butter and / or jam.