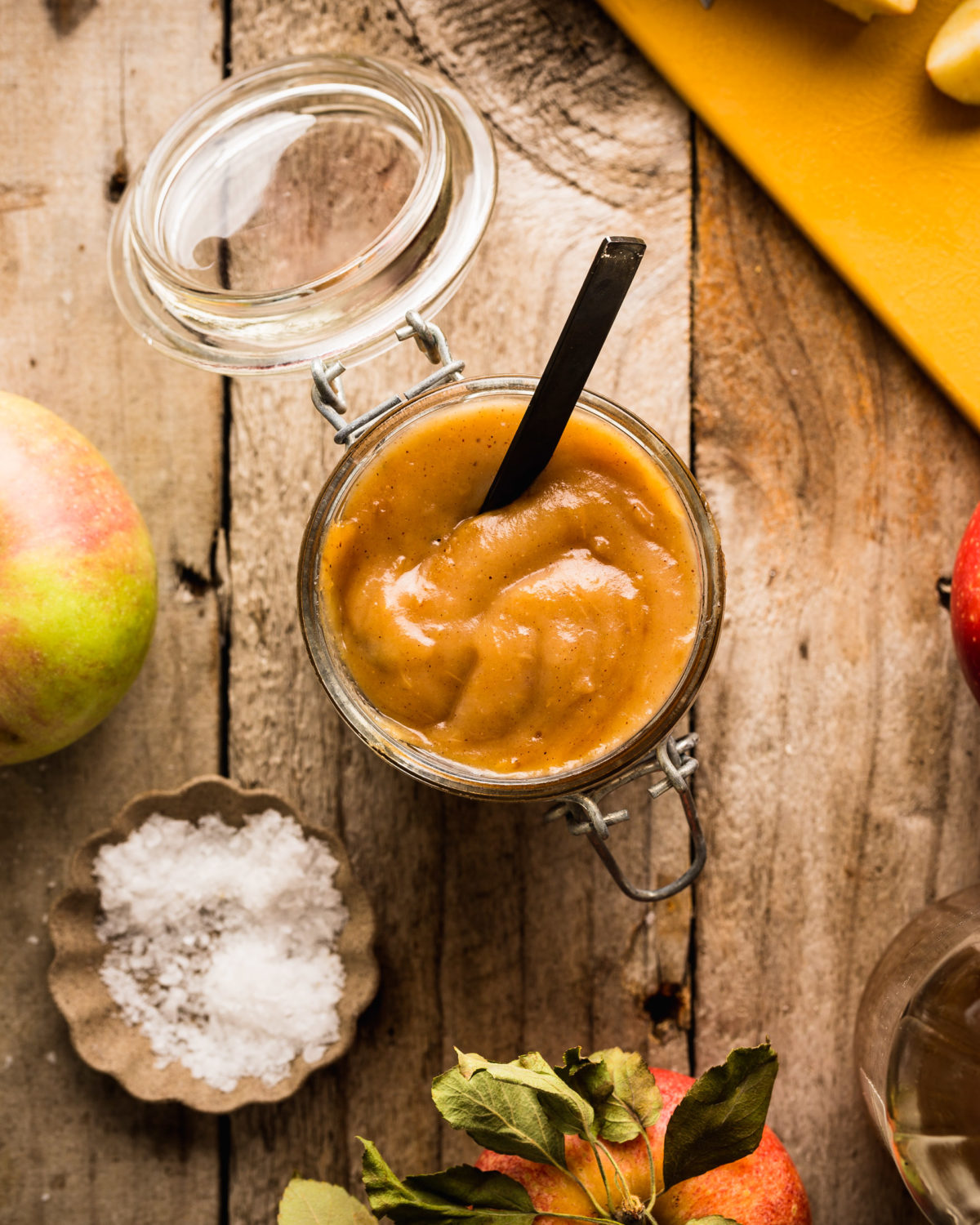 This very hands off and easy Apple Butter recipe comes together in about an hour and doesn't require any special kitchen tools like a food mill or crockpot.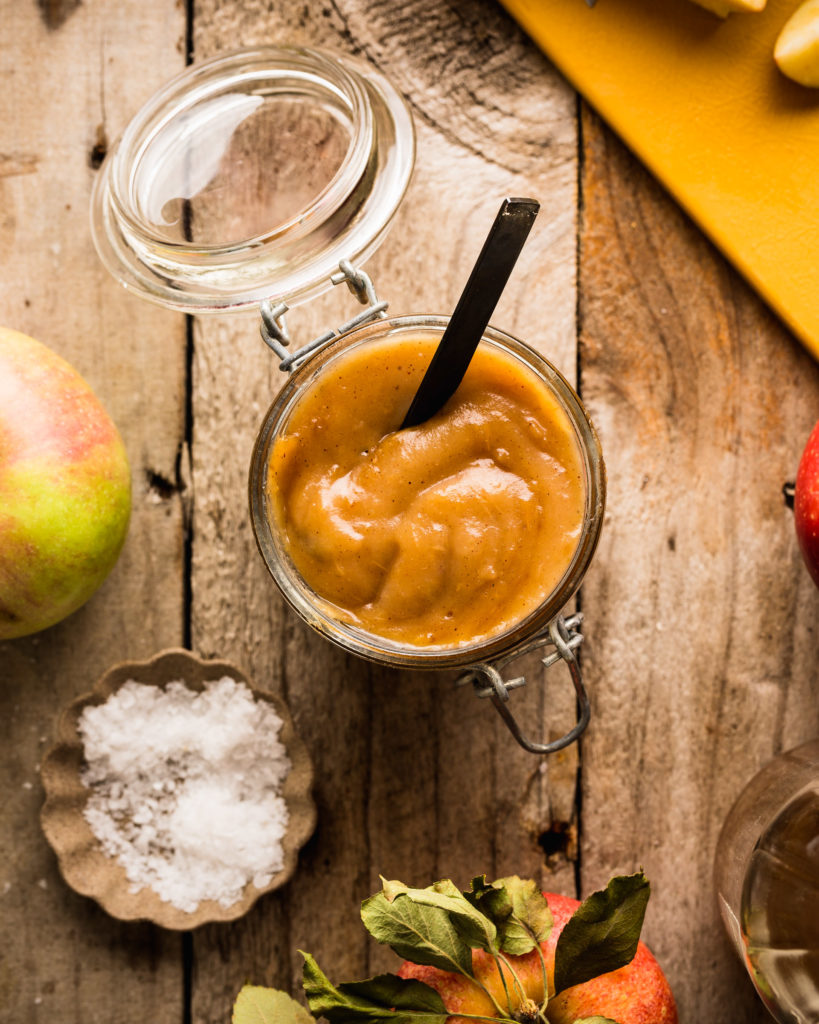 Did you go apple picking and now have a ton of apples that you aren't sure what to do with? Or maybe you went a little overboard at your farmer's market and need to use them up soon? Or maybe you just really want your house to smell like an apple pie? Whatever your reason is for checking out this recipe, I'm here to tell you that today's recipe is about as easy as it gets with under 10 ingredients! Most apple butter recipes I found online involved an all day process but this one comes together in about an hour.
For my recipe, I wanted it to come together much quicker than the slow cooker method and without any special tools (like a crockpot or food mill). To achieve this without compromising flavors, I decided to roast the apples in all my favorite fall spices (similar to baking an apple pie without the crust) in the oven until the apple pieces were falling apart. From there, since we cored the apples before baking so there aren't any seeds lingering, you either mash it with a potato masher or fork (if you like your apple butter to have some texture to it) or blend it up in a blender (for a smooth version).
At this point you'll want to sample your apple butter to see if it's the thickness you want it. It's worth noting that it'll thicken up a bit once it's cooled but if you'd like it a little thicker then you can let it simmer down on the stovetop for 10-15 minutes or until it's your desired consistency. I cooked down half my batch to see if I preferred it one way or another and the additional time on the stovetop made it a bit too sweet to me but Wyatt loved it so it's definitely personal preference.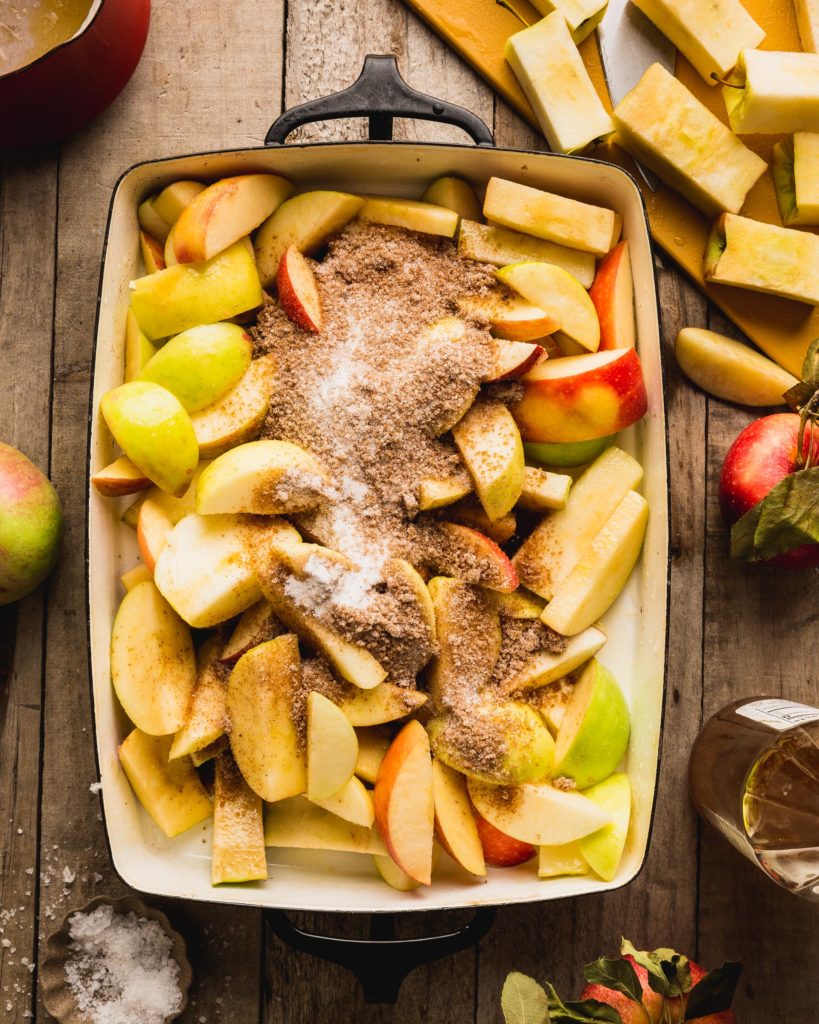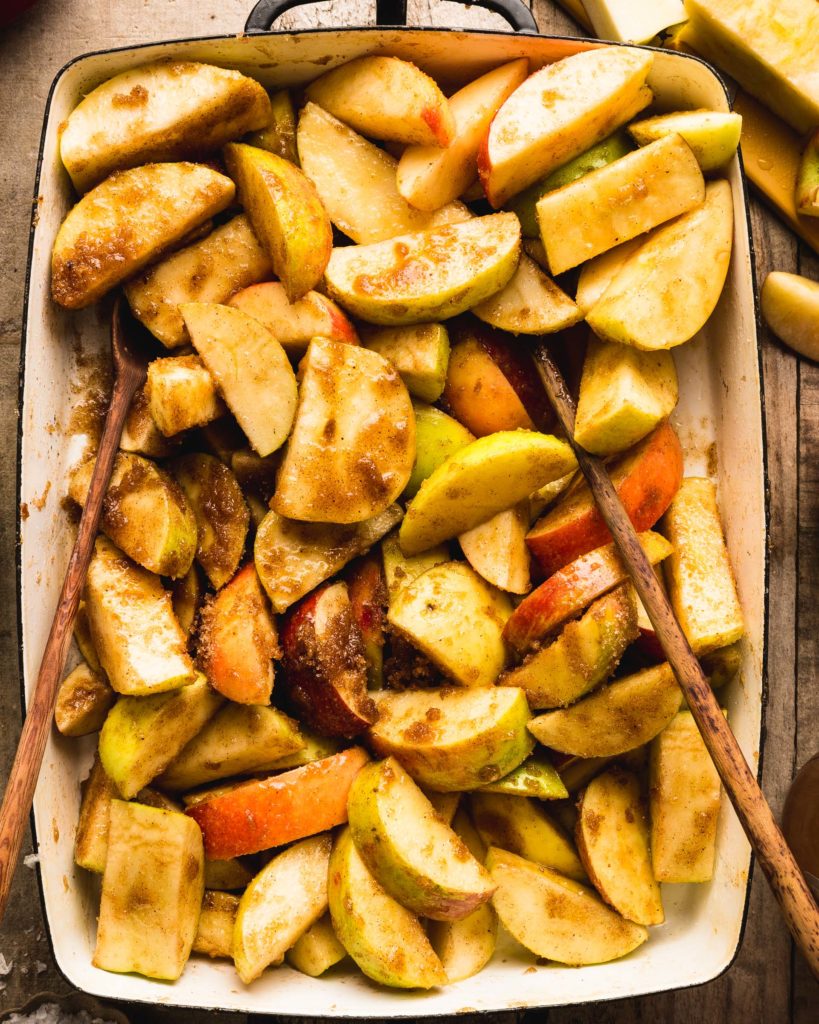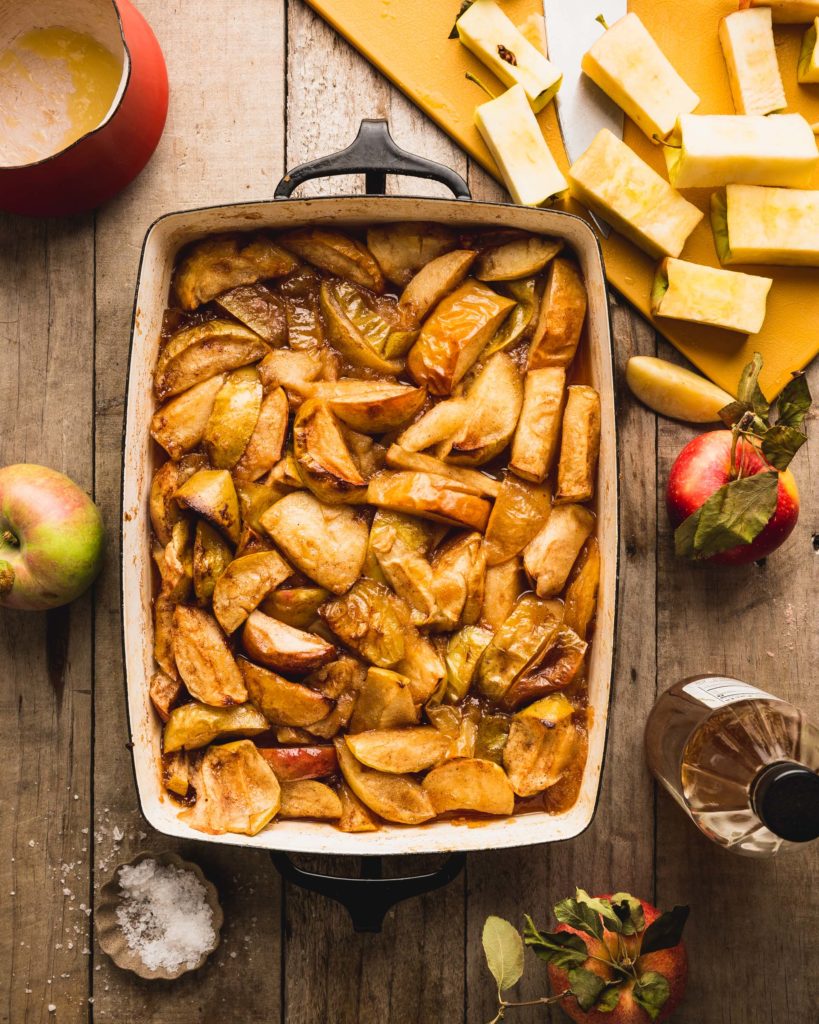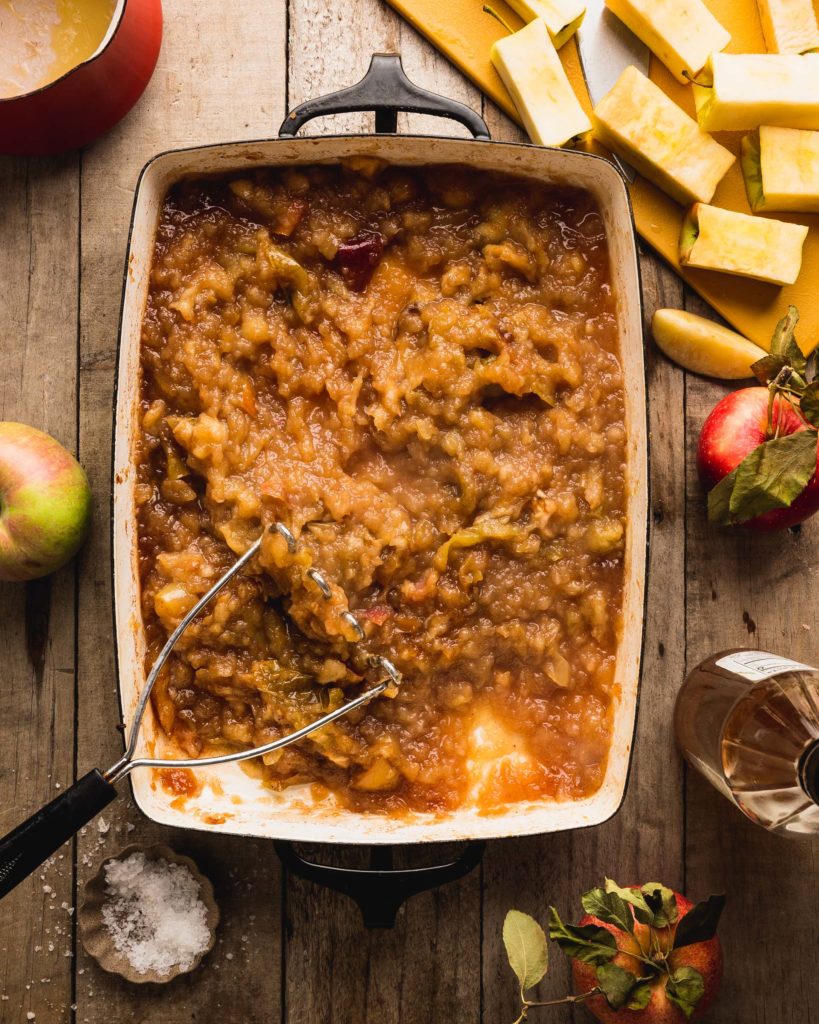 The spices I used in this apple butter recipe were similar to the spices I put into my apple pie recipes – lots of cinnamon (of course), a hint of nutmeg, and a dash of cardamom (one of my favorite spices to throw into baked goods). The cardamom gives it a little extra flavor surprise that I often times have people saying they like but can't put their finger on what it is. Ground cloves would also be a great addition to this recipe if you have it on hand.
Make sure to check back next week for a new recipe with this apple butter as the star ingredient and other ideas on ways to use this apple butter beyond just putting it on toast (which is also highly recommended!).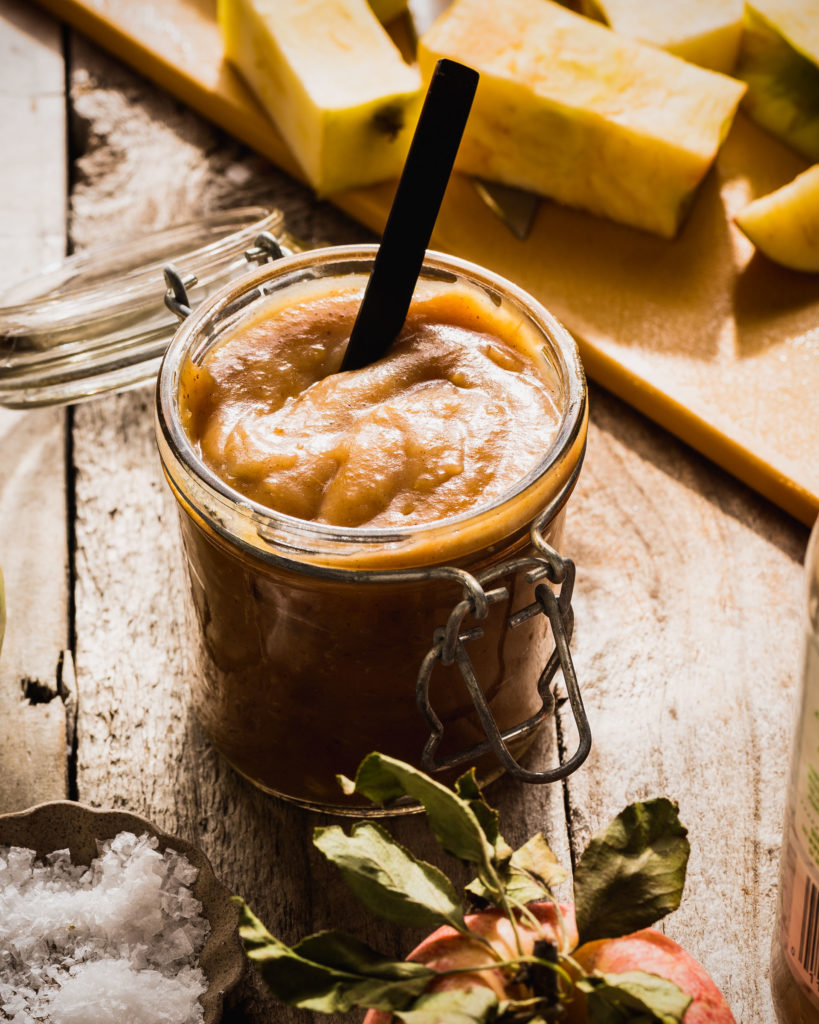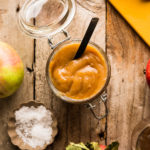 Easy Apple Butter
This very hands off and easy Apple Butter recipe comes together in about an hour and doesn't require any special kitchen tools like food mill or crockpot.
Ingredients
4

pounds

apples

cored and quartered

5

Tbsp

unsalted butter

melted

2

Tbsp

apple cider vinegar

1/2

cup

brown sugar

1/2

cup

granulated sugar

1

tsp

ground cinnamon

1/2

tsp

ground cardamom

1/2

tsp

ground nutmeg

1/8

tsp

salt
Instructions
Preheat oven to 400 degrees. Toss the apples with the melted butter and apple cider vinegar in a large 12 inch baking dish and spread into an even layer.

In a small mixing bowl, whisk together the two sugars, cinnamon, cardamom, nutmeg, and salt. Sprinkle over the apples and toss until all the apples are coated with the mixture.

Bake for 40 to 45 minutes, tossing halfway through, or until the apple pieces are so soft that they fall apart when poked. Remove from the oven and let cool slightly.

To create a chunky butter, use a potato masher or large fork to smash the apples into a chunky butter. To create a smooth butter, carefully transfer the apples (along with all the juices) to a blender and blend on low until smooth (don't turn the mixture up too high and keep the lid loose so that the steam can escape since the mixture will be hot.)

Taste your apple butter to decide if it's the consistency you'd like it. If you'd like it thicker, transfer to a small saucepan and cook over medium-low heat for 10 to 15 minutes, stirring often, until desired consistency is reached.

Serve right away or let cool completely before transferring to an airtight container and storing in the fridge for up to 3 days.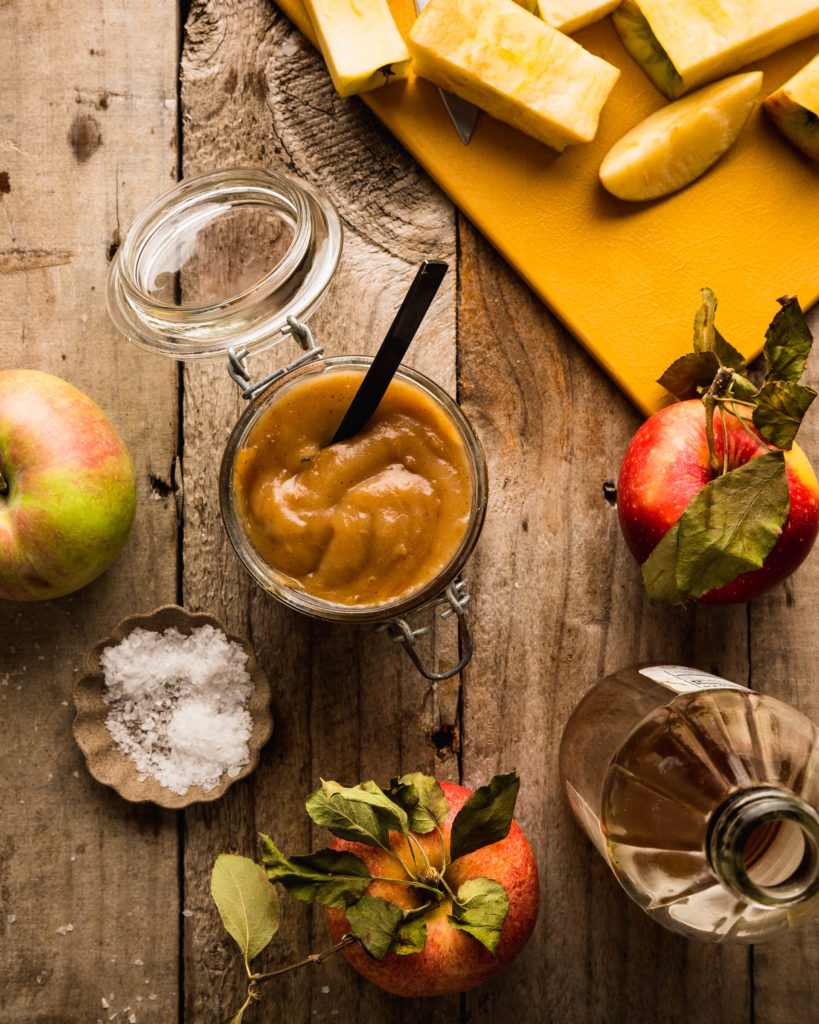 Make sure to tag Vegetarian 'Ventures on Instagram and use #vegetarianventures when trying this dish out!