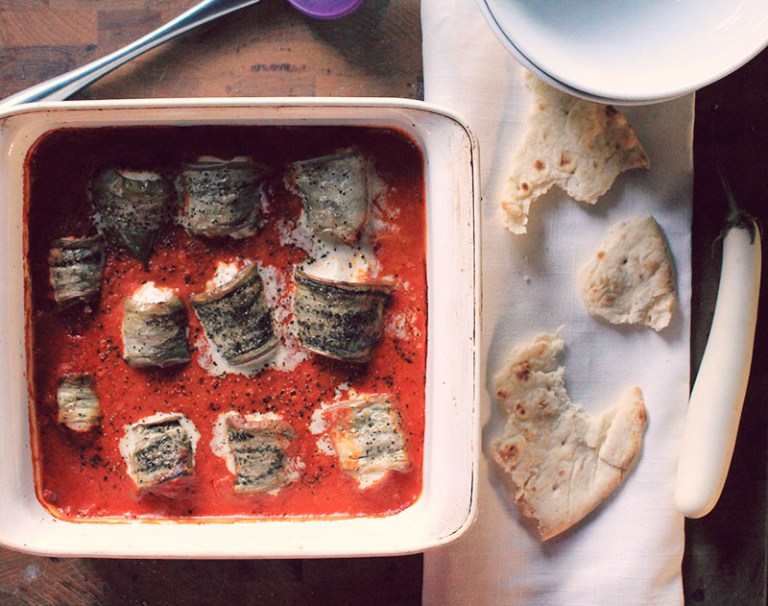 Eggplant Involtini
Really…this dish's name is just a fancy word for 'stuffed eggplant'. Image stuffed shells with eggplant instead of pasta. Or pasta-less lasagna but rolled up. Or cheesy stuffed eggplant but styled differently. Anyhow, I think you get the idea. These stuff is delicious and surprisingly easy to whip up.
I really really really really wish I had taken the time to make homemade ricotta but it didn't happen. Oh well…next time. And then I will tell you guys all about it! But either way, this dish was delicious (despite not having instantly fresh ricotta for it) and I recommend serving with some yummy crusty bread or a loaded salad.
Eggplant Involtini
2 small eggplants, cut int0 1/4″ thick slices
Tablespoon olive oil
8 ounces of ricotta
1 Tablespoon fresh thyme
1/2 teaspoon salt
16 ounces of tomato sauce
1/4 cup milk
Parmesan cheese, to sprinkle on top
Sprinkle eggplant slices with salt and let sit for 20 minutes. Rinse and let out any extra moisture.
Place eggplant slices on a large cooking sheet and drizzle with olive oil. Broil for about 2 minutes on each side or until they begin to soften. Remove from oven and turn oven temperature to 425 degrees.
In a small bowl, combine the ricotta, salt, and thyme. Set aside.
In a small 9×9 pan, spread the tomato sauce on the bottom. Use a spoon to scoop a tablespoon of the ricotta filling onto the thick part of the eggplant piece. Roll the eggplant up and put the it with the seams down into the tomato sauce. Repeat with the rest of the eggplant.
Pour the milk over the eggplant pieces so that they don't dry out while cooking. Place in the oven and bake for 20 minutes or until the cheese has melted and the eggplants are golden brown.
Season with salt and pepper. Enjoy!
Not your thing? Here are a few other eggplant dishes to try: Baba Ganoush or BBQ Eggplant Tacos with Peach Salsa