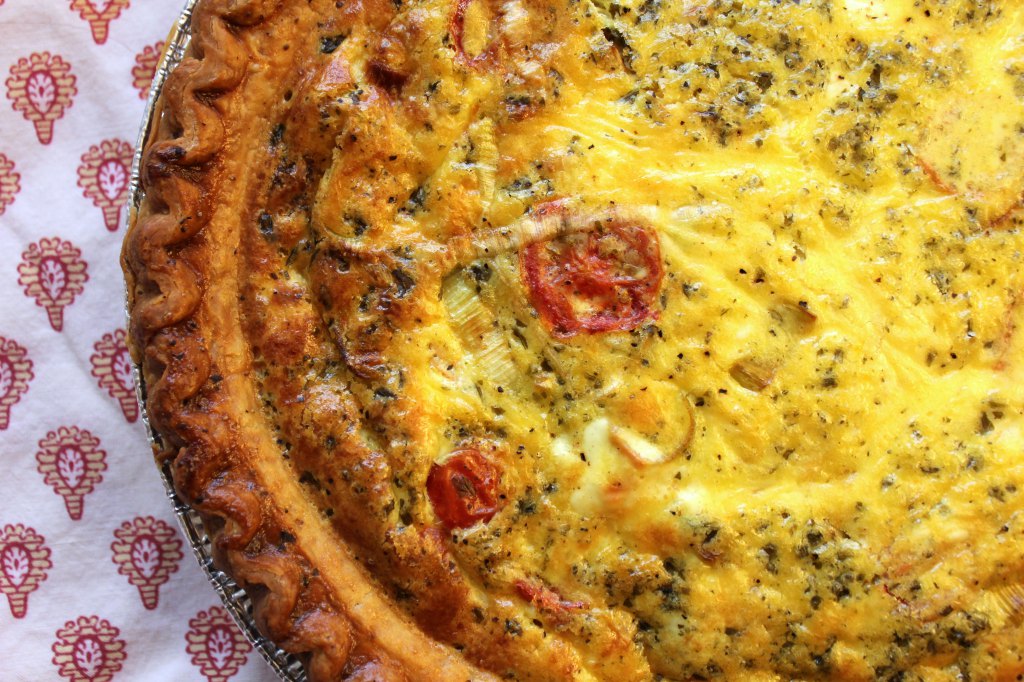 "Everything but the Kitchen Sink" Quiche
I am very strict in my system when it comes to groceries; every week I make a list of what groceries I'll need for 3 dinner recipe (for Sunday, Wednesday, and Thursday) and then have my usual list of staples (stuff for lunch sandwiches, quick dinners, etc) and that's how we do it. We eat leftovers and quick dinners on the nights that I don't cook and veggies sandwiches for almost every lunch. However, the last couple meals before I get to the store are always a mish-mash of what we have left on hand. And this is how this Quiche came about; it's a mix of all the produce I had left lying around along with a pie crust in the freezer and half a dozen eggs. Simple? Ridiculously simple. I suggest you should create your own spin on this recipe and add in whatever produce you prefer or have on hand. Don't have feta? That's great- throw in some swiss! Don't like leeks? Replace it with green onions! Mmmmkaa, I think you get the point.
Another great thing about this recipe: I used so much produce that the egg mixture was enough for two quiches! Which was perfect because we gobbled a whole pie down for dinner and then had another one to warm up for breakfast the next day! And I used different ingredients for the two pies and experimented a bit. Lastly, I used the basic recipe from when I made Sicilian Quiche because it turned out soooo wonderful the first time around.
"Everything but the Kitchen Sink" Quiche
For the First Pie:
1 prepared pie crust
3 eggs
1/3 heavy cream
1/2 cup milk (I used skim because that is what I had but whole milk would probably make it richer!)
3 oz of goat cheese, crumbled
1/2 leek, sliced
1 garlic clove, minced
4 cherry tomatoes, halved
1 tablespoon prepared pesto
splash of olive oil
For the Second Pie:
1 prepared pie crust
3 eggs
1/3 heavy cream
1/2 cup milk
3 oz. feta cheese, crumbled
2 cherry tomatoes,  halved
1/2 leek, sliced
1 garlic clove, minced
4 artichoke hearts, chopped and drained
1 teaspoon thyme
salt/pepper, to taste
splash of olive oil
Preheat oven to 425.
In a large skillet, heat a splash of olive oil over medium heat and add the leek, cherry tomatoes, and minced garlic. Saute for about five minutes or just until they start to soften. Divide mixture evenly between the two pie crusts and add the artichokes (if using).
In a large bowl, whisk together the eggs , cream, and milk. Pour over the veggies in the pie crust. Sprinkle with cheese.
Next, swirl the pesto into the mixture (or the thyme) and top with salt/pepper.
Cook for 30 minutes or until the filling as completely set and is starting to brown on top.
Serve immediately with a big mimosa or Bloody Mary.