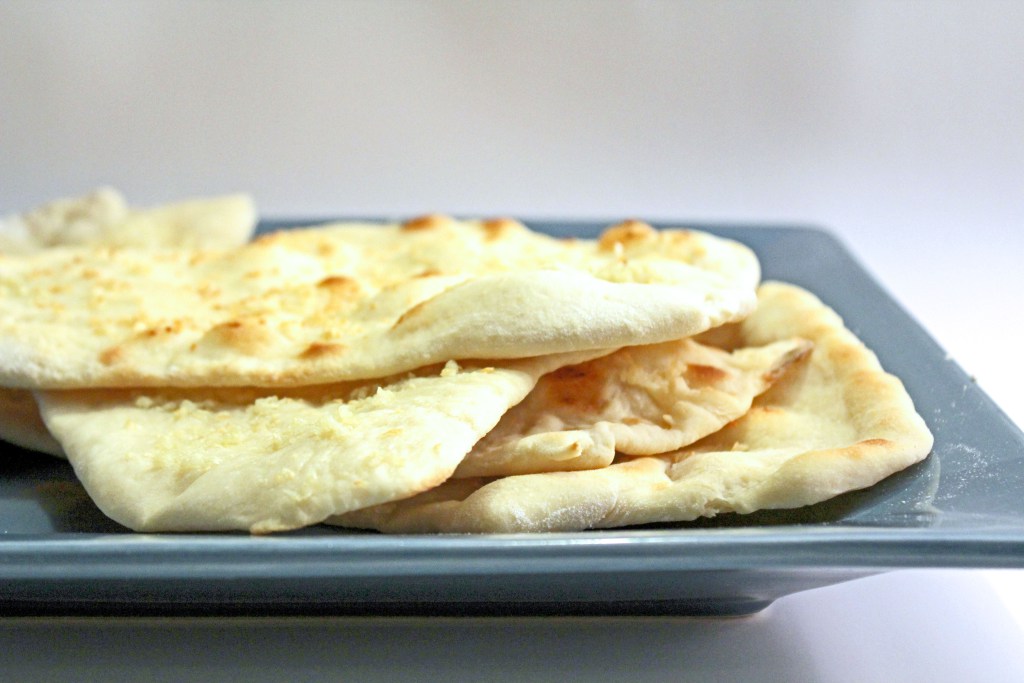 Garlic Naan
I'm really sorry if you are a returning reader and keep coming back to a new website layout (this could be rather confusing. Is this the same site it even use to be? same writer? same purpose?)…I assure you it is but I'm having an image crisis. Not really…I've just become rather obsessed with design layout and am constantly being inspired for a new design every week…I feel like I already have a new idea in mind by the time I finish the last layout. Anyways, please don't mind the constant experimenting going on around the site. Im sure…one day…I'l be completely satisfied (hopefully!). But until then, I've got quite an 80's theme going (not intentional. just love those colors)…
Anyways, naan….mmmm. Not sure if you dig the indian bread but if you dont have much experience with it…get acquainted. It's so yummy and amazing dipped in everything. I actually made it the other night to go with the creole j (weird cross of cultures, I know, but it was fantastic). This stuff was surprisingly easy to make in the bread maker and oh so yummy with all kinds of stews/curries/soups/dips.
Oh and I topped mine with garlic but feel free to top it with whatever you're feeling.
Garlic Naan
1 1/2 teaspoons active dry yeast
2 cups bread flour
1 teaspoon salt
1/2 cup water
1 tablespoon water
2 tablespoons melted butter
+whatever you'd like to top it with: minced garli, more clarified butter, parsley, thyme, whatever!
Place the ingredients in the bread maker in the order that I've listed.
Set it to 'dough' and let it do it's thing. Go read some blogs, watch some tutorials, do some yoga, and play with your puppy.
Preheat oven to 500 degrees. Once the cycle is complete, flour a counter top and divide the dough into four pieces. Roll out each piece until it's a thin, formless sheet of dough. Lather on a thin layer of melted butter and then stick your topping on.
Place on a greased baking sheet and place in the preheated oven for 1 minutes. If you'd like the top of brown than switch it to broiler and let it cook for another minute.
Remove from oven and munch down with your stew/soup/curries.