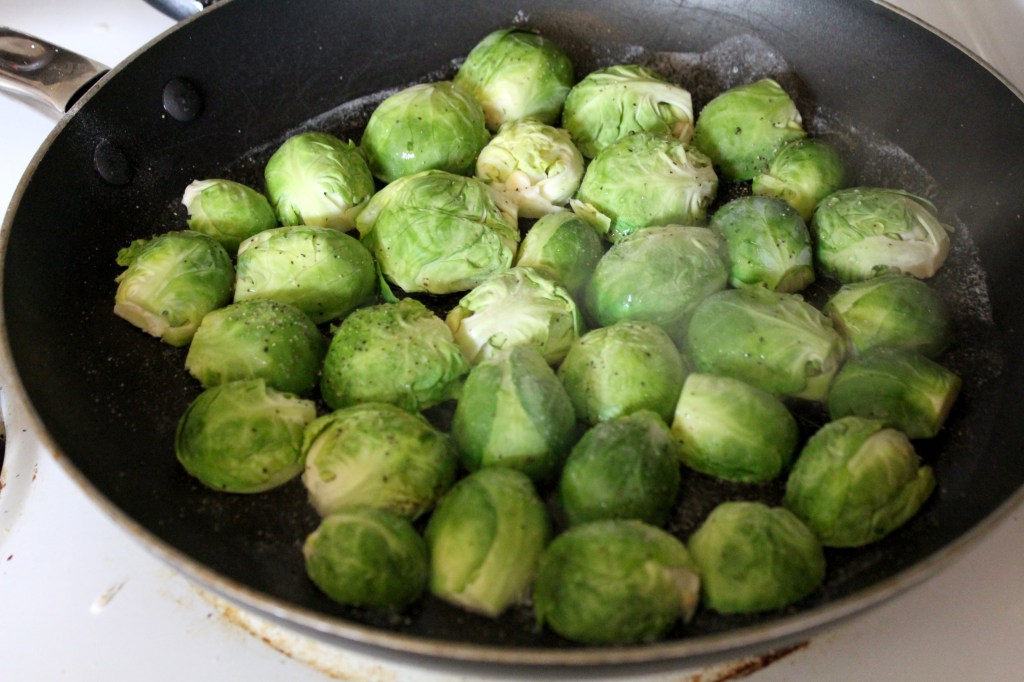 Glazed Honey Mustard Brussels Sprouts
I honestly feel a little embarrassed making this post. I pride myself on having lots of what may seem to be unusual ingredients in my main rotation of cooking materials like agave nectar, Gruyère, and seitan. However, I've never cooked with (let alone ate) Brussel sprouts. Waaaah? I know! I never grew up eating them because they always seemed like a "icky" vegetable as a kid (you know like broccoli and peas; they just seemed too green and earthy smelly to consume when that yummy neon yellow macaroni and cheese was piled high on the other side of the plate (it's been awhile since we were kids but I know you know what I'm talking about!).
Anyways, so I've never had Brussel sprouts which means I've never craved them and it's not like a lot of recipes call for them mixed in. I guess this is just me making excuses but whatever the reason, I feel bad about it! And I was in the store the other day and saw this gorgeous puppy:
Which I immediately decided I need to have. It's so pretty and it's like owning a new plant when buying one of these things. However, since I mentioned I have no experience with Brussels sprouts what-so-ever, I did not realize that one of these could probably feed a family of ten as a side. Since it's just my boyfriend and I, this recipe did not cover this whole branch of sprouts and you will probably be seeing a few more Brussels recipes before this week is over.
Anyways, the grocery co-op I worked at always prepared them by sauteing in loads of garlic and more garlic. I can imagine that is amazing but that sounded kind of like what I do with all my vegetables and I decided I wanted to try something more unusual. The result was amazing and I was pleasantly surprised by Brussels sprouts! Not only did they have an amazing texture but once cooked, they practically melted in your mouth and absorbed up the sauce perfectly. I was very impressed.
Glazed Honey Mustard Brussels Sprouts
1 pound Brussels sprouts, trimmed and cut in half
2 Tablespoons butter
3/4 cup white wine
1 cup vegetable broth
1/4 cup chopped onion
2 Tablespoons heavy cream
3 Tablespoons honey mustard (or to taste)
Salt/Pepper
Melt the butter in a large skillet over medium heat. Add the Brussels sprouts with the centers facing down (check out picture below) and season with salt and pepper. Cook for five minutes or until the bottoms brown.
Add in the wine, broth, and onions and bring to a boil. Lower to a simmer and cover for 20 minutes (or until softened).
Remove lid and scoop out the Brussel sprouts (and onions if it's convenient, if not it's okay). Into the liquid mixture, add the heavy cream and simmer for about 4 to 5 minutes or until the sauce thickens to your desired consistency. Remove from heat and add in the honey mustard (taste test it and add in more if you'd like!).
Drizzle on top of the Brussels sprouts and season with more salt and pepper.
Enjoy with a yummy main dish or by itself!
Also, make sure to share with your puppy or he might give you the concerned eyebrow wrinkle: