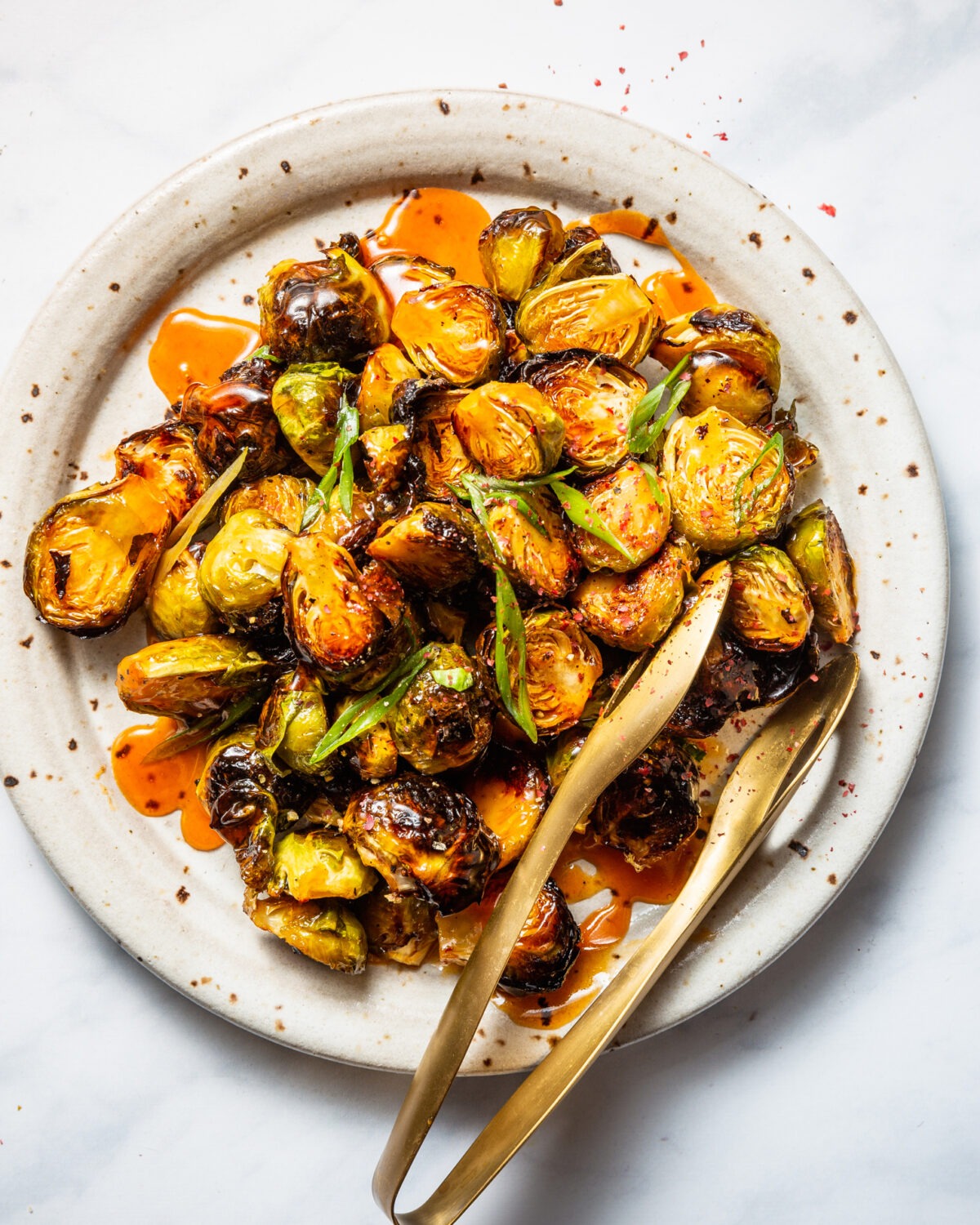 Roasted Brussels Sprouts with Spicy Sweet Buffalo Glaze
This Roasted Brussels Sprouts with Spicy Sweet Buffalo Glaze is an easy veg-packed Thanksgiving side that is sure to please even the pickiest of eaters!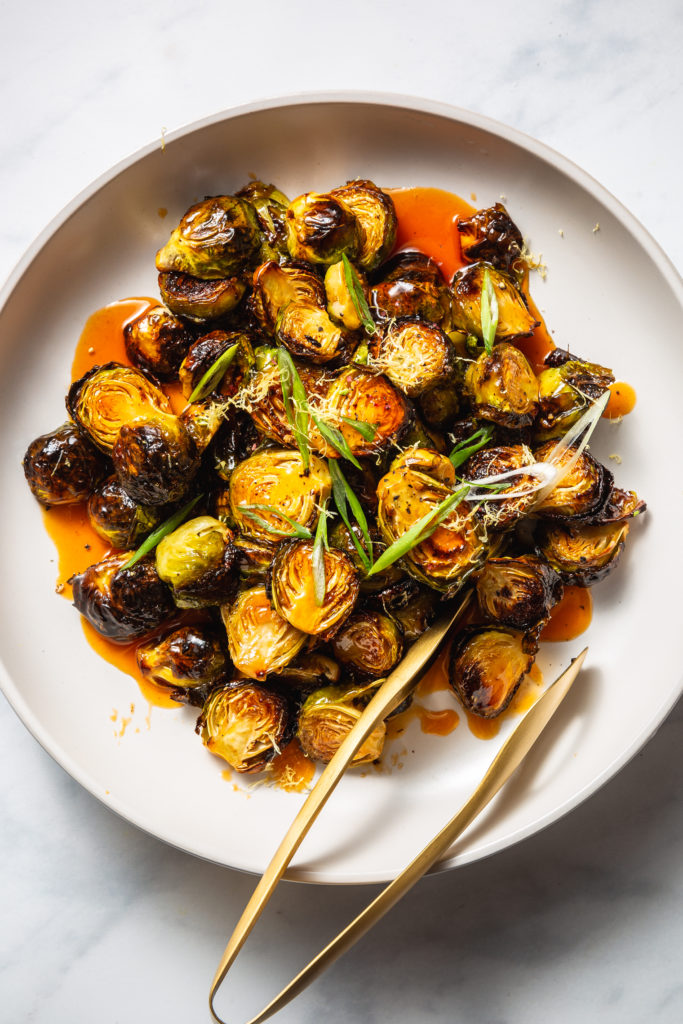 The Thanksgiving count down is in full force – can you believe it's ONE WEEK FROM TODAY!? Oh wow wow wow! Despite posting my shopping list on instagram stories earlier today, I just don't feel prepared. I've got the food all sorted but boy oh boy do we still need to clean the house…and figure out the table decorations…and get a final headcount on how many people are coming. This thought tunnel of to-dos makes me wonder why I'm on the internet writing this blog post right now and not prepping…but oh wait, I need to tell you about this recipe. That is why I'm here!
Whether you are hosting or just a guest, it's always great to have a few easy recipes, like this Roasted Brussels Sprouts with Spicy Sweet Buffalo Glaze, in your back pocket for the big day! While the Brussels sprouts roast, you make a quick glaze to toss them in which means all of this all takes less than 30 minutes from start to finish.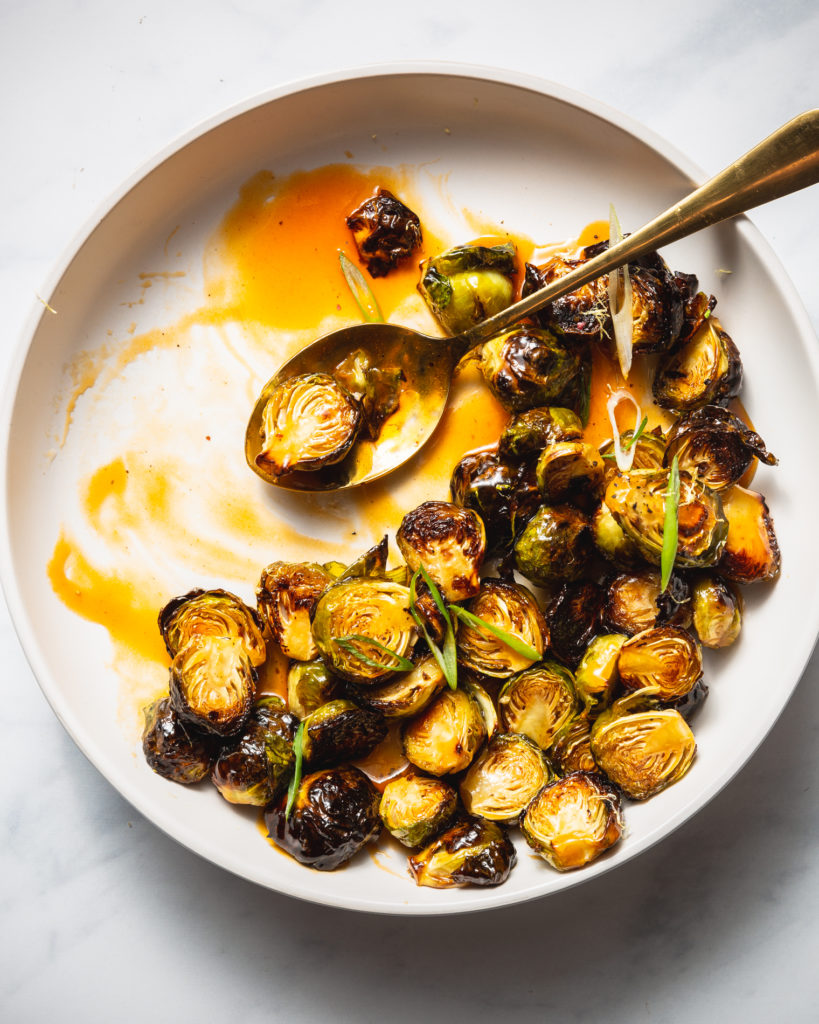 In addition to this recipe being so easy, I love how it allows you to have a little green on the table because, let's be real, a whole lot of carbs, starch, and meat appear at Thanksgiving so having a little green on the table to balance things out isn't going to hurt anyone.
The sweet and spicy buffalo sauce compliments the earthy brussels sprouts perfectly so even the pickiest of eaters can get behind this recipe. Feel free to garnish it with scallions and lemon zest if you are feeling fancy or serve as is if you are short on time – they will be delicious either way!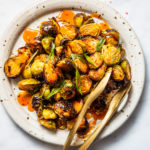 Roasted Brussels Sprouts with Spicy Sweet Buffalo Glaze
Ingredients
1

pound

brussels sprouts

halved and trimmed

2

Tbsp

olive oil

1/2

tsp

salt

freshly ground pepper

1/4

cup

honey

1/3

cup

buffalo sauce

2

Tbsp

butter

2

scallions

thinly sliced

lemon zest

for garnish (optional)
Instructions
Preheat oven to 450 degrees and line a baking sheet with parchment paper. In a large bowl, toss Brussels sprouts with 2 Tbsp olive oil, salt, and a turn of freshly ground black pepper. Transfer to prepared baking sheet and spread out into a single layer. Roast for 20 to 25 minutes, tossing halfway through, or until browned on most sides.


Meanwhile, combine honey, buffalo sauce, and butter in a small saucepan and cook over medium heat, whisking constantly, until the butter has melted and the glaze has thickened slightly, about 3 minutes.


When Brussels sprouts are done, transfer to a large mixing bowl and toss in the glaze until completely coated with the glaze. Taste and add more salt or pepper, if needed.


Transfer to a serving dish and garnish with scallion slices and lemon zest (if using). Serve right away.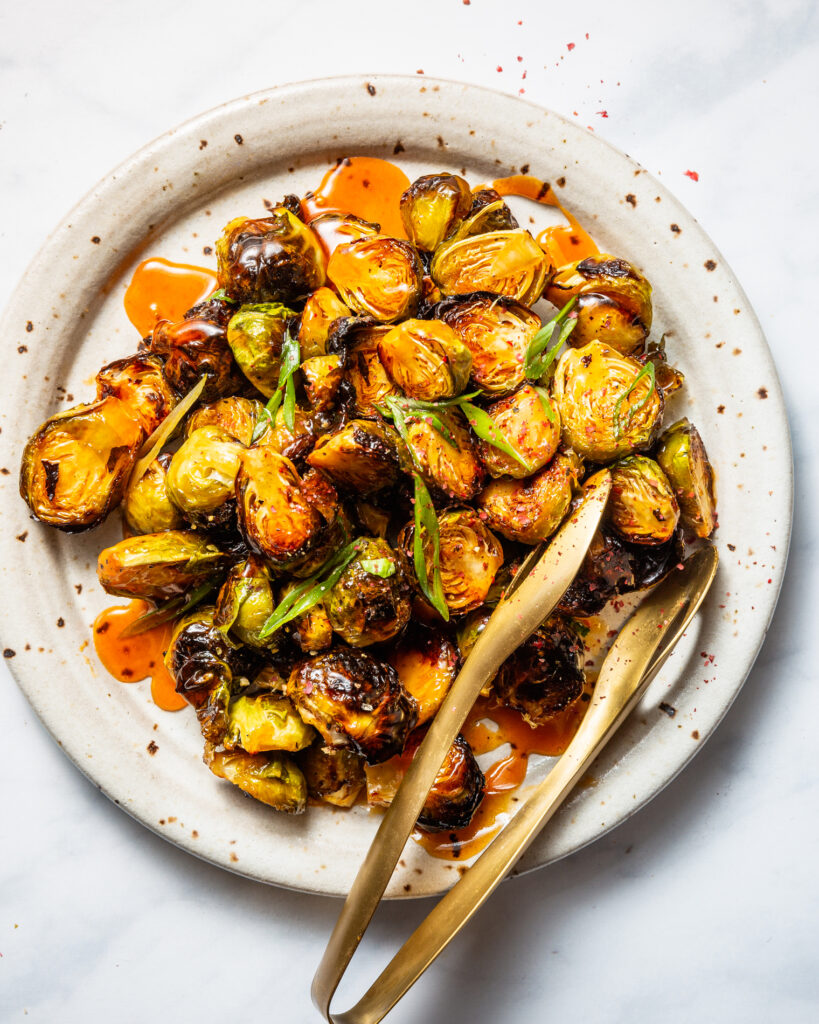 Looking for more Thanksgiving recipes? Check out my 25 Vegetarian Thanksgiving recipes round-up!