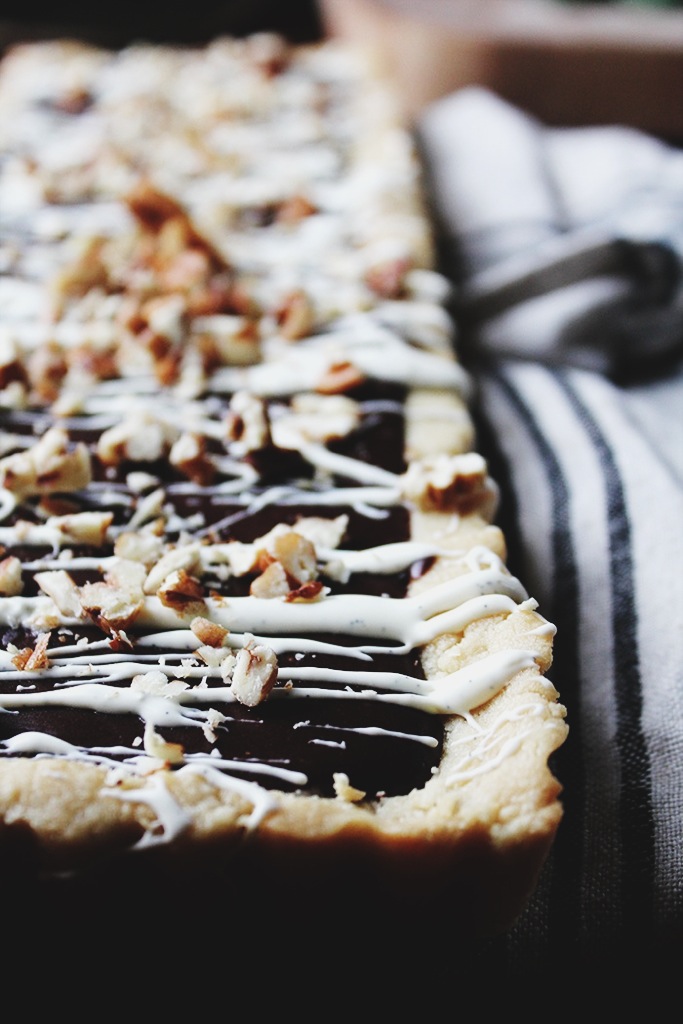 Gluten Free Caramel Pecan Tart with Chocolate Genache & Mascarpone Drizzle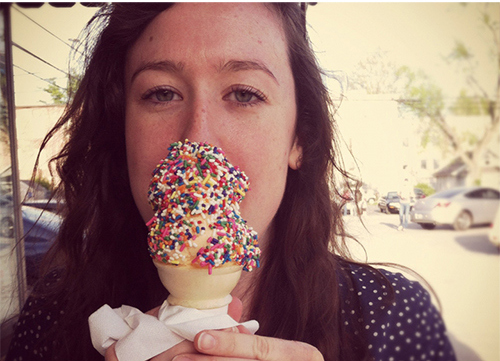 This is Ella. She is one of the best things in my life. She has put up with my nonsense for more years than I would like to admit. She didn't strangle me after us living together for a year and she still encourages my crazy adventures (like moving down to Nasvhille to chase my music dream. And starting a food blog. And adopting a puppy even though I can hardly take care of myself). Oh, and did I mention she makes me bruschetta… bruschetta that looks like this…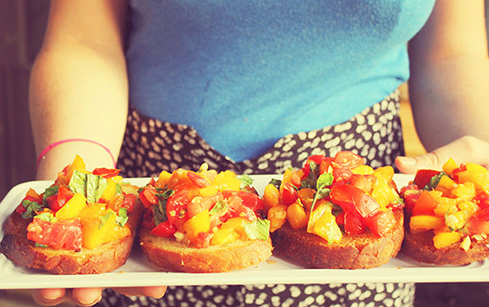 ..every September. It's oh so amazing. It's also what sparked my Winter Bruschetta post yesterday. But anyways, monday was her 24th birthday (Hey, Ella…we are getting old!) and she doesn't know where she will be in 4 months. Maybe it's still here with me in Bloomington. Or maybe she will disappear into the wilderness that is Wyoming or maybe she'll serve a non-profit programs in Washington, DC. Whatever she chooses…I plan to support her since she supported me all those year. And I didn't want to support her in the form of gifting another thing to carry across the country. Instead, I made this tart. And I made it gluten-free because I am also trying to encourage her gluten-free food adventures! So much support and encouragement around here, huh?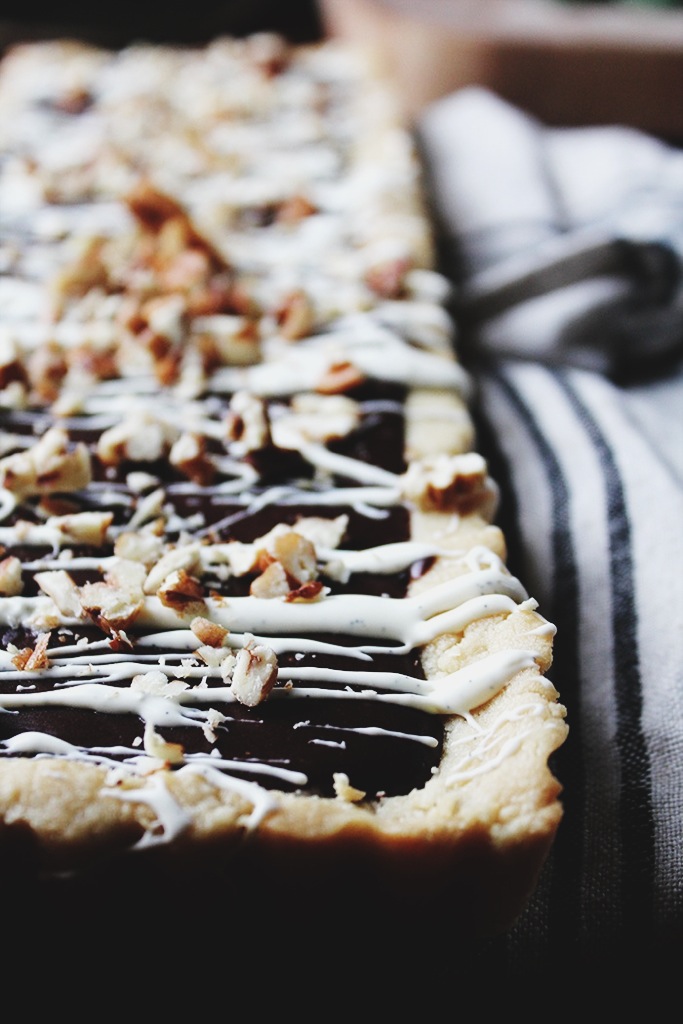 So here it is. Ella's birthday tart. The Gluten-Free Caramel Pecan Tart with Chocolate Genache & Mascarpone Drizzle (WOAH. SUCH A MOUTHFUL). I started with an almond flour crust…which gave it the tiniest hint of nutty flavor and then did a date/caramel layer followed by a VERY rich chocolate genache and a mascarpone drizzle. Dayum. It was intense and oh so delicious.
Lastly, I'd like to note that this tart LOOKS daunting because there are 4 components BUT you only cook the crust and there are a lot of repeated ingredients. Do not fear – with a little bit of time and a few fresh ingredients, you will have a delicious and decadent tart in no time! Okay, enough chatting…let's get baking!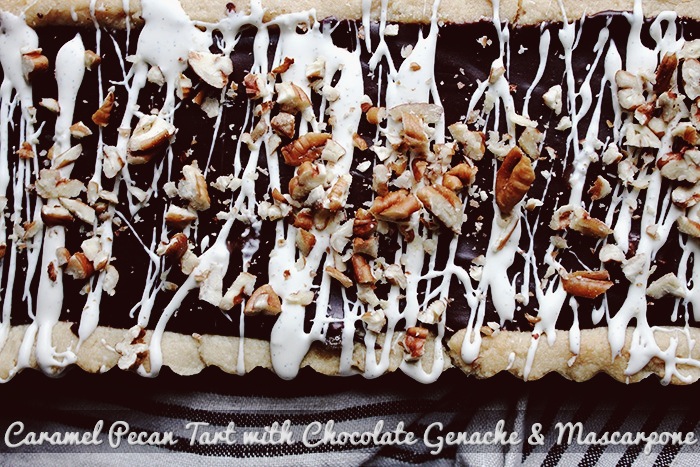 Caramel Pecan Tart with Chocolate Genache & Mascarpone Drizzle
For the crust:
2 cups almond flour
1 teaspoon sea salt
1/4 cup agave syrup or maple syrup
1/4 cup coconut oil, melted
For the filling:
10 dates, pitted and soaked in 1/3 cup water
1 teaspoon vanilla extract
dash of sea salt
1 cup pecans, chopped (+more for garnish)
For the genache:
1/2 cup maple syrup / agave nectar
1/4 cup coconut oil, melted
1/2 cup cocoa powder
1/2 vanilla bean
For the drizzle:
1/4 cup mascarpone cheese
~1 Tablespoon milk (dairy or un-sweetened nondairy)
1/2 vanilla bean
2 teaspoons honey
Combine the dates with 1/3 cup of water and let soak for one hour.
Make the drizzle first so that the mascarpone has time to absorb the vanilla/honey flavors. Slice the vanilla bean in half lengthwise and scrap out the seeds. Discard the pod and set half the seeds aside for the genache. Whisk together the mascarpone, honey, and vanilla bean seeds. Stick in the fridge while you prepare the rest of the tart.
To make the crust: Whisk together the almond flour and salt. Add in the agave/maple syrup and coconut oil and whisk until a crumbly dough forms. Grease a 4×14 tart pan (with removable bottom) and press the dough into it. Use a fork to pierce the dough through-out the pan. Transfer to the fridge and let chill for 30 minutes.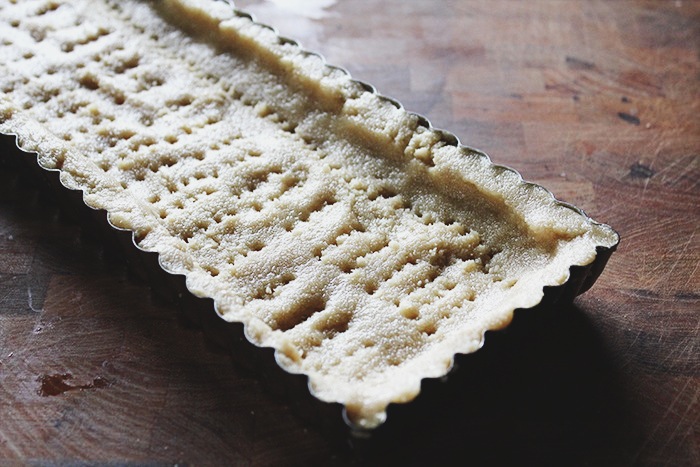 Preheat oven to 350 degrees and bake 15 minutes (or just until it starts to firm up and turn slightly brown). Remove from oven and let cool completely.
In a small food processor, combine the dates (including the water they were soaking in), vanilla, and salt. Pulse until well combined and then fold in the pecans. Pour into the prepared crust and stick in the fridge while you prepare the genache.
To make the genache: In the small food processor, pulse together the coconut milk, cocoa powder, vanilla seeds, and maple syrup / agave nectar. Pour over the caramel mixture and smooth with a spatula. Stick back in the fridge for at least an hour (so that all the layers can set).
Right before serving: Whisk a tablespoon of milk (1 teaspoon at a time) into the mascarpone filling until its thin enough to drizzle. Drizzle over the tart and garnish with chopped pecans.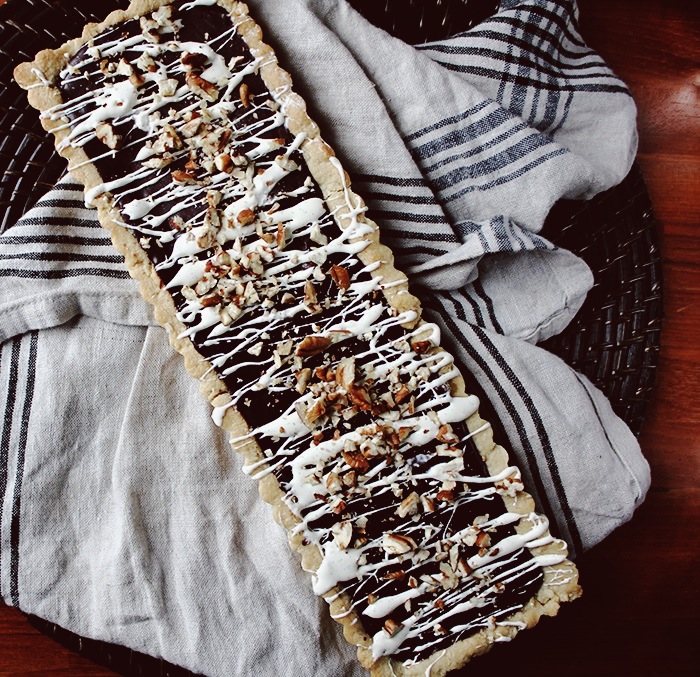 Serve to all your chocolate and pecan loving friends!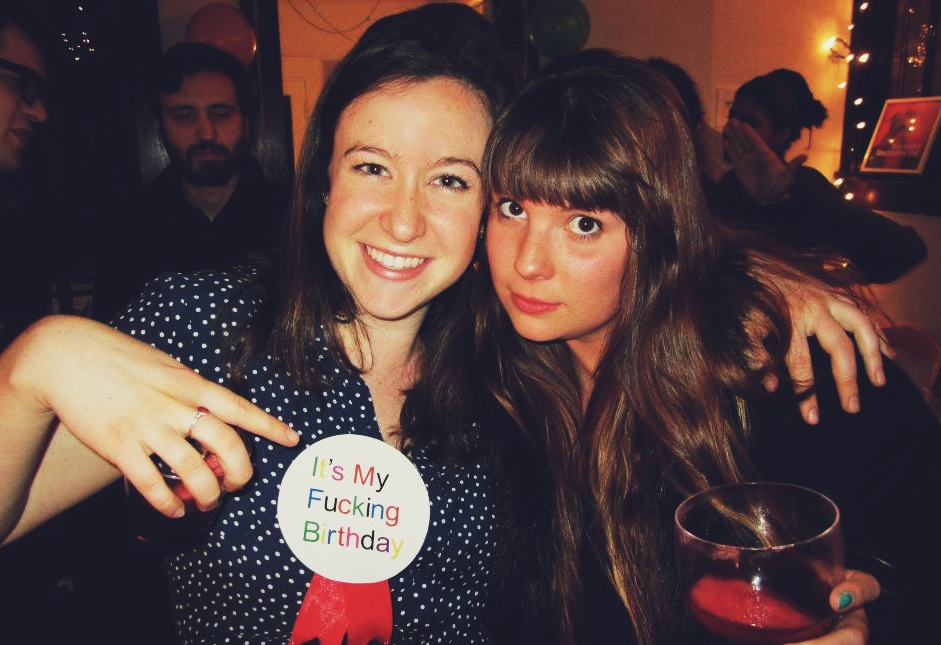 Ella —– Me
Something for you to dance to while baking: