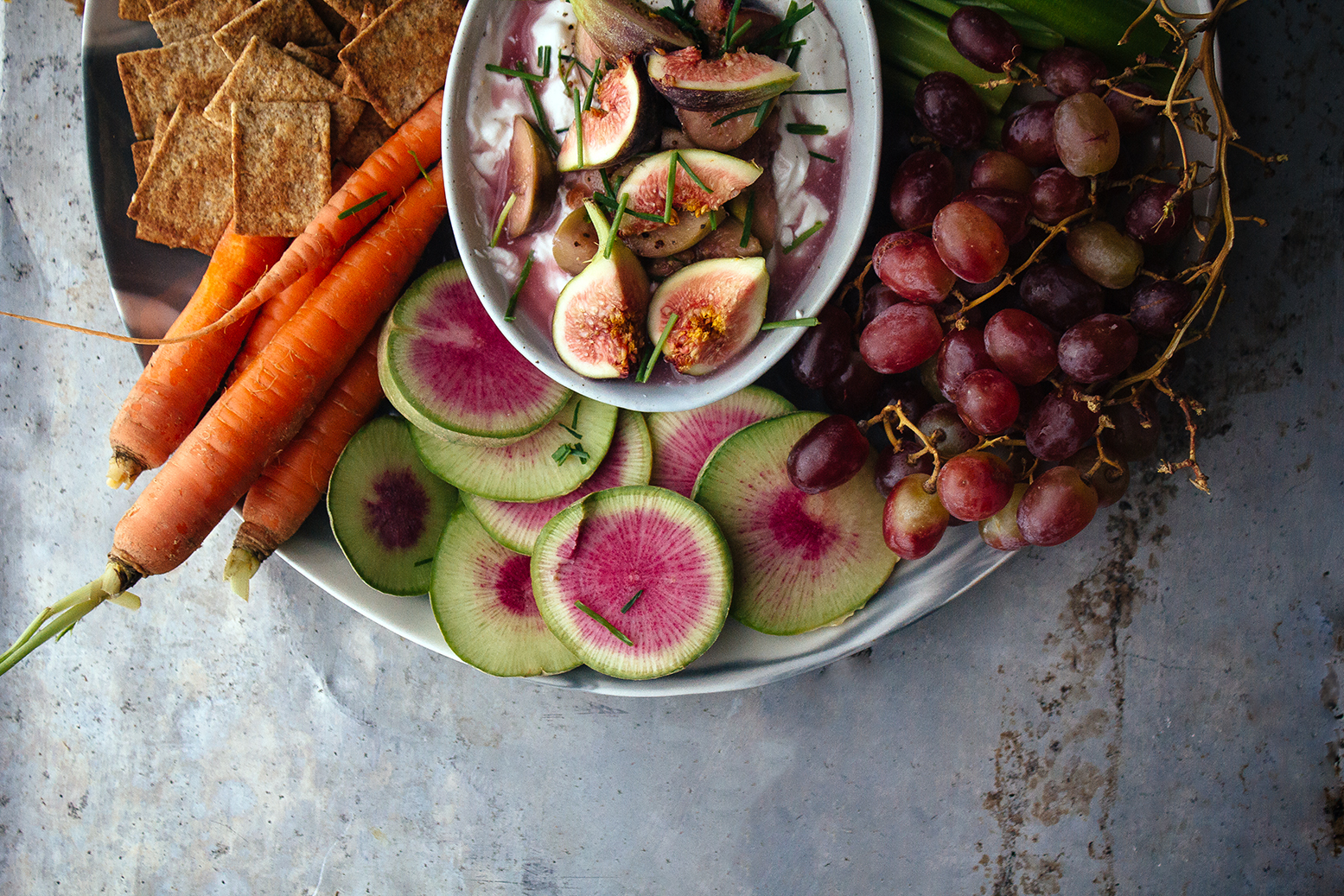 Goat Cheese Dip With Red Wine Figs
In a hurry? Click here to JUMP TO RECIPE!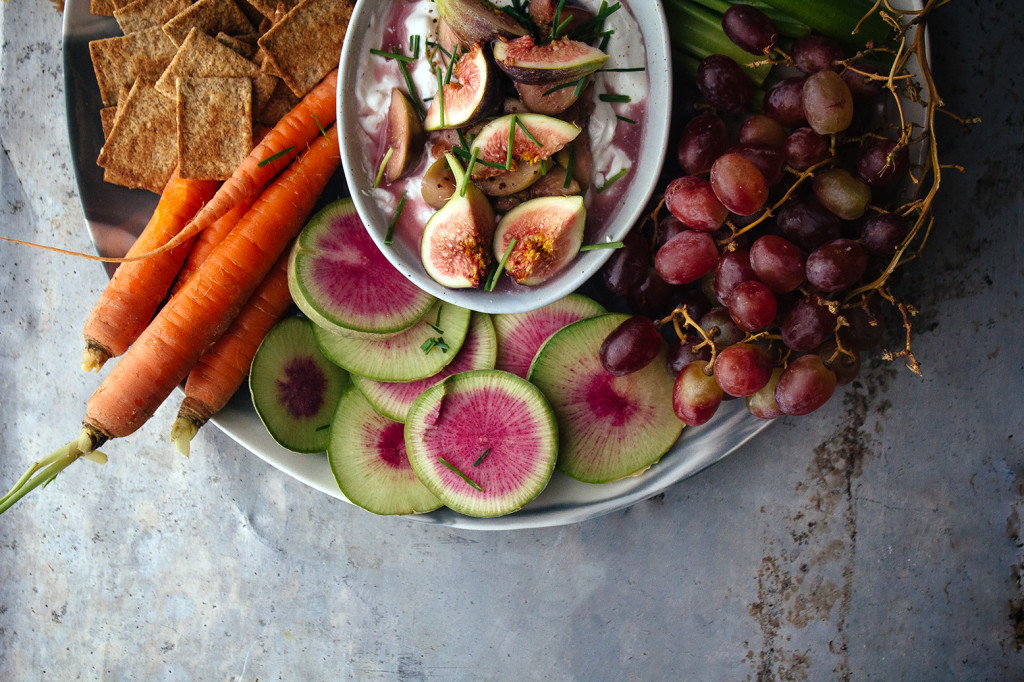 Here we go – this post is coming a few days early as I am squeezing one more post in before I dip out for the Thanksgiving week and put all my focus into consuming as much pie as possible and into keeping warm. We are heading up to Minneapolis in a few days, despite weather.com reminding me that it's a horrible idea to travel north during the season of polar vortexs and non-stop blizzards. Don't worry, I am trying to stay positive and ignore all the articles on the people who have been stuck in their cars for over 24 hours due to the New Buffalo blizzard (okay, now I am just being dramatic).
I had intended to do another vegetarian Thanksgiving round-up and remind everyone that it is possible to have a 100% humane holiday but I've honestly already seen a slew of really great vegetarian round-ups that made me second guess needing to put another one out there. It's crazy wonderful how far vegetarianism has come, just in the three years since I've been blogging (despite the 12 years since I became a vegetarian) and it's really inspiring to see so many people catching on! I mean, I know you guys get it (that is why you are here!) but it used to be really really hard for us vegetarians to sit down at the Thanksgiving table and find something to eat. Luckily, the days of frozen meat protein and plates full of dinner rolls are over because there are endless recipes for vegetarian mains and even meat-free sides!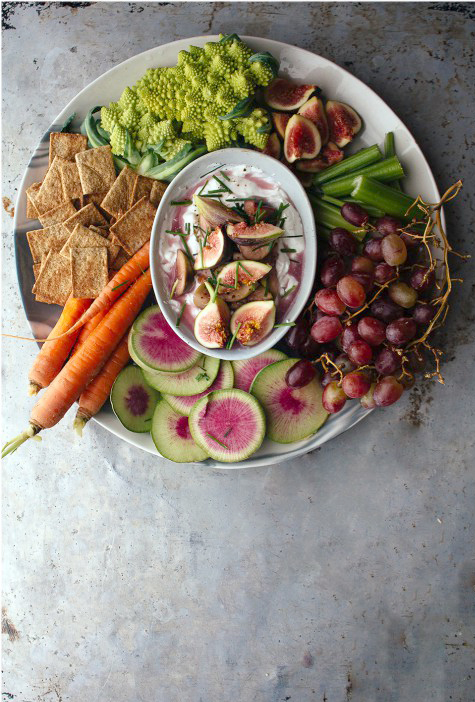 I have one more recipe to throw into the Thanksgiving mix – a simple and cheesy dip that is a perfect starter to have around while everyone's mouths start salivating over the irresistible cooking smell coming from the kitchen. The base is creamy and then it is layered with red wine poached figs for an elegant twist – the sweet from the figs and savory from the goat cheese is addictive in the best way possible.
I prefer this dip with fresh cut veggies (your body will thank you later) but it is also great served with toasted flat bread or homemade crackers. Make sure you pick super fresh and vibrant vegetables for the tray as they are going to be a shining piece of the flavor. I picked an array of carrots, homemade crackers, romanesco broccoli, watermelon radishes, grapes (more to cleanse your pallet between bites rather than dipping), and celery. Feel free to get creative with your tray and pick what you find looks the freshest at your grocery store. Also, make sure you pick vegetables that have different colors, textures, and size to create a show stopper appetizer tray.
Goat Cheese Dip With Red Wine Figs recipe below: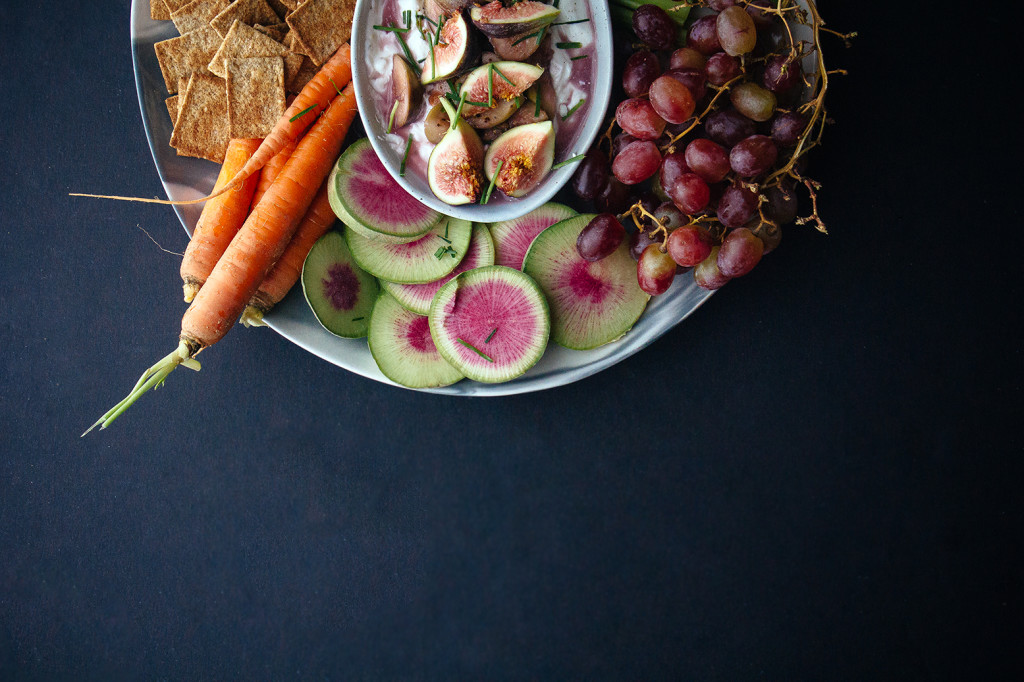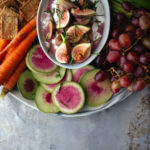 Goat Cheese Dip With Red Wine Figs
A simple and flavorful goat cheese dip that is perfect for your next party!
Ingredients
1

pint

of fresh figs

(about 6 large or 8 small), quartered

1

cup

dry red wine

2

Tablespoons

sugar

1

cinnamon stick

dash of salt

4

ounces

of goat cheese

1

cup

sour cream

1/4

cup

chopped chives + more for garnish

Salt / Pepper

An assortment of veggies

, crackers, and chips
Instructions
Combine the figs, red wine, sugar, cinnamon stick, and salt in a saucepan and bring to a simmer over medium heat.

Let simmer, stirring occasionally, for 10 to 15 minutes or until the figs has absorbed the red color (I like to keep my figs a little firm but feel free to let them simmer for longer if you'd like them to absorb more of the wine flavor).

Remove from heat and strain.

Whisk together the goat cheese, sour cream, and chives and transfer to serving dish.

Top with poached figs and chives.