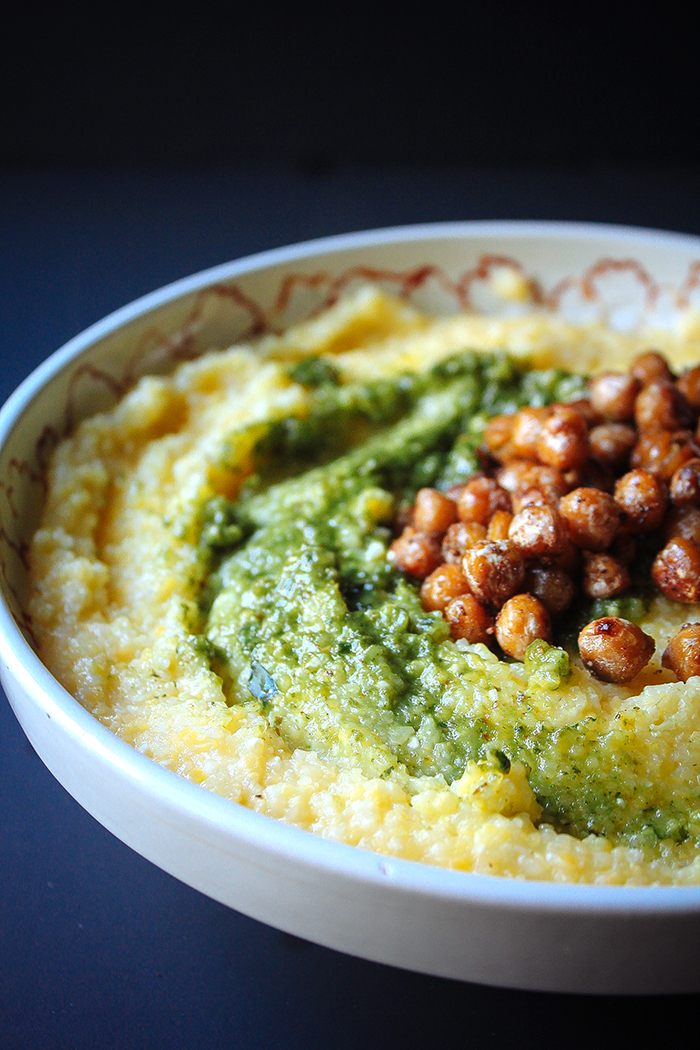 Goat Cheese Polenta with Basil Almond Pesto & Pan Fried Chickpeas [For one]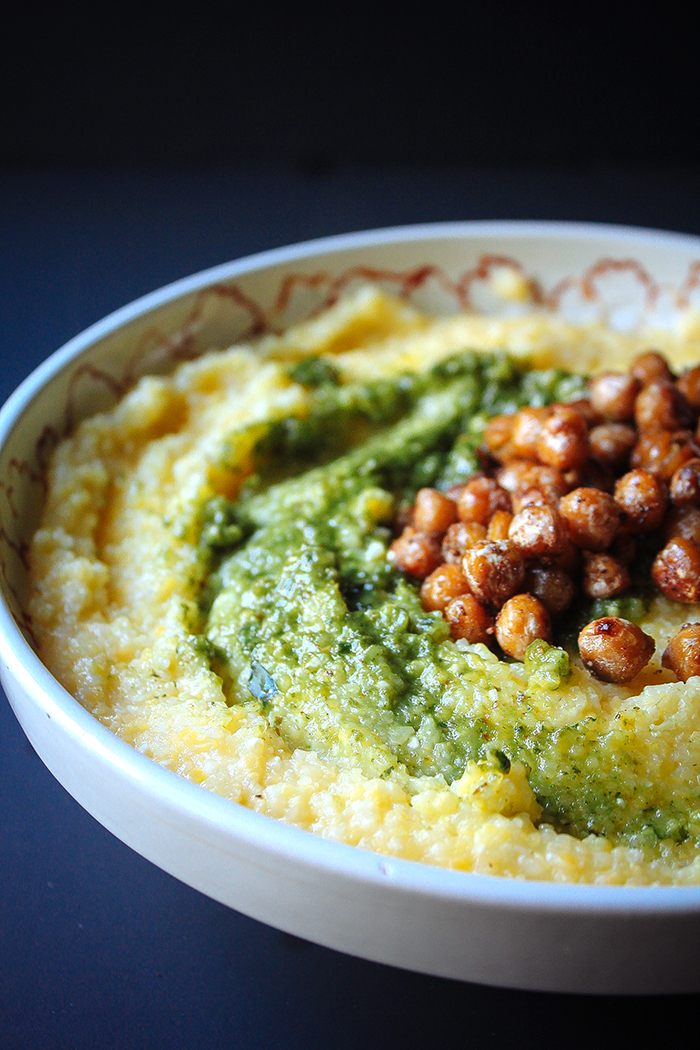 Wyatt is off at a Black Sabbath concert tonight . No, I'm not sure why – he's not a 60 year old fan or a metal head of any kinds [but this is beside the point]. The point is that I'm here alone tonight. I decide to have a sort of girl's night…with myself. Yoga, red wine, and a chick flick (Bridesmaids to be exact…hey, don't judge! Everyone ALWAYS references it and I have no idea what they are ever talking about). This is a special treat because I usually get suckered into alien, death-centric, action flicks and a case of beer.
This also meant I was on my own for dinner this evening. Any normal American would have probably just got Chinese take-out but I was excited by the thought of not having to worry about another person's needs / preferences. Both polenta and chickpeas are two things Wyatt isn't really that crazy about – and I totally disagree. I personally don't think there could ever be anything wrong with a big bowl of corn creaminess that takes on the subtle flavor of whatever cheese you decide to melt into it. And as for chickpeas – give me them anyway you'd like: blended, roasted, sautéed, or panfried.
Needless to say, I've settled in for the night with this big polenta bowl and my boxer dog, Tuko. If you need us – we'll be over here watching some girls relieve themselves in wedding dresses because of some bad Mexican food they ate (gross! Sorry, Bridesmaids reference?)
When pan frying the chickpeas, make sure you use just a big enough skillet so that they can lay evenly in one layer but not so big that you have to use half your bottle of oil. And as for the pesto, I've been into using kale (since it grows like wildflowers in my garden) but went with basil on this one since it's finally basil season – feel free to use whatever leafy green you have on hand!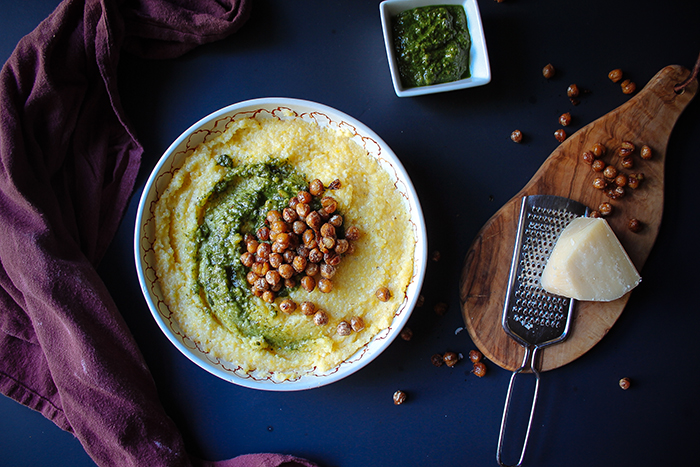 Goat Cheese Polenta with Basil Almond Pesto & Pan Fried Chickpeas
1 cup dried polenta
4 cups water
1 ounces goat cheese (or more if you are like me)
1/2 cup raw almonds
3 garlic cloves
1 1/2 cups fresh basil
1/4 cup parmesan
1/2 cup olive oil
salt / pepper
2 cups cooked chickpeas (from a can or from dried)
2 teaspoons cumin
1 teaspoon chili powder
salt / pepper
oil (I used olive but you could use vegetable as well)
In a food processor or very powerful blender, combine all the pesto ingredients and blend until a smooth paste forms. Add more olive oil if needed to reach your desired consistency. Set aside.
In a saucepan, bring 4 cups of water to a boil. Add polenta and lower heat to medium low. Whisk continuously until the polenta has become thick enough that it won't stick to the bottom. After fifteen minutes of simmering, stir in the cheese and remove from heat. Cover to keep warm and set aside.
In a large cast iron skillet, heat a thin layer of oil over medium. Add chickpeas, cumin, chili powder, salt, and pepper. Sauté for ten to fifteen minutes or until golden brown. Remove from pan with a slotted spoon and place on a paper towel lined tray. Let sit for a few minutes to crisp up.
Mix the polenta, chickpeas, and pesto all together and enjoy!