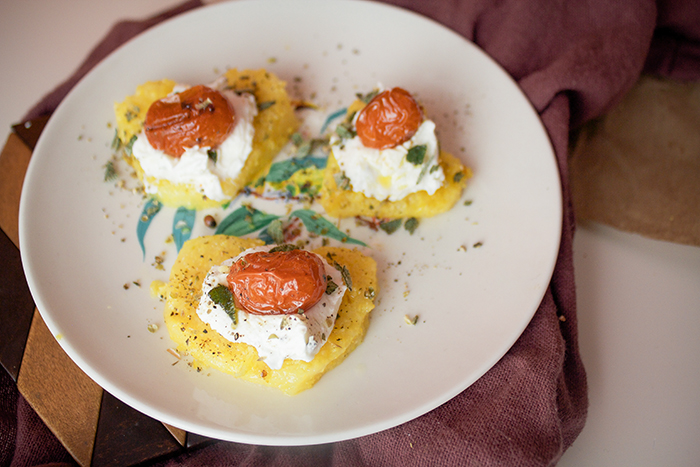 Heart Shaped Polenta Crostini with Roasted Tomato & Goat Cheese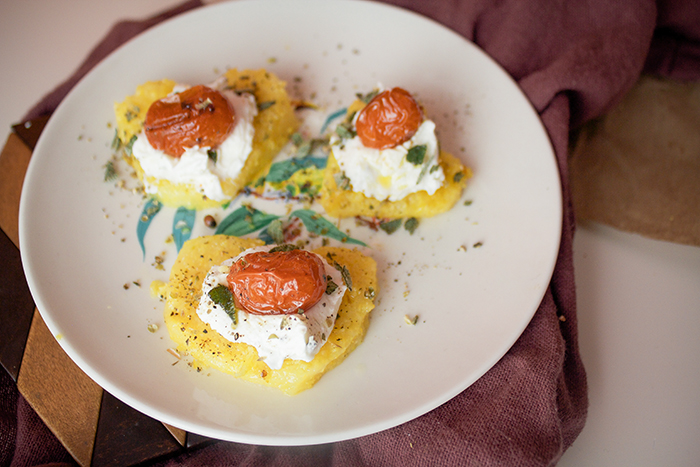 I'm not very into doing 'holiday themed posts'…or…. maybe I'm just not good at them? 'Ms. Bah! Humbug!' over here. I've done a few Thanksgiving recipe suggestions and a Christmas post here and there but as for anything else? Meh, not really. St. Patrick's Day? When is that again? Labor Day? Too busy playing at the lake to worry about the internet. 4th of July? I'll be the girl preppin' tofu with a beer in hand by the grill (and not a laptop in sight). It's just never been my thing to make a recipe based on it's color scheme (hello red, white, and blue… fruit salad?!), shape (4 leaf clover cut outs aren't even that cute! What is that…a pot leaf?), or any other gimmicky food trend. Buuuut…on that note, here I am with a Valentine's day post. Why? I honestly don't know. When pink everything started showing up on my Pinterest feed a few weeks ago, I was totally appalled. 'Oh noooo. Heart and pink everything? No way. Nah uh.'
But then I kind of started getting obsessed with the idea. I started imagining all my food in heart shapes… the marshmallows in my hot cocoa, the setian cutlet I served for dinner. And then the pink and red hallucinations started coming… pink colored orange juice and red oatmeal. I finally came to terms with the fact that this was my mind subconsciously telling me 'You are taking on this Valentine's Day challenge and you will come up with something clever to try'. Okay okay okay. So I opened up my pantry and this is what came out…
But, wait..before we go any farther, I should warn you that I'm a bit bitter when it comes to Valentine's Day. I have a boyfriend…a boyfriend I've had for the past 3 Valentine's days which is…I guess cool and all. BUT there are so many fun 'single ladies' activities that go down on February 14th that I cannot help but feel a bit left out. Last year I lived with 4 single girls and they decided to throw a 'Single Ladies Party'. Guess who was the only one NOT invited? Yup, that's me. And you know what? If I was invited then I would have made these. Because these are the perfect little bites for a party and they are cute and themed and oh so delicious. Those girls' lose, obviously. Anddd…if anyone feels like inviting me to their Vday celebration this year, I will leave my boyfriend at home and come baring a tray full of these.
Just sayin'. It might be fun. And you won't be disappointed by these little bites. Or my company. Hopefully.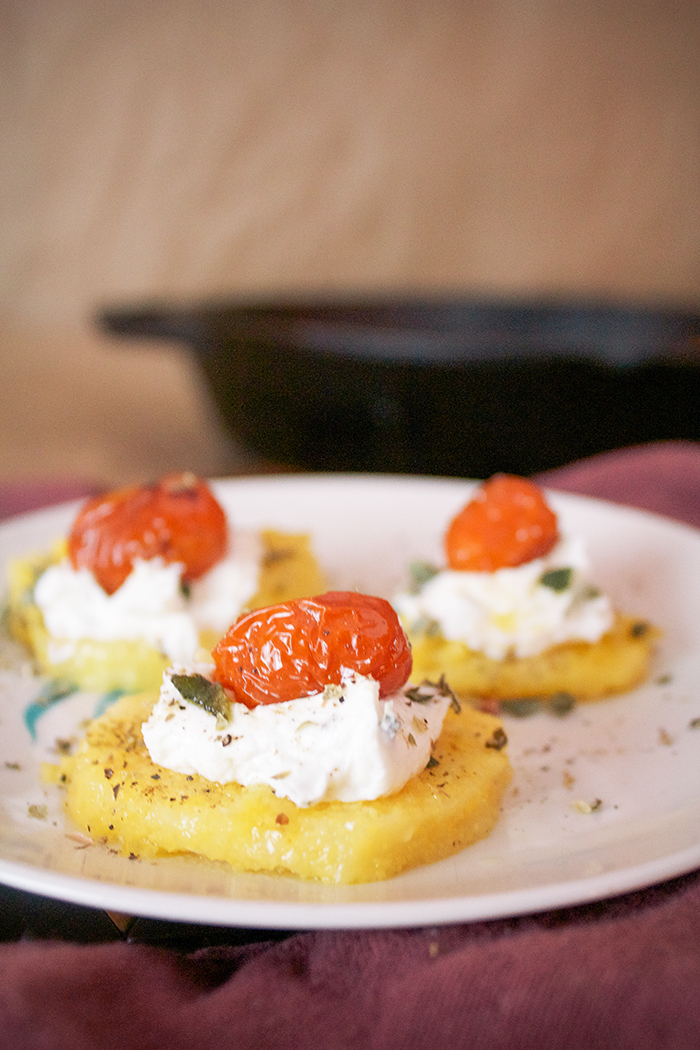 Heart Shaped Polenta Crostini with Roasted Tomatoes & Goat Cheese
2 ounces goat cheese
2 ounces cream cheese, softened
~1 teaspoon milk
1 Tablespoon sage, chopped
15 cherry tomatoes
1 1/2 tablespoon olive oil, divided
Salt / Pepper
Preheat oven to 425 degrees. Mix together the tomatoes, 1/2 Tablespoon olive oil, and a little salt / pepper. Put on a cookie sheet and roast for 15 to 20 minutes (depending on how soft you like your tomatoes).
Cut the polenta into 15 slices and use a heart shaped cookie cutter to cut out the heart shapes. Set aside the leftover plenta for another use (goes perfect under eggs).
In a small bowl, combine the goat cheese, cream cheese, and milk (you may have to add more milk depending on how stiff the mixture still is. You want it to be thin enough to spread). Set aside.
In a large skillet, Heat olive oil over medium. Add the polenta hearts and cook until browned (time will depend on how hot your skillet it). Flip over and let brown on the other side.
Remove from heat and place on a tray. Top each polenta heart with goat cheese mixture, sage, a little more pepper, and one roasted cherry.
Serve warm and to all your lonely friends [or loving couples].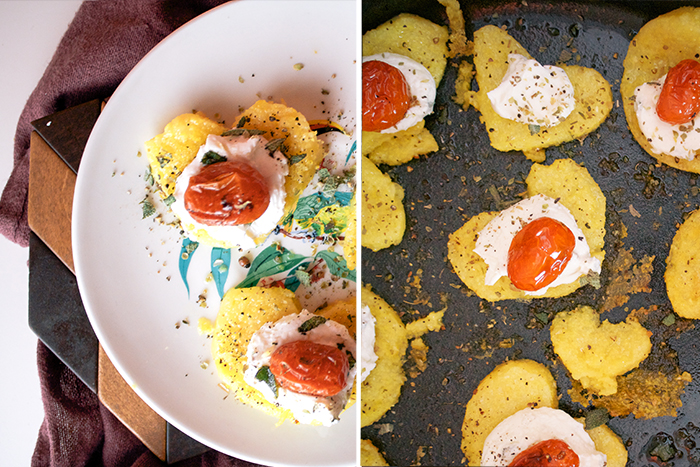 Song Pairing: