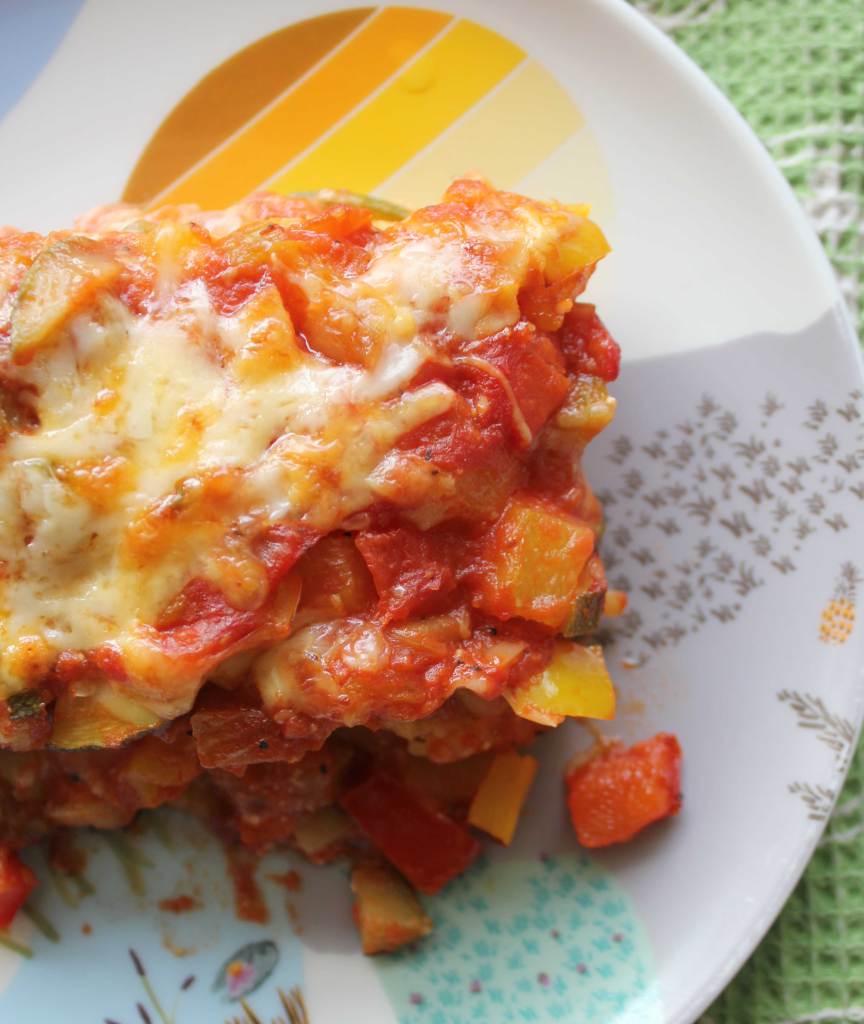 Polenta and Veggie Lasagna
This was one of those recipes that spawned from me standing in front of the pantry going "what can I make for dinner with what I have?". It's a rather daunting question and there have been many failed meals that ended in last-minute pizza ordering because of this question. That however, was not the case this time around. Using the basic structure of what you could put in lasagna, I managed to whip up this twist on the famous Italian dish and may never look back.
'Grits' was always a bad word for me growing up. I would always have visions of white mush that was pushed out-of-the-way at 'Crack Barrel'. Polenta, however, was a different story. Polenta meant slices of warm and crusty Italian deliciousness fried up on a skillet by itself or layered out under a pile of cheesy breakfast eggs.
I don't know exactly how to pin my finger on it but there is something so amazingly satisfying about the comfort of vegetables cooked in olive oil and the savory flavoring of warm polenta. From the very first bite, this recipe pulled at my 'comfort strings' and left me craving for leftovers for the rest of the week.
Polenta and Veggie Lasagna
1 cup dried polenta
8 ounces chevre cheese (or goat cheese)
1/8 cup Parmesan
1/8 cup Gouda (optional)
1 Tablespoon olive oil
4 garlic cloves, minced
1 medium onion, diced
1 zucchini, diced
1 yellow pepper, diced
5 celery stalks, diced
2 carrots, diced
1 cup vegetable stock
1- 6 oz. can of tomato paste
handful of fresh basil or oregano, for garnish
salt/pepper, to taste
Preheat oven to 350.
Bring 3 cups of water to a boil and cooked the polenta for five minutes. Once cooked, pour onto a cookie sheet lined with tin foil (to create a "sheet" of polenta). Set aside while you prepare the veggies so that it can harden up (or stick in a 350 degree heated oven for about 10 minutes if you want your polenta a little crispy- this will also help it harden faster!).
In a large skillet (or saucepan), heat one tablespoon of olive oil over medium heat. Add in the onions and cook for about five minutes or until they begin to soften. Add in the garlic and cook for another two minutes.
Next, add in the pepper, zucchini, celery, and carrots. Cook for about 15 minutes or until everything has softened up.
In a small bowl, whisk together the stock and tomato paste until well combined. Add to the cooking veggies and bring to simmer. Simmer for about 10 minutes or until the mixture has become very thick. Season with salt and pepper.
To assemble: Grease the bottom of a 9 by 13 inch pan. Cut the polenta in half and place a sheet of it snuggly in the bottom of the pan. Using half the goat cheese/chevre, spread a layer of it on top of the polenta. Next, layer on half of the veggie mixture. Repeat with another layer of polenta, chevre, and veggies. Finally, top with gouda, parmesan and fresh basil/oregano.
Cook for 25 to 30 minutes or until everything is heated throughout.
Serve warm with garlic bread or by itself! Enjoy while watching an episode of 'Mad Men' or listening to your favorite David Bowie album.
PS You should consider following me on Facebook for updates about new posts! I am currently trying to branch out with my social network skills!