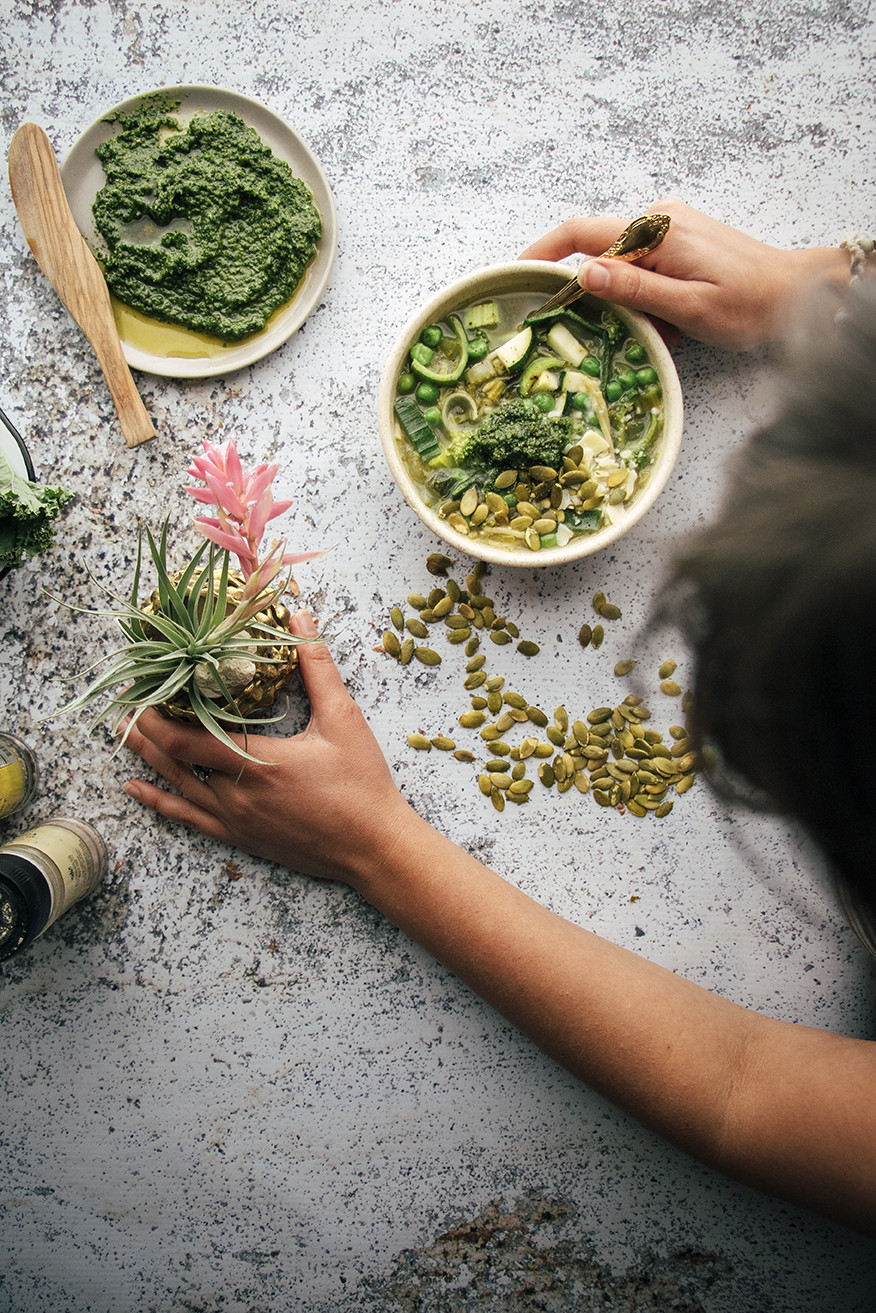 Green Minestrone With Kale Pistachio Pesto
In a hurry? Click here to JUMP TO RECIPE!
This is the obligatory 'kick off the year with a healthy start' post. We just got back from Marco Island and going from 80 degrees and sunny to this 17 degree weather is really messing with my body. It feels confused, cold, and a little bit achy so I've been giving into it's cravings – hot tea, warm soup, and lots and lots of greens.
I usually have time at the end of the year to do a wrap up post and look back on how the last year has shaped up. However, since we were on vacation, I jumped right into 2015 without much reflection. 2014 was a whirlwind of a year for me – starting a magazine, doing freelance recipe development with some of my favorite brands, being interviewed by Food & Wine, getting nominated for a Saveur Award, and continually watching as more and more of you come around VV. I know this is belated but I wanted to say thank you to all of you reading and to everyone who has commented, encouraged through social media, or sent me a thoughtful email about Vegetarian 'Ventures. This place wouldn't be the same without you and it's moments like that that push me to try even harder around here. Cheers to being internet friends and cheers to our continued time together in 2015!
This soup is incredibly simple which means it's important to use fresh ingredients so that the flavor is as bright as it can be. I'd recommend making your own vegetable broth if you have the time as it adds a depth to this soup that blows the box version out of the water. Also, I kept the recipe super simple by letting you pick which green vegetables to put into this – make sure that they are all chopped up around the same size and that you put the firmer vegetables in first since they will need to cook the longest. This goal in this recipe is to keep the vegetables slightly crunchy to give your teeth something to bite into and to avoid a mushy mess for the end product.
Cool? Cool! You got this!
Green Minestrone With Kale Pistachio Pesto recipe below: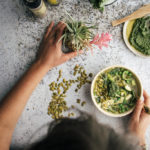 Green Minestrone With Kale Pistachio Pesto
A simple and hearty vegetable soup full of nutrients and flavor.
Ingredients
For the pesto:

One bunch of kale

1/4

cup

pistachio

, shelled

1/4

cup

olive oil

2

garlic cloves

Salt / Pepper

For the soup:

4

cups

chopped green vegetables

(I used broccoli, zucchini, celery, & peas)

6

cups

vegetable stock

(store bought or homemade)

1

leek

, sliced (place the pieces in a bowl of water to remove all the dirt caught in the rings)

1

Tablespoon

olive oil

2

garlic cloves

1/2

cup

dried pasta

Salt / Pepper

Chives

, for garnish

Pumpkin seeds

, for garnish

Parmesan

, for garnish
Instructions
For the pesto: Blend all ingredients together in a food processor or high speed blender until a smooth, green paste forms. Season with salt and pepper.

For the soup: Heat the olive oil in a large stockpot over medium heat. Add in the garlic and leeks and saute for 2 minutes or until fragrant. Next, add in the green vegetables and saute for another 5 minutes or until they just begin to soften (don't overcook - we don't want them mushy!). Add the vegetable stock and bring to a boil. Once boiling, add the pasta and cook for as long as the pasta box says (most likely 6-9 minutes). Remove from heat and season with salt and pepper.

Divide the soup between bowls and garnish with the pesto, chives, pumpkin seeds, and/or Parmesan. Serve warm.