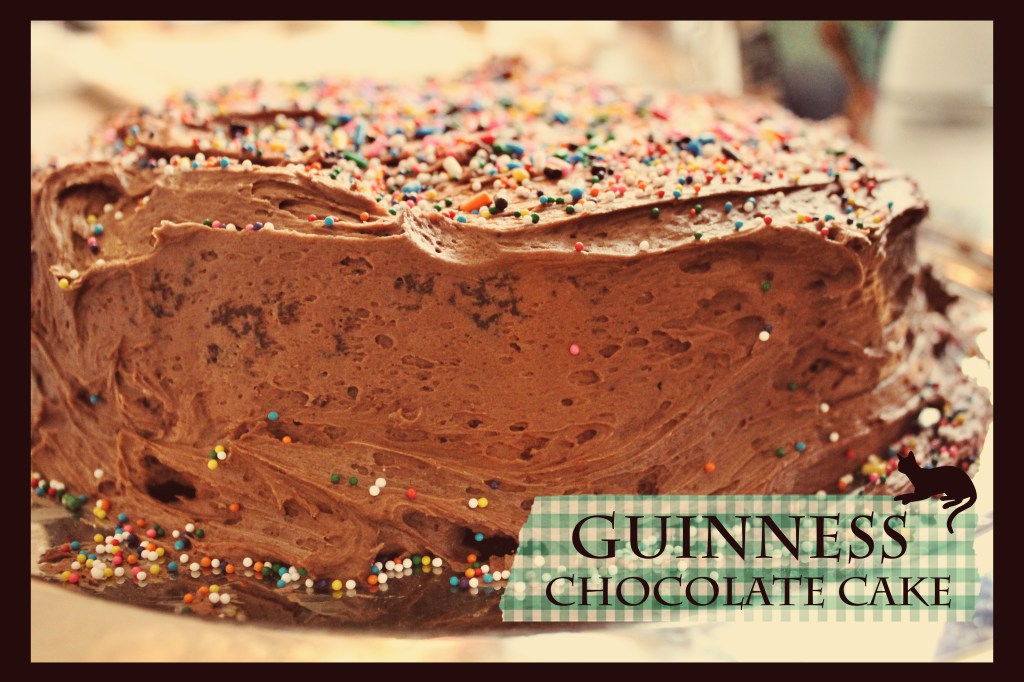 Update 10/29/2012: Don't forget to stop by and check out VV's newest giveaway which ends 11/02/2012!
_______________________________
I've been in a bit of a weird funk lately. I've been feeling overwhelmed with my school career coming to a closing and me having to enter into the "real world". My usual solution to ridding any irrational overreaction is to bake. And what better to make than something that combines my other two problem solvers: chocolate and beer!
I made this cake for Wyatt's birthday a few months back and still have craving for it 'til this day. The Guinness brings a whole new tint to the chocolate flavor that is just irresistable. And the moist cake pairs perfect with all your favorite ice cream treats or some refreshing green beer.
This would also be a perfect treat for St. Patrick's day which is approaching at massive rates! Perhaps this cake is even an excuse for you to host a St. Patty's Day Potluck (it is on a Saturday!) to share this treat with all your favorite people!
;
PS next week is my last spring break ever (well…sorta a break for me. I have to work at the record label Monday, Wednesday, and Friday) so that means I have soooo many recipes planned to conquer on my time off. Expect great things coming ASAP!
;
;
Guinness Chocolate Cake
1 cup Guinness (guess you're gonna have to dye the leftover beer green)
2 cups sugar
1/2 cup butter
3/4 cup cocoa powder
2 eggs, beaten
2/3 cup sour cream
2 teaspoons vanilla extract
2 cups flour
1 1/2 teaspoons baking soda
Preheat oven to 350 and fill a round baking tin with parchment paper (or grease it if you don't have paper handy).
In a small saucepan, heat the beer and butter over medium-low heat until the butter has melted and they are combined together. Remove from heat and stir in the sugar and cocoa powder.
In another small bowl, whisk together the eggs, sour cream, and vanilla. Slow mix into the beer mixture. Mix until smooth.
Cook for 40 to 50 minutes or until a toothpick comes out clean in the center.
Let cool completely and lather with your favorite chocolate icing and loads of sprinkles.
Enjoy with a big glass of green Guinness!