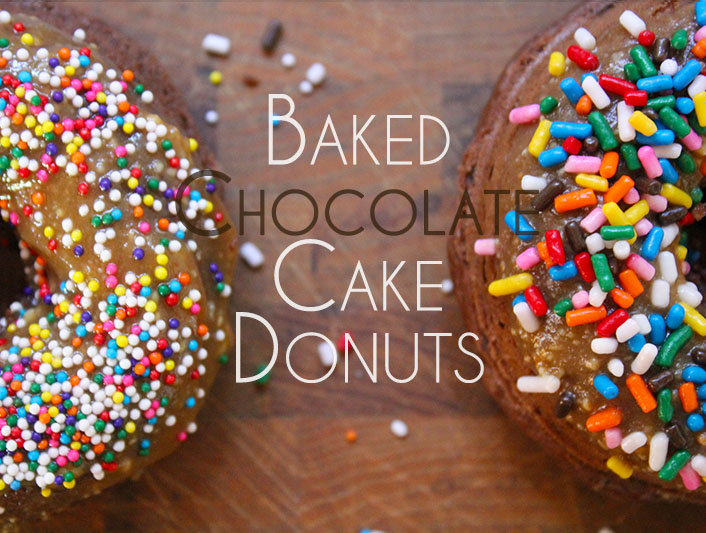 Baked Chocolate Cake Donuts
I can't believe I managed to forget about these donuts! I made these a few lazy Saturdays ago and even showed a sneak preview picture of them in my Moody Monday post and then never followed through with the recipe! Sheesh, silly me! However, don't worry because here it is now.
We live down the street from the local donut shop and Wyatt stops there more than I even want to know. I sometimes give in and join him but still felt a bit guilty about it. The whole concept of eating fried something for breakfast never appealed to me; however, as soon as I discovered I could BAKE donuts, I wanted in! All I needed was a donut pan…seems easy enough, right? However, Wyatt promised to get me a donut pan for my Graduation last spring…which never happened. This meant we spent all Summer donutless (his loss!). And then, at last, we ran across some pans while browsing the local Kro-Gucci (not to be confused with our other disgusting Kroger…which happens to be Kro-Ghetto) so I threw them in the cart before Wyatt had an opinion about wanting to buy me them or not.
And so, since TECHNICALLY Wyatt did buy me them (even if he didn't mean to), I decided to start my donut-making journey with his favorite kind: cake donuts. Cake donuts are pretty awesome because they are just are the best excuse to eat cake for breakfast. I mean if the cake is shaped like a breakfast food….it's acceptable, right?
I topped my donuts with peanut butter (while they were still warm so the peanut butter melted into a nice, thick glaze) and then lathered them in colorful sprinkles.
These donuts are ridiculously easy to make so I would just suggest waking up 15 minutes before your boyfriend/girlfriend/hubby/puppy, getting the coffee making going, and starting on these. They will be ready in less than 20 minutes so you'll have the whole rest of the morning to be lazy and eat warm donuts. These go perfectly with a big mug of hot coffee and a Saturday morning movie.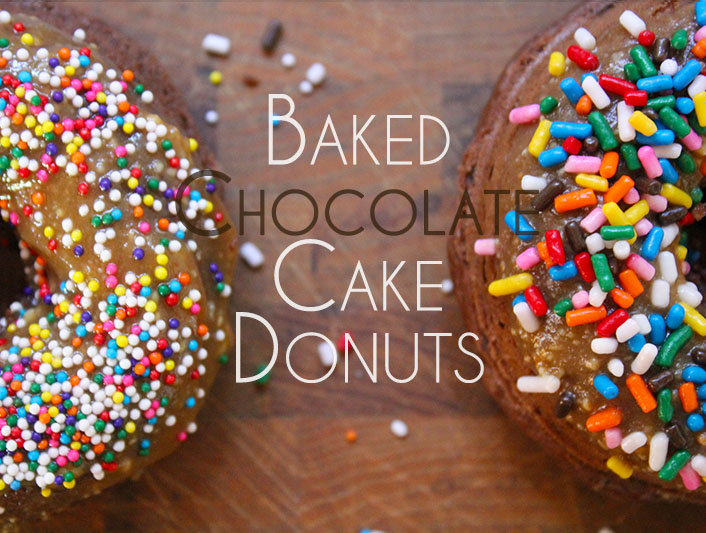 Baked Chocolate Cake Donuts
1 cup all purpose flour
1/4 cup sugar
1 teaspoon baking powder
1/4 cup cocoa powder
1 teaspoon salt
1/2 cup buttermilk (made my own with this recipe)
1 egg, beaten
1 teaspoon vanilla
1 1/2 teaspoons butter, melted
Preheat oven to 325 degrees and grease a donut pan. In a large bowl whisk together the flour, sugar, baking powder, salt, and cocoa powder. In another small bowl, whisk together the buttermilk, egg, vanilla, and butter.
Make a well in the center of the dried ingredients and pour the wet ingredients in the middle. Use a spatula to fold the dry ingredients into the wet until just incorporated.
Evenly pour the batter into the pans. Cook for 10 minutes or until baked all the way through.
Enjoy with peanut butter and sprinkles or powdered sugar or a glaze or by themselves! Seeeeeee….how easy was that?