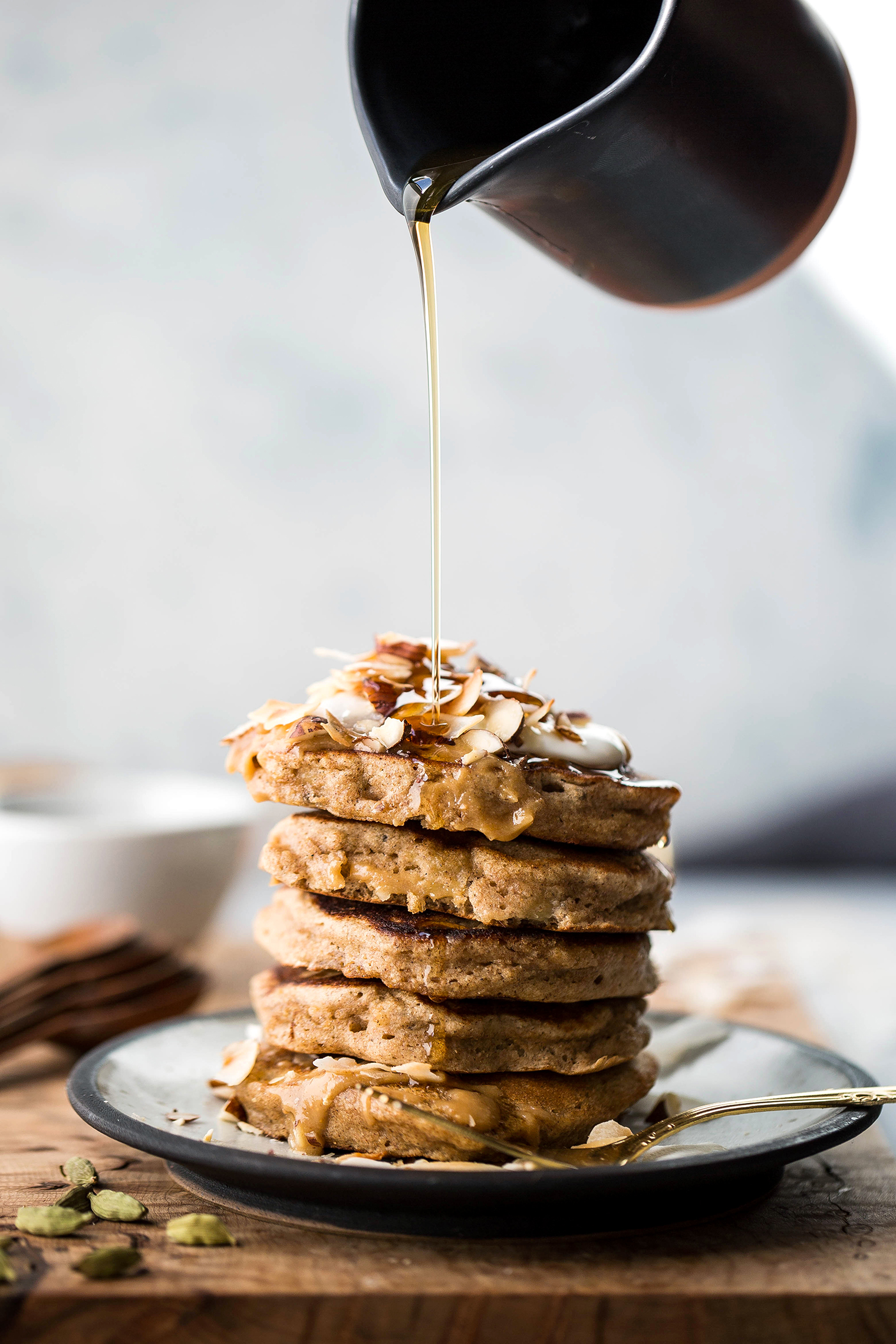 Healthy Cardamom Banana Bread Pancakes
These Healthy Cardamom Banana Bread Pancakes pack an extra punch of flavor! Perfect for a quick breakfast or lazy brunch any day of the week.
In a hurry? Click here to JUMP TO RECIPE!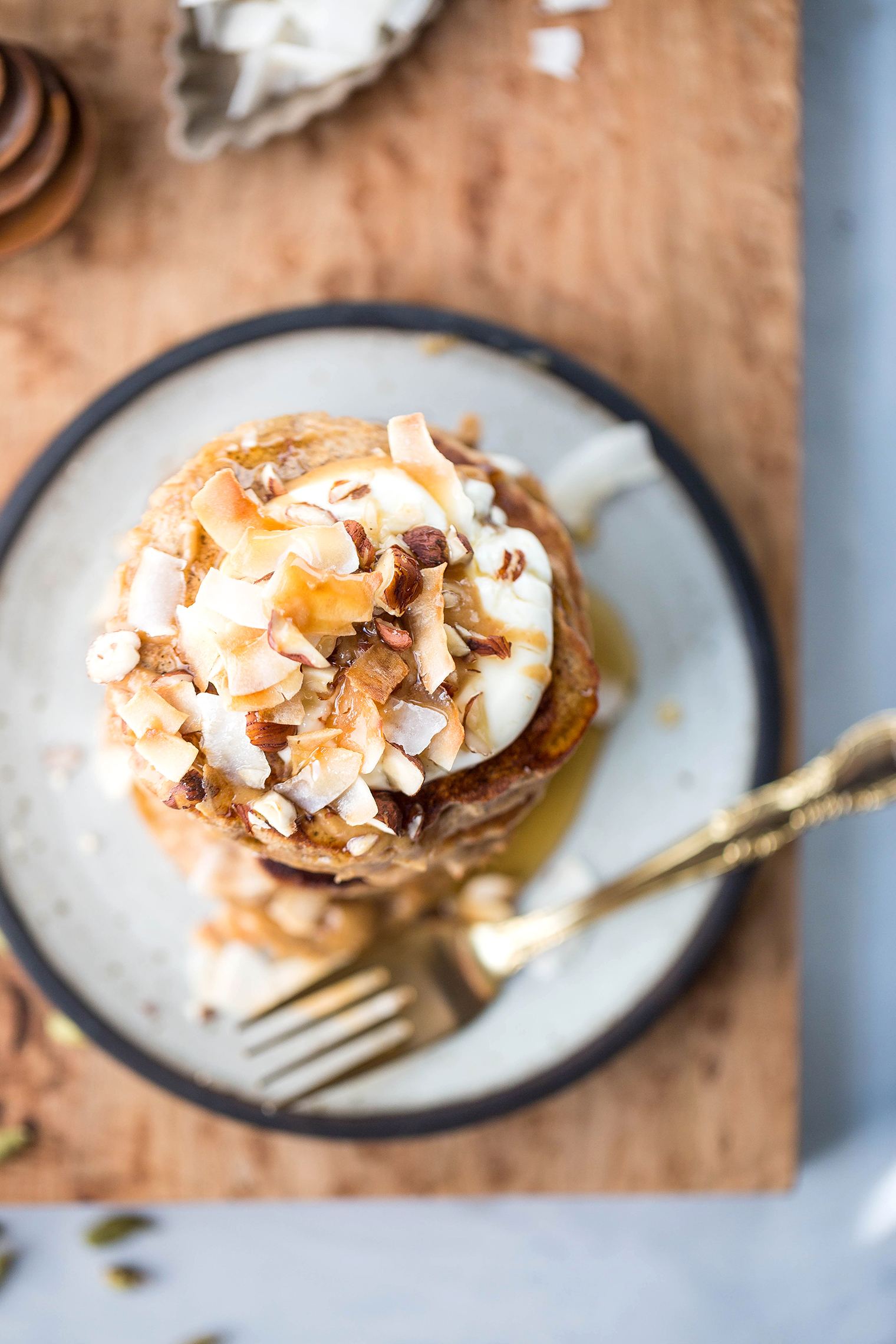 I've felt a bit torn lately. To be completely honest, between writing the book, traveling, freelancing, keeping up with VV, building a magazine, and working at the music distro, I've been really busy the last few years. It hasn't been the kind of busy I dread or hate, but more a sense of feeling in my element and thriving on creating rewarding work. Despite really enjoying all of this, I did start to feel the constant stress of having a huge to-do list in my clenched jaw, my tight shoulders, and my slight weight gain (although I think I could chalk that up to a slowing metabolism as I inch closer and closer to 30).
Sometime towards the end of last year, I decided I would finish up some of these projects and not book new ones. I decided to make a goal that come the new year, I would pair down my life to enjoy the "little things." January came and went in the busy haze that I've become used to. But then upon returning from California last month, I began trying this whole "slowing down" and enjoying the little moments.
I've started to do all the things I used to really enjoy in my free time and it's been really great — more yoga, started making weeknight dinners again, more hangs with friends, more walks, and more snuggles my with boxer dog and Netflix. The only "issue", so to speak, is that all of these relaxation activities have my mind wondering to new creative ideas that I want to pursue — the exact creative big projects I've tried to pair down in my life. Call me crazy, driven, or a workaholic, but what's a girl to do when her relaxing activities are sparking the creative framework for the exact kind of big projects she's been trying to avoid?
Maybe I'm forcing this whole leisure thing too much and I should just embrace that I love big (stressful, rewarding, creative) projects? For example, I've become obsessed with buying a house and fixing it up. Everyone (well, mostly Wyatt) keeps telling me how much work that is going to be, but I get so giddy at the thought of thriving on planning, budgeting, working with my hands, and then basking in the end result of a beautiful space to spend my time.
I guess when it comes down to it, maybe these slowing down moments are good as they give me the head space to remember how much I enjoy big rewarding projects (which you can sometimes forget about when you are buried in the nitty-gritty of month-long projects) and to help me guide to what is next. Will this be the year we buy our first house? And will I finally get to redo the kitchen of my dreams and build a studio in the backyard? I sure hope so!
Anyhow, now that I've ranted long enough, let's talk about these Healthy Banana Pancakes. As part of my slowing down, I've started to make breakfast on Saturday and Sunday mornings and these fluffy pancakes have been on repeat the last few weeks. Where you expect only cinnamon and a touch of nutmeg, the cardamom punches through with an addictingly aromatic flavor.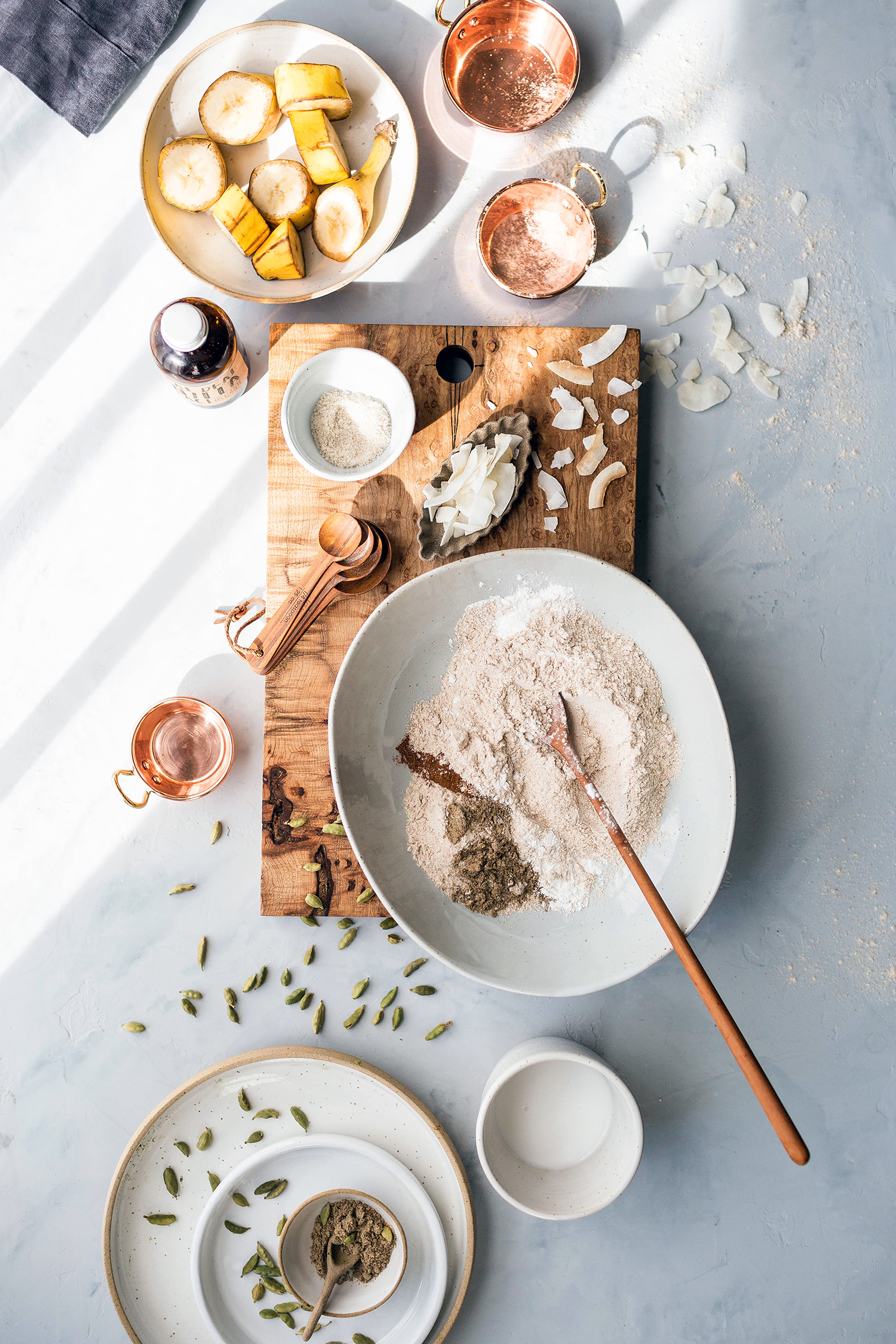 What's Needed for Banana Bread Pancakes?
Nothing fancy is used in these whole wheat banana pancakes! Here's what I use to make banana bread pancakes:
Whole wheat flour
Baking powder
Ground cardamom, cinnamon, & nutmeg
Sea salt
Mashed bananas
Egg
Milk
Vanilla extract
How to Make Healthy Banana Pancakes
Here's an overview of how I make these easy banana pancakes:
Whisk together the dry ingredients.
Make a well in the center of the dry ingredients, then fold in the wet.
Dollop the batter onto a hot, greased skillet. Cook until bubbles appear on top, then flip.
Top with desired toppings and enjoy!
My Go-To Banana Pancake Toppings
I topped these banana bread pancakes with yogurt, maple syrup, toasted coconuts, chopped hazelnuts, and a little bit of The First Mess' caramel sauce (made out of cashew butter). They are also delicious with just a little bit of butter and maple syrup; feel free to go as light or as crazy on the toppings as you'd like!
Can You Freeze Healthy Banana Pancakes?
Absolutely! Make a batch of these whole wheat banana pancakes, let them cool completely, then stash in a freezer bag to enjoy later. To reheat, toast in the toaster or nuke in the microwave.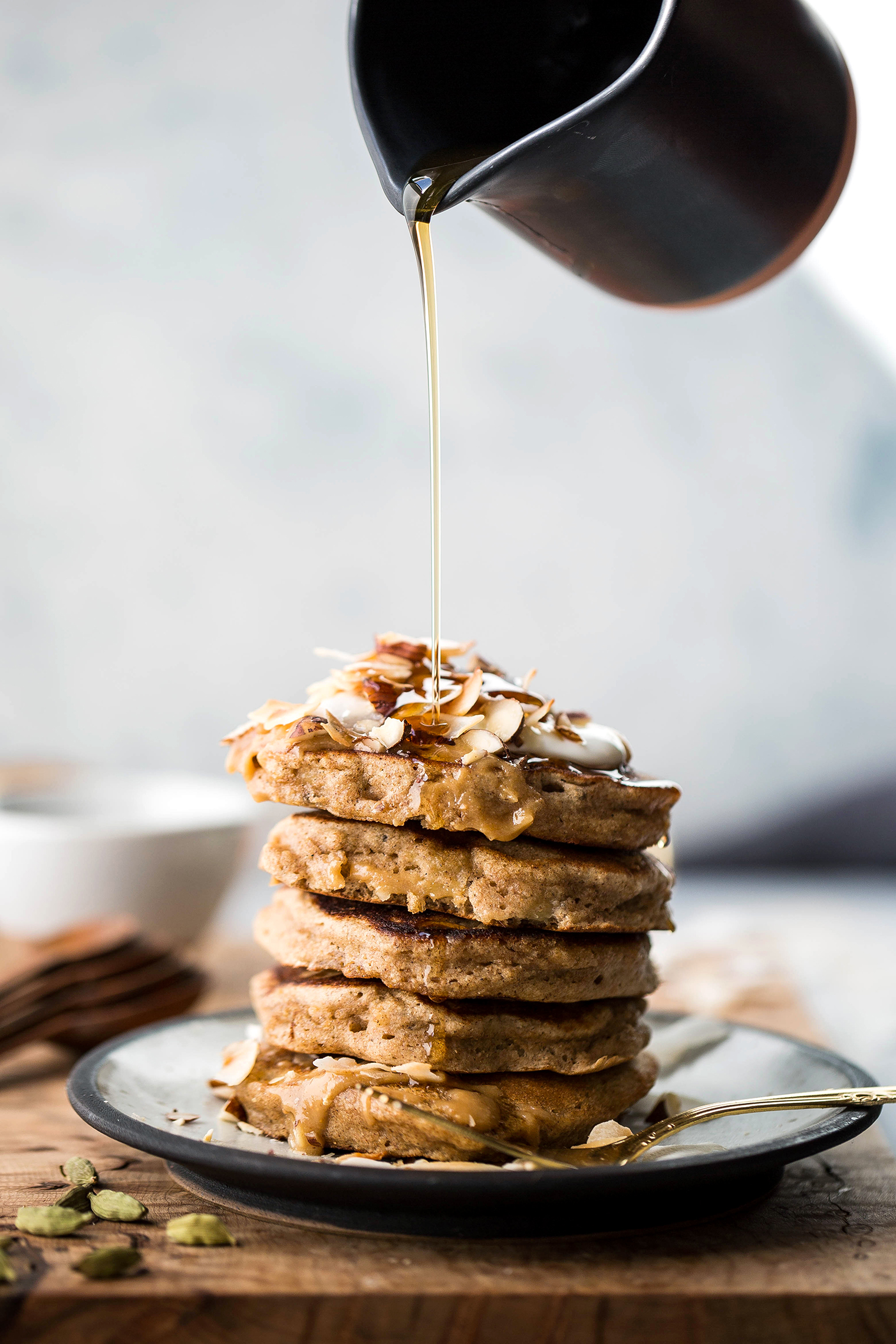 Tips for Making Banana Bread Pancakes
I used whole wheat flour, but all-purpose can be used too. I can't speak to how these healthy banana pancakes would turn out using gluten-free flour, but I imagine a 1-to-1 gluten-free flour blend would work.
You can use any milk you'd like in this recipe — I used coconut milk, but any non-dairy milk works.
Note that the browner your bananas are, the sweeter your banana bread pancakes will be.
Want More Easy Breakfast Recipes?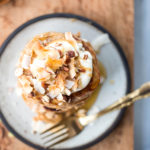 Healthy Cardamom Banana Bread Pancakes
These Healthy Cardamom Banana Bread Pancakes pack an extra punch of flavor! Perfect for a quick breakfast or lazy brunch any day of the week.
Keyword:
banana, pancakes
Servings
:
2
large servings
Ingredients
1

cup

whole wheat flour

2

tsp

baking powder

1/2

tsp

ground cardamom

1/2

tsp

ground cinnamon

1/8

tsp

nutmeg

1/4

tsp

fine sea salt

1

cup

mashed ripe bananas

(from about 2 large bananas)

1

egg

, slightly beaten

1/2

cup

milk

(I used coconut milk)

1

tsp

vanilla extract

Butter or coconut oil

, for greasing the pan
Optional toppings:
Toasted coconut

Hazelnut pieces

Yogurt

Butter

Maple syrup

Nut butter
Instructions
In a medium mixing bowl, whisk together the flour, baking powder, cardamom, cinnamon, nutmeg, and salt.

Make a well in the center of the dry ingredients and add in the mashed banana, egg, vanilla, and milk.

Whisk together the wet ingredients and then fold the dry ingredients into the wet until completely combined.

Melt enough coconut oil or butter to coat a medium saucepan over medium heat.

Scoop 1/4 cup batter into the saucepan (how many you can cook at a time will depend on how big your pan is) and let cook for about 2-3 minutes or until the top is completely bubbly. Flip, cooking for another 2-3 minutes or until cooked all the way through. Repeat with the rest of the batter.

Serve warm and enjoy with all of your favorite toppings.
Nutrition Facts
Healthy Cardamom Banana Bread Pancakes
Amount Per Serving
Calories 287
Calories from Fat 45
% Daily Value*
Fat 5g8%
Cholesterol 87mg29%
Sodium 354mg15%
Potassium 833mg24%
Carbohydrates 49g16%
Protein 12g24%
Vitamin A 215IU4%
Calcium 325mg33%
Iron 3mg17%
* Percent Daily Values are based on a 2000 calorie diet.