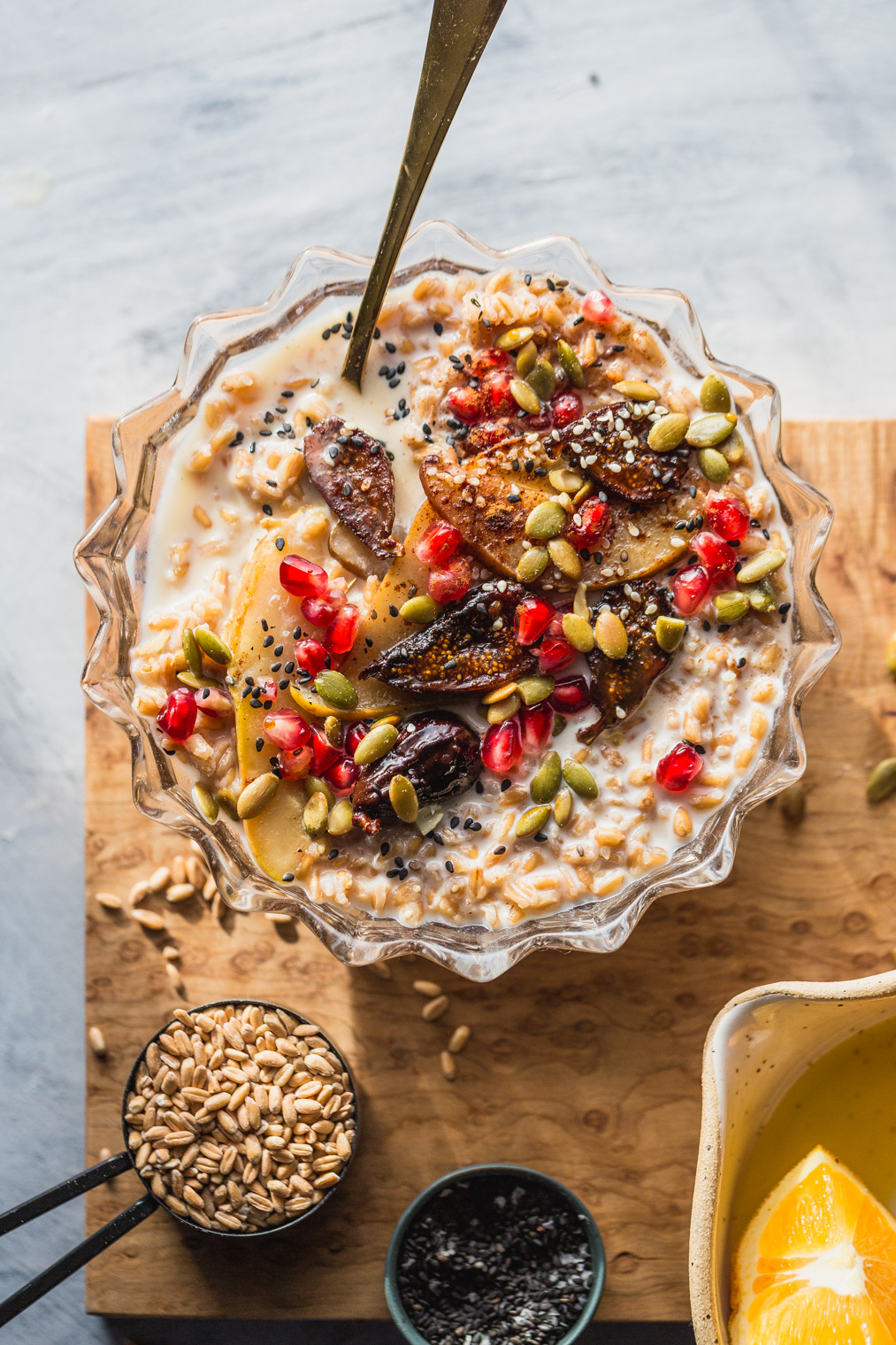 Seedy Farro Breakfast Bowl Recipe With Warmed Figs & Pears
Sharing the recipe for this Seedy Farro Breakfast Bowl Recipe With Warmed Figs & Pears along with some meal prep breakfast ideas! This is a sponsored conversation written by me on behalf of Bob's Red Mill and
Happy new year!! You all ready to conquer all your 2019 goals? I was so excited when Bob's Red Mill andBlue Ribbon Orchard Choice Orchard Choice), creamy milk, and crunchy seeds or nuts to create a perfectly addictive meal.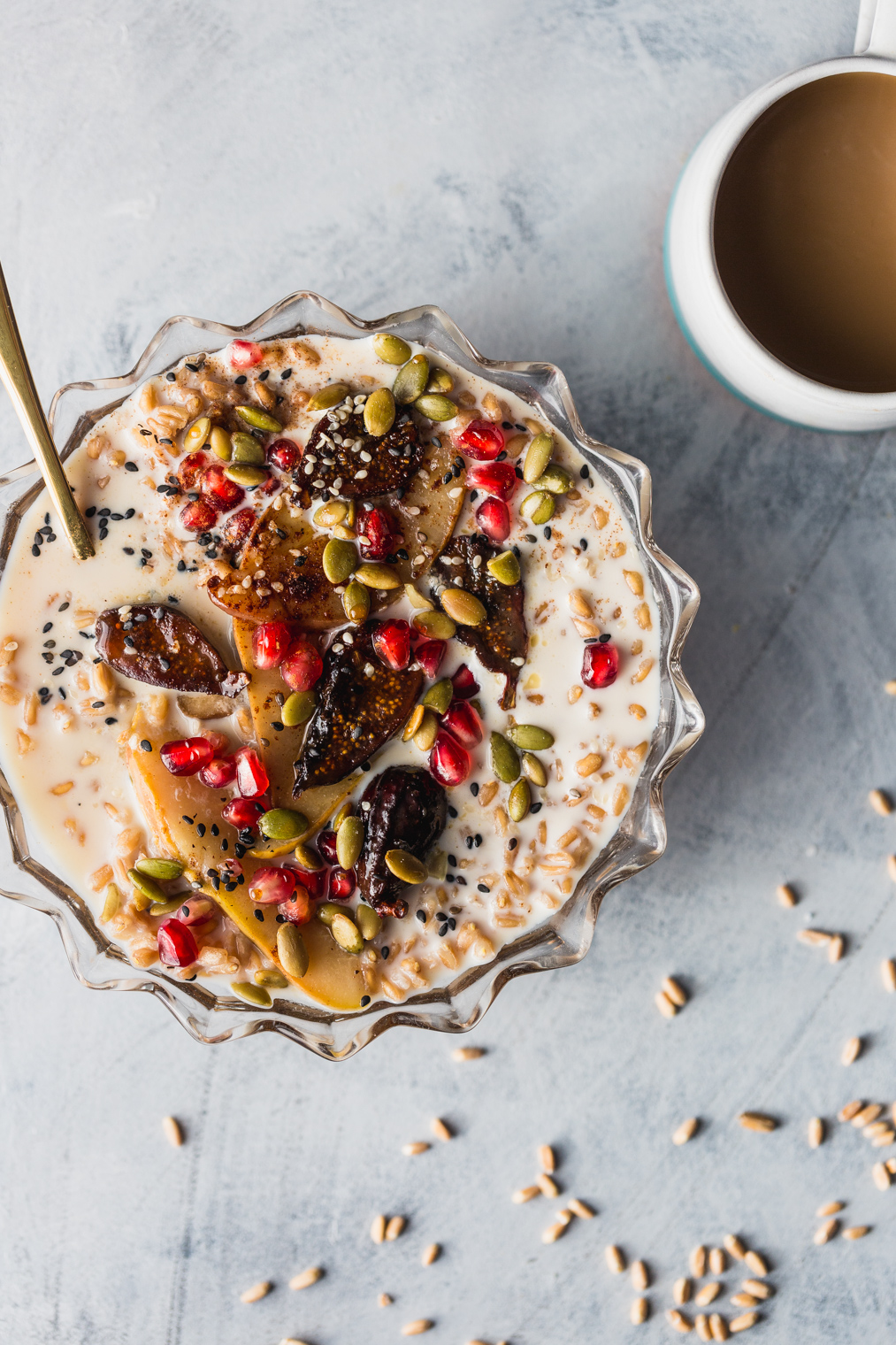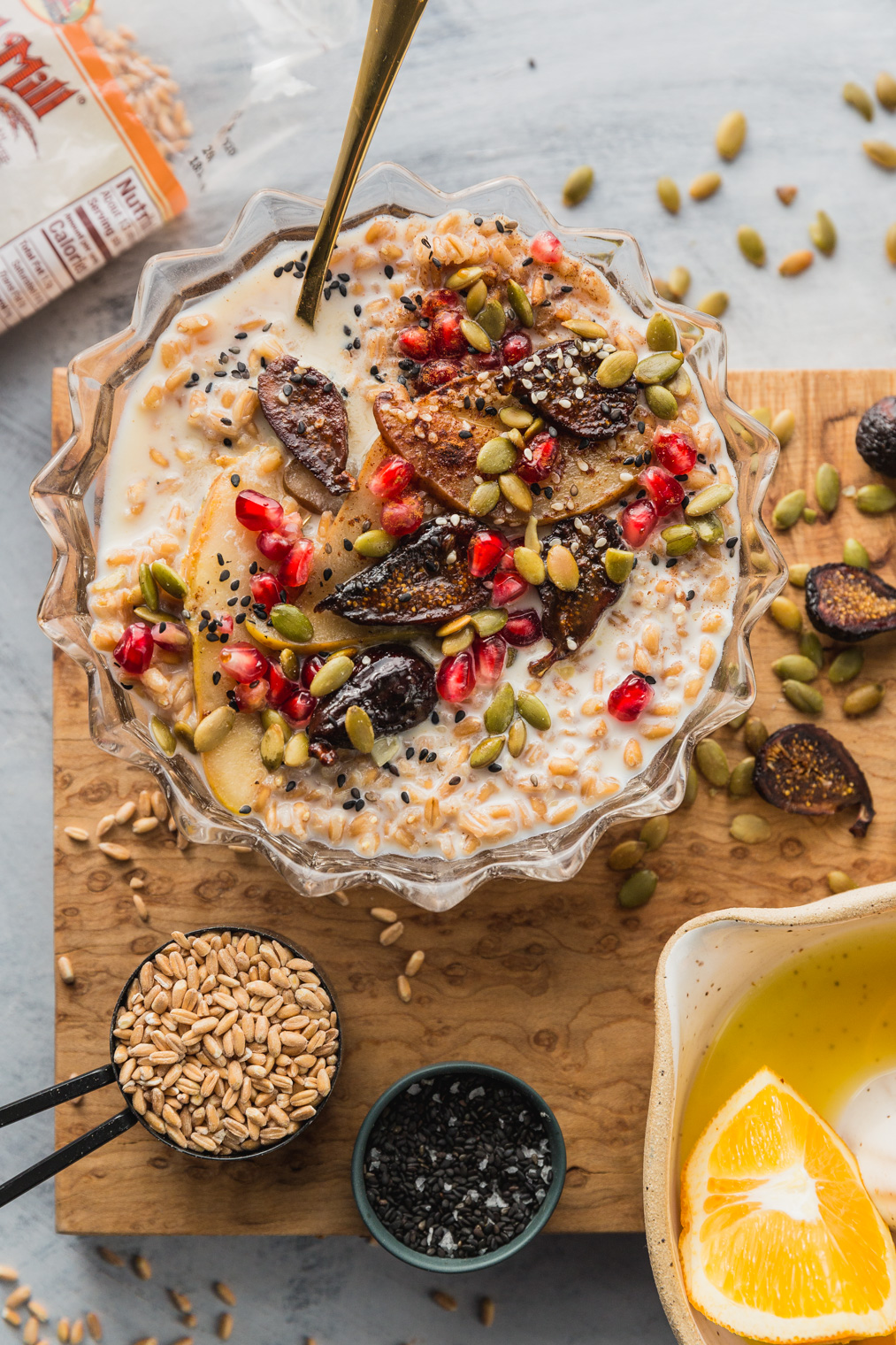 A few tips for prepping this ahead of time and eating throughout the week:
Cook the Bob's Red Mill farro on Sunday afternoon and store it in an airtight container (it should keep in your fridge for 3-4 days). This will speed up your morning process because it just means everything will need to be warmed.
Stock up on

Seedy Farro Breakfast Bowl Recipe With Warmed Figs & Pears

This Seedy Farro Breakfast Bowl Recipe With Warmed Figs & Pears can be meal prepped ahead of time for a quick and delicious weekday breakfast or snack!

Ingredients

1

cup

farro

1

cup

milk of your choice (whole milk, hazelnut, almond, etc)

1

Tbsp

butter

1

package Blue Ribbon Orchard Choice California Figs (you can slice them in half if you buy the regular size figs or enjoy whole if you purchase the figlets)

1

small

pear

cored and sliced thin

1/2

Tbsp

cinnamon

dash of salt

4

Tbsp

fresh orange juice

1/4

cup

roasted pumpkin seeds

seeds from 1 small pomegranate

4

tsp

maple syrup (+ more to taste depending on how sweet you want it)

2

tsp

sesame seeds

Instructions

Rinse the farro and place in a saucepan with 3 cups water. Bring to a oil and reduce heat to medium-low. Let simmer for 30 minutes. Drain excess wate and set aside (you can also transfer to an airtight container and place in the fridge at this point if you are making farro ahead of time).


In a small saucepan, heat butter over medium heat and add in figs, pear slices, cinnamon, and a dash of salt. Saute just until the pears are soft and fragrant and the figs are warmed through. Remove from heat and add stir in orange juice. Use right away or store in an airtight container in the fridge (and just rewarm right before serving).


When ready to serve, warm farro in a medium saucepan with milk (if only making one serving at a time, warm 1/4 of the farro with 1/4 cup of milk). Place farro in 4 bowls (if making a full batch). Serve with warmed figs and pears, seeds, and maple syrup.