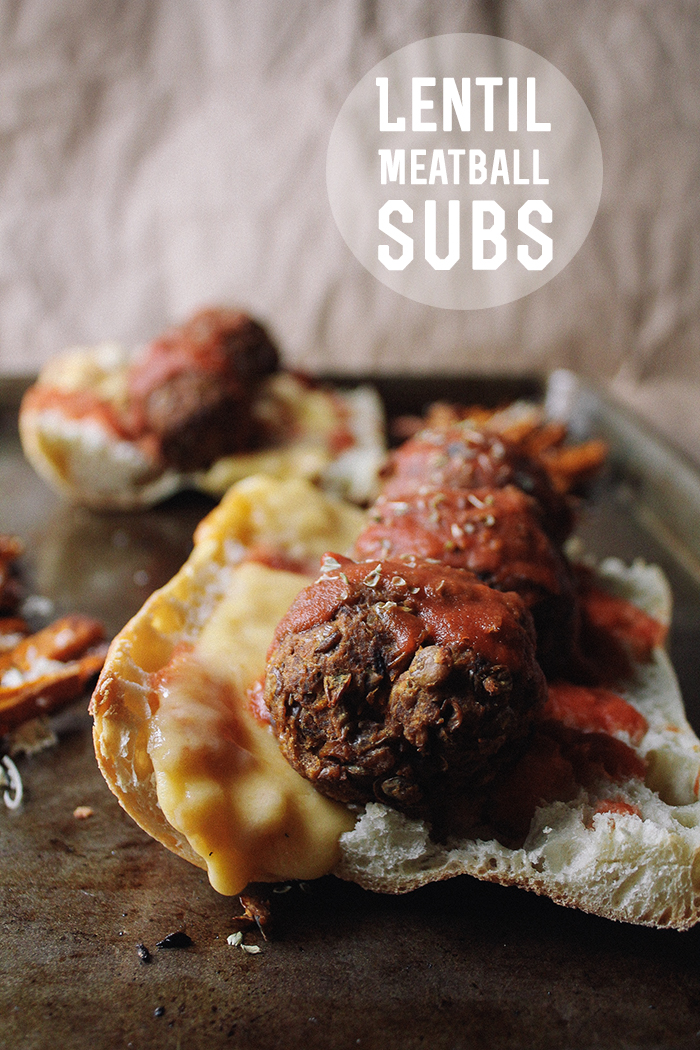 Lentil Meatball Subs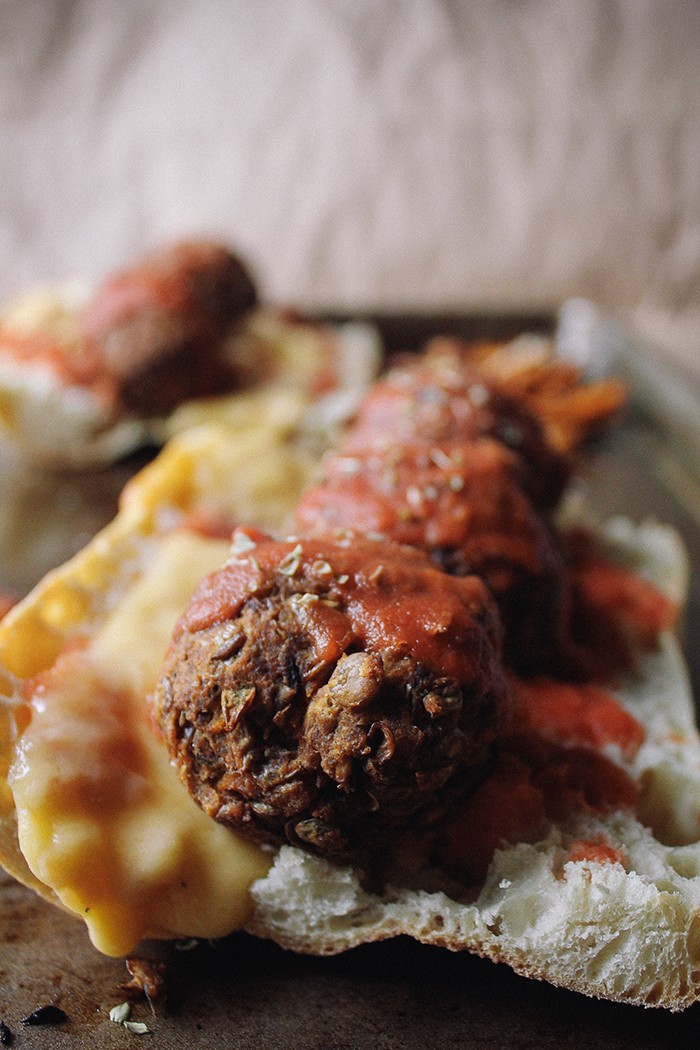 Lentils are known for being a good source of protein, increasing energy, helping with digestion, maintaining good cholesterol, and so many other important dietary needs. So, of course, these inciting benefits make me want to cram as much lentil's into my diet as possible. Although I enjoy a big bowl of Lentil soup now and then, my palette often longs for some variety. So I'm on a new hunt to conquer more lentil recipes without taking the easy way out and making soup. This recipe was my first attempt on this new journey. And damn – it is delicious!
I made a sub out of these with delicious meatballs but I don't plan on stopping there. With the leftovers there are talks of spaghetti and 'meatballs' or 'mostacholi' bakes. Also, I cannot wait to make these again in appetizer form and serve them on cute little sticks with a Sweet Pepper Aoili or a cilantro dipping sauce. The options are endless with these little balls!
These do take a little time because there are several rounds of cooling processes but it's totally worth it. And these freeze super well! The recipe below easily feeds 4-6 so if there are only 2 of you then I'd suggest freezing the rest for an easy spaghetti weeknight meal.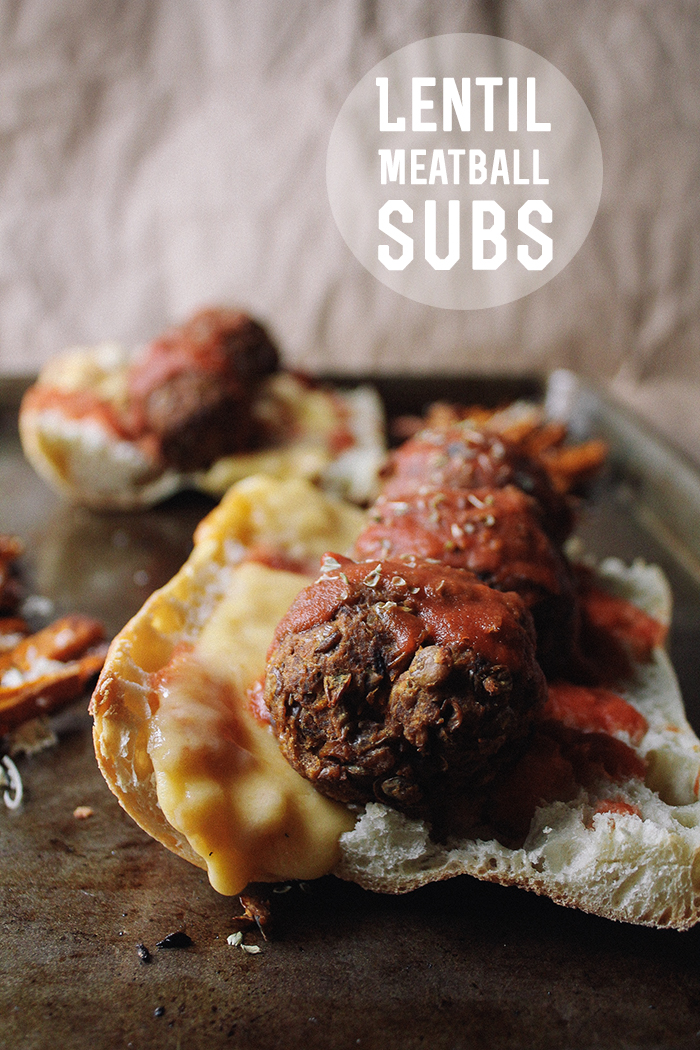 Lentil Meatball Subs
For the meatballs:
2 cups lentils
1/4 cup olive oil
1 onion, diced
3 carrots, chopped
2 celery sticks, chopped
2 garlic cloves, minced
2 Tablespoon fresh thyme
3 Tablespoons tomato paste
8 ounces button mushrooms, cleaned and sliced
3 eggs
1/2 cup Parmesan cheese
3/4 cup breadcrumbs
For the subs:
Tomato Sauce (I used my homemade sauce)
Baguette
Gouda Cheese (fresh mozzarella would be wonderful too)
Fresh basil or oregano, for garnish
Place the lentils in a saucepan with 8 cups of water. Let the water come to a boil and then reduce to a simmer. Simmer for 30 minutes or until the lentils are soft but not falling apart. Remove from heat and drain. Let cool.
In a large saucepan, heat the olive oil over medium. Add the onions, carrots, and celery and let cook for about ten minutes (or until they begin to brown). Next, add in the garlic, thyme, and a little bit of salt. Let cook for another minutes. Add tomato paste and stir for three minutes. Then add in the mushroom and continue to cook until most of the liquid has been absorbed (about 15 minutes). Remove from heat and let cool.
Combine the cooled lentils with the cooked vegetable and add the Parmesan, eggs, and breadcrumbs. Refrigerate for 15 minutes.
Preheat oven to 400 degrees and grease a 13×9 inch pan. Using clean hands, roll the mixture into golf ball size (smaller if you want to use them as appetizers) balls and place on greased baking sheet. Continue with the rest of the batter.
Bake for 30 minutes or until the meatballs start to brown on top.
To assemble: Take two pieces of baguette and slice them down the middle (but leave a little piece at the bottom still attached). Press the baguette open and stick slices of Gouda on each bottom followed by meatballs and sauce. Stick under the broiler for a minute or until the cheese has melted. Top with fresh basil or oregano and server fresh!
I served mine with Parmesan Thyme Sweet Potatoes and it was fantastic!