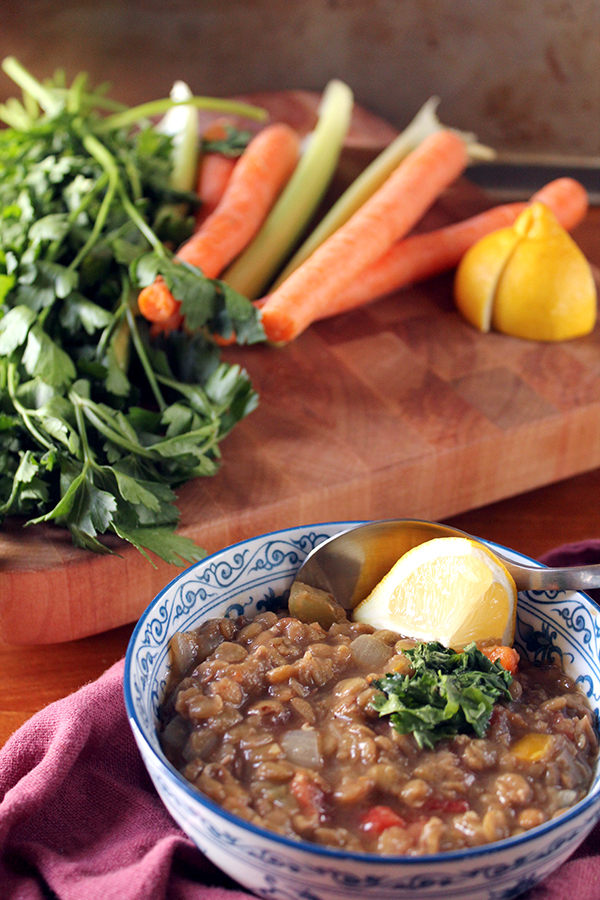 Quick & Easy Lentil Soup
Did you have a wonderful New Year?! Did you get to kiss that special someone at midnight and maybe drink a little too much bubbly? Yeah, me too. Ah well. How about we start off the new year right with this super healthy and delicious lentil soup?
I usually make dinner for Wyatt pretty much every night and this has been going on for well over a year now. However, I just recently found out his favorite soup is lentil soup. That means all this time I've been making these elaborate and time consuming (and delicious… see Curried Butternut Squash Soup with Goat Cheese Croutons and Rosemary Soup with Rustic Bread) when I could have just made this simple lentil stew. Go figure!
This soup is not only easy but it's packed full of vegetables and protein. Not bad, eh? And this recipe made enough for us to enjoy for two meals plus some for me to freeze for later! It's dairy free so it freezes super well and will go perfect with a big salad or crusty bread or grilled cheese.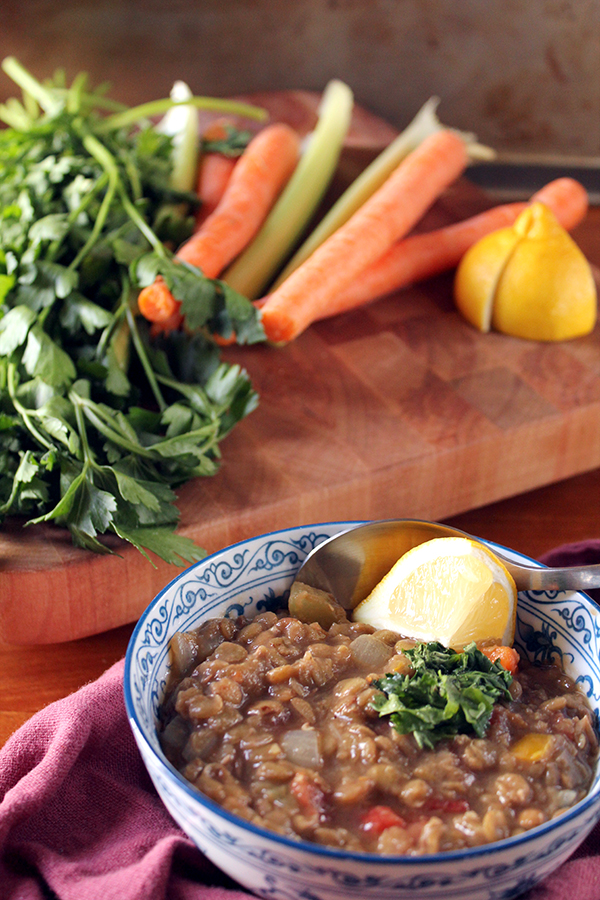 Lentil Soup
1 1/2 cups dried lentils
1 bay leaf
6 cups vegetable broth or water
1 onion, diced
3 carrots, diced
2 garlic cloves
3 celery ribs, diced
1 bell pepper, diced
1 15 ounce can of diced tomatoes
1/4 cup soy sauce
salt/pepper to taste
lemon wedges, for garnish (optional)
plain yogurt, for garnish (optional)
cilantro, for garnish (optional)
In a large saucepan, add the broth (or water), lentils, and bay leaf to a simmer over medium heat. Cover and let simmer for 30 minutes.
Next, add in the carrots and onions and cook until softened (about ten minutes). Add the garlic, celery, bell pepper, and tomatoes and cover. Let simmer for another 30 minutes. Remove from heat and add in the soy sauce. Add salt and pepper to taste.
Remove bay leaf and enjoy with yogurt for a creamy twist or lemon juice and cilantro.