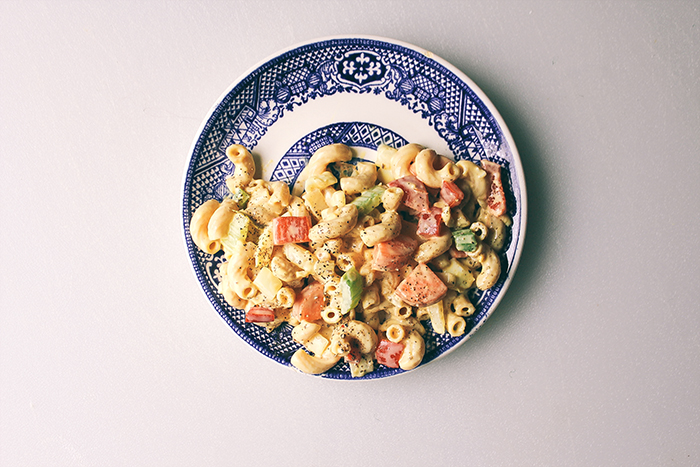 Macaroni Salad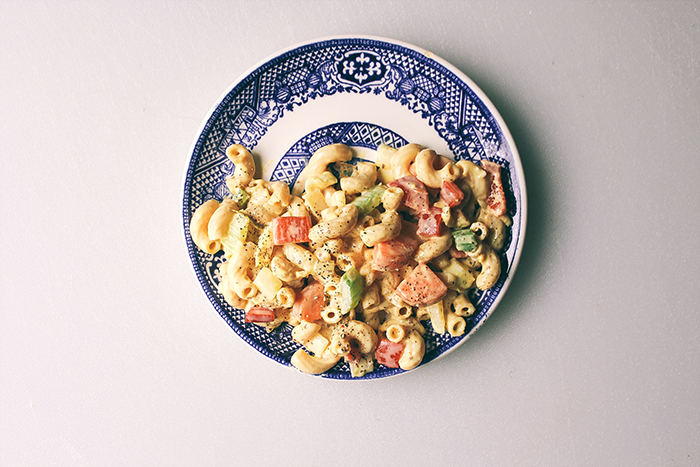 For me, the biggest parts about giving up certain foods is the association. I doubt any [sane] person would pass up a piece of their favorite chocolate cake. Why? Because that slice taste more than just delicious. It triggers a reminder of the gitty feeling they used to get when they woke up on their birthday as a child. It triggers that memory of friend and family standing around while they opened presents. It triggers the smell of their grandma after giving her a big hug goodbye. It's so much more than about the endorphins that our bodies create from the chocolate. It's about the associations.
That is why I could never give up macaroni salad. It is what we always ate at grill outs when I was a child. There was something about the unique tang from the mayonnaise that has always stuck with me. For me, it triggers those memories of being around friends and family. And catching fireflies in my jar at dusk. The smell of the grill and of the sunset. It's a calming feeling that comes over me when I take a bite and its a feeling I don't want to forget.
Perhaps for me, the reason the association is so strong is because I don't "cook" with mayonnaise very often. Or eat it in my daily diet at all. That is to say, when I do taste it then it brings me back to those summer days.
I was tempted to call this 'healthified' macaroni salad but I decided that would be misleading. It would still be healthier to munch down on some slices of fresh fruit. Or some grilled veggies and hummus. Or a big spinach salad with sliced almonds. But it is slightly healthier than the one you are going to pick up from the deli. I didn't want to alter this recipe too much or remove the mayonnaise (probably the unhealthiest part) because I wanted it to taste exactly like I remember it. With that being said, I did only make HALF the amount of dressing most recipes called for and the pasta still absorbed the flavor just as well. And I added a few extra veggies for good measure. But other than that, this recipe is going to taste exactly like it did back when your father would pick it up from the deli.
Don't worry – there will be lots of 'new' and seasonal salads to come in the summer months here on VV but I had to get this traditional one out of my system. Go on, why don't you whip this up and feed your inner child as well?
Do you have any associations with food that you could never let go off?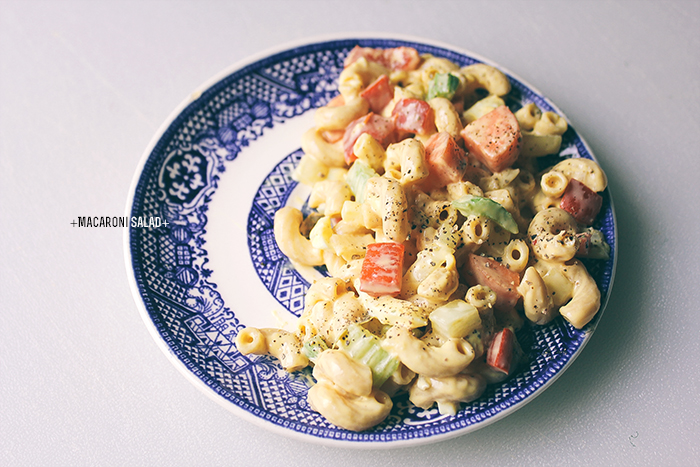 Macaroni Salad
2 cups uncooked elbow macaroni (I used whole wheat and couldn't tell)
1 small onion, chopped (tip: let the chopped onion sit in water for 10 minutes to take the bite out of it)
4 celery stalks, chopped
3 hard boiled eggs, chopped
1 red bell pepper, chopped
2 carrots, chopped
1 tablespoons pickle relish
1 cup mayonaisse (I like the Mayo made with Olive Oil but use whatever you have on hand)
1 teaspoons white vinegar
1/4 cup sugar (keep the sugar out in case you want to add more  at the end if you like it a little sweeter)
1 1/2 tablespoons yellow mustard
dash of salt
1/2 teaspoon celery seeds
Cook macaroni according to package directions.
To make the hard boiled eggs: Place the eggs in a small saucepan, cover with water, and bring to a boil. Once boiling, let simmer for one minutes and then remove from heat. Cover and let sit in the warm water for 12 minutes.
Combine the macaroni, onion, celery, eggs, bell pepper, and carrots in a large serving bowl. In another bowl, make the dressing by combining the relish, mayo, vinegar, sugar, mustard, salt, and celery seeds. Fold the dressing into pasta/veggie mixture. Stick in the fridge for at least an hour before serving.
Once chilled, check for flavor. Adjust flavor by adding more salt, sugar, or pepper.
Serve at your next grill out or bring to a friends house (this serves 4+).